2010 California Pinot Noir All-Americans First Team
2006 Brogan Cellars Michaela's Reserve Sonoma Coast Pinot Noir
$110
Moderately intense reddish-purple color in the glass. A marvelously fruited nose brings you to attention. Delicious layers of intense red and black fruits fan out in the mouth, caressed by mild, firm tannins, and framed by a bright citric note. The texture wraps you in silk pajamas as the dreamy finish sails along. A very classy wine that lets you know it is a Reserve.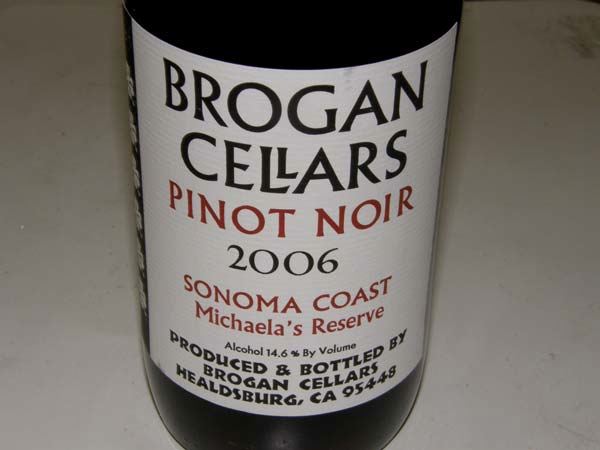 2007 Cobb Rice-Spivak Vineyard Sonoma Coast Pinot Noir 360 cases, $68 Like the vintage 2006 version of this wine, this is a remarkable drink. Very expressive fruity nose emphasizing berry tart, the slightest oak, and a hint of spice. Flavors of redder-toned berries fan out softly on the palate, saturating every corner of the mouth, fading lithely in a lingering finish with a pleasing grip of acidity. Seamless in every way, urging you to reach for another sip. A little richer tasting than the 2006 vintage even at a lower alcohol. This vineyard is one fine piece of dirt.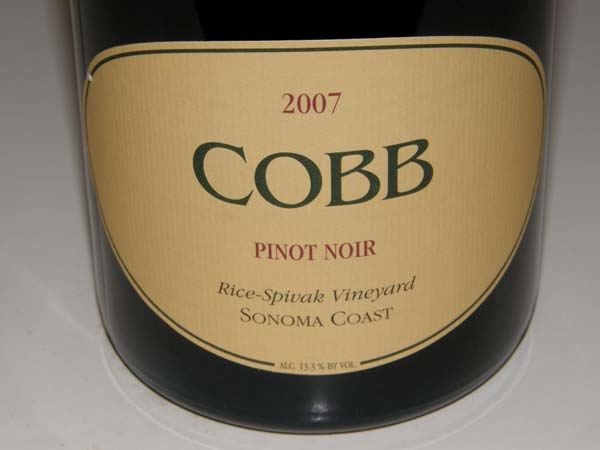 2007 Donum Estate West Slope Carneros Pinot Noir 150 cases, $70 Hold on to your seat when you pop the cork on this one. Terrific nose that is remarkably nuanced with aromas of cherries, berries, spice, oak toast and garden bouquet, all coming and going in a delicate dance in the glass over time. The earth-kissed dark stone and berry fruit really attacks the senses and holds on with a firm grip as it coats every nook and cranny in the mouth, and lingers for what seems like several minutes. The creamy texture and soft tannins add to the wine's sensuality. Descriptors don't do this wine justice. In short, flat-out great.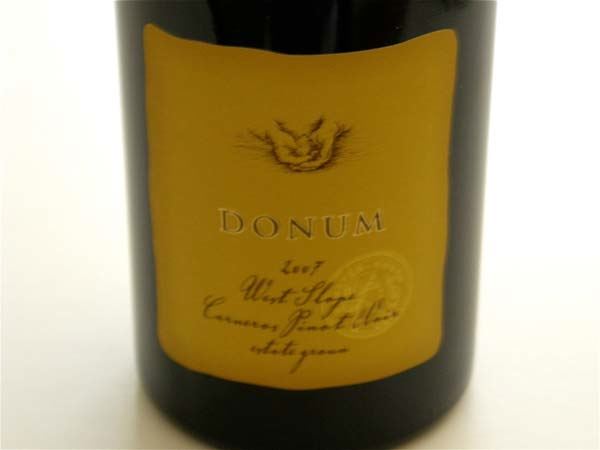 2007 Dutton-Goldfield Devil's Gulch Vineyard Marin County Pinot Noir 325 cases, $58 Deeper colored than the 2006 vintage release of this wine. Initially subdued in the glass, the nose soon explodes, offering intense scents of wild berries and fresh cherries, spice and toasted brioche. Hard to turn your nose away from this intoxicating perfume. Delicious red and black fruit core with ripe, soft tannins, and a subtle citrus underpinning. Appealing finesse and impeccable balance. Fresher and richer than the excellent 2006 vintage. Still great two days later from a previously opened and re-corked bottle. Choose any superlative you want.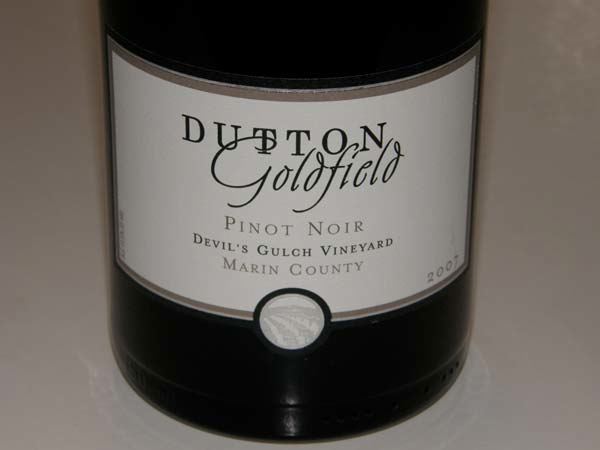 2008 Freestone Vineyards Pastorale Vineyard Sonoma Coast Pinot Noir 143 cases, $100 Moderate reddish-purple color in the glass. Great nose indicating something serious is to follow. A chameleon of a wine that changes constantly in the glass. Aromas of black cherries, exotic spices including cardamom, red rose petals and the slightest sweet oak. You would need to empty your entire spice cabinet into a bin of grape juice to duplicate the complex nuances and mysteries of this nose. The core is a mix of berries and stone fruits with an edgy, sauvage character from the whole cluster. Brisk and bright, satiny in the mouth, this wine is flat-out great. Tasted over the next two days from an opened and re-corked bottle, the wine held forth its allure indicating a long life ahead. A connoisseur's Pinot Noir.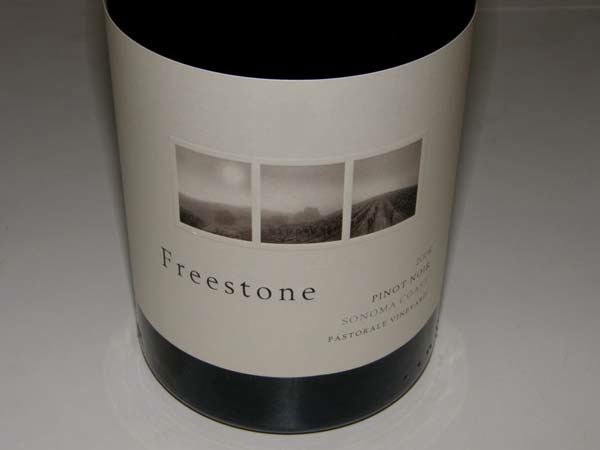 2008 Gypsy Canyon Trois Sta. Rita Hills Pinot Noir 75 cases, $95 Moderately deep reddish-purple color in the glass. Very lovely perfume of black cherries spiced with coriander, savory and sweet smoke. Luscious melange of dark berries and plums with a subtle underpinning of oak and tobacco. A welcoming silky texture and a bombastic peacock finish adds to the pleasure. Quite different from previous Gypsy Canyon Pinot Noirs with more backbone and fruit intensity, but still showing plenty of feminine charm. Great winemaking at work here. Man, what a wine and a novel package to boot.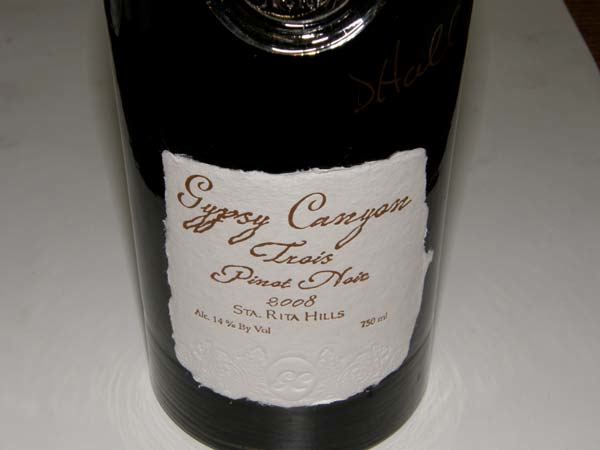 2008 Littorai Mays Canyon Vineyard Russian River Valley Pinot Noir $65 Moderately dark reddish-purple robe. Very expressive and forward nose that is constantly changing in the glass offering scents of spiced Bing cherries, alpine strawberries, cola, mocha and toast. Crisp and delicious on the palate featuring darker red cherries and berries with just the right amount of oak and spice in the background. A cherry delight on the bright finish. A kick-ass Pinot that displays the typically luscious Russian River Valley fruit beautifully. You can drink it now for its flamboyant fruit, but it will further reward patience. Still great the next day from a previously opened and re-corked bottle.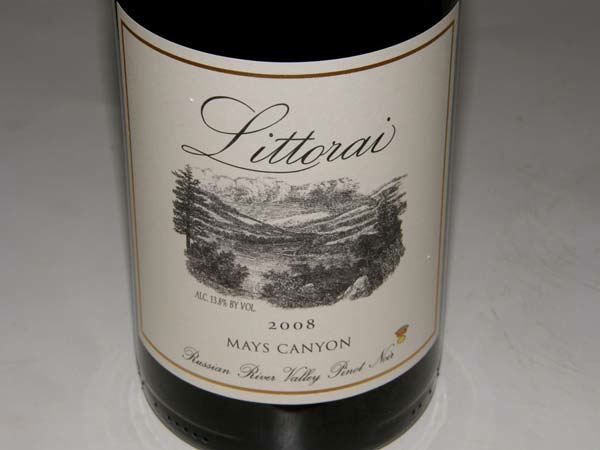 2008 Mount Eden Vineyards Estate Santa Cruz Mountains Pinot Noir 985 cases, $46 Moderately light reddish-purple color in the glass. Nicely composed aromatic profile of cherries, strawberries, savory herbs, and oak blossoming in the glass over time. A magnificent Burgundian styled wine with vivid, high pitched red cherry, raspberry and cranberry flavors framed by lively acidity and fine grain tannins, and beautifully underlain with minerality. This wine has the balance to age for 20 years. After so many years at the helm, winemaker Jeffrey Patterson knows his vineyard and consistently offers Pinot Noir styled with the type of charm and restraint that is often lacking in so many fruit driven California Pinot Noirs. This wine really does taste like it came from a special place. A great food wine that should be cause for celebration.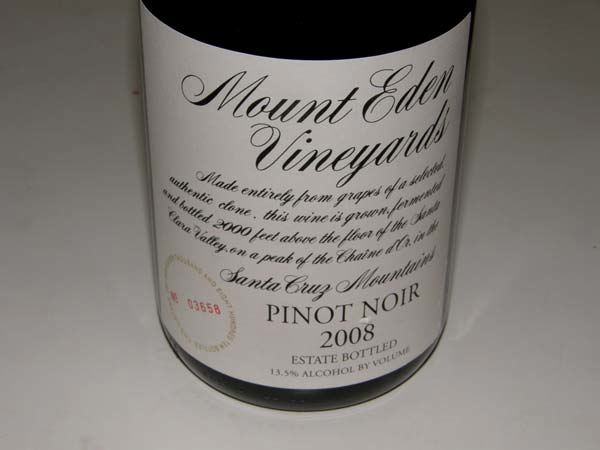 2008 Rivers-Marie Occidental Ridge Vineyard Sonoma Coast Pinot Noir 225 cases, $45 This one will make the hair on your neck stand erect. Lovely aromas of freshly picked red and black berries and cherries nicely spiced with hints of oak and sage. In the mouth I was at a loss for descriptors. My notes say, "Amazing fruit, want more, really attacks, great juice, class in the glass." This wine has that California fruit viscosity that makes you proud to be an American, and an addictive and refreshing ending in which the fragrance returns to haunt the finish. It was scary that this wine was even better later in the day from a bottle opened earlier in the morning. Imagine what this wine will be like in a couple of years!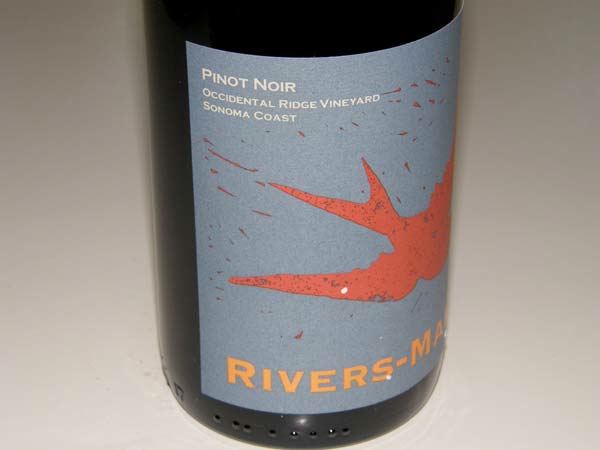 2007 Talisman Gunsalus Vineyard Russian River Valley Pinot Noir 296 cases, $36 Impressive fruit expression on the nose and in the mouth with a seamless texture. Spiced Bing cherries, cherry cola and nutmeg fill out the aromatic and flavor profile. The oak is perfectly integrated, the tannins are ripe and silky, and the finish is long and memorable. I could drink this all night long. Still great the next day from a previously opened and re-corked bottle. An engaging, age worthy Pinot Noir that has all the right stuff.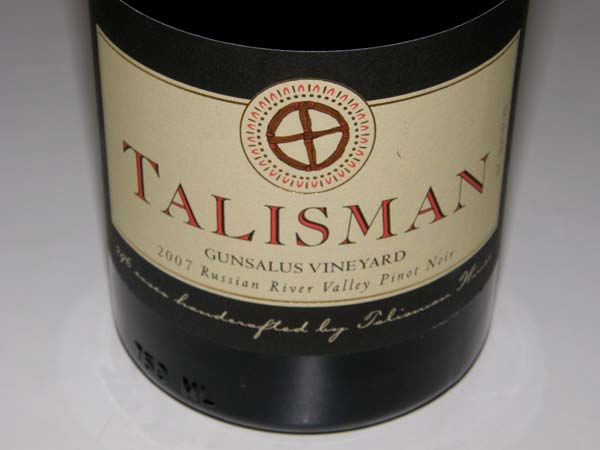 2005 Windy Oaks Special Burgundy Clone Schultze Family Vineyard Santa Cruz Mountains Pinot Noir $95 A specially embossed bottle adds to the appeal. Moderate burnished red rose color in the glass. Fresh aromas of mixed berries, chocolate truffle, spice, flower garden and a hint of oak. Delicious strawberry and black cherry core nicely spiced with a subtle kick of acidity on the striking finish that seems to persist for a minute. The layers of flavor seem to defy proper description. Very soft and plush on the palate. This is a very unique wine that is in a class of its own.