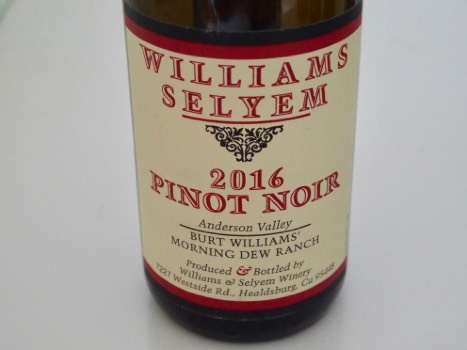 2016 Williams Selyem Burt Williams Morning Dew Ranch Anderson Valley Pinot Noir
13.6%, pH 3.51, TA 0.60, $85. Released fall 2018. Last vintage of the Morning Dew Ranch Pinot Noir by Williams Selyem as Burt Williams sold the Ranch in 2015. Aged 16 months in French oak barrels, 57% new 43% 1-year-old.
Note: Williams Selyem wines (Pinot Noir, Chardonnay and Zinfandel) are allocated through a mailing list at www.williamsselyem.com.
· Moderately light garnet color in the glass. This is an extremely easy-drinking wine showing exceptional harmony. The aromas of cherry and cardamom lead to a light to mid weight styled drink that is cherry-driven with added flavors of tobacco and licorice. The gossamer tannins make for a gracious mouthfeel and the finish is long and highly gratifying. Still fine when tasted the next day from a previously opened and re-corked bottle. I am sure this wine has at least another 6 good years. Score: 94. Reviewed May 25, 2020
Winery: Williams Selyem
From article: Recent Pinot Noir Wines I Have Enjoyed