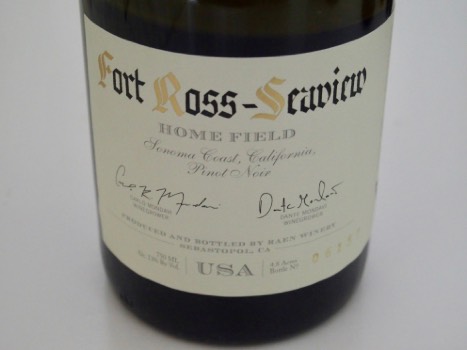 2017 RAEN Home Field Fort Ross-Seaview Sonoma Coast Pinot Noir
13.0% alc., $80. 4.8 acres, ancient marine soils at an elevation of 1500 feet. Whole cluster fermentations rely only on native yeasts. Clone 777. Aging is in neutral French oak barrels for 10 to 20 months depending on the site and vintage. The wines are bottled without fining or filtration.
Note: RAEN (pronounced "rain" to remind us that wine was rain first and translated to Research in Agriculture and Enology Naturally)) winery, a partnership between winegrowers Carlo Mondavi and Dante Mondavi, focuses on Sonoma Coast Pinot Noir and Chardonnay. The three Pinot Noir wines offered: (1) Freestone Occidental Bodega Vineyard planted to clone 667, Pommard and a Calera selection ($95); (2) Fort Ross-Seaview Home Field Vineyard (going forward will be known as Sea Field) a site located just north of Jenner overlooking the Pacific Ocean ($80); the Sonoma Coast Royal St. Robert Cuvée (clones "828,", 667, rVR1, Pommard and a Calera selection), a blend of fruit from the West Sonoma Coast ($60). Chardonnay is sourced from the Charles Ranch Vineyard located in the Fort Ross-Seaview AVA ($90). The wines are eagerly sought after and highly allocated to a mailing list at www.raenwinery.com. This young winery is proving to be Pinot Noir par excellence.
· Moderate garnet color in the glass. an elegant, but very aromatic and flavorful wine offering aromas and tastes of ripe cherry, strawberry, exotic spice, wild herbs, and forest floor. This is one terrific wine to drink now that has excellent rapport between the fine-grain tannins and acidity. There is a clear whole cluster foundation that elevates this wine. I literally wanted to drink the whole bottle. Welcoming and amicable when tasted the following day from a previously opened and re-corked bottle. Score: 96. Reviewed May 25, 2020
Winery: RAEN Winery
From article: Recent Pinot Noir Wines I Have Enjoyed