Playing the Pinot Lottery at Trader Joe's
Trader Joe's markets began during the 1950s as a small chain of convenience stores called Pronto Markets. In 1967, the name was changed to Trader Joe's, the employees were outfitted in Hawaiian shirts, and the first Trader Joe's market opened in Pasadena, California. Trader Joe's eventually became a nationwide chain. Its quirky newsletter ("Fearless Flyer") announced a continual stream of new items that were produced specifically for Trader Joe's, and the market spurned many commercial brands.
Wine was a part of the store from the earliest days. I can remember back to the early 1980s and a Trader Joe's grocery store in Santa Ana, California where an outstanding array of wines were offered and where I shopped frequently. In recent years, Trader Joe's has been known for wine values, and in particular, the Charles Shaw line of wines priced at $1.99 in California. The Charles Shaw label is owned by the Bronco Wine Company, but was once an eponymous Napa Valley winery owned by Charles F. Shaw that produced Beaujolais-style wines. The Charles Shaw wines were introduced exclusively at Trader Joe's grocery stores in California, became hugely popular, and assumed the nickname, "Two Buck Chuck." The wines include a Cabernet Sauvignon, White Zinfandel, Merlot, Chardonnay, Sauvignon Blanc, Shiraz, Valdiguie, and limited amounts of Pinot Grigio.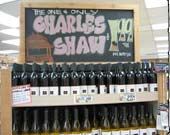 In recent years, Trader Joe's has been offering "Hustle Buys." Usually these wines are acquired from wineries that are trying to clear their inventory and are sold by Trader Joe's at a deep discount. They are only available for a short time and when supplies are exhausted they are discontinued.
Recently, I had heard some reports of excellent value-priced Pinot Noir at Trader Joe's, namely Burnt Spur from New Zealand and Votre Sante from Francis Ford Coppola Winery. I visited two local Trader Joe's markets and checked out their Pinot Noir offerings. While there, I saw many people buying Two Buck Chuck in quantity.
The wines at Trader Joe's are on three shelves with the highest quality and most expensive wines on the top shelf. These included many of the usual suspects that are widely distributed in the grocery store marketplace and priced roughly in the $16-$25 range: MacMurray, Cambria, La Crema and Kendall-Jackson. I was more interested in the second and third shelves where the wines cost from $5 to $11 and consisted of labels that were mostly unknown to me. I am sure Trader Joe's sells more Pinot Noir from the bottom two shelves. These are primarily negotiant labels. I sampled seven Pinot Noirs from various regions of California and one Pinot Noir from the Willamette Valley of Oregon. All had either natural cork or synthetic cork closures.
My tasting confirmed the saying that there is no such thing as good, cheap Pinot Noir. That said, there was one wine that stood out and I could recommend it without reservations. I felt that buying middle and bottom shelf Pinot Noir at Trader Joe's was like participating in the lottery: many disappointments with only one winner. Selectivity is the key, and when you do find a good buy, stock up, because it may not be on the shelf for long.
Castle Rock Winery
Castle Rock Winery is a virtual negotiant winery crushing in multiple leased facilities and has no vineyards. The majority of the wine is sourced from long-term contracts that draw on fruit from California (Napa Valley, Sonoma County, Mendocino County, Monterey County, Alexander Valley), Oregon (Willamette Valley) and Washington (Columbia Valley). The brand was one of the first of its kind, started in 1994, at a time when the emphasis was on premium wine labels. When the interest in Pinot Noir surged in the mid 2000s, Castle Rock had already been producing Pinot Noir, and the wave of interest brought the company considerable success.
Castle Rock Winery sells many different appellation-specific wines, most for less than $12, including Cabernet Sauvignon, Merlot, and Pinot Noir. Pinot Noir accounts for 65 percent of sales. The wines are widely distributed, and sold on the website (www.castlerockwinery.com) by the case. Ten different Pinot Noirs are currently offered from the 2008-2009 vintages.
Greg Popovich is the founder and President. The consulting winemaker is August "Joe" Briggs (producer of the highly regarded August Briggs label Pinot Noirs) who oversees the 600,000 annual case production, making Castle Rock Winery the 25th largest wine company in the United States in 2010.