Pinot Briefs —Newsletter 8.31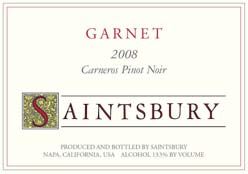 Saintsbury Sells Garnet Trademark & Wine Brand Saintsbury's "Garnet" wine brand has sold to their long time grape growers, Silverado Winegrowers, the largest independent grower of Pinot Noir for Saintsbury. Silverado Winegrowers plans to expand the brand to include other Pinot Noir offerings from their cool climate vineyards along the coastal regions of California. The Garnet style of Pinot Noir was one of elegance and easy approachability, and the value-priced offering in the Saintsbury lineup. 13,000 cases of the 2008 vintage were produced ($21.98 retail). Silverado Winegrowers also acquired the Garnet winemaking facility, where Alison Crowe, the winemaker for Silverado Winegrowers, has been making Pinot Noir and other wine varietals since 2005. Saintsbury will focus solely on single vineyard offerings from Carneros (Brown Ranch, Lee Vineyard, Stanly Ranch and Toyon Farm) and Anderson Valley (Cerise).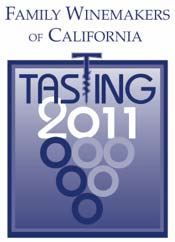 Family Winemaker's of California Tasting Over one hundred and fifty wineries will attend "Tasting 2011" at the Del Mar Fairgrounds on Sunday, March 13 (trade from 1:00-3:00 and trade and public from 3:00 to 6:00) and at the Pasadena Convention Center on Tuesday, March 15 (trade only 2:00-6:00). These tastings feature small, family owned wineries and are complimentary for wine buyers and wine media. For more information, visit www.familywinemakers.org.
Map of California Wine Regions I found a 2' x 3' color map of California showing all the major wine producing appellations at www.delongwine.com. This is the only up to date wine map of California that is currently available. Priced reasonably at $29.95.
Wine Bloggers Conference The 2011 North American Wine Bloggers Conference will be held on the East Coast for the first time, July 22-24, in Charlottesville, Virginia. The event has been very popular and sold out the past three years. The popularity of the event is not surprising considering there are currently over 800 blogs on wine. Wines from the East Coast will be featured. Visit www.WineBloggersConference.org.
Pasadena PinotFest Sponsored by Mike Farwell and Noir Food & Wine in Pasadena, CA, the PinotFest Grand Tasting with over 100 Pinot Noirs and several Pinot Noir producers will be held at the Altadena Country Club on February 12, 2011. Ancillary dinners (Prodigal Winemaker Dinner on March 6) and Pinot Noir-related tastings are also planned. Visit www.noirfoodandwine for more information and tickets.
Classic Wines Auction Offers Commemorative Magnums Every year since 1997, the Classic Wines Auction in Oregon has selected a regional artist to be featured on the Commemorative Magnums. The annual Magnums are etched with the artist's selected piece, signed by the artist, and filled with wines from a top regional wine producer. This year the limited edition Commemorative Magnum of wine is etched with an image from an original Lucinda Parker painting and contains a blend of Elk Cove's 2009 Pinot Noir from five single vineyards in the Willamette Valley (Windhill, 5 Mountains, Mount Richmond, Clay Court and Elk Cove Estate). There are 175 Magnums available for $250 each. To pre-purchase one of the Magnums, visit www.classicwinesauction.com. The Classic Wines Auction event, which benefits First Growth Children and Family Charities, will be held March 5, 2011.
Millenials Drinking More Wine According to the Wine Market Council reporting at the Sixth Annual U.S. Wine Consumer Trends event in Santa Rosa, CA, 6% of Millennials (ages 17 to 34) are drinking wine daily, 26% are drinking wine several times a week, and 19% drink wine once a week on average. Both Generation X (ages 35 to 46) and Baby Boomers (ages 47 to 65) show more frequent wine consumption over the past five years. The over-65 wine drinkers, who make up the largest proportion of daily wine drinkers, have shown only modest shifts in consumption frequency over the past five years. 20% of the adult U.S. population consume 91% of all wine. The Millenial and Generation X segments of the population are driving wine market growth.

WineInfoTag™ This wine bottle neck hanger employs Microsoft Tag technology to allow smart phone users to scan a Tag by using the free Microsoft Tag Reader application on their mobile phone, automatically displaying tasting notes, food pairings, ratings and more. No long URLs to type or SMS messages to send. WineInfoTag™an be used with iPhones, Androids, BlackBerrys, Windows Phones, and other smart phones. Look for these tags to begin showing up on wine retailers shelves as well as on a number of other products. Visit www.wineinfotag.com for more information.
Renowned Winemaker Daryl Groom Launches Colby Red Daryl Groom has launched a new table wine blend produced in partnership with Treasury Wine Estates (parent company of Australian Penfolds where Groom once served as a senior red winemaker) that will be sold through Walgreens Drugstores. The brand is dedicated to raising awareness of heart disease. Groom was inspired to create the blend of several red varieties ($12.99) in honor of his 12-year-old son, Colby Rex Groom, who has undergone multiple surgeries to treat a congenital heart defect. Daryl and his wife, Lisa, are committed to support education and research for child cardiac care through an association with the St. Jude Medical Foundation. More information on Colby Red and a video about the project is available at www.colbyred.com.
DeLoach Vineyards Sells Pinot in Barrels DeLoach has been selling three-gallon barrels of Russian River Valley Pinot Noir to consumers at the winery on Olivet Road in Santa Rosa and at the new Boisset Taste of Terroir tasting room in Healdsburg. An eco-bag is inside the barrel and keeps the wine fresh for six to eight weeks. The first-time purchase of a barrel and a bag costs $250 and holds the equivalent of four bottles of $24 Pinot Noir. Replacement wine bags are $60 each. Visit www.deloachvineyards.com.
Monterey County Interactive Wine Map The Monterey County Vintners and Growers Association has added an interactive map to its site, www.montereywines.org. 178 vineyards are plotted in the county which is 90 miles long and consists of nine appellations. A mobile phone application is also available that can access data from the website. The map can also be printed on a single sheet of paper for reference.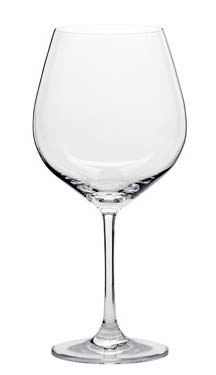 Pinot Noir Affordable Stemware Rankings In the latest issue of Wine Business Monthly (February 2011), a panel of wine industry professionals evaluated affordable stemware for Chardonnay, Pinot Noir and Cabernet Sauvignon. The top-rated stem for Pinot Noir was the Stölzle Grand Cuvée, followed by the Riedel Restaurant series, the Spiegelau Vino Grande and the Stölzle Classic. The top-rated Chardonnay stem was also from Stölzle. Stölzle is a German glassware manufacturer. The stems are available through various retail sources on www.amazon.com. The Burgundy Grand Cuvée is $39 for 4 glasses and the Burgundy Classic is $24 for four glasses.
U.S. Wineries Growing Latest data from Wine Business Monthly shows a 9% increase in the number of U.S. wineries in 2010. California has 2,512 bonded wineries and 794 virtual wineries. Washington state is second with 606 bonded wineries and 22 virtual wineries, and Oregon is third with 359 bonded wineries and 150 virtual wineries. The total U.S. wineries number 6,785.
Nutrition Labeling Confronts Wine Industry Alcoholic beverages are currently the only consumable product in the United States that doesn't have nutrition labeling. There is a proposal before the federal Tax and Trade Bureau to list such ingredients as calories, carbohydrates serving size and alcohol per serving on labels. The Wine Institute in California is asking that the labeling requirements be voluntary.