Pinot Briefs —Newsletter 8.44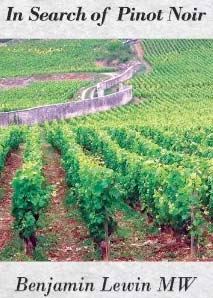 New Book on Pinot Noir Bestselling author Benjamin Lewin (Wine Myths and Reality and What Price Bordeaux?), a Master of Wine, has published In Search of Pinot Noir. Lewin travels from Burgundy through the other cool climates of Europe where Pinot Noir is grown, to the West Coast of North America, and to Australasia on the trail of the true Pinot Noir. The book investigates the changing character of Burgundy, asks what happens to Pinot Noir outside of Burgundy, and examines how the wines of each region age. The alternative styles of Pinot Noir are discussed and differences between Europe and the New World explored. The discussion of the regions of where Pinot Noir grows is accompanied by profiles of producers and tasting notes on current vintages from around the world. Illustrations are in four color with maps and photographs of every region. The book is distributed by the Wine Appreciation Guild and is available at bookstores and online. 480 pages, hardcover, $45.
New Books on Natural Wine Natural wine is a hot topic in the wine world and several books have recently been published that address this controversial subject: Naked Wine: Letting Grapes Do What Comes Naturally (Alice Feiring), Voodoo Vintners: Oregon's Astonishing Biodynamic Winegrowers (Katherine Cole), and Authentic Wine: Toward Natural and Sustainable Winemaking (Jamie Goode and Sam Harrop MW). The definition of natural wine has been subject to a number of interpretations. Wikipedia defines natural wine as follows: "Natural wine is wine made with as little chemical and technological intervention as possible, either in the way the grapes are grown or the way they are made into wine. Nothing is added or taken away from the grapes, must or wine." Other definitions specify that the wine be made from a biodynamically or organically farmed vineyard using only indigenous yeasts and very little or even no added sulfites.
Andrew Jeffords Blog Entry in Decanter Jeffords consults on the wine list at a major London restaurant. He said on 9/19/11, "We are resigned, as a footnote, to selling a little less Domaine de la Romanée Conti next year than last, since it seems unlikely that younger members of the Gaddafi family will be dining out in London much over the coming year - and they were devoted customers. If any of our clouds has a silver lining, that's the one."
Davis Family Vineyards Releases 2007 Pinnacole The first reserve wine, Pinnacole, from Guy Davis's own home estate vines was released from the 2006 vintage over a year ago. Crafted from three barrels, I thought this wine was exceptional. Earlier this month, the 2007 Pinnacole was released to mailing list customers. The wine receives additional barrel and bottle aging before release. Some of the wine may still be available from the winery ($60, minimum three bottle purchase). A small amount of the 2006 vintage Pinnacole may also be for sale. Contact Annie Rambo at annie@daviswines.com or call 866-338-9463.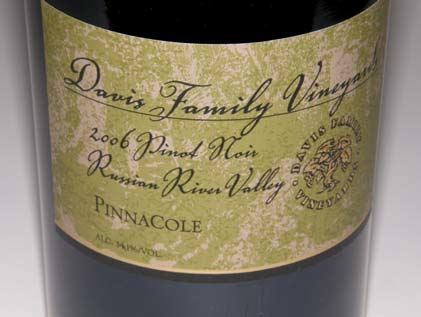 20th Anniversary of ¡Salud! Tickets are now on sale for this annual event in Oregon. Tasting and Big Board Auction is Friday, November 11, 2011 at Domaine Drouhin Oregon where the 2010 Oregon vintage of Pinot Noir will be debuted. Collectible ¡Salud! Cuvées will be offered from the following Vintner's Circle wineries: Adelsheim Vineyard, Amalie Robert Estate, Antica Terra, ArborBrook Vineyards, Archery Summit, Argyle, Ayres Vineyard, Beaux Frères, Bethel Heights, Chehalem, Cristom Vineyards, Dobbes Family Estate, Domaine Drouhin Oregon, Dusky Goose, Elk Cove Vineyards, Erath Winery, Evening Land Vineyards, Hamacher Wines, Ken Wright Cellars, King Estate Winery, Lange Estate Winery, Maysara Winery, Patricia Green Cellars, Patton Valley Vineyard, Penner-Ash Wine Cellars, Ponzi Vineyards, R. Stuart & Co., Raptor Ridge Winery, Scott Paul Wines, Shea Wine Cellars, Silvian Ridge, Sokol Blosser, Soléna Estate, Soter Vineyards, St. Innocent Winery, Stoller Vineyards, Torii Mor, Willakenzie Estate, Willamette Valley Vineyards, Winderlea Vineyard & Winery, and Witness Tree Vineyard. The black tie optional Dinner & Auction Gala follows on Saturday, November 12, 2011 at The Governor Hotel in Portland. Tickets may be purchased online for one or both events: http://www.saludauction.org/auction/the-oregon-pinot-noir-auction/purchase-tickets/ or call 503-681-1850. ¡Salud! is the only health care program of its kind in the United States. In no other farming industry in this country, do workers receive regular and comprehensive on site, free medical assistance.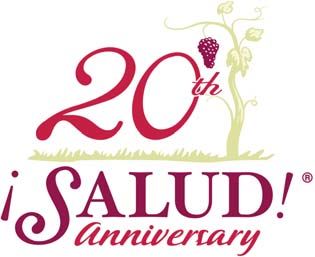 Attica Terra Releases First Estate Wine When winemaker Maggie Harrison and her four partners acquired Attica Terra Vineyard in 2005, the vineyard was in need of much love. In the fall of 2005, the wine made that first year from the property was declassified. In the following vintages, fruit from Shea Vineyard was used to supplement the limited estate fruit. In 2008, five additional acres of vines were planted on a steep hillside. Three thousand tons of rock were removed to plant the new vineyard, six times more than what the owners were told was the worst-case scenario. The new vines struggled in the shallow mixture of soil and shattered rock but eventual success was achieved. In 2009, 164 cases of the first wine made exclusively from fruit grown at Antica Terra Estate Vineyard is being offered. In addition, an inaugural Chardonnay was produced. The wines are now available through a mailing list at www.anticaterra.com.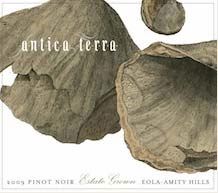 Benovia Winery Harvests Solar Energy Like a number of wineries concerned about sustainability, Benovia Winery in Santa Rosa, California, has installed solar panels that will supply most of the electricity the winery needs. 171 photovoltaic modules were placed on the roof of the winery and are expected to produced 60,000 kilowatt hours of electricity annually, reducing the winery's electric bill by at least 92 percent. The instillation will also reduce CO2 emissions by 1180 tons over 25 years, the environmental equivalent of more than 20 acres of planted trees. Some other initiatives Benovia Winery has undertaken in its ongoing sustainability program at the winery and its three estate vineyards include: farming the winery's Cohn Vineyard organically, using organic mulch and fertilizer on all estate vineyards, erecting owl boxes and raptor roosts to encourage native predators, conserving water with dry farming techniques, controlling soil erosion with cover crops, straw mulching and drainage system maintenance, and using wind machines to replace water for frost protection.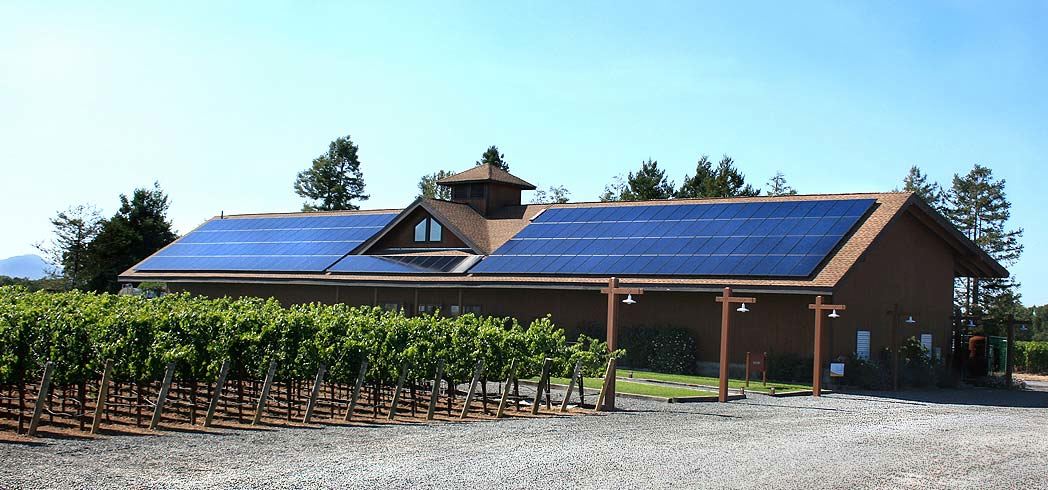 Hanzell Proud of New Website Hanzell has a very compelling story spanning over sixty years. Recently, archival photos and correspondence from the early 1950s was searched and the depth of the historical information became the inspiration for the creation of the new Hanzell website at www.hanzell.com. This has become one of the most comprehensive and informative wine websites on the internet. Hanzell Vineyards consist of 44 acres of Pinot Noir and Chardonnay planted high on the Mayacamas Range of mountains overlooking the town of Sonoma. The plantings include the 1953 Ambassador's Vineyard, the oldest Pinot Noir vineyard and the oldest continuously producing Chardonnay vineyard in North America. The Hanzell Clone Pinot Noir and Hanzell Clone Chardonnay are important California heritage clones and the bud wood has been propagated to establish other vineyards throughout California and Oregon. A tour and tasting at this beautifully preserved historical site should be part of every pinotphile's itinerary at some time during their travels. The wines are exceptional and age extremely well.

Santa Cruz Mountains Commercial Wine Competition In this year's competition consumer judges awarded Gold Medals to 41 wines and wine trade judges awarded 17 Gold Medals. The combined scores brought 15 Santa Cruz Mountains wineries the First Place Medal. The difference between male and female scores was not dramatic. The woman judges awarded Gold Medals to 47 wines with 7 of those above 95 points while the male judges chose 32 wines as Gold Medal quality. The Best Santa Cruz Mountains Red was awarded to the 2007 Byington Winery & Vineyard Estate Block 4 Pinot Noir. This year's competition was between 158 wines from 34 local wineries and is the official competition for the Santa Cruz County Fair. There were some prominent Santa Cruz Mountains wineries that did not submit wines such as Rhys Vineyards, Thomas Fogarty, and Windy Oaks. The complete results are posted at www.scma.com.
2011 Sonoma County Harvest Fair Wine Competition This annual competition is always worth paying attention to as a large number (more than 1,000) of Sonoma County wines are submitted and sampled by 25 judges from throughout the United States and Asia. It is the largest regional wine competition in the United States. There are a number of prominent wineries that did not participate such as Williams Selyem, Rochioli Vineyards & Winery, Alysian and Papapietro Perry. One of three Sweepstakes Winners was the 2007 Gloria Ferrar Caves & Vineyards Carneros Brut Rose. Other results for Pinot Noir were as follows. Up to $24.99 category: Gold Medal for 2009 Rodney Strong Vineyards Russian River Valley Pinot Noir ($20) and 2009 Sebastiani Vineyards & Winery Sonoma Coast Pinot Noir ($18). $25 to $34.99 category: Double Gold Medal for 2010 Balletto Vineyards Russian River Valley Pinot Noir ($28). Gold Medal for 2008 Calstar Sonoma Coast Pinot Noir ($28.50), 2008 Macrae Family Winery Russian River Valley Pinot Noir ($30), 2009 Sandole Wines Russian River Valley Pinot Noir ($34), 2010 VML Russian River Valley Pinot Noir ($30), and 2010 Windsor Vineyards Sonoma County Pinot Noir ($30). $35 and over category: Best of Class for 2008 TR Elliott Burgonet Russian River Valley Pinot Noir ($40); Gold Medal for 2009 Armida Russian River Valley Pinot Noir ($39), 2009 Armida Sonoma Valley Pinot Noir ($45), 2009 Balletto Vineyards Russian River Valley Pinot Noir ($40), 2009 Davis Bynum Russian River Valley Pinot Noir ($35), 2009 DeLoach Vineyards OFS Russian River Valley Pinot Noir ($40), 2009 Gracianna Russian River Valley Pinot Noir ($48), 2009 Graton Ridge Celars Russian River Valley Pinot Noir ($50), 2009 Lost Canyon Winery Russian River Valley Pinot Noir ($45) and the 2009 Orsi-Papale Russian River Valley Pinot Noir ($35). The TR Elliott Pinot Noirs are not well known but they are consistently superb and frequent winners at the Sonoma County Harvest Fair. Visit www.trelliott.com. The three day Harvest Fair is held September 30-October 2 and includes the World Championship Grape Stomp and Grand Tasting where unlimited tastings of the award-winning wines are offered. Visit www.harvestfair.org.
3rd Annual Wood Fired Fall Festival Pizza from Rosso's Pizza Oven paired with wines from four Old Roma Station wineries in Healdsburg including Hart's Desire Wines, J Keverson Winery, Sapphire Hill Winery and Skewis Wines. Winemakers and winery owners will be available to discuss the wines and the 2011 harvest. The cluster of winery tasting rooms is located a couple blocks off the Healdsburg square at 53 Front St. Tickets are available at www.oldromastation.com.
Sonoma County Tourism Board Free iPhone App This app enables you to plan your tasting room itinerary, make reservations at nearby restaurants and search hotels. You can also find spas, museums, events and even breweries within the county. Visit www.sonomacounty.com/content/iphone.
J Vineyards & Winery 25th Anniversary Celebration A special public celebration and harvest party was held at J Vineyards & Winery on Saturday, September 17. As you can see from the photo below (with J Founder and President Judy Jordan and daughter Nicole), my wife and I attended, and enjoyed the day immensely.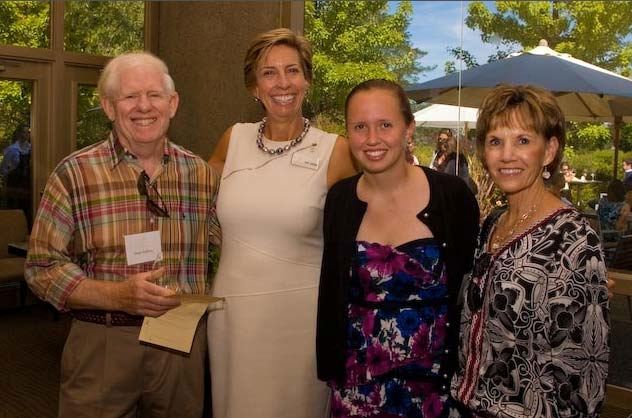 The special celebration featured oysters from Hog Island Oyster Company, Tsar Nicoulai Caviar, and interesting spiced popcorns from the Savory Spice Shop in Santa Rosa. The seven wine-food pairing stations are noted on the menu below. George Rose, Director of Public Relations for J was on hand and was showing his amazing wine country photographs in a new gallery located within the winery (visit www.georgerose.com). In 1991, J launched its first wine, a 1987 Vintage Brut. It was an instant success and J was embraced as the "essence of style" as an all-American alternative to French Champagne. The winery still produces excellent sparkling wine, but the focus is now on Pinot Noir from grapes farmed within Sonoma County's Russian River Valley and Sonoma Coast appellations. J's newest winemaker is Melissa Stackhouse (formerly La Crema) who will put the finishing touches on the 2010 vintage. I was very impressed by the 2009 Robert Thomas Vineyard Block 2 Russian River Valley Pinot Noir, the 2009 Russian River Valley Pinot Noir and the 2010 16 Barrel Pinot Noir offered from barrel. If you haven't tried J Pinot Noir, you are missing out. Also, the pairing of 2004 J Vintage Brut Magnum with assorted caviar hors d'oeuvres was to die for.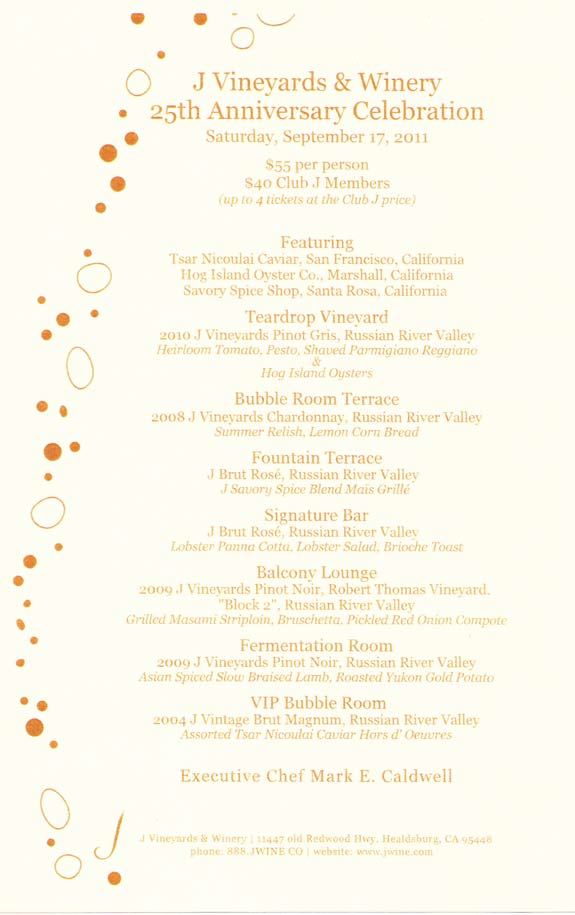 Ram's Gate Winery Opens in Sonoma Carneros On September 19, 2011, the new Ram's Gate Winery opened for business. Located at the old Roche Winery site, the architect for the 22,000-squarefoot, 30-acre project was Howard Backen, who has done Screaming Eagle, Meadwood Resort and more. The executive chef will be Jason Rose, formerly the project manager at Delfina Restaurant Group and before that, culinary directory for The Tyler Florence Group. Rose will be developing small plate pairings for wine tastings to be held in the winery's underground cellar next to the barrel room. There will also be an open kitchen for chef demonstrations, picnic foods and private wine dinners. The winemaker is veteran Jeff Gaffner, previously of Saxon Brown, Xtant, Stephanie and Black Kite Cellars. Only a 40 minute drive north of San Francisco, this is certain to be a popular destination winery in Sonoma.
Redtree Very Successful You probably have seen Redtree Pinot Noir in your local supermarket. It is a decent reasonably priced wine in the $10 range. Launched in 2007 by industry veteran Roy Cecchetti, Sonoma's Cecchetti Wine Co., Redtree, a California-appellation brand, saw its volume rise 24.5% to 137,000 cases last year. Redtree is projected to be at over 150,000 cases by the end of this year. Their success is based on providing wholesalers a volume brand and profitability, building a foothold in chain-dominated California. For reviews of the last two vintages, visit www.princeofpinot.com/winery/912/.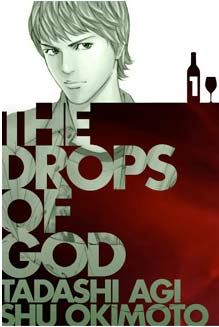 Comic Book Writers Are Top Asian Wine Critics An article recently published at gilttaste.com caught my attention. A brother and sister duo, Shin and Yuko Kibayashi are the writers for the Japanese manga comic, The Drops of Gold. The comic features both good and bad wine-drinking characters and instructs readers on tasting wine in an unpretentious and comical way. The comic series has sold millions of copies worldwide and has been translated to Taiwanese, Korean and French. Soon the series will be available in English from New York Japanese-owned publisher Vertical Inc. The Kibayashis increased wine sales in Japan by 130 percent their first year of publication. Their mere mention of a wine can lead to a marked increase in the wine's price tag in Japan. Visit www.vertical-inc.com.
Alexana To Open New Tasting Room Alexana was launched in 2005 by Dr. Madaiah Revana, owner of the renowned Napa Valley winery of the same name, and the first two wines, a Pinot Noir and Pinot Gris, were released the following year. The 80-acre Revana Vineyard is located in the Dundee Hills. Lynn Penner-Ash crafts the wines at her own winery. The wines have been available for tasting in Carlton but a new architecturally pleasing tasting room will open at 12001 Northeast Worden Hill Rd in Dundee in October 2011. Visit www.alexanawinery.com or follow on Twitter at twitter.com/Alexana Winery.
Oregon Wine License Plate On August 5, 2011, Oregon Governor John Kitzhaber signed into law a bill that permits Oregon to offer a wine specialty license plate to registered motorists in Oregon. The new plates show a vineyard with the words, "Oregon Wine Country." California, are you listening?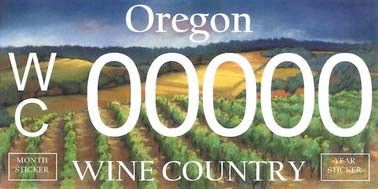 Amy Wesselman New Executive Director of IPNC Wesselman, who, with her spouse, owns Westrey Wines in McMinnville, has returned to take over directorship of the IPNC following the departure of Whitney Schubert who left to take a position as Brand Manager for wine importer Polaner Selections in New York. Wesselman previously was the Executive Director of IPNC from 1998 to 2008.
Article: Varietal Focus: How To Make Great Pinot Noir In the September issue of Wine Business Monthly, there is a very informative article written by Lance Cutler. Three winemakers from each of four distinctively different Pinot Noir producing regions (Anderson Valley, Willamette Valley, Sonoma County, and Santa Barbara County) stated their Pinot Noir winemaking goals and gave detailed accounts of their viticultural, fermentation and aging practices. 12 wines were present and discussed by winemakers with detailed comments. The featured winemakers included Jason Drew (Drew Family Cellars), Jim Klein (Navarro), Doug Stewart and Ryan Hodgins (Breggo), Harry Peterson-Nedry (Chehalem), Dick Shea (Shea Wine Cellars), Ken Wright (Ken Wright Cellars), Ted Lemon (Littrorai), Ross Cobb (Cobb Wines), Eva Dehlinger (Dehlinger), Jim Clendenen (Au Bon Climat), Justin Willett (Tyler), and Adam Tolmach (The Ojai Vineyard). Pinotphiles will love the details in this article. If you are not a subscriber of the print magazine, look for this article on the magazine's website at www.winebusinessmonthly in October.
Sixth International Wine & Heart Health Summit, Newberg, Oregon Even if you cannot attend this three day presentation of research on wine and heart health, you may go to the Saturday night Wine Dinner and Benefit Auction, "An Affair of the Heart." Information below.