Cristom Vineyards: Calera Heritage
It seems only fitting to follow a feature on Calera Wine Company with an article on Cristom Vineyards. Steve Doerner was the first winemaker at Calera Wine Company and has been Cristom's winemaker since the winery's first vintage in 1992. He is now a partner in the winery with Paul Gerrie. Doerner graduated from the University of California Davis in 1979 with a degree in biochemistry. His interest in winemaking came from his scientific curiosity. He studied under Jacques Seysses, the owner and winemaker at Domaine Dujac in Burgundy, and spent 14 years at Calera Wine Company before arriving at Cristom. He names Burt Williams, the co-founder and original winemaker at Williams Selyem, as one of the vintners who greatly influenced him. He was the first high-profile California winemaker to exit California for Oregon (Steve's photo below).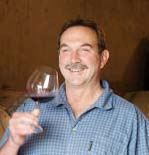 When engineer Paul Gerrie acquired the defunct Pellier Winery site in Polk County near Salem in 1992, the vineyards were in disarray and all but one had to be restored. Gerrie and his wife Eileen admit they bought the property on nothing more than a hunch. On his travels to France, Paul had learned about the traditional growing practices of Burgundy and the importance of terroir. After attending the 1991 International Pinot Noir Celebration, he decided the time was right to leave the East Coast and bring his family to Oregon's Willamette Valley.
Cristom, which is located in Eola-Amity Hills AVA, farms eight estate vineyards with Marjorie the only vineyard not restored after purchase of the winery. From 1993 to 1996, the vineyards were replanted and the first wines from estate fruit came from the 1994 vintage. Vineyardist Mark Feltz oversaw the replanting and has managed the vineyards since its founding in 1992. All vineyards are dry farmed and relatively high density planted.
Cristom farms a total of 75 acres (48.5 acres of Pinot Noir) spread over eight estate vineyards. Seven of the vineyards are named after women in Paul Gerrie's family including his wife Eileen. The vineyards are as follows: Marjorie (8.5 acres of Pinot Noir first planted in 1982; first designated release was in 1994), Louise (9.5 acres of Pinot Noir; first designated release was in 1996), Jessie (11.5 acres of Pinot Noir; first designated release was in 1998), Eileen (15.25 acres of Pinot Noir; 4.5 acres added in 2006; first designated release in 2000), Emilia (5 acres of Pinot Gris planted between 1993 and 1996), Germaine (named for Doerner's maternal grandmother; 4.5 acres of Dijon 75 and 95 clone Chardonnay), and two unnamed vineyards, one planted to Viognier and one to Syrah. Pinot Noir clones in the estate vineyards include Wädenswil (UCD 2A), Pommard, and Dijon 113, 114, 115, 667 and 777.
Cristom produces vineyard-designated Pinot Noirs from the four vineyards, Marjorie, Louise, Jessie and Eileen. The wines represent a selection of favorite barrels from the vineyard. Because of varying elevations, exposure and soil types, each vineyard produces a distinctive style of wine. Three Pinot Noir blends, all reasonably priced and produced in quantity are also offered: the Mt. Jefferson Cuvée (about 3,500 cases) which includes purchased grapes, the Sommers Reserve (about 1,250 cases) which is a selection of the best barrels intended for the Mt. Jefferson Cuvée, and the Signature Cuvée. Syrah, Pinot Gris, Chardonnay and Viognier are also available. Total production is about 10,000 cases annually. All Cristom estate wines, and the winery, are certified sustainable by L.I.V.E. and the single-vineyard Pinot Noirs have received the O.C.S.W. seal of approval (Oregon Certified Sustainable Wines).
Doerner uses about 50% whole clusters making his wines which is unusual for Oregon producers. I am a sucker for properly vinified whole cluster fermented Pinot Noirs because I find the resulting spice, the tannin structure and the age ability particularly appealing. Not surprisingly, native fermentations are the rule for Doerner as he was one of the first proponents of natural yeast fermentations for Pinot Noir. Acid additions are employed to achieve balance when necessary. Both press and free-run juice are combined and sent to barrel where the single vineyard Pinot Noirs receive a relatively high percentage of new oak (58% to 67% in the 2008 vintage). The wines undergo egg white fining but no filtration. Not surprisingly, the winemaking regimen is very similar to that initiated by Doerner at Calera Wine Company which is still in place at that winery today.
Cristom Vineyards wines are sold through the winery website at www.cristomwines.com, the tasting room, and distribution through fine wine retailers. The tasting room at 6905 Spring Valley Road NW in Salem, Oregon, is open Tuesday through Sunday, 11:00 AM to 5:00 PM March to December, and by appointment January and February. Several of the wines are available in half bottles which are ideal for earlier consumption. Magnums and library wines are sold through the winery's online store.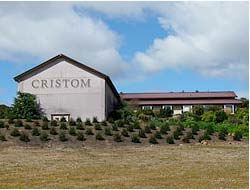 I recently sampled a few older vintages direct from the winery, a ¡Salud! Cuvée Pinot Noir from 2007, as well as the four single vineyard Pinot Noirs and two blend Pinot Noirs from the 2008 vintage. The 2009 Mount Jefferson Cuvée has been released and is reviewed here as well. The 2008 vintage wines offer robust extraction of very ripe fruit, significant tannins and limited approachability at this stage. All the single vineyard Pinot Noirs are in very heavy bottles.