Sea Smoke Cellars: California Cult Classic
Sea Smoke is one of a handful of California Pinot Noir producers whose fruit-powered style has quickly captured the attention of pinotphiles. Bob Davids, a Burgundy aficionado and CEO of a highly successful computer game company, acquired 350 acres of farmland overlooking the Santa Ynez River in 1999 and began development of the 105-acre Sea Smoke Vineyard the same year. He chose south-facing hillside bluffs situated above Fiddlestix Vineyard in the Sta. Rita Hills appellation of Santa Barbara County. From the beginning, the emphasis has been on meticulous vineyard management led by a highly skilled vineyard team.
Ten Pinot Noir clones are planted in 26 unique geographic blocks of the large vineyard which has six soil types and elevations ranging from 300 to 700 feet above sea level. The first photo below of Sea Smoke Vineyard is taken from Fiddlestix Vineyard looking toward the north with Sea Smoke vines on the hillsides in the distance. The second photo shows the Sea Smoke Vineyard from its highest point with Fiddlestix Vineyard in the foreground, then Santa Rosa Road, Sanford & Benedict Vineyard, La Encantada Vineyard, and the Santa Rosa east-west mountain chain visible in the distance. The third photo shows one aspect of the Sea Smoke Vineyard.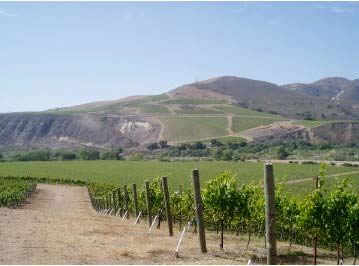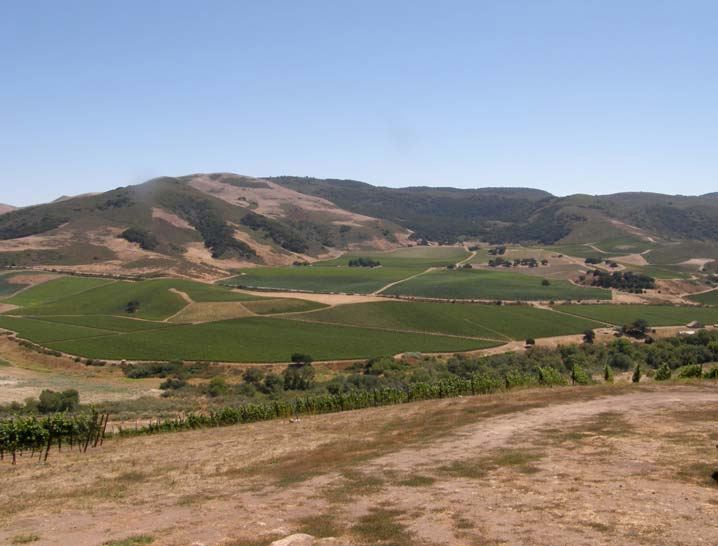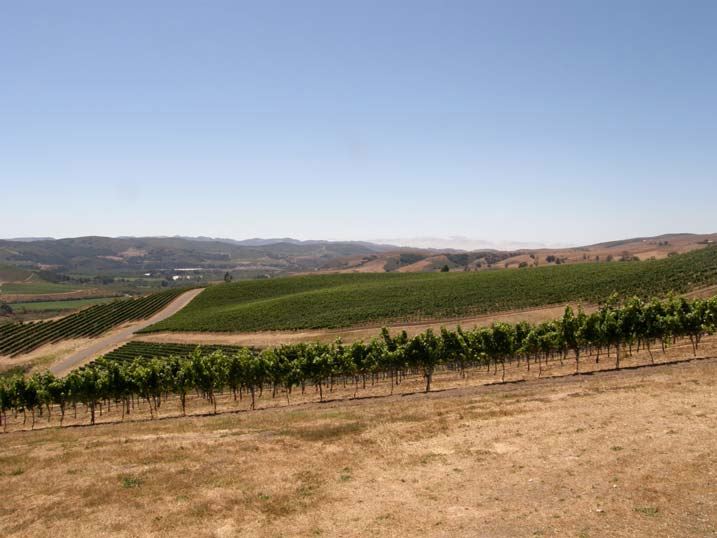 The Pinot Noir clones planted include Dijon 113, 115, 459, 667, 777, 09, 16, Pommard 5, 2A, and Mt. Eden Selection. The Chardonnay clones are Wente and Dijon 76, 95 and 96.
Individual blocks and clonal combinations are vinified separately and provide a complex palate for blending decisions intended to reflect the terroir of the site. The initial winemaker was Kris Curren, who left in 2007 to join Foley Estates, replaced by Don Schroeder who was Curran's assistant and a winemaker at Ampelos Cellars. Victor Gallegos, educated at University of California Davis, is the director of winemaking and viticulturist. Schroeder has proven to be a fortunate hire, for working together with Gallegos, the pair have taken the wines in a subtle, but more appealing direction in my opinion, with less alcohol, slightly less extraction, and reduced new oak elevage. According to the winery spokespeople, "The 2009 vintage marked the culmination of a subtle stylistic shift at Sea Smoke - a measured fine tuning to further enhance the aging ability of Sea Smoke's wines, through slightly lower alcohol levels and the finessing of new oak ratios during barreling." They have not changed their picking regime, which is still aimed at tannin and flavor ripeness but have altered their winemaking regimen without resorting to de-alcoholizing the wines.
The first Sea Smoke Pinot Noir was released from the 2001 vintage and instantly acquired an enthusiastic following. A new winery was built in Lompoc and the 2009 vintage, reviewed here, was the first to be vinified there. The large space available in the new winery and almost 40 fermenters allows for focused work with the 50 distinct small individual fermentation lots.
Yields were the highest ever from the Sea Smoke Vineyard in 2009 at 2.3 tons per acre, but the cluster counts per vine remained the same; quite low but with each cluster's weight greater. More mailing list members were offered wine in 2009, but unfortunately, yields dropped back to normal in 2010.
Beginning in 2002, there have been three Pinot Noirs produced at Sea Smoke: Botella which is fruit forward with mild tannins; Southing, which is darker and more reticent initially; and Ten, which is made from a barrel of each of the ten clonal selections grown on the estate vineyard. The Ten bottling has been crafted to be more robust, vinified with a larger percentage of new oak that is from coopers with a more aggressive style, resulting in more long-term age ability potential.
A Chardonnay is produced from three acres planted in the estate vineyard. The wine was initially intended for charitable purposes and as a reward for mailing list members, thus the name "Gratis" for the wine. Many customers requested that the Chardonnay be made available for purchase. An additional five acres of Wente clone Chardonnay was planted in 2005 and beginning that year, a "Sea Smoke Chardonnay" was crafted along with "Gratis." Gratis is crafted with power and richness, while the Sea Smoke Chardonnay is more elegant and refined because of a different cooperage program and the use of 25 percent stainless steel during fermentation.
After sorting the grapes, the must undergoes a 1 to 4 day cold soak and is then inoculated with cultured yeasts. The slow fermentation and maceration takes fourteen to eighteen days for the Southing and sixteen to twentyeight days for the Ten. After settling, both free-run and press wines are racked to barrels and aged 16 months in 55% new (Southing) and 65% new (Ten) French oak barrels. For the Sea Smoke Chardonnay, cold grapes are softly pressed, cold settled and racked to both French oak barrels and a stainless steel fermenter. The must is inoculated for primary fermentation and barrels are periodically stirred. The wine is aged 16 months in 55% new French oak barrels before bottling.
Sea Smoke wines are sold almost exclusively through distributors and a mailing "List" and highly allocated. Visit the website at www.seasmoke.com to join the list. For questions about the list contact customerservice@seasmokecellars.com. No tasting room is available at Sea Smoke because all the wine is pre-allocated to List members. Occasionally wine is available at the Taste of Santa Rita Hills tasting room in the Lompoc wine ghetto (www.tasteofstritahills.com). The winery is not open to the public for tours and vineyard visits are not possible due to legal restrictions on public access.
Grand Cru Vineyards in California?
Sea Smoke caused a bit of a stir when they released their 2009 wines with the phrase, "California Grand Cru," on the front label. Naysayers pointed out that the Sea Smoke vineyard is only a little over ten years old, with not enough vintages to justify such a claim of distinction.
Currently, California does not have a formal classification of vineyard quality such as Burgundy's cru system based on well-defined climats. This is understandable, as most California Pinot Noir vineyards are relatively young. As Remington Norman points out in his new book, Grand Cru, "The working idea of Grand Cru is both thoroughly Burgundian and thoroughly pragmatic. It reflects the fact that over the centuries the quality of wines from certain plots has consistently out performed that of their neighbors, irrespective of the grape variety planted on them." The important word here is "centuries." In Burgundy, even with that much experience with specific vineyards, there remains controversy over the classification with some Grands Crus (or at least part of the vineyard) undeserving of that designation and some Premier Crus deserving of the title, but not so designated.
Not to brag, but to make a point, I have tasted Pinot Noir from every notable Pinot Noir vineyard in California. Considering my experience and the quality of the wines tasted (aromatic interest, complexity, persistence after swallowing, and capacity to age with interest), the following vineyards come to mind when I think of California vineyards of potentially Grand Cru quality: Calera Jensen, Hanzell, Mount Eden, Donum Estate, Rochioli, Summa, Hirsch, Savoy, Pisoni, Bien Nacido, and Fiddlestix. Beyond these choices, there are literally hundreds of vineyards for which arguments could be made for inclusion in this select club.
It is a fertile (sic) topic to debate, but do not look for a vineyard classification system to be forthcoming soon in California. The biggest challenge to arriving at such a classification would be determining who would decide?