2009 California Praiseworthy Pinots
Anthill Farms Winery
A trio of winemakers who had worked together as cellar hands at Williams Selyem launched their own winery with three Pinot Noir releases in 2004. Anthony Filiberti grew up in Sonoma County and was lured to wine at an early age, perfecting his craft at Bergstrom Winery in Oregon, Hafner Vineyards in the Alexander Valley, and Williams Selyem. David Low grew up in Kansas but became hooked on wine while attending University of California at Berkeley. A short stint as a computer programmer was followed by a change of heart and he later worked at both Williams Selyem and Papapietro Perry where he is also an assistant winemaker. Webster Marquez grew up on the East Coast and attended school in Virginia. He worked as an assistant winemaker at Jefferson Vineyards before moving to Sonoma County where he joined Williams Selyem. He was the previous winemaker at C. Donatiello Winery in Healdsburg (now closed). The emphasis at Anthill Farms is on the vineyards and the name of the winery reflects the multiple small individual vineyards that form the owners' "link between place and product." The trio of winemakers prefer to bring notoriety to their winegrowers at North Coast vineyards in Sonoma and Mendocino counties. The annual production of 1.400 cases, which includes Syrah, is quickly snapped up by an eager mailing list. Tasting is by appointment in Healdsburg. The website is www.anthillfarms.com.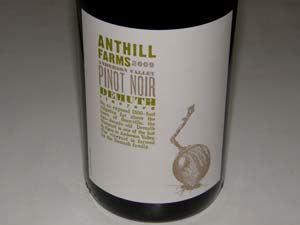 2009 Anthill Farms Demuth Vineyard Anderson Valley Pinot Noir
13.3% alc., $44. This 20-year-old vineyard sits at 1,400 to 1,600 feet above Boonville and is farmed by Anthony Filiberti and the Knez family who own the property. Clones are Pommard and Wädenswil. · Moderately light reddish-purple color in the glass. Deeply aromatic with scents of dark cherries, pipe smoke, spice and seasoned oak. Crisp and bright on the palate with vivid flavors of dark red cherries, raspberries and cranberries with subtle hints of spice and smoke. Pillowy tannins create a very smooth mouth feel. Terrific the next day from a previously opened and re-corked bottle.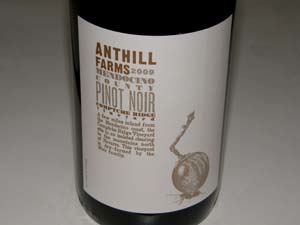 2009 Anthill Farms Comptche Ridge Vineyard Mendocino County Pinot Noir
13.8% alc., $44. This 3-acre vineyard is situated north of Navarro above the town of Comptche and just inland from the northern Mendocino Coast. It is dry-farmed by the Weir family. Planted exclusively to Swan clone, yields are 1 ton per acre. · Medium dark purple-red color in the glass. This wine is very upfront after opening. Deep, dark and mysterious nose offering aromas of blackberries, black plums, underbrush and subtle oak. Impressive fruit intensity on the attack and on the finish which persists for what seems like a minute. Rugged and masculine in character with ripe, firm tannins yet possessed with a modicum of finesse. Displays an earth and mineral laden undertone that speaks to the terroir of this region. Spectacular the next day from a previously opened and re-corked bottle.
Drew Family Cellars
This winery has been featured on multiple occasions in the PinotFile because the winemaking is so consistently superb that I have never had a disappointing wine from owner and winemaker Jason Drew. In 2000, Jason founded the Drew label with his wife Molly while he as an associate winemaker at Babcock Vineyards & Winery in the Santa Rita Hills. In 2002, he left Babcock to concentrate on his own label, and two years later purchased a 26-acre ridge top property overlooking the Anderson Valley in the Mendocino Ridge appellation. A winery and home were built on the property and vineyard planting began in 2010. Drew's vineyard will be one of the most westerly vineyards on the North Coast. Grapes are currently sourced from the Anderson Valley, Sonoma Coast, Mendocino Ridge, and Yorkville Highlands. Vineyards sources have changed with vineyard ownership switches over recent years. Drew wines are sold through a mailing list and retail channels, and at the tasting room in Philo. Interested Pinot lovers should join the mailing list and the Pre- Release Wine Club to insure access to the limited production wines (1,800 cases annually). Visit the website at www.drewwines.com.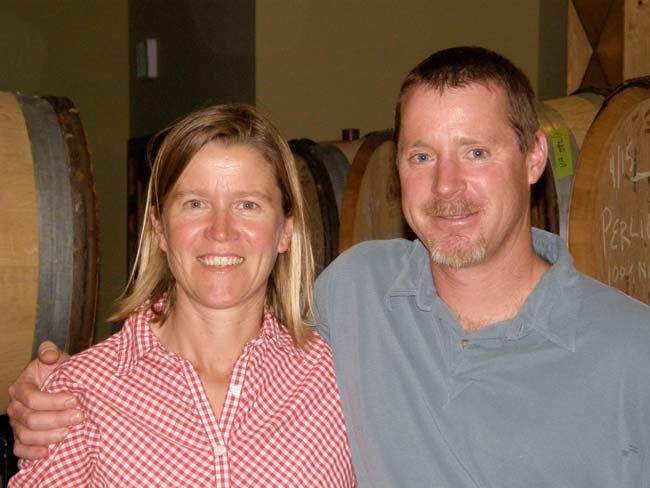 2009 Drew Perli Vineyard Murder Ridge Block Mendocino Ridge Pinot Noir
13.9% alc., $40. From a steep ridge top vineyard laden with volcanic rock at 2,000 feet elevation about 10 miles from the Pacific Ocean. · Moderately dark reddish-purple color in the glass. A chameleon of a wine that changes in the glass over time. Many aromas show up including Herbs de Provence, red berries and cherries, spice, almond paste and a floral note. Medium weighted vivid flavors of dark red cherries, raspberries and plums with a savory component, well-mannered tannins and a good cut of acidity on the bright finish. Very good (+).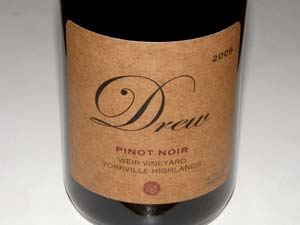 2009 Drew Weir Vineyard Yorkville Highlands Pinot Noir
13.9% alc., $40. Fifth vintage of this wine. This 15-acre vineyard is situated at the southeastern border of Anderson Valley amongst the redwoods. Planted by owner Bill Weir to a California heirloom clone purported to be from DRC, cuttings from Rochioli River Block, Pommard 4 and Wädenswil 2A. I have had some marvelous wines from this vineyard through the years and this vintage is no exception. · Moderate reddish-purple color in the glass. Complex nose that unfolds slowly revealing many nuances including aromas of dark berries and black plums, mushrooms, bramble, spice, and rose petal. Delicious core of fresh plum compote wrapped in firm, but well-honed tannins, attacking the mid palate with conviction, and persisting on the soft finish that shows a riff of citrus and a perfume of plum sauce. Deft balance between richness, acidity and tannin. It is wines like this that make Pinot my paramour.
Freestone Vineyards
Joseph Phelps Vineyards farms three distinct vineyard properties in the hamlet of Freestone, a very cool climate region located in west Sonoma County. The Pastorale Vineyard lies adjacent the hillside Freestone Vineyards winery and consists of 34 acres of Pinot Noir and 21.7 acres of Chardonnay. Quarter Moon Vineyard is further west and is planted to 41 acres of Pinot Noir. Ferguson Vineyard, located just north of the winery, contains 6 acres of Pinot Noir and is farmed under a long-term lease. Director of Winemaking is Phelps veteran Damien Parker, the Winemaker is Theresa Heredia, and the Consulting Winemaker is noted Burgundian Pascal Marchand. Fogdog Sonoma Coast Pinot Noir and Chardonnay are the winery's entry level offerings, composed of a blend of grapes from the three estate vineyards. The Freestone Sonoma Coast Pinot Noir and Chardonnay and Ovation Chardonnay are premium bottlings composed of grapes from the estate vineyards. Vineyard-designated Pinot Noirs are produced from Quarter Moon and Pastorale vineyards and a single vineyard Chardonnay is offered from Pastorale Vineyard. Tasting is available at the Freestone Vineyards Guest Center at the corner of Bohemian Highway and Highway 12 Friday through Monday. The wines are sold through the Freestone Vineyards Private Collection wine club and the winery's online store at www.freestonevineyards.com. There is some retail distribution of the Fogdog wines.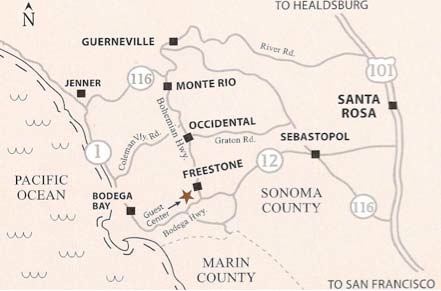 Harrington Wines
Bryan Harrington crafts small lots of (never larger than 225 cases) artisan Pinot Noir and Nebbiolo from his urban winery warehouse located in the Produce District of San Francisco. Harrington wines are available for purchase from the website at www.harringtonwine.com and retailers in the San Francisco Bay Area. Occasional winery open houses are scheduled.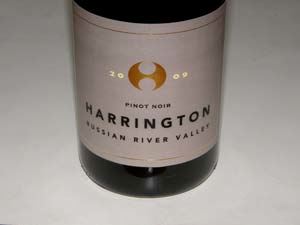 2009 Harrington Russian River Valley Pinot Noir
14.2% alc., pH 3.59, TA .61, 104 cases, $40. Sourced from the Middle Reach area of northern Russian River Valley. The vineyard is family owned, 2-acre, and planted to Pommard clone. Aged 10 months in 25% new French oak barrels. · Moderately light reddish-purple color in the glass. Aromas of ripe Bing cherries, baking spices and smoky oak. Deeply flavored with very ripe dark cherries and accents of cola and mocha robed in ripe tannins and framed by a healthy acid spine. Appears to be from a very warm Russian River Valley site. Good (+).
2009 Harrington Mendocino (Wiley Vineyard Anderson Valley) Pinot Noir
14.1% alc., pH 3.59, TA 0.61, 48 cases, $40.Sourced from a vineyard planted to the Martini selection in 1968. A 2-acre block of this old vineyard was sold to developers 15 years ago and farming ceased. In 2008, this block was cleared of brush, pruned and an organic dry-farming program established. It is located on a stony, west sloping benchland at an elevation of 1,000 feet. Aged 10 months in 50% new French oak barrels. · Light reddish-purple color in the glass. Complex perfume of red fruits, wooded forest, mushrooms, spice and seasoned oak. Soft and smooth on the palate with a light weight array of red berries and cherries with a savory hint of herbs. A little rustic with mild tannins and vibrant acidity. A gentle wine for current drinking. Good.
2009 Harrington Paso Robles Nebbiolo
14.1% alc., pH 3.14, TA 0.715, 100 cases, $30. From two Templeton Gap vineyards (Luna Matta and AJB) planted in calcareous soil and sand, much like the hillside slopes of Italy's Barolo and Barbaresco wines. Aged 16 months in neutral French oak barrels. · Moderately light in color in the glass. Aromas of humus, underbrush and resin with delicate red fruits in the background. A delicate core of red cherries and berries is wrapped in aggressive tannins and lemony acidity which provides a mouth-puckering finish. Decent.
Hop Kiln Winery
Hop Kiln Winery dates to 1976, having spawned many well-known winemakers. The current owner is Vero Westside Joint Venture. Proprietary blends, bottled under the Hop Kiln label (Thousand Flowers and Big Red) make up a large part of Hop Kiln's current production, but in 2004 a line of premium estate grown wines were introduced under the HKG (Hop Kiln Grown) label including a Pinot Noir. Most of the 248-acre property was replanted with Pinot Noir (44 acres), Chardonnay (16 acres) and Pinot Grigio (6 acres) beginning in 2009. The winemaker is Chuck Mansfield who has a degree in enology and viticulture from Cal Poly San Luis Obispo and studied advanced viticulture in Australia. The wines are sold through the winery website. The tasting room at 6050 Westside Road in Healdsburg is open daily and a second tasting in Glen Ellen is open Thursday through Sunday. The website is www.hopkilnwinery.com.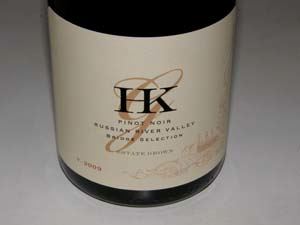 2009 HKG Estate Bridge Selection Russian River Valley Pinot Noir
13.9% alc., pH 3.66, TA 0.541, 450 cases, $38. Multiple clones including 114, 777, 828, Jackson 29, Pommard 4 & 5, and Comar 538. Aged ten months in 40% new French oak barrels. Inaugural bottling with un-racked barrels chosen for inclusion. · Moderate reddish-purple color in the glass. Bright aromas of Bing cherries, baking spices, red licorice and oak vanillin. Medium weight flavors of slightly confected, fresh pie cherries with hints of cola and mocha. Soft and silky on the palate with supple tannins and welcome finesse. A harmonious wine that is comely in character and easy to drink. Very good (+).
Kendric Vineyards
Stewart Johnson farms the Kendric Johnson Vineyard on leased land at the boundary of the Marin County and Sonoma Coast appellations 8 miles west of the Pacific Coast. This 8.5-acre vineyard was planted in 2002 to clones 37, 115, 667, 777, 828, Pommard and Martini. Yields are extremely low at this very cool site. Stewart could well be the most educated winemaker in California. He graduated from University of California at Berkeley, obtained a doctorate in political science from Yale, and graduated with a law degree from Hastings. While interning at the Environmental Protection Agency, he was drawn to winegrowing and winemaking rather than being confined to an office practicing law. With his wife, who is a Marin native, he discovered the pastoral beauty of Marin County and ended up growing grapes there. I have tasted every vintage of Kendric Vineyards Pinot Noir since the inaugural 2004 release and found the wines to be consistently stellar and sensibly priced. The 2008 vintage is probably the best to date. Both vintages reviewed below are available on the winery's website at www.kendricvineyards.com. Some fruit from the Kendric Johnson Vineyard is sent to other premium producers including Miller Wine Works and Sheldon (reviews below).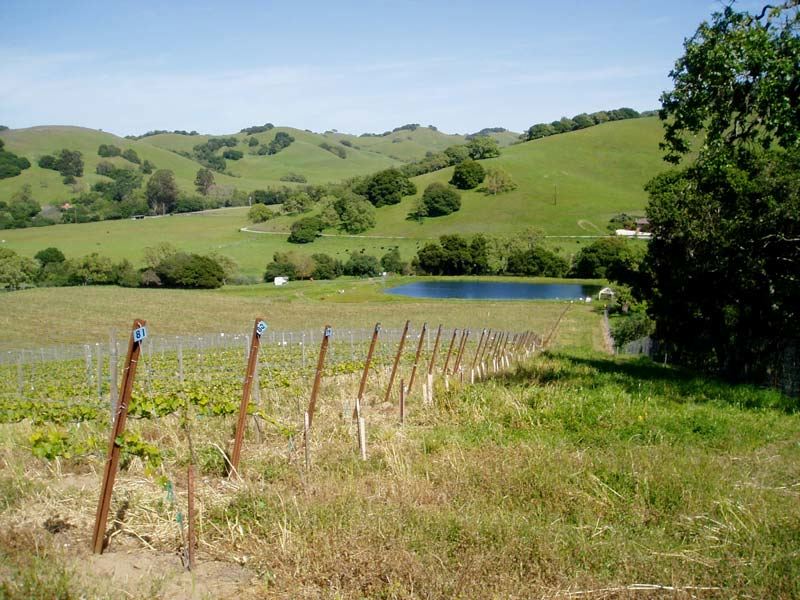 2007 Kendric Vineyards Marin County Pinot Noir
13.9% alc., 368 cases, $34. · Moderate red color in the glass. Scents of cherries, strawberries, spice and wine cave emerge slowly over time in the glass. Light to medium weight core of cherries with hints of sandalwood and black olive. Smooth in the mouth with an uplifting, mildly oak-tinged finish. Pleasant but not extraordinary. Good (+).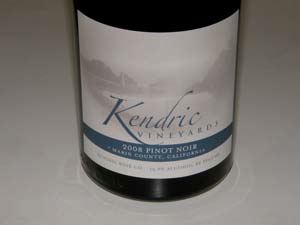 2008 Kendric Vineyards Marin County Pinot Noir
13.5% alc., pH 3.41, TA 0.59, 365 cases, $35. Yield 1.75 tons per acre. · Mildly intense dark red color in the glass. Subdued aromas of black cherries, vanillin and rose petals. Attention getting presence on the mid palate of dark red berries, blueberries, herbs and sassafras. A polished, engaging wine with supple tannins and bright acidity on the finish. Easy to drink now, but impeccable balance portends many years of good drinking ahead. Very good.
Sheldon Wines
Sheldon Wines is a partnership between Dylan Sheldon and Tobe Weatherly. The two met at the Cepage Wine Bar in Carmel, California, which Sheldon started in 2000 after working harvest in Western Australia. Weatherly was a geologist who frequented the wine bar. They were engaged five weeks after their first kiss, sold all their belongings, and traveled the world together making wine. When they returned to the United States, they leased an empty winery in Sebastopol and vinified their first 420 cases of Sheldon wine in 2003. The wines reviewed here are very uneven in quality. The Sheldon Wines tasting room is located in Santa Rosa's Urban Winery Village (open Friday 4:00 to 7:00 and Saturday and Sunday 2:00 to 6:00 and by appointment). The portfolio includes a Rhone white blend, Petite Sirah, and Graciano. The wines are sold on the website (www.sheldonwines.com) with limited retail distribution.
2006 Sheldon Kendric Vineyard Marin County Pinot Noir
13.8% alc., pH 3.67, TA 0.70, 180 cases, $42, sold out. Clones 115, 667 and Pommard. About 20% whole clusters, cool fermentation, gently pressed to barrel, bottled unfined and unfiltered. · Moderate reddish-purple color in the glass. Secondary characters dominant the bouquet showing aromas of humus, moss, cigar box and old wood. Flavors of black cherries, plum, spice and stem are framed by vivid acidity and prominent dry tannins. Tastes like a 10-year-old Pinot. Decent.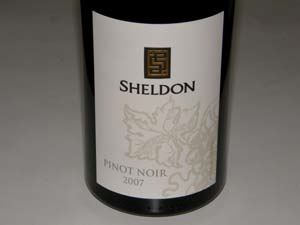 2007 Sheldon Marin County Pinot Noir
13.5% alc., pH 3.59, TA 0.52, 145 cases, $28. Clones 115, 667 and Pommard. 20% whole clusters, cool fermentation to retain aromatics, pressed to 20% new French oak barrels. Unfined and unfiltered. · Moderate reddish-purple hue in the glass. Glorious nose with engaging aromas of dusty cherries and berries, candied apple, earth and subtle oak. Delicious flavors of black cherries, black raspberries and spice finishing with a boatload of cherry flavor. Well-mannered fine grain tannins and refined acidity make for a cozy wine that is drinking perfectly now. Delivers plenty of pleasure while still remaining light on its feet.
2010 Sheldon Roma's Vineyard Anderson Valley Pinot Noir
13.4% alc., pH 3.70, TA 0.60, 125 cases, $45. From a vineyard situated at 1,800 feet elevation at the deep end of the Anderson Valley. Pommard clone. One lot cold soaked, crushed and fermented in small, open-top fermenters without sulfur addition and the second lot was fermented whole cluster. Aged in two and three-year-old French oak barrels. · Moderate reddish-purple color in the glass. Very floral nose featuring violets and dried rose petals. Floral-tinged redder fruits with a mild confected tone in a relatively light weight style. The delicate fruit is overwhelmed by aggressive dry tannins and hi-pitched lemony acidity on the finish. Bland and out of balance. Unsatisfactory.
Pali Wine Co.
Founded in 2005 by Tim Perr, Scott Knight and a group of investors, the winery is named for the Los Angeles suburb of Pacific Palisades where the principals live and work. Pali produces several single-vineyard Pinot Noirs from top notch vineyards in California and Oregon, a line of value-priced appellation blends of Pinot Noir and Chardonnay named for different neighborhoods in the Pacific Palisades, and a group of very inexpensive wines bottled under the Tower 15 label. At one point, the winery produced as many as ten single-vineyard Pinot Noirs, but this has been reduced in 2009 to two (and a Chardonnay from Shea Vineyard in Oregon) as the winery has shifted its emphasis to more affordable, earlier drinking wines. A modern winery was complete in Lompoc in 2007 and tasting is available there Fridays and Saturdays and other days by appointment (www.paliwineco.com. The wines are all bottled under screw top. The 2005 to 2007 vintages were vinified by Brian Loring. Aaron Walker is the current winemaker with Kenneth Juhasz (Auteur, Donum Estate, Dunstan) acting as the consulting winemaker.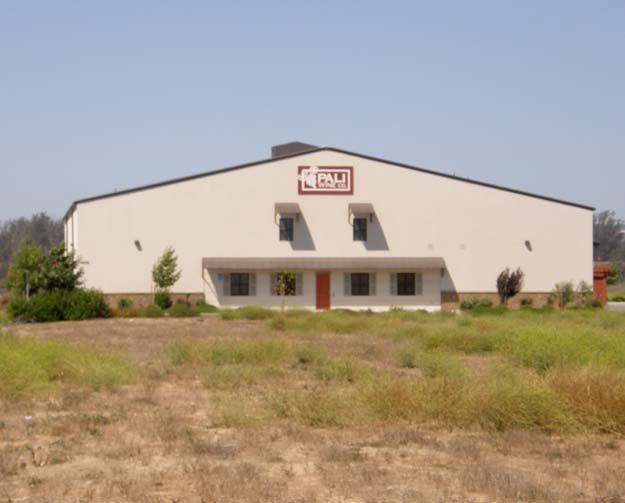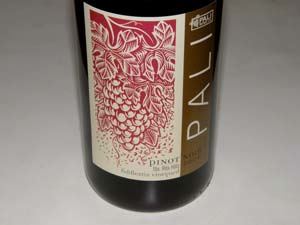 2009 Pali Wine Co. Fiddlestix Vineyard Sta. Rita Hills Pinot Noir
14.7% alc., 110 cases, $48, screw cap. Dijon 667, 777, 115 and Pommard 4 clones. Aged 15 months in 50% new French oak barrels. · Moderate reddish-purple robe. Deep aromas of very ripe, dark fruits with hints of oak-driven spice and vanillin. Intensely flavored with a big-boned core of very ripe blackberry, black raspberry and black current fruit framed by well-proportioned tannins which are unusually well-mannered for this vineyard. Soft and plush in the mouth with well-integrated oak and admirable persistence on the back end. Generous and fruity rather than classy or complex. Good (+).
2009 Pali Wine Co. Cargasacchi Vineyard Sta. Rita Hills Pinot Noir
14.8% alc., $48, screw cap. Dijon 115 clone. Aged 15 months in 50% new French oak barrels. · Medium red-purple color in the glass. The nose is primarily savory with aromas of humus, underbrush, oak spice and flowers. Rustic and earthy, with a mediumbodied core of dark raspberry and plum fruit that lingers on the relatively long finish which displays slightly cooked fruit and a floral tone. Still sporting notable ripe tannins that need time to fully integrate. Good (+).
Scribe Winery
Proprietor Andrew Mariani acquired 256 acres in 2007 three miles east of the Sonoma Town Square in Carneros. The property has a long and colorful history dating to 1858 when Emil Dresel and his brother Julius established vineyards on the site. They may have planted the first Riesling and Silvaner vines in the United States. There are reports of clandestine Prohibition era activities on the property and most recently, the land was home to turkeys. With partners Kristof Anderson and Andrew Avellar, the trio is revitalizing the property and growing 35 acres of Pinot Noir, Chardonnay, Riesling and Sylvaner. The first vines were established in 2008. Part of the large property is being designated as a "Forever Wild" Conservation Easement, which is protected for perpetuity under the Agricultural Preservation and Open Space District of Sonoma County. The current wines are crafted from purchased grapes from Carneros and a leased vineyard property in Napa. A winery is planned to preserve the turkey shed imprint and honor the history of the property. Membership in the Scribe Viticultural Society is worth considering not only for the wine but to gain VIP access to events at the Scribe Estate. Mariani has a group of San Francisco Bay area chefs as pals and they often show up at the estate holding forth at an outdoor kitchen and wood-fired oven. Tasting is by appointment (707-939-1858). Visit the informative website to sign up to receive the winery's newsletter and to join the Scribe Viticultural Society.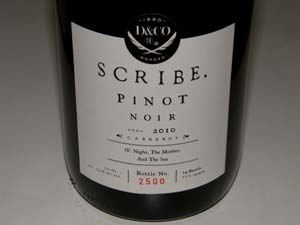 2010 Scribe Carneros Pinot Noir
13.1% alc., 350 cases, $42. Indigenous fermentation, aged 5 months in neutral French oak and bottled unfiltered. · Medium reddish-purple color in the glass. Effusive nose offering scents of Bing cherries, ripe raspberries, musk, cola and vanillin. A festival of cherry and dark red berry flavors with a slight exotic and confected bent. Plush on the palate with supple tannins and a hint of smoky oak in the background. A cozy wine that is nicely balanced and user friendly. Very good.
Talisman
Winemaker Scott Rich crafts age worthy Pinot Noir from challenging and expressive sites. Along with his spouse, Marta, who is also the National Sales Manager for Calera Wine Company, Scott started his small label in 1993. Trained under Tone Soter at Etude in Carneros, Rich crafts small lots (typically 200 to 300 cases) of terroir-driven Pinot Noir at his small warehouse winery in the town of Sonoma. Although I admire the wines, you do not have to trust me: check out the many testimonials on the website at www.talismanwine.com. The wines are sold primarily through a mailing list. Tasting is by appointment (707-258-5722).
2008 Talisman Sonoma County Cuvée Pinot Noir
14.3% alc., pH 3.72, TA 0.62, 161 cases, $32. A multi-vineyard blend selected from single-vineyard lots. Barrels of both 2007 and 2008 vintages went into this blend. Dijon 115, 777, Pommard and Swan. Aged 20 months in French oak barrels. · Medium reddish-purple color in the glass. Very reserved aromatics offering hints of dark cherry compote and herbs. Earth-kissed flavors of black cherries and black raspberries clothed in mild ripe grape tannins and offering a refreshing cut of acidity on the finish. Still seems tight and I would decant if you open now. Soft in the mouth and easy to drink. Good.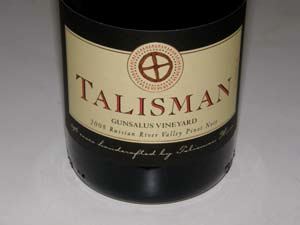 2008 Talisman Gunsalus Vineyard Russian River Valley Pinot Noir
14.3% alc., pH 3.78, TA 0.52, 296 cases, $40. Pamela and Glen Gunsalus farm their vineyard located in the Green Valley of Russian River Valley. Dijon 114, 115, 667 and 777. 25% whole clusters, native fermentation. Aged 20 months in 75% new French oak barrels. · Moderately deep reddish-purple color in the glass. Lovely perfume of fresh pie cherries, spice and herbs. Amazing depth of cherry and red raspberry flavor, accented with notes of sassafras and baking spices. Long and creamy on the palate, finishing with a burst of sweet cherry fruit flavor that sails along. The flavors trump the aromas now, but further bottle aging should remedy that. Flat out beautiful and a worthy followup to the spectacular 2007 bottling from this vineyard.
2008 Talisman Wildcat Mountain Vineyard Los Carneros Pinot Noir
14.3% alc., pH 3.75, TA 0.59, 184 cases, $45. Highest elevation vineyard in Los Carneros . An extreme, cool site exposed to the wind from San Pablo Bay. Red pebbly clay loam soils. Swan, Pommard, Dijon 115 and 777. Aged 20 months in 86% new French oak barrels. · Moderate reddish-purple color in the glass. A very divisive wine because of its feral and savory components. Aromas of wild strawberries, black cherries, spice and subtle ash. Silky on the palate with discreetly concentrated flavors of red cherries and berries with a hint of spice and truffle. Oak-driven smoke and tar are evident. Considerably better the following day from a previously opened and re-corked bottle with brighter and fruitier aromatics and less oak-driven attributes. Good (+) but may warrant a higher recommendation in a few years as the high percentage of new oak becomes better integrated into the wine.
Thomas George Estates
This winery has made remarkable strides in the past four years. The former Davis Bynum Winery and estate vineyards were acquired by the Baker family of Toronto, Canada in 2007. Jeremy Baker has directed the renovation of the winery, the construction of a crush pad, a new tasting room, replanting of estate vineyards including the estate Baker Ridge Vineyard adjacent the winery, and the construction of 8,000 square feet of barrel aging caves (the only caves on Westside Road). The Bakers purchased the Starr Ridge Vineyard on Windsor Road and the Cresta Ridge Vineyard in the Green Valley appellation, both originally planted and farmed by Gary Farrell and both premium sources of Pinot Noir and Chardonnay, expanding their Russian River Valley estate program to 63.5 acres. The vineyard manager is noted Sonoma County viticulturist, Ulises Valdez, who works closely with renowned vineyard consultant Bob Gallagher of Crop Care Associates. Winemaker Chris Russi, like Jeremy, is young and energetic and the wines he has crafted have made huge strides since the new winery was completed in time for the 2008 vintage. Multiple varietals are offered from top vineyard sources in Sonoma County to compliment the winery's focus on site-specific Pinot Noir and Chardonnay estate wines. The house style emphasizes lower alcohols, excellent acidity and the modest use of new oak. I am impressed by the progress made with each recent vintage and the consistent high quality across the winery's whole range of Pinot Noirs, white wines and sparkling wine in 2009. The winery's beautiful setting off Westside Road is the site of many events including weddings. The tasting room is well appointed and open daily. The wines are made available on the informative website at www.thomasgeorgeestates.com. Guesthouses on the property are available for rent to complete the full visitor experience.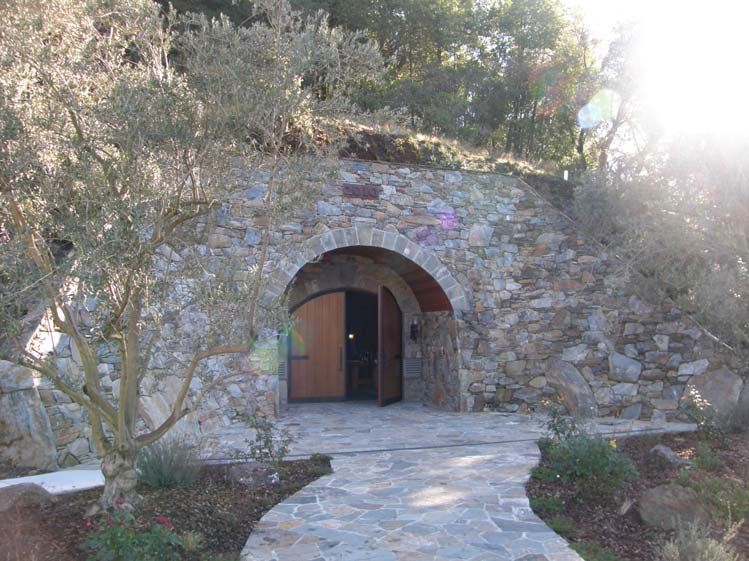 Wild Horse Winery & Vineyards
Many consumers associate Wild Horse with the ubiquitous, entry level and reasonable priced Central Coast Pinot Noir seen on practically every supermarket wine department shelf. There is, however, more Wild Horse wines to explore that are worthy of a serious pinotphile's interest. Wild Horse Winery has been part of the Central Coast wine landscape for over 30 years, having been originally founded by Central Coast winemaker icon, Kenneth Volk, in 1981. In 2003, the winery was sold to Peak Wines International and then sold to Constellation Brands. Currently, Wild Horse sources grapes from over fifty vineyards throughout California's Central Coast. There are three levels of Wild Horse Pinot Noir: Wild Horse Wines (inexpensive, early drinking, widely distributed), Unbridled Wines (limited production releases, often only available at the winery), and Cheval Sauvage (a reserve wine selected from special barrels). Cheval Sauvage (French for "Wild Horse") is sourced from several coveted vineyards on the Central Coast and represents a premium blend of Pinot Noir clones that varies with each new vintage. The current 2008 vintage includes fruit from Garey, Bien Nacido, Addamo and Sierra Madre Vineyards in the Santa Maria Valley, and Rancho Los Hermanas Vineyard in the Santa Rita Hills. The winery and tasting room are located south of Paso Robles in Templeton. Visit the website at www.wildhorsewinery.com to purchase wines.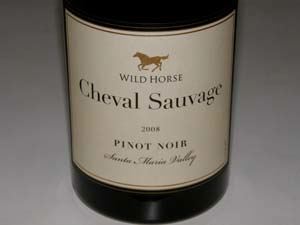 2008 Wild Horse Cheval Sauvage Santa Maria Valley Pinot Noir
14.5% alc., pH 3.49, TA 0.572, $60. A finest barrel selection. Small lot, whole berry fermentation in open-top fermentation bins with manual daily punch downs. Only the finest barrels are selected for this bottling. Aged 14 months in French oak barrels. · Moderate reddish-purple color in the glass. Nicely perfumed with vivid aromas of black cherries, spice and Italian herbs picking up intensity over time in the glass. The medium weighted flavors of dark stone fruits and berries combined with savory herbs and the slightest oak are framed by svelte, satiny tannins and good acidity to produce a wine of considerable charm. I particularly enjoy this wine for its savory bent, elegance, balance, and unmistakable sense of Santa Maria Valley terroir. Definitely worth seeking out.