Antica Terra Estate: A Place for Dreamers
It is a proud time for winemaker Maggie Harrison for it has been over six years since the spring of 2005 when she first visited Antica Terra in the Eola-Amity Hills and contemplated making the move to Oregon from her comfortable assistant winemaking position at Sine Qua Non. When she visited Antica Terra on that first spring day, her memories remain vivid.
"From that viewpoint I could feel the peculiar quality of light that I now recognize as intrinsic to the place. The clouds seem to fracture over the vineyard and allow the sun to ray through, at an angle and with an intensity that makes the site feel bright, even on the bleakest day. I could see the vineyard; a sea of yellow leaves and stunted shoots. The vines were at the beginning of their growth cycle, but they were already beginning to defoliate. There were piles of black plastic and rotting hay in all the rows; remnants of a failed attempt at experimental weed control. It had done little more than create the perfect habitat for voles intent on girdling the vines. I could also see the picnic table under the old oak tree where we had just tasted the wine that they made from the site in 2003. It seemed inconceivable that such an intense, concentrated and utterly unique liquid could have emerged under these meager conditions. The site was so beautiful, the potential so clear, and the suffering equally clear. In that moment, looking at the vineyard from a distance, at the top of the forest where everything seemed so small, I felt like it was a situation I could wrap my arms around. I knew that I could do the work, concrete and real, to heal the place and make the wines this land was capable of."

In the fall of 2005, all the wine produced from the site was declassified and another source for grapes had to be found to produce Antica Terra Pinot Noir over the next several vintages while the vineyard was undergoing rehabilitation. Antica Terra was fortunate to be able to obtain fruit from Shea Vineyard in an amount to equal what was planted at Antica Terra. The fruit from the two sites seemed to compliment each other. Maggie notes, "The old vine fruit from Antica Terra provides singularity and a smoldering complexity, while the grapes from Shea Vineyard bring fruit and stability." The blend, which also included fruit from a third vineyard, turned out to be perfect. The Antica Terra fruit formed the core of the Willamette Valley bottling, giving it identity and complexity, but leaned on the fruit from other vineyards for completeness. The idea of bottling Antica Terra as a single-vineyard Pinot Noir was far from her mind.
In 2008, an additional five acres of Pinot Noir were planted on the steep hillside site. The land turned out to be extremely rocky and three thousand tons of rock had to be removed to plant the vineyard. The vines struggled in the shallow, rocky soil. Maggie notes, "A sensible person would never choose to plant vines at Antica Terra. It is a hillside better left to the oaks; a place for dreamers, not viticulturists." Nevertheless, hope springs eternal, and by 2009, portions of the vineyard remained healthy deep into the fall.
In the spring following the 2009 harvest, Maggie and her partners began tasting the wines and were surprised by their intensity. Seven barrels containing wine grown on the site were set aside. Maggie recalls, "It was a surprise in the truest sense. We began this venture with the dream of making this wine firmly in our minds. Somewhere along the line, obsessed with all the intricate details of daily life, we forgot that this possibility existed. It was in this state of forgetfulness, when we were least expecting it, that it emerged." 164 cases of 2009 Antica Terra Vineyard Estate Pinot Noir culminated a six year project of hope and dedication.
Antica Terra wines are offered through a member mailing list at www.anticaterra.com. In 2009 the lineup of wines include the inaugural Chardonnay made from Bethel Heights old vine fruit and clone 76 from Johan Vineyard. The Antica Terra Rosé, "Erratica," is my favorite rosé produced in Oregon. The three Pinot Noirs include the Willamette Valley bottling (fruit from the Antica Terra estate and two extreme sites closer to the coast), Botanica (a Reserve blend), and the Estate Grown Antica Terra Vineyard wine.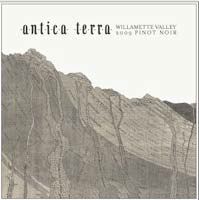 2009 Antica Terra Willamette Valley Pinot Noir
13.5% alc., $50. Released April 2011. · Moderate reddish-purple color in the glass. Black cherry and black raspberry is at the heart of this wine which displays prominent oak-driven aromas and flavors of roasted coffee beans and mocha java. Moderately rich with supple tannins, the wine can be enjoyed now, but will benefit from more time in bottle to allow the oak to further integrate. Good (+).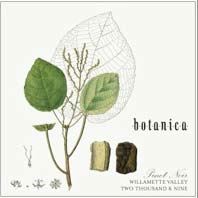 2009 Antica Terra Botanica Willamette Valley Pinot Noir
15.0% alc., $75, wax closure. Released April 2011. Unusual ripeness for Willamette Valley fruit reminiscent of the 2006 vintage in Oregon. A blend of fruit from Antica Terra Estate, Shea Vineyard and Stephen Hagen's vineyard near Junction City. · Moderate reddish-purple hue in the glass. Demure aromas of very ripe strawberries and berry triffle. Medium-weighted flavors of ripe, sweet, dark red fruits wrapped in soft fine-grain tannins, leaving a lingering impression of lush fruit on the finish. Seamless, with a very sensual mouth feel, displaying well-integrated oak. A black tie, fruit-driven wine that is California in spirit. One would never guess this wine had 15% alcohol because it has the necessary fruit, acid and tannin to keep the wine in balance with the alcohol. It is not my favorite style of wine, but I have to admit finding it enjoyable. Very good.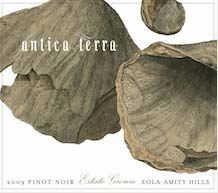 2009 Antica Terra Estate Grown Eola-Amity Hills Pinot Noir
13.6% alc., $100, wax closure. Released November 2011. · Moderately dark reddish-purple color in the glass. An engaging Pinot Noir with gorgeous perfume of wild berries, Christmas spices, mesquite, underbrush and coffee. The allure carries through on the palate with layers of flavorful dark berries, savory additions of leaf and spice, an exotic note of musk, and a complimentary underpinning of smoky oak. Impeccably balanced and very sensual in the mouth. A beautiful food wine. Even better the next day from a previously opened and re-corked bottle. If this Pinot were a lover instead of a wine, it's one that would make you abandon your family, leave your job, and forfeit your hard-won position in the community for just one more fling.