White Rose Estate: Simply Stunning Pinot
When Greg Sanders bought the 9.5-acre White Rose Vineyard in the Dundee Hills of Oregon in 2000 he wanted to produce Pinot Noir from this now 20-year-old site that mimicked Burgundy's top Grand Crus. He spent a considerable amount of money acquiring and tasting fine Burgundy to understand his goal, and I was lucky enough to tag along and taste some of the iconic wines of Burgundy with him.
Greg has no formal winemaking experience beyond a few courses at University of California at Davis and does not drink which makes his story even more intriguing. His first wines were flawed with Brettanomyces. He initially chose to use very curious and oblique names for his wines including Dragon's Bluff and Quotee's Lair. A local well-known wine retailer in Southern California refused to carry Greg's early wines because the retailer disliked the peculiar black and white labels.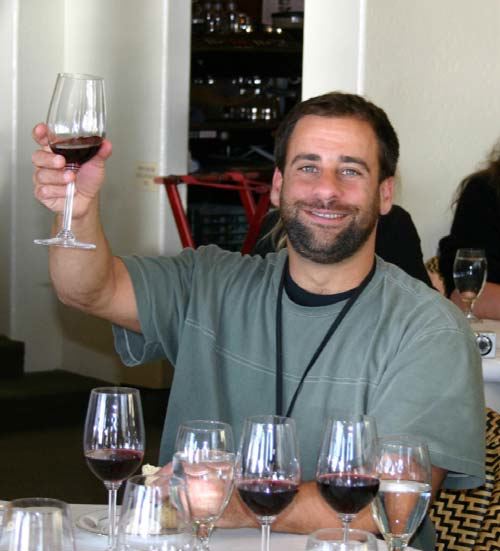 Since 2008, there has been a remarkable transformation at White Rose Estate. Greg now works in tandem with Jesus Guillen, also a largely self-taught winemaker whose father managed the estate since arriving in 2002. The labels have taken on a new design more fitting the quality of the wines and the website has been thoroughly upgraded. Wine Advocate reviewer Jay Miller said recently, "Old vines, low yields, and a willingness to stretch the envelope have made White Rose Estate one of the premier producers of American Pinot Noir," and he gave the 2009 White Rose Vineyard Whole Cluster Pinot Noir a score of 96 points, the top scoring Oregon wine of the vintage. Two 2008 White Rose Estate Pinot Noirs made my 2010 Oregon Pinot Noir All-Americans First Team list. White Rose Estate now has a reputation befitting the neighborhood, with Domaine Drouhin Oregon, Domaine Serene and Archery Summit all close by.
When I spoke with Greg recently, I asked him about the remarkable improvement in the wines beginning in 2008. He told me that it just took several years to dial in the style he was aiming for. He has veered away from the use of large amounts of new oak, now preferring about 10% during elevage. Greg uses a significant amount of whole cluster because he feels it adds more secondary character to the wines from his site. He began experimenting with whole cluster fermentation in 2004 and he found this "allows us to produce wines with full structure, allowing the complexity, density and purity of fruit to shine, and offering a clear expression of each layer of flavor." By the 2011 vintage, all of Greg's wines will be vinified with 100% whole cluster.
Because of White Rose Vineyard's relatively high elevation (720 to 870 feet above sea level), extended hang times are the rule and Greg's wines have benefited from the extended growing season at the site. Over the last four years, harvest has occurred in late October and in 2011, stretched from October 25 to November 6. This allows for slow, ideal flavor and phenolic development, balanced sugars and acids, and mature stems.
The White Rose Vineyard was planted between 1978 and 1982 and contains own-rooted Pommard clone. It is planted on an east-southeast facing slope of volcanic Jory soil. In 2009, an additional 4 acres of vineyard immediately north of the original site was acquired. This vineyard was planted in 2001 to Dijon 115 grafted to American rootstock and is showing more potential each year.
For a number of years White Rose Vineyard fruit was sold to prominent Willamette Valley wineries such as Panther Creek, St. Innocent and Torii Mor, and was often bottled as a vineyard designate. Beginning three years ago, all White Rose Vineyard fruit is kept for estate bottlings. In addition, fruit is sourced from growers in the Yamhill-Carlton District AVA, Dundee Hills AVA and Chehalem Mountains AVA and bottlings are offered in 2009 from each of these three appellations and the Willamette Valley appellation. The estate Pinot Noir wines include White Rose Vineyard, Winemaker's Cuvée, "Guillen," "Hand Select," and "Whole Cluster."
For 2009, yields averaged 1.5 to 1.75 tons per acre across all vineyard sites. The winemaking regimen for the estate Pinot Noirs is as follows. Fruit is typically cold soaked for 4 to 5 days before inoculation. 7 to 11 days of post-maceration skin contact follows the completion of fermentation. After 20 to 22 days of skin contact, the must is pressed off using an old world basket press and barreled down in French oak for 15 months of aging in the cellar. While in barrel, the wines are racked once after malolactic fermentation and then again just before blending.
The 2009 White Rose Estate wines do not have quite the startling intensity of flavor and structure of the 2008 vintage wines, but they are more approachable upon release and are very classy wines in their own right.
Greg has built an unusual tasting room with a small winery underneath whose main doors look out on to the Willamette Valley and Mt. Hood. The tasting room at 6250 NE Hilltop Lane in Dayton is open daily. Tours are available by reservation on Saturdays. The wines are sold through a mailing list, wine club and on the website (www.whiterosewines.com), with very limited retail distribution of some wines.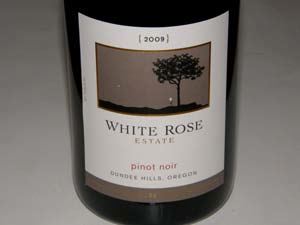 2009 White Rose Estate White Rose Vineyard Dundee Hills Oregon Pinot Noir
13.8% alc., pH 3.78, 308 cases, $70. 60% whole cluster fermentation. Sourced from the four oldest blocks of the vineyard. Aged 15 months in 8% new Rousseau oak barrels. · Moderately light reddish-purple color in the glass. Glorious nose offering aromas of cherry pie just out of the oven, baking spice, and potpourri. The palate is long and elegant, featuring waves of dark cherries and magic spice with well-mannered dusty tannins and perfectly matched acidity. Spectacular the next day from a previously opened and re-corked bottle. A very classy wine that speaks of low yields and old vine fruit.
2009 White Rose Estate Winemaker's Cuvée Willamette Valley Oregon Pinot Noir
13.7% alc., pH 3.70, 48 cases, $70. 60% whole cluster fermentation. Winemaker Jesus Guillen's favorite barrels: 1 barrel from Block 1 of White Rose Vineyard and 1 barrel of Bell Road Vineyard in the Chehalem Mountains. Aged 15 months in 100% neutral oak. · Moderately light reddish-purple color in the glass. Pleasing aromas of dark stone and berry fruits including marionberry, sassafras and a hint of herbal oak. The intense plum and dark red berry flavors arrive with conviction on the mid palate and persist on the finish. Silky smooth in texture with impeccable balance, this wine is still unevolved and linear, and will benefit from a couple years in the cellar. Very good.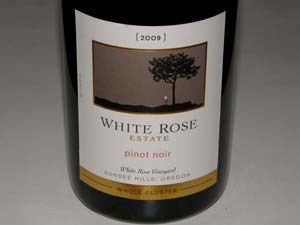 2009 White Rose Estate White Rose Vineyard Whole Cluster Dundee Hills Oregon Pinot Noir
14.0% alc., pH 3.72, 124 cases, $90. White Rose Vineyard Block 1, 100% whole cluster. Aged 15 months in 100% neutral French oak. · Moderately light reddish-purple hue in the glass. This wine really grabs your attention with a festival of ripe and forward aromas and flavors including dark pie cherries and sexy spice. Upon entry, the wine jolts your taste buds to action, offering substantial pleasure while displaying a seductive charm that carries over to the long and silky, cherry-soaked finish. Still mildly reserved, this marvelous juice should improve effortlessly over the next three to five years, and drink well for another five to ten years beyond that. Pick any superlatives you wish: my choice is "libidinous."