Morning Dew Ranch Pinot Noir from Burt Williams
The list of admirers of winemaker Burt Williams reads like a who's who of New World Pinot Noir producers: Bob Cabral (current winemaker at Williams Selyem), Michael Browne (Kosta Browne), Steve Doerner (Cristom Vineyards), Ted Lemon (Littorai), George Levkoff (George Wines), Tim Olson (Olson Ogden Wines), Manfred Krankl (Sine Qua Non), Jeff Fink (Tantara), Craig Brewer (Brewer-Clifton), Tom Dehlinger (Dehlinger), Chris Whitcraft (Whitcraft), Tom Rochioli (J. Rochioli Vineyards & Winery), Michael Sullivan (Benovia), Denise Selyem and Kirk Hubbard (WesMar), Ben Papapietro (Papapietro Perry), Nicolai Stez (Woodenhead), Ross Cobb (Cobb Wines), Mac McDonald (Vision Cellars), Guy Davis (Davis Family Vineyards) and Thomas Rivers Brown (Rivers-Marie). The are hundreds of other winemakers who have never met Williams, but have drank his wines and revere him.
Williams was among the very first California Pinot Noir producers who demonstrated that great wine, and in particular Pinot Noir, could be produced without artifice. Technological methods such as saignée, alcohol adjustment, addition of Rubired and other extracts, or other products to change color, flavor, acid, tannin and mouth feel were shown to simply not be required or desirable. Although technology and expensive equipment can be useful winemaking adjuncts, Williams showed that they are not requirements for fine wine production.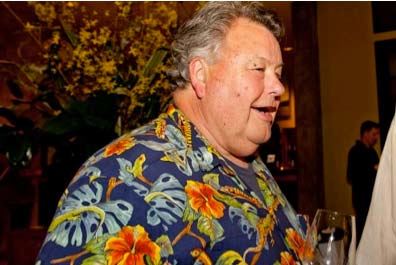 After Williams Selyem winery was sold in 1997, Williams bought a 40-acre property in the "deep end" of the Anderson Valley and planted 13 acres of Pinot Noir. Williams had searched for appropriate cool climate winegrowing sites including the Freestone area of the Sonoma Coast, but settled on the Anderson Valley, in part because the land was more affordable. Under the direction of viticulturist Steve Williams (no relation), the land was cleared and planted in 2000 to cuttings from the Rochioli vineyard, DRC suitcase selections from adjacent vineyards, clone 23 (Mariafeld - a clone Burt's son favored), and Dijon clones 115, 777 and 828. The vineyard, named Morning Dew Ranch, had Franciscan soils, clay underlain with sandstone. The vines were irrigated to establish them initially, with limited irrigation used when required in certain vintages to fully ripen the fruit.
Grapes from Morning Dew Ranch have been released as a vineyard-designated Pinot Noir by Brogan Cellars (owned by Burt's daughter, Margi Williams-Wierenga), Woodenhead, and Whitcraft. Williams crafted small amounts of Pinot Noir from his vineyard in 2008 and 2009 after his ten-year non compete agreement had expired at Williams Selyem. The 2008 vintage was released this year to a small number of lucky customers (some wine is still available as of the publication date of this newsletter - e-mail me for contact information to obtain the 2008 PInot Noir), and the 2009 vintage will be released in 2012. Williams has no plans to produce wine after the 2009 vintage, choosing instead to enjoy his much-deserved retirement.
The 2008 Pinot Noir was a selection of three blocks, each a different clone. 25% whole clusters were used with the rest of the grapes de-stemmed. Fermentation was carried out in open-top stainless steel tanks for 12 days, gravity racked and pressed to new French oak barrels. The wine was raised for 15 months on the gross lees before being racked to a tank for bottling. The wine was never pumped, fined nor filtered.
Williams' notes on the wine: "The vintage and terroir are both present in this wine as they have been in all my wines. There is initially a smoky aroma that combines with a dark berry fruit component with hints of roasted nuts and earth, medium rich palate, ripe tannins and berries on the finish. To sum this wine up in a more poetic vein, 'the veil of the vintage present as it should be does not obscure the strength of the terroir.' My suggestion with this wine is to decant it for aeration to allow the smoky components to recede a bit, and allow the fruit to come forward showing berry and pie cherry complexities. The wine at all stages pairs well with grilled salmon, lamb, veal and pork.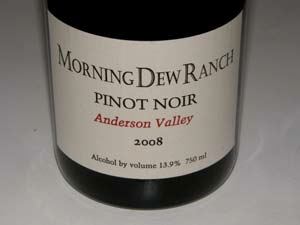 2008 Morning Dew Ranch Anderson Valley Pinot Noir
13.9% alc., 197 cases, $60. · Medium reddish-color in the glass. After decanting, aromas of pie berries, sweet barbecue smoke and wood spice emerge. Very fresh and vivid dark red berry fruit display an increasing charm over time in the glass and offers impressive finishing strength. There is clearly smoke, ash and tobacco flavors evident which reflect the fires of the vintage and the drinker needs to search through the smoke screen for the lovely core of fruit and spice within. The wine has very gentle tannins and is highly approachable now with decanting. Those drinkers that can accept the smoke affectation will thoroughly embrace this wine. Very good.