Pinot Briefs —Newsletter 8.46
Russian River Valley AVA Expansion The TTB has approved the previously proposed southern expansion of the Russian River Valley to Cotati, effective December 16, 2011. This was a very contentious proposal that was opposed by the Russian River Valley Winegrowers who have now acquiesced. The expansion was sought by E. & J. Gallo, which owns the 350-acres Two Rock Vineyard adjacent Highway 101 in Cotati. The change will add 14,000 acres to the Russian River Valley's current 155,000 acres. For a complete summary on this decision, visit www.gpo.gov/fdsys/pkg/FR-2011-11-16/pdf/2011-29519.pdf. Wine Industry Insight, published by Lewis Purdue, has challenged Gallo's proposed boundaries for an expanded Russian River Valley AVA, claiming they violate federal regulations (see www.wineindustryinsight.com). The last word on this issue has yet to be written. I believe the large AVA needs better delineation because of its diversity, since wines from the Middle Reach, for example, are noticeably different than the wines from Green Valley or those from the Santa Rosa Plain. Steve Heimoff has pointed out seven distinct terroirs in the Russian River Valley (see www.princeofpinot.com/article/1116/)
Sideways the Play Pickett, who wrote Sideways and its sequel Vertical, has now launched a social media presence including a blog at www.rexpickett.com. Around the third week of April, 2012, Sideways will be brought to the stage at Ruskin Group Theater Co., and Pickett is blogging about the play's progress before it premiers. A new documentary (My Life on Spec) is being made about the story behind Sideways: www.youtube.com/watch?v=bY3n5rK_AyY. A curious tidbit of obscure information about Sideways is that George Clooney hoped to be cast in the movie but Thomas Haden Church was chosen instead.
World of Pinot Noir The WOPN has announced events for 2012. The 12th Annual World of Pinot Noir will be held at The Cliffs Resort in Shell Beach, California, Friday, March 2, and Saturday, March 3, 2012. New this year is a Vintage Burgundy Dinner being held at the Dolphin Bay Resort Friday evening. The cuisine will be prepared in collaboration by Chef Mark Peel of Campanile Restaurant in Los Angeles and Chef Brian Collins of Lido Restaurant. The Court of Master Sommeliers President, Fred Dame, will host and pour a selection of vintage and rare wines from the Court's cellar. Also new this year is the Seaside Fête which will take place on the beach at the Avila Beach Golf Resort also on Friday evening. More than 30 host wineries will be pouring to the sounds of a live band. On Saturday night, there will be Dine Around at local Central Coast restaurants with each restaurant hosting four wineries. Burgundy authority Allen Meadows will conduct a primer on the history, grapes, soils and geography of Burgundy on Saturday morning. Tickets for the two day events sell out quickly. Visit www.wopn.com for more information and to purchase tickets.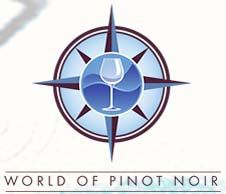 Australians Discover Brett's Genetic Blueprint Scientists at The Australian Wine Research Institute have sequenced the genome of Dekkera bruzellensis (Brettanomyces). The research was published in the November/December 2011 issue of the Wine and Viticulture Journal. The discovery could lead to better methods for controlling the yeast in wine.
Launch of VinNobles A team of Master Sommeliers has founded a new wine flash site at www.vinnobles.com that puts the emphasis on well vetted, hard-to-find, iconic wines, rather than simple discounts. Beginning with weekly offers, VinNobles will offer small production wines sourced by a team headed by Master Sommelier Barrie Larvin. An early offering included a selection of highly regarded wines from Baxter Winery, a small artisan producer of Pinot Noir located in Elk near the Anderson Valley.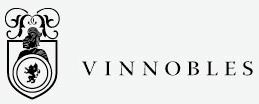 Two California Pinots in Top 10 of Wine Spectator's Top 100 for 2011 The 2009 Kosta Browne Sonoma Coast Pinot Noir (5,818 cases, $52) was named the wine of the year and the 2008 Dehlinger Russian River Valley Pinot Noir (1,050 cases, $35) was named the number 5 wine. The wines were chosen out of more than 16,000 wines reviewed by the Wine Spectator in blind tastings in 2011. The criteria for inclusion in the Top 100 include quality (score), value (release price), and availability (measured by case production). The full list will be published in the December 31, 2011-January 15, 2011 issue or at www.WineSpectator.com.
Oregon Wine Board Launches Wineries App To assist consumers in locating Oregon wineries on their mobile phones, the Oregon Wine Board has launched an app created by Portland-based LynkSnap, a developer of mobile websites for the wine industry. The app incorporates the Oregon Wine Map which has maps to tasting rooms, hours of operation, contact information and turn-by-turn directions. A guide to over 60 restaurants that earned "Super Cellars" awards from the Oregon Wine Press are also included (restaurants that offer exceptional selections of Oregon wines). Visit www.oregonwinemap.org where you will be directed to a mobile site to upload the app.
U.S. Alcohol Consumption At a 25-Year High A recent Gallup poll shows alcohol consumption reached a new 25-year high in 2010, with 67% of Americans reporting that they drank alcoholic beverages. The all-time alcohol benchmark of 71% was set in the 1970s. According to the Washington-based Beer Institute, people in the far West and the Upper Plains states drink the most, with the deep south and Mid- Atlantic region relatively dry. New Hampshire citizens are the biggest consumers of alcoholic beverages according to the poll, with the average adult in that state doubling the national per capita average, consuming an average of 6.7 gallons of wine each in 2010. Americans consumed wine at a record rate last year, about 2.3 gallons apiece.
Crushpad Offshoots in Urban San Francisco Jon Bonné wrote that two new projects have appeared in San Francisco recently that were founded by Crushpad veterans (SFGate.com, October 30, 2011). Dogpatch Wine Works was founded by Dave Gifford and Kevin Doucet, who are former Crushpad clients and investors. They are attempting to duplicate the Crushpad model on a smaller scale. Winemaker consultant for Dogpatch is Mike Zitlaff who was previously Crushpad's director of winemaking. The other project, Bluxome Street Winery, was founded by former Crushpad winemaker Chris Nelson and former Crushpad client (Connor Brennan Wines) Matthew Reidy. The partners make wine under the Bluxome Street Winery label but also host former Crushpad labels such as Furthermore and Waits-Mast Family Cellars. Visit www.dpwineworks.com and www.205.186.140.204.
International Pinot Noir Tasting A large blind tasting was held in London recently featuring wines from ten of the world's major Pinot Noir producing regions. German Pinot Noir grabbed seven of the top ten spots, but the 2009 Antica Terra Willamette Valley Pinot Noir took first place. The 2008 Au Bon Climat Isabelle Santa Maria Valley Pinot Noir took third place and the 2009 Felton Road Block 5 Central Otago Pinot Noir was awarded eighth place. Consumers here in the U.S. have had almost no exposure to German Pinot Noir since just over 1% of its production is exported. Germany is the world's third largest producer of Pinot Noir and has more Pinot Noir plantings than Australia and New Zealand combined.
Wine Barrel Furniture Very cool furniture handmade from reclaimed American or French oak wine barrel staves by artisans in Texas. A contoured bar stool, an outdoor swing and a bench with a comfortable bend are also offered. Visit www.uncommongoods.com.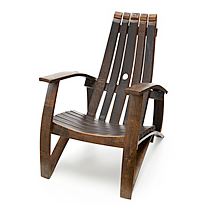 Riedel "Mamba" Decanter Wine aerates quickly through the coiled base and upright portion of this way-cool, mouth-blown lead crystal decanter, named for the world's fastest snake. The decanter was released in 2011 and is available in clear or limited edition black or green ($495 retail but available at significant discount from several online retailers). Visit www.riedel.com for other unusual decanters.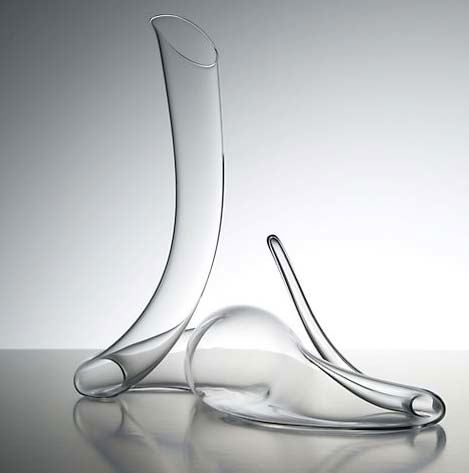 20th ¡Salud! Results 42 wineries poured at Domaine Drouhin Oregon's winery in the Dundee Hills and the 450 wine lovers in attendance bid on cases of 2010 special cuvée Oregon Pinot Noirs. Each of the 42 participating wineries produced five cases of their special cuvée. Bidding reached $2,000 per case in many instances. All five cases of Ponzi Vineyards' 2010 ¡Salud! Cuvée were sold to one bidder for $10,000. Preliminary estimates indicate the proceeds from Friday's Big Board Barrel Auction and Saturday's Dinner and Auction Gala were close to $680,000, topping last year's total. The Ponzi family was honored with the event's first-ever Founder's Award. Nancy Ponzi was one of the founders of ¡Salud!.