Embarrassment of Riches: Oregon
Anam Cara Cellars
Nick and Sheila Nicholas established this small family winery in 2001 devoted primarily to Pinot Noir from estate grapes. 33 acres are owned and farmed in the Chehalem Mountains. The property was originally an overgrown walnut, hazelnut and plum orchard with a neglected Christmas tree forest and included a quaint farmhouse dating to 1902 and several wooden outhouses.
The vineyard is planted in primarily Jory series soils at 450 to 650 foot elevation. Clones are Wädenswil, Pommard and Dijon 114, 115, 667 and 777. Plantings began in 2001 with additions in 2008. The L.I.V.E certified vineyard is farmed sustainably with both organic and biodynamic practices. Vineyard managers are Evan Bellinger and Buddy Beck. The winemaker is noted Oregon veteran Aron Hess (Daedalus and others).
Production is about 1,000 cases annually of primarily Pinot Noir. Chardonnay will be added in near future. A tasting room is open daily at the junction of 99W and Highway 240 in Newberg. The wines are sold to a mailing list and through the winery's online store at www.anamcaracellars.com.
One of the appealing features of Willamette Valley Pinot Noir is that it shows considerable vintage variation. The Anam Cara Pinot Noirs in 2009 are more classic and forward in style in comparison with the 2008 vintage wines that were reviewed previously. The wines are lighter, elegant and very charming, yet have the balance for medium term aging. Because of the growing conditions in the 2009 vintage, less new oak was used than in 2008. I would drink these while you wait for the 2008 Pinot Noirs to come around. All wines are bottled in recycled US-made Ecoglass which has 25% less weight than Anam Cara's previous glass bottles.
Cornerstone Cellars
Napa's Craig Camp enlisted former Domaine Serene winemaker Tony Rynders to craft a Pinot Noir from the Willamette Valley beginning with the 2008 vintage. The wine is produced just outside of Gaston, Oregon, where Rynders makes his own wine under the Tendril label. With the 2009 vintage, Camp has acquired more vineyard sources than the previous vintage, offering in his words, "A more complex, layered Pinot Noir than any of these fine sites would have on their own."
Camp, the former president of Annie Amie Winery, developed a passion for Pinot Noir more than 30 years ago and began importing the Burgundy selections of Becky Wasserman, making frequent trips to the Burgundy estates she was representing. Camp is also the mind behind the Stepping Stone by Cornerstone label that offers a number of varietals from the Napa Valley.
The 2009 Cornerstone Pinot Noir is composed of multiple clones from the Eola-Amity Hills (37%), Yamhill- Carlton District(21%), Chehalem Mountains (21%), Ribbon Ridge (13%), and Dundee Hills (8%) sub-appellations of the Willamette Valley. The wine was aged 14 months in 60% new French oak barrels. Tasting is offered at the Yountville Tasting Center in the Napa Valley at 6505 Washington Street. The wine is sold through a mailing list and offered online at www.cornerstonecellars.com. There is limited retail and restaurant distribution.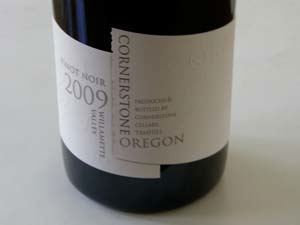 2009 Cornerstone Willamette Valley Oregon Pinot Noir
13.9% alc., 400 cases, $50. · Moderately light reddish-purple color in the glass. Nicely perfumed with aromas of black cherries and spice. Delicious medium weighted flavors of blueberries, black cherries and black raspberries with an emphasis on cherry. Riffs of cola and spice add interest. Juicy with restrained, dusty tannins, well-honed acidity and the slightest complimentary oak in the background. The flavors are ahead of the aromas at this stage. A beautiful wine that shows impeccable balance for the cellar but can be thoroughly enjoyed now. An All-American for 2012.
Noble Pig Winery
Noble Pig Winery was established in 2008 by winemaker Cathy Pollack and her physician spouse Henry. The couple spent most of their life in Southern California where Henry had a successful practice, but health problems cut his career short and they change direction. The family moved to Davis, California where Cathy enrolled in the school's enology and viticulture program. For her thesis, Cathy formulated a plan for a marketing and promotional program for a hypothetical winery she dubbed Noble Pig. She was inspired by a story from the 19th century of an English King who presented the Japanese emperor a prized Berkshire pig to strengthen their relations.
The Pollacks found a home in the McMinnville AVA where they bought 88 acres and planted the first 4 acres of Pinot Noir in 2010. The initial releases are from purchased fruit while the estate vineyard matures. Eventually, they plan to produce about 5,000 cases annually.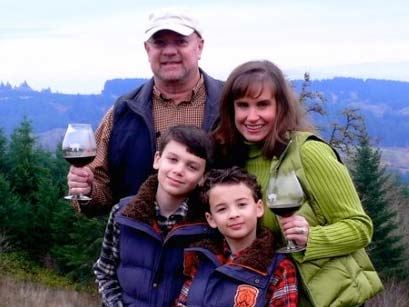 Pinot Noir, Pinot Gris and Pinot Blanc are offered. The wines are sold through the website at www.noblepigwine.com. A tasting room is shared with J. Wrigley Vineyards in a small cottage in Carlton. The Pollacks also have a terrific food blog with mouth watering recipes and photography at www.noblepig.com.

2009 The Noble Pig McMinnville Oregon Pinot Blanc
13.7% alc., 278 cases, $18, screw cap. Sourced from a very old vineyard in Yamhill County. · Pale yellow color in the glass. Fresh aromas of apple, poached pear, baking spice and warm honey. The flavors echo the aromas with an added note of grassy herbs and petrol. The fruit is crisped by the bright acidity and the mouth feel is slightly creamy. Pinot Blanc is my favorite casual and comfortable Oregon white wine. Very good.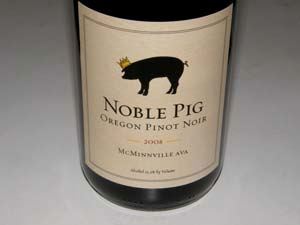 2009 The Noble Pig McMinnville Oregon Pinot Noir
13.2% alc., 100 cases, $34. Clones are Pommard and Dijon 114 and 115. Aged 12 months in French oak barrels. · Moderately light reddish-purple color in the glass. Aromas of fresh cherries, leaf, stem, cut flowers and apple core. Essence of black cherries and dried cranberries with subtle herbs and oak in the background. Aims to please with moderate silky tannins and a welcoming elegance. The wine acquires more body and interest over time in the glass, but is a bit austere and reserved lacking some mid palate verve and finishing strength. A little better the following day from a previously opened and re-corked bottle. Tasted twice. Good.
J. Christopher Wines
Jay Somers began as a master brewer at McMenamins pub in Portland, Oregon, apprenticed with John Paul at Cameron Winery, and then launched his own label, J. Christopher Wines in 1996. Somers specializes in Pinot Noir, Sauvignon Blanc and Chardonnay. He has formed a partnership with Dr. Ernst Loosen of Dr. Loosen and J.L. Wolf in Germany called Appassionata. Ernst began producing Pinot Noir at his J.L. Wolf Estate in 1996. The collaboration is aimed at producing Pinot Noir that combines the best ideas of the Old and New Worlds. Appassionata is a limited production Pinot Noir from the Willamette Valley, first produced in the 2006 vintage. Eventually, Appassionata will be produced entirely from estate grown fruit (planting began in the spring of 2010). The partners constructed a new J. Christopher Winery on Chehalem Mountain in Newberg, Oregon. Somers' wines are distinctive and never lack from interest. Using old world winemaking techniques, he never sets out to please the masses. As his website proclaims, "If you make a wine that everyone loves, you've done something wrong."
For 2009, there are seven Pinot Noirs offered, both appellation blends and vineyard-designates. The wines are sold on the winery's website at www.jchristopherwines.com and through fine wine retail channels. The J. Cru Club offers members first crack at newly released wines, notice about events at the winery and other news about J. Christopher wines and gigs.

2009 J. Christopher Willamette Valley Pinot Noir
13.5% alc., 1,500 cases, $28. The flagship wine. A blend from vineyards in the Dundee Hills, Chehalem Mountains and Eola Hills. Made with native fermentations and up to 18 months of French oak aging. Unfiltered. · Moderate reddish-purple color in the glass. Aromas of black cherry mash, mushrooms, brier patch and grassy field. A savory wine of interest with earthbound flavors of darker red stone and berry fruits with a hint of herbs and grass. Nicely composed with silky tannins and some persistence on the aromatic finish. Even better two days later from a previously opened and re-corked bottle. Very good.

2009 J. Christopher Dundee Hills Cuvée Pinot Noir
13.5% alc., 450 cases, $35. A barrel selection from several vineyards including Bella Vida, Baptista, Maresh, Charlie's, Abbey Ridge and Le Pavillon. Unfiltered. · Moderate reddish-purple color in the glass. Very shy initially, but opens beautifully over time in the glass revealing aromas of dark red and purple fruits with wood spice and subtle oak vanillin. Earthy and charming, with a medium weight core of darker Bing cherry and raspberry flavors perfectly accented by oak notes of spice and anise, and displaying a fancy thrust of pure fruit on the finish. Light on its feet and very accommodating. A step up over the Willamette Valley bottling.
Still More