Anderson Noir Valley
"Um, it's a hard grape to grow, as you know....
And in fact it can only grow in these really
specific, little, tucked away corners of the world."
'Sideways' movie
Anderson Valley wine producers are relatively isolated, do not have a prominent public marketing campaign, and lack a significant tourist influx due to a paucity of infrastructure, but the Pinot Noir from this bucolic valley is exceptional, perhaps unrivaled by any other Pinot Noir growing region in California. Anderson Valley first achieved validation as a premium grape growing region in the early 1980s when Roederer Estate established extensive plantings of Pinot Noir and Chardonnay and made sparkling wines of the highest caliber. In the last two decades, the region has placed an emphasis on still Pinot Noir. With the cultivation of Pinot Noir clones appropriate for Anderson Valley's climate coupled with the widespread adoption of modern winemaking and viticulture practices, Anderson Valley producers are now crafting world class Pinot Noir. Many align the region's style of Pinot Noir more closely with Oregon's Willamette Valley than California, leading to the offhanded title, "Baja Oregon."
To visit Anderson Valley is to leave the world of roadside McDonalds, Starbucks, and "ampm" stores behind and embrace a pastoral countryside teaming with moss-covered majestic oaks, manzanitas, ramshackle old barns, and grass meadows with calmly grazing sheep and cows. Boonville (population 1,457) is the center of "activity" in the valley with the hamlets of Philo (population 1,098) and Navarro (population 169) nearby to the north.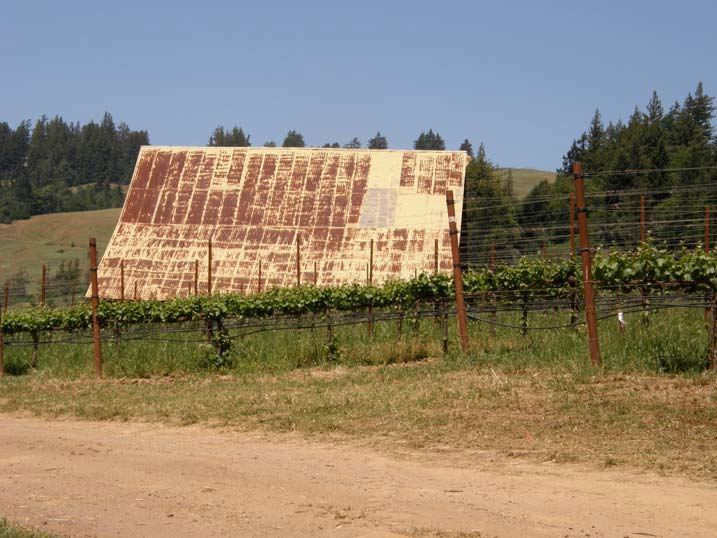 The Anderson Valley is relatively small and narrow, only .5 to 1.5 miles wide and 16 miles long. It is bordered on three sides by 2,000 to 3,000 foot mountains and is 18 miles from the Pacific Ocean at its northern tip which is known by locals as the "deep end." The valley opens on its northern end to the Pacific coast via the Navarro River Canyon and this unique geography allows fog to roll into the valley in the early morning and gentle, cooling breezes to enter in the afternoon. A gradient is thereby created, with the northern end referred to as "down-valley," and receiving more rain and fog and therefore cooler, and the southern inland portion, or "upper-valley," which is typically 8-10ºF warmer. Anderson Valley is classified as a Region I viticulture area in the "down-valley," and Region II in the "upper-valley" around Boonville.
Anderson Valley's vineyards and wineries are clustered along the fringes of Highway 128, which bisects the valley, with a majority of them located down-valley. Traveling west on Highway 128, you enter the Yorkville Highlands appellation at mile marker 50, the southern border of Mendocino County. At mile marker 33.89 you enter the Anderson Valley appellation. The Mendocino Ridge appellation is along hilltops west of Highway 128. Along Highway 128, the vineyards begin just south of Boonville, continue north through Philo, and end in the tiniest town of the three, Navarro. As Highway 128 continues north, it winds through redwood forests, eventually reaching the town of Mendocino and the Pacific Ocean. The latest map of the Anderson Valley published by the Anderson Valley Winegrowers Association (AVWA, www.avwines.com) is below. An interactive winery map is also available on the AVWA website.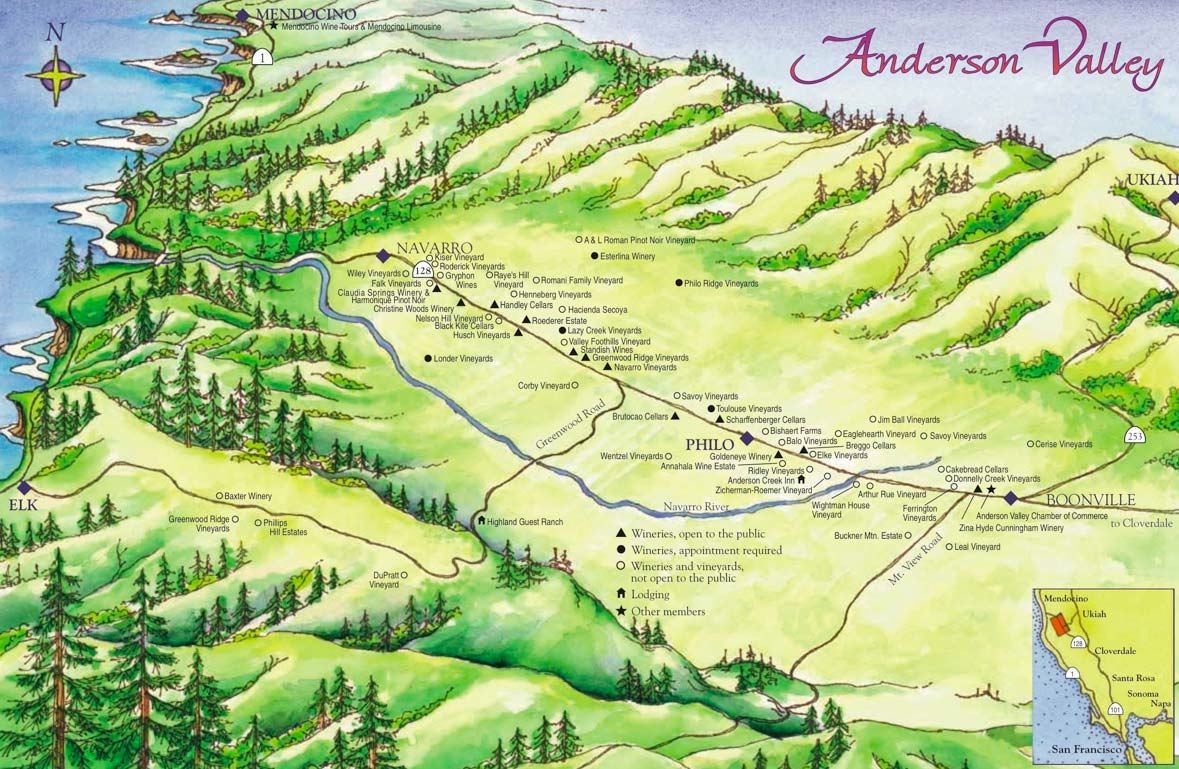 One of the most distinctive features of the Anderson Valley is the unique split rail redwood fences originally built to enclose pastures, but now bordering vineyards along Highway 128. Covered with moss and thoroughly weathered, they conjure an image of the 1800s when farmers in the Anderson Valley took local Pomo Indians into the forests to retrieve redwood for the fences that were an absolute must to protect the crops from the many voracious wild animals that roamed the pasturelands and hills. These crooked fences remain as an enduring reminder of the farming heritage of this picturesque valley.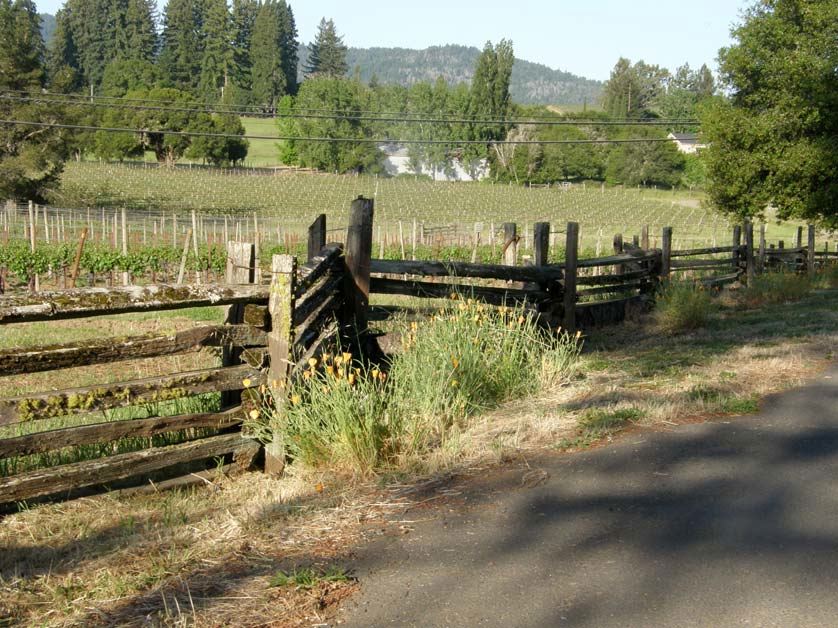 The 2010 census compiled in 2011 reveals the following statistics. There were 85 properties in the Anderson Valley with a median vineyard size of 12 acres and total bearing acreage of 2,244. Pinot Noir accounted for 1,453 acres on 76 properties with lesser amounts of Chardonnay, Gewürztraminer, and other white and red grapes. A large number of vineyards were planted between 1990 and 1999 (1069) and 2000 and 2009 (640). Three large growers, Roederer Estate, Goldeneye and Navarro control the most acreage. The valley's largest crop in revenue is not grapes, but marijuana.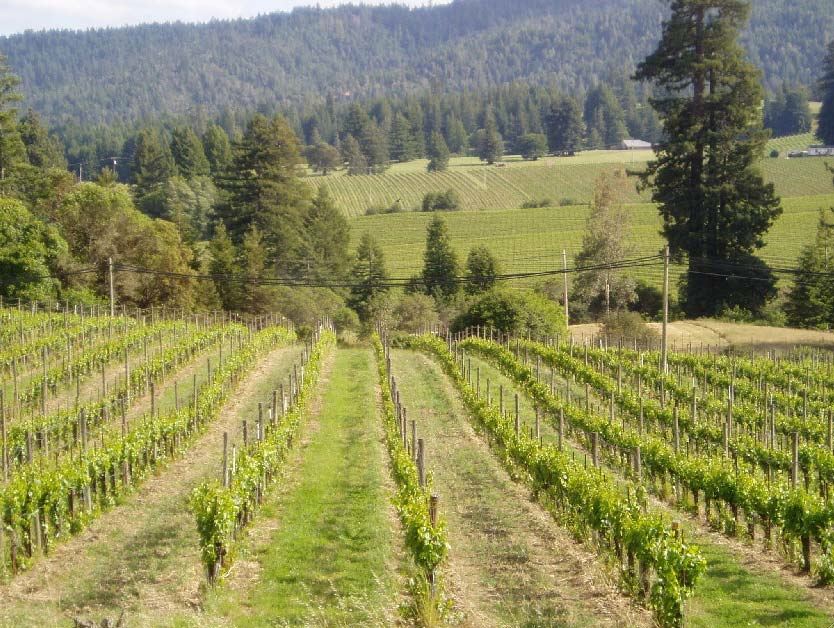 The first Pinot Noir planted in the Anderson Valley was by Wilton (Tony) Husch in 1968. Husch had been exposed to Pinot Noir by John Parducci who was a pioneering winegrower in Mendocino County dating back to 1931. A 3-acre parcel of Husch's property known as the Knoll was chosen. Located on a hillside overlooking the Navarro River, the Knoll Vineyard was planted to a Wente field selection of Pinot Noir and first harvested in 1971. Long time vineyard manager, Al White, arrived in 1973, two years after Husch Vineyards became a bonded winery. White recounts his first harvest at Husch in 1974, which was archaic by today's standards. The vines were planted with 8 feet by 12 feet spacing and overhead irrigation was used. Trellising was minimal and no leaf pulling was performed. Rain at harvest was a problem and with it came mold which was a significant nuisance. The grapes were picked into apple boxes at a very casual pace over several days by a hippie crew. The Knoll Vineyard is still producing Pinot Noir, but has been transformed by modern viticultural practices.
The Greenwood Ridge Vineyard, located on Mendocino Ridge above Anderson Valley, was planted by Tony Husch in 1972, in an area originally settled by Italian immigrants. Allen Green acquired the vineyard in 1973 and bonded his Greenwood Ridge Winery, a landmark on Highway 128, in 1980. Greenwood Ridge Vineyard has been the site of the California Wine Tasting Championships since 1983.
Today, some of Anderson Valley's Pinot Noir vineyards have become household names to pinophiles including Annahala, Black Kite, Cerise, Charles, Demuth, Donnelly Creek, Ferrington, Goldeneye's Confluence, The Narrows, Gowan Creek and Split Rail vineyards, Hacienda Secoya, Hein Family, Kiser, Klindt, Londer (pictured below), Maggy Hawk, Monument Tree, Morning Dew Ranch, Roma's, Roman, Run Dog, Savoy, Toulouse, and Wiley. It is a testament to the high esteem proffered by each of these vineyards that most Pinot Noirs from Anderson Valley are vineyard-designated, with fewer appellation-designated wines produced.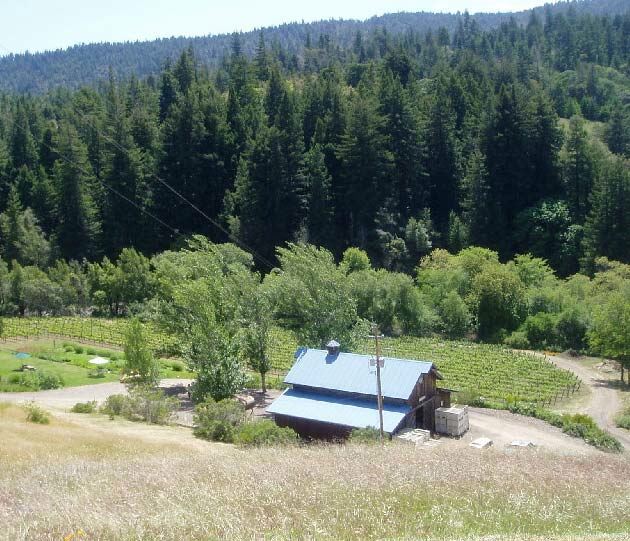 There are 32 wineries in the Anderson Valley with either a winery facility or a tasting room, and at least 37 notable California Pinot Noir producers source grapes from Anderson Valley including 32 Winds, Anthill Farms, Arista Winery, Adrian Fog, Barnett, Benovia, Brogan Cellars, Cakebread Cellars, Chronicle, Copain Wines, Couloir Wines, Ferrari-Carano Vineyards and Winery, Expression Vineyards, Fulcrum Wines, Gryphon Wines, Hartford Family Wines, Harrington, Ici/La Bas, Krutz Family Cellars, Kutch, La Crema Winery, Lioco, Littorai, MacPhail Family Wines, Madrigal Vineyards, Maggy Hawk, Radio-Coteau, Roessler Cellars, Rhys Vineyards, Saintsbury, Skewis, Twomey Cellars, Waits-Mast Family Cellars, Whitcraft, Williams Selyem, Wind Racer and Woodenhead.
Do not be deterred from discovering the Anderson Valley by apparent lack of creature comforts. The valley is not about seeking the Napa Valley wine lifestyle. Leave your designer jeans, Louis Vitton handbags and Polo shirts at home. Consider attending the 15th Anderson Valley Pinot Noir Festival May 18-20, 2012. The three day event includes a Technical Conference on Friday, a Grand Tasting with over 40 wineries pouring on Saturday, and winery open houses on Sunday. I attend annually and am easily seduced by the casual country fair atmosphere, the delectable local artisan foods, the warmth and passion of local winegrowers and winemakers, the enthusiastic organizers, and "baul hornin" (that's boontling, Anderson Valley's code-like dialect dating to the 1800s, for "good drinking"). Tickets go on sale March 15 and the event quickly sells out each year. Visit www.avwines.com for updates and tickets. Check my website at www.princeofpinot.com and look under "Pinot Trail Travel" on the home page for suggestions on lodging in the Anderson Valley and nearby.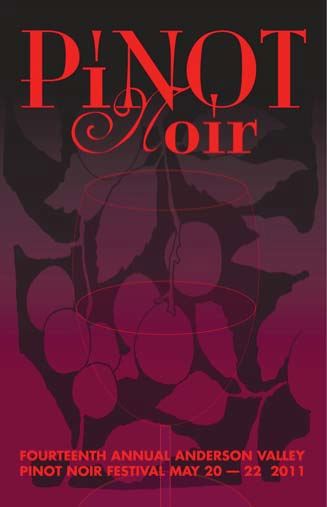 The following Anderson Valley Pinot Noirs were sampled recently. These are impressive wines, offering a very high standard for California. See also reviews of Maggy Hawk, Morning Dew Ranch, and MacPhail Pinot Noir from Anderson Valley in recent issues.
Baxter Winery
Veteran winemaker Phil Baxter and his son, Phil, Jr., produce small lots of Anderson Valley and Mendocino County Pinot Noir from a modest winery in the Mendocino Ridge town of Elk. Phil, Jr, was educated in viticulture and enology at University of California at Davis and worked a year in Burgundy at the Domaine de la Vougeraie and Domaine Raymond Launay. The Baxter label was started in 2003, focusing on premium vineyard sources and old world techniques, including the use of little or no new oak elevage for Pinot Noir.
The Baxter Pinot Noirs are unique because of the absence of new oak influence on aromas, flavors and tannins. The wines are crunchy, juicy wines with a savory, earthy quality and an elegant bent. Fermentations are whole berry and all natural, punch downs are by hand, and a basket press is used to gently extract the juice. All wines are unfined and unfiltered. The wines should particularly appeal to fans of "natural" wines. Baxter wines are sold through a mailing list and the winery's online store at www.baxterwinery.com. The winery is open to the public during Open House Day at the Anderson Valley Pinot Noir Festival and at other times by appointment only (707-877-3727).
2009 Baxter Langley Vineyard Anderson Valley Pinot Noir
14.1% alc., $45. This 4-acre vineyard was originally planted in 1982 for sparkling wine but is now used for still wine exclusively. · Moderately light reddish-purple color in the glass. Aromas of dark red cherries and berries, underbrush and paraffin. Pleasingly intense core of cherries wrapped in fine grain tannins and displaying unusually hi-strung acidity, finishing with a flourish of cherry flavor. Elegant and light on its feet. Good.
2009 Baxter Run Dog Vineyard Anderson Valley Pinot Noir
14.7% alc., $45. This 1-acre vineyard is located at the southwestern end of the Anderson Valley and is planted to Pommard clone. · Moderately light reddish-purple hue in the glass. Pleasing aromas of red pie cherries with hints of balsam, nuts and eucalyptus. A juicy wine with tasty dark red cherry and berry flavors complimented by a savory herbal note and subtle spice. The tannins are well-mannered and the wine offers welcoming finesse. Even better the following day from a previously opened and re-corked bottle although showing a little heat on the nose. Very good.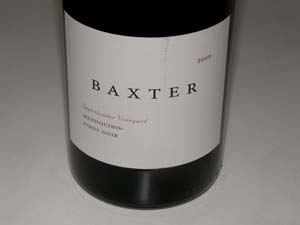 2009 Baxter Oppenlander Vineyard Mendocino Pinot Noir
13.5% alc., $60. · Relatively light reddish-purple color in the glass. The nose is slow to open, revealing an aromatic mix of fresh berries and black cherries which gain appeal and intensity over time in the glass. Medium weight flavors of darker stone fruits and berries with an underlying savory bent, very slight oak in the background, finishing with an hi-tone, slightly tart cherry finish. More austere than other wines I have had from this vineyard, but very appealing for its fruit ripeness, juiciness and ability to pick up intensity and appeal over time in the glass. Very good (+).
Drew
Jason and Molly Drew founded he Drew label in 2000 while Jason was an associate winemaker at Babcock Vineyards and Winery in the Santa Rita Hills. In 2002 he left Babcock to concentrate on his own label, and in 2004 purchased a 26-acre ridge top property overlooking the Anderson Valley in the Mendocino Ridge appellation. A winery and home were built on the property and a Pinot Noir vineyard has recently been planted. Drew's new vineyard will be one of the most westerly vineyards on the North Coast. Jason sources his grapes from the Anderson Valley, Sonoma Coast, Mendocino Ridge, and Yorkville Highlands. All the wines are consistently fine and some bottlings can be spectacular.
Drew Pinot Noirs are sold on the website, through selected retail channels and at the tasting room at 9000 Hwy 128 in Philo, just northwest of the Goldeneye Winery. The smaller production wines are only sold to the mailing list and Pre-Release Wine Club members. Visit the website at www.drewwines.com.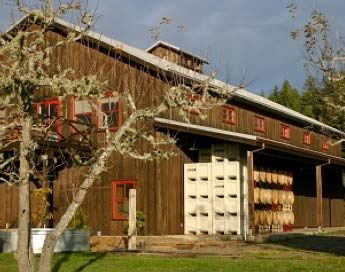 2010 Drew Gatekeepers Anderson Valley Pinot Noir
13.7% alc., pH 3.57, TA 0.64, 242 cases, $28. Sourced from a 30-yearold Pommard 5 block at Wiley Vineyard (55%) and the Akin Vineyard clones 115 and 777 (45%). 40% whole cluster fermented, 55% native fermentation. Aged 11 months in 10% new and 90% seasoned French oak barrels. · Moderately light reddish-purple color in the glass. Aromas of wild berries, cherry glaze and brier picking up some intensity over time in the glass. Lighter weighted flavors of cherries and dried herbs with a hint of oak and a citric peel lift on the finish. An easy drinking wine with a prominent herbal bent which may appeal to some. More fruity and expressive the following day from a previously opened and re-corked bottle. Good.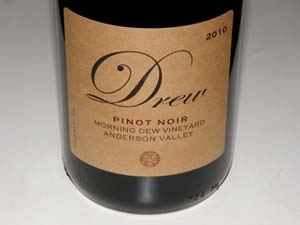 2010 Drew Morning Dew Vineyard Anderson Valley Pinot Noir
13.5% alc., pH 3.55, TA 0.66, 165 cases, $47. Second release from this vineyard. Owner is Burt Williams of Williams Selyem fame. Includes Rochioli selection, a suitcase DRC selection and clone 828. 50% whole cluster fermentation. 50% native fermentation. Aged 11 months in 30% new and 70% seasoned French oak barrels. Unfined and unfiltered. · Moderately light reddish-purple color in the glass. Reserve but pleasing aromas of fresh dark cherries and Pinot Noir must with exotic spice highlights. Delicious core of dark cherries and raspberries with a subtle floral note and complimentary oak features. Very complex, offering different flavor angles with each sip. Lighter weighted and elegant and soft in the mouth with mild tannins and a good cut of acidity on the finish. A world apart.
2009 Drew Fog-Eater Anderson Valley Pinot Noir
13.6% alc., 370 cases, $40. 60% Balo Vineyard and 40% Monument Tree Vineyard. Reviewed in July and August 2011. · Moderate reddish-purple color in the glass. Somewhat brooding on the nose with aromas of riper, darker fruits and leather. Tasty array of fruit on the palate including black cherries and dark red berries with hints of tea leaves and herbs in the background. Mild tannins. Good.
Foursight Wines
Bill and Nancy Charles, long time winegrowers in the Anderson Valley, teamed with daughter Kristy Charles and her winemaker spouse Joseph Webb to launch Foresight Wines in 2007. Webb learned his winemaking at Sebastiani, Landmark Vineyards and Joseph Swan Vineyards. The estate Charles Vineyard near Boonville was planted to Pinot Noir, Sauvignon Blanc and Semillon in 2001. The Pinot Noirs have been impressive from the start, not surprising when you consider Foursight has the formula for great artisan Pinot Noir in place: warm people, stellar estate vineyard fruit, and a bright, talented young winemaker.
Like Baxter, Foursight also releases a "Zero New Oak" Charles Vineyard Pinot Noir, the first dating to the 2007 vintage. In addition, two Pinot Noirs aged traditionally in some new oak are offered each year. The wines offer an opportunity to experience the influence of new oak on Pinot Noir. All three are all well-crafted, displaying modest alcohols yet fully ripe flavors. The 2009s are the best wines to date from this vineyard and although approachable now, they will benefit from further time in the bottle.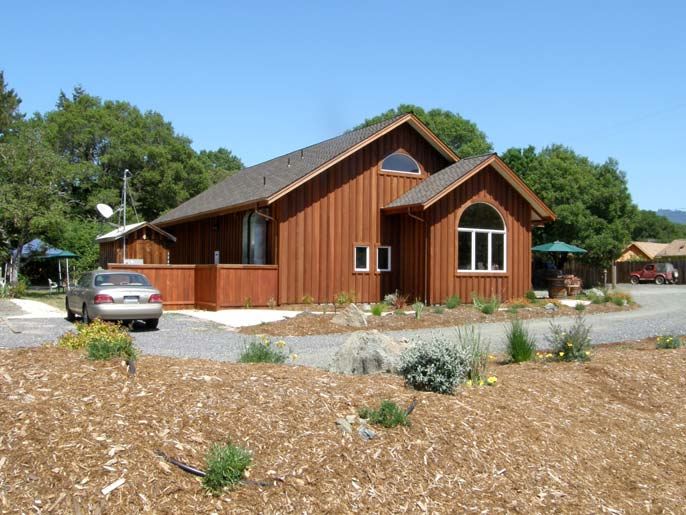 A tasting room and winery opened in 2009 on Highway 128 in Boonville. The structure was designed and built by Bill Charles from lumber grown, harvested and milled on the Charles family ranch.
2009 Foursight Wines "Zero New Oak" Anderson Valley Pinot Noir
13.5% alc., pH 3.48, TA 0.64, 360 cases, $38. Released fall 2011. Aged in 2-year-old French oak barrels. 30% whole cluster, wild fermentations. · Moderate reddish-purple color in the glass. Very fruity nose featuring black cherries. Crisp and juicy black cherry and cranberry flavors with a hint of spice. Mild, soft tannins and smooth in the mouth. Lacks a little mid palate richness, structure and finishing persistence of a typical oaked Pinot Noir but has its own charm in the purity of its unplugged fruit flavor. Very good (-).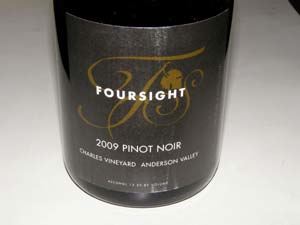 2009 Foursight Wines Charles Vineyard Anderson Valley Pinot Noir
13.5% alc., pH 3.48, TA 0.63, 405 cases, $46. Released fall 2011. Clones 777, 114, 115 and Pommard 5. 30% whole cluster. Wild fermentations. Aged in 15% new, 57% 2-year-old, 14% 3-year-old, and 14% neutral French oak barrels. · Moderate reddish-purple color in the glass. Intensely fruity on the nose featuring aromas of dark red berries and black cherries with the slightest spice, leather and oak. Picks up interest over time in the glass. Fills the mouth with broad flavors of red and black stone and berry fruits with complimentary oak-driven notes of toffee and cola in the background. Modest tannins with inviting crispness and a good cut of acidity on the finish. Flat-out great later in the day from a previously opened and re-corked bottle. I like this wine for its presence without pronounced weight.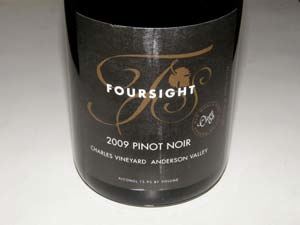 2009 Foursight Wines Charles Vineyard "Clone 05" Anderson Valley Pinot Noir
13.9% alc., pH 3.58, TA 0.61, 69 cases, $49. Released fall 2011. Aged in 50% new, 25% 2-year-old, and 25% neutral French oak barrels. 100% Pommard clone. 30% whole cluster, wild fermentations. · Moderate reddish-purple hue in the glass. Earthy, savory, and succulent dark fruits on the nose and palate with a complimentary hint of spice, and a lingering subtle note of refreshing citrus on the very long finish. Quite distinct from the Charles Vineyard blend bottling in that it is richer, slightly denser, more assertive on the mid palate, and is structurally more firm, yet the tannins are perfectly proportioned. A beguiling expression of Pommard clone that really shines the next day from a previously opened and re-corked bottle.
Littorai
Noted winemaker Ted Lemon crafts exquisite Pinot Noirs from Anderson Valley vineyards that he personally oversees with great care. Lemon was the first to create a "by-the-acre" contract for grapes in which he closely supervised all aspects of vineyard management including pruning, fertilizing, irrigation and crop yields. This type of contract allows growers to be paid for the quality of what they grow, not the quantity. The first contract was written in 1993 for the One Acre Vineyard in the Anderson Valley that is part of Rich Savoy's Deer Meadow Ranch. This type of contract is now the norm for premium Pinot Noir growers in California and Oregon. Lemon's vineyard sources are almost entirely farmed organically and biodynamically.
Lemon has an exceptional record of terroir-based winemaking in California. His winegrowing and winemaking idiom is profoundly Burgundian since he learned from such eminent winemakers as Jacques Seysses, Aubert de Villaine, and Jean Marie Roumier. His years in France inspired him to base his winemaking philosophy on terroir. Terroir-based winemaking postulates that wine from a single place produced by a single estate is the greatest expression of winemaking.
Lemon's winemaking approach emphasizes minimal intervention, long lees contact and gentle handling of the fruit and wine. Pumps and filtration are avoided. The Pinot Noirs are fermented in traditional open-top fermenters and at least some proportion of whole clusters are used. All wines undergo native yeast fermentation and complete natural malolactic fermentation, as long as nature does not dictate otherwise. His goal is to avoid high alcohol levels and over ripe flavors, with a focus on finesse, balance and length. Usually 33% to 50% new oak is used for aging as an element of complexity, but never lead you to think of oak when tasting a Littorai wine.
The objective at Littorai is wines of harmony that can improve and blossom with cellaring. One lesson I have learned from tasting many Littorai wines over the years is that they often do not sparkle when young, but assume complexity and interest over time, often reaching their peak in six to eight years and carrying on for a number of years beyond. I have run into a number of tasters who were not impressed when tasting the wines that had been recently bottled, but I always assure them that over time their patience will be rewarded.
Alcohol levels are relatively low in 2009. The power in the wines comes from their structure and acidity, not flamboyant ripe fruit.
Besides the vineyards below, Littorai accesses fruit from Roman Vineyard, Cerise Vineyard, and Wendling Vineyard in the Anderson Valley. A blend of Anderson Valley fruit, Les Larmes, is produced annually and in 2010 contains declassified One Acre fruit. In the 2011 vintage, an Anderson Valley Vin Gris from Savoy Vineyard is offered which is available now (picked at 20.5 degrees Brix, and a finished alcohol of 12.5%).
Littorai winery is located on Ted and Heidi Lemon's biodynamic farm in Sebastopol. Visitors are received for tours and tasting by appointment (707-823-9586). Littorai wines are sold exclusively to a mailing list at www.littorai.com (the recently updated website is quite an improvement!). Littorai is a favorite of sommeliers and as a result many top restaurants tout Littorai wines on their wine lists.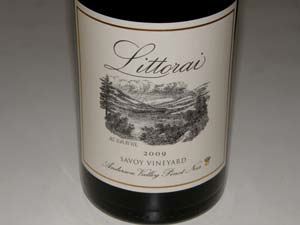 2009 Littorai Savoy Vineyard Anderson Valley Pinot Noir
13.4% alc., $60. · Moderately light reddish-purple color in the glass. Slow to open, offering demure scents of black cherries and black raspberries with notes of brier, leaf and oak char. The mildly sweet core of fruit is clearly very classy but is immersed at present in tannin and oak. The tannins, however, are not oak-driven or astringent and should meld nicely over time. The wine's hi-pitched acidity offers a very juicy, mouthwatering finish. Like many Littorai wines, it needs some cellaring and offers plenty of upside potential. Very good (+)
2009 Littorai One Acre Vineyard Anderson Valley Pinot Noir
13.3% alc., $75. Replanted in 2005. · Medium reddish-purple color in the glass. Aromas of red berry tart, wet leaves, hay bale, spice and a floral note. Prudent concentration of fresh, dark red berries and cherries backed by ripe fruit tannins and underlain with oak-driven flavors. Notable persistence on the silky finish. Impeccable balance. Cellar for another 2-3 years. Very good (-).
2007 Littorai Savoy Vineyard Anderson Valley Pinot Noir
13.5% alc., $60. · Light reddish-purple color in the glass. The nose is closed for business initially, opening slowly in the glass to reveal scents of dark red berry fruit and spice. Relatively light in heft featuring flavorful red pie cherries. Prominent tannins tend to overwhelm the delicate fruit at this stage. Bright acidity and a silky mouth feel. About the same the following day from an opened and re-corked bottle, still showing aggressive tannins. Just doesn't have a crescendo now and should be aged at least another 2-3 years. Not up to the level of two previous tastings of this wine. Good.
Navarro Vineyards
Ted Bennett and Deborah Cahn were among the first wave of pioneers to establish vines in the Anderson Valley, acquiring a 900-acre sheep ranch along Highway 128 between Philo and Navarro in 1973. Since they were Alsatian grape aficionados, they initially planted only white varietals. Pinot Noir came later and today they are one of the three largest holders of Pinot Noir acreage in Anderson Valley. It was largely their marketing sense that put Anderson Valley in the minds of wine enthusiasts and brought notoriety to the wines of the region. They built an attractive tasting room and sent out a very informative newsletter that led to significant consumer-direct sales and buyer loyalty.
The next generation, Aaron and Sarah Cahn Bennett, are now actively involved in the winery. Winemaker Jim Klein has been at Navarro since 1992. Three Pinot Noirs are produced: a Mendocino blend, a Méthode A L'Ancienne Anderson Valley Pinot Noir (from Navarro's estate fruit and a small amount of grapes from other growers in the Anderson Valley), and a Deep End Blend Anderson Valley Pinot Noir (a reserve made exclusively from higher elevated sites and the most age worthy). Navarro has made consistently fine Pinot Noir for many years, and is one of the most underrated sources of top-shelf, yet reasonably priced, Pinot Noir in California. Navarro is also a leading producer of Alsatian-style white wines, Chardonnay, Sauvignon Blanc and Zinfandel.
Grapes are night harvested and de-stemmed into small bins. Wild yeast fermentations are encouraged. For three decades, Navarro has fertilized the vines with compost generated from winery waste, so the vineyards are densely populated with many strains of yeast.
All three wines reviewed below are sleek, refined and beautifully balanced. They can be enjoyed now.
Navarro wines are sold through the tasting room which is open daily and a mailing list that receives a very informative newsletter. The website is www.navarrowines.com. Magnums are available.
Interestingly, Babydoll Southdown lambs have been raised on the Navarro property for over one hundred years. This relatively rare breed is used to eat the cover crop in Navarro's vineyards, which cuts down on tractor use and the resulting depletion of fossil fuels. The Babydoll lambs are short in stature which keeps them from eating the grapes. You can visit the website and view the barnyard and the latest lambs to be born with the Navarro Lamb Cam.

2006 Navarro Méthode A L'Ancienne Anderson Valley Pinot Noir
13.7% alc., $29. · Moderately light reddish-purple color in the glass. Appealing bright aromas of black cherries, berry jam on brioche and a hint of vanilla. Seamless on the palate with a delicious core of cherries, a complimentary hint of anise and oak, mild tannins, and a finishing charge of cherries jubilee. Impeccable balance.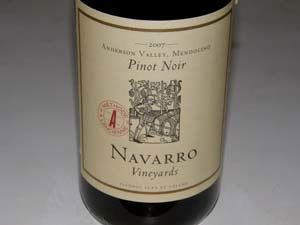 2007 Navarro Méthode A L'Ancienne Anderson Valley Pinot Noir
13.8% alc., $29. · Moderate reddish-purple robe in the glass. Similar to the 2006 vintage but has its own style with a little more structure and darker fruits. Black cherries are the theme with perfect integration of toasty oak. Finishes with a lingering aromatic intensity that aims to please. Outstanding.

2009 Navarro Méthode A L'Ancienne Anderson Valley Pinot Noir
14.2% alc., pH 3.68, TA 0.67, 4,910 cases, $29. · Medium reddish-purple color in the glass. Demure, but pleasing aromas of black raspberries and boysenberries with a hint of brier and oak. Fresh and uplifting on the palate with a darker berry and black cherry flavor profile. Medium-weighted with well-behaved tannins and bright acidity. Admirable balance predicts longevity.
Wind Racer Wines
Barbara Banke, a former lawyer and wine connoisseur who married Jess Jackson and played a major role in the growth of Jackson Family Wines, teamed with Peggy Furth, the former co-proprietor of Chalk Hill Estates & Vineyards to launch the Wind Racer brand of Anderson Valley and Russian River Valley Pinot Noir and Chardonnay. Banke loves the precision and focus of Anderson Valley Pinot Noir and Chardonnay and Furth prefers the opulence and exotic aromas of their Russian River Valley counterparts.
The wines are highly allocated with the only source I am aware of being Sherry-Lehman in New York. Visit www.windracerwines.com for more information.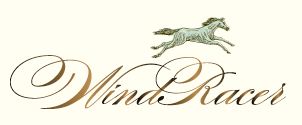 2007 Wind Racer Anderson Valley Pinot Noir
14.7% alc., $49. · Medium reddish-purple color in the glass. Highly perfumed with aromas of black cherries, strawberries and sandalwood. Flavors of cherry, strawberry and rhubarb pie with a hint of mocha and cola in the background which enhance the appeal. Very lovely fruit with a delicate, but persistent oak-tinged finish. Soft and silky in the mouth and quite charming. More Russian River Valley than Anderson Valley in character due to the degree of ripeness and flavor profile. Very good.
2007 Wind Racer Russian River Valley Pinot Noir
14.5% alc., $49. · Moderate reddish-purple color in the glass. Pleasant, but demure, aromas of black cherries and subtle oak becoming more fruity over time in the glass. Medium weight flavor of cherry tart with supporting oak. The wine has a silky richness that Russian River Valley Pinot Noir is known for. The tannins are restrained, the whole package is nicely balanced and the wine is very drinkable now. Very good.
More Anderson Valley Pinot Noir