Brewer-Clifton: Treasure Trove of Pinot Noir from Lompoc
Brewer-Clifton is a partnership of two outstanding winemakers, Greg Brewer and Steve Clifton. Clifton arrived in Santa Barbara in 1991 and worked as an assistant winemaker at Rancho Sisquoc Winery, followed by a stint as winemaker at Beckman Vineyards. He hooked up with another young winemaker, Greg Brewer, who became the winemaker at Melville Vineyards and Winery when it was started in 1997. Brewer came to wine from an academic background, having previous worked as a French literature professor at University of California at Santa Barbara. He has taken a number of winemaking leads from Burt Williams whom he greatly admires. The duo decided to dedicate their label to single-vineyard Pinot Noir and Chardonnay at a time in the mid 1990s when many Santa Barbara wineries were concentrating on wines blended from multiple sources. They started with their combined meager savings, without assistance from family or investors, and began producing their wines in 1996 in the unglamorous wine warehouse setting of the Lompoc "Wine Ghetto." They are still based in Lompoc today. Photo below (Steve left, Greg right).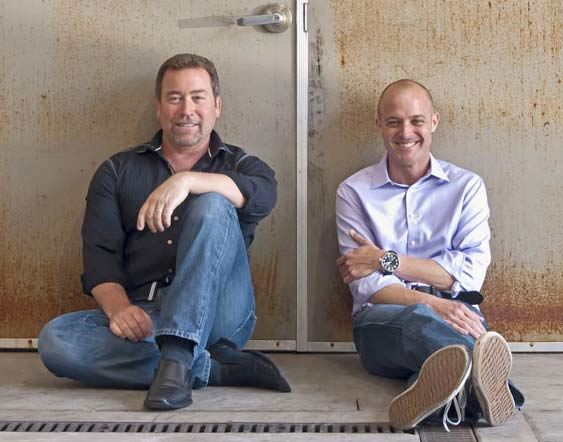 Brewer-Clifton hit pay dirt in 2002 when Robert Parker, Jr., reviewed their wines from the 2001 vintage, and proclaimed the Brewer-Clifton wines to be "the single greatest revelation of my 2001 tastings." The wines have always been crafted in a full-throttle, ripe, fruit-driven style that Parker espouses and many consumers embrace. The 2010 vintage wines reviewed below show more refinement and complexity. Although alcohols are in the higher range, Brewer is quick to point out that the alcohol percentages listed on the Brewer-Clifton wines are honest, unlike the common practice of many wineries to understate their true alcohol percentage (a 1% margin of error is allowed in wines above 14% alcohol).
Vineyard sites have always been carefully chosen and emphasis has always been placed on the vineyard as the ultimate determination of wine quality. A vineyard management team carefully farms several vineyard sources including Mount Carmel and 3-D vineyards.
Winemaking is aimed at extracting the most possible flavor. A high percentage of whole cluster is included since the partners believe, "Stems play a vital role in Pinot Noir where we view their involvement as not something added to the equation but simply something that has not been removed." Fermentation follows a 7- day cold soak and is extended over a two week period with a subsequent 10 day or more extended maceration. The bottles are capped with an attractive red wax seal for Pinot Noir and yellow wax seal for Chardonnay.
Both Sta. Rita Hills appellation ($30 -$36) and vineyard-designate wines are offered. The 2010 wines reviewed below were part of the fall 2011 release and are still available.
After Parker's pronouncements in 2002, the wines were highly allocated, but are now more available to the public online, through a mailing list and via some retail distribution. Visit the website at www.brewerclifton.com for more information. A tasting room is open Friday through Sunday at 329 North F Street in Lompoc. Newsletters are offered twice a year.