Peter Michael Sonoma Coast Pinot Noir
After more than a decade in the making, Peter Michael has released three Estate Pinot Noirs from the Seaview Estate Vineyard located on the rugged ridges of the true Sonoma Coast. In 1998, the winery acquired a 400- acre parcel on the first ridge inland from the coast above the South Fork of the Gualala River in what is the Fort Ross-Seaview AVA. 30 acres were developed as vineyards, with the remainder preserved as a wildlife corridor. 25 acres were planted in 2006 and an additional 5 acres were added in 2007.
The vines are located on moderate to very steep slopes at 1,000 to 1,500 feet above sea level. Soils are a patchwork of rocky alluvial sediments, decomposing volcanic material and clay as is common in this region. All blocks have been planted to carefully selected Burgundian field selections on a mix of rootstocks.
Peter Michael Winery made its first Pinot Noir, Le Moulin Rouge, 13 vintages ago with fruit sourced from Pisoni Vineyard and will continue to produce this wine. Peter Michael is the only winery sourcing fruit from this vineyard not to vineyard designate it on the label, naming it instead after the famous Paris nightclub.
The three wines offered from the 2009 vintage are from different parts of the vineyard: Ma Danseuse, Le Caprice and Clos due Ciel. Ma Danseuse, which translates as "My Dancer," is the most feminine of the three and honors Lady Michael as she and Sir Peter met on the dance floor. Le Caprice is from the steepest slopes of the vineyard and the name, translated in French as "The Freak," honors the rough vineyard terroir. Clos du Ciel, French for "wall enclosed vineyard of the sky," is a metaphor for the rare microclimate of the vineyard site and is composed of grapes grown on the warmest section of the vineyard. A limited amount of La Caprice Pinot Noir was produced in 2007 and 2008 from Reuling Vineyard in the Sonoma Coast.
The winemaker is Nicolas Morlet, who followed his brother and predecessor at Peter Michael, Luc Morlet. Both grew up working on the family domaine, Pierre Morlet & Fils, in Champagne. Nicolas and his brother are fifth generation winegrowers. Nicolas has an impressive winemaking resume in France and received his Bachelor of Science in Enology from the prestigious University of Dijon in Burgundy (Jules Guyot Institute). He first came to California in 1994, worked at Joseph Phelps Vineyards, and joined Peter Michael Winery in 2005.
Peter Michael Pinot Noirs are difficult to come by unless you have been a long time member of the winery's mailing list. You can sign up for the waiting list at www.petermichaelwinery.com. The website is very comprehensive and filled with detailed information. A classy newsletter is published twice yearly (previous issues can be read on the website). The winery is closed to the public, but tours and tastings are available on a limited basis by appointment for active members of the winery's mailing list (4-8 weeks in advance).
2007 Le Caprice Sonoma Coast Pinot Noir
14.5% alc.. The Reuling Vineyard was planted in 2003 with a field selection from a Grand Cru vineyard in Burgundy. Soils are Goldridge. Indigenous yeast fermentations. Aged 14 months in 30% new French oak barrels and bottled unfined and unfiltered. · Moderately dark reddishpurple color in the glass. Very nicely perfumed with aromas of wild berries, black cherries, spice, cedar and oak. Rich and full-bodied with copious black cherry, black raspberry and black plum fruits, exotically spiced. Soft and smooth on the palate with well-behaved fine-grain tannins and some persistence on the finish. Not as appealing the following day from a previously opened and re-corked bottle. Good (+).
2008 Le Caprice Sonoma Coast Pinot Noir
14.5% alc.. Sourced from Reuling Vineyard. Aged 16 months in 33% new French oak barrels and bottled unfined and unfiltered. · Moderately dark reddish-purple hue in the glass. Muted aromatics with little fruit and demure scent of forest floor and ash. Full-bodied array of lovely, dark red and black fruits which are overwhelmed by firm, sinewy tannins and smoke taint. Decent.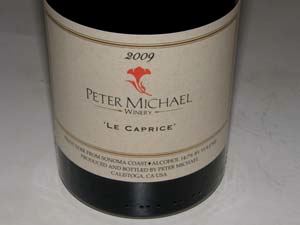 2009 Le Caprice Seaview Vineyard Sonoma Coast Pinot Noir
14.7% alc.. Released September 1, 2011. 100% naturally fermented using native yeasts. Aged 17 months in 33% new French oak barrels and bottled unfined and unfiltered. · Moderately dark reddish-purple color in the glass. Reserved aromas of dark berry jam and plum reduction sauce with a whiff of oak. The flavors echo the aromas in a rich, bold style exhibiting well-integrated oak, moderate sinewy tannins and some persistence on the fruit-driven finish. More expressive and vivacious the following day from a previously opened and recorked bottle. Very good.