Revisiting Clos Saron: Out of the Mainstream
Gideon Bienstock, a veteran winemaker, and his spouse Saron Rice have created a small outpost for Pinot Noir in the northern limits of the Sierra Foothills appellation of Northern California. Gideon also is the winemaker for nearby Renaissance Vineyard & Winery and Saron is experienced in viticulture. Together, they set out over twelve years ago to transcend all preconceived notions about Pinot Noir winegrowing in the Sierra Foothills.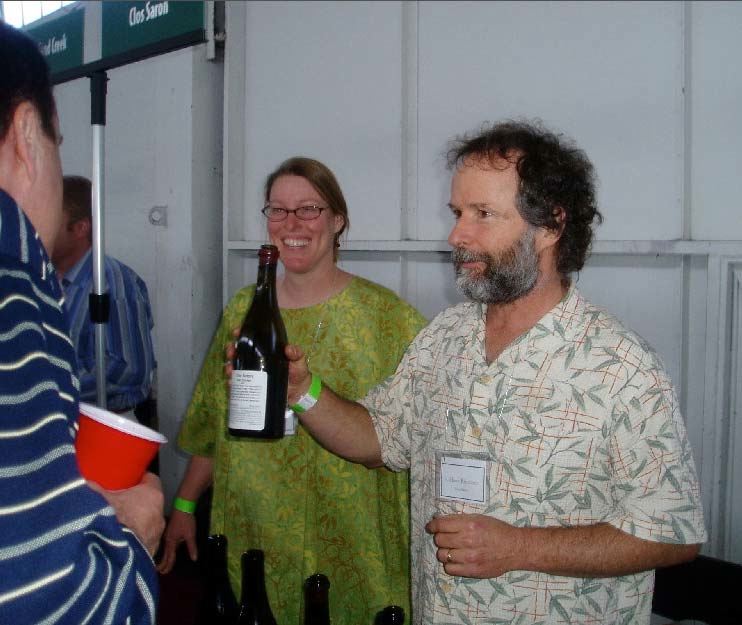 The Sierra Foothills appellation consists of 2.6 million sprawling acres with well over 100 wineries that have had proven success with warmer climate varieties such as Zinfandel, Syrah, Petite Sirah, Cabernet Sauvignon and Sauvignon Blanc. The earliest vines were planted here during the California Gold Rush of the 1800s, and because of the relative isolation of the region from other California growing areas, the vines are protected from phylloxera and other insults. The result is that the Sierra Foothills appellation contains some of California's oldest producing vines.
Pinot Noir is not a variety that comes to mind when you think of the Sierra Foothills, but this appellation has a history with Pinot Noir dating back to the 1880s. The Jackson clones, UCD 1, UCD 9, UCD 16 and UCD 29 evolved from plantings of experimental vineyards in the Sierra Nevada foothills near the town of Jackson in Amador County. The project was abandoned in 1903, but some surviving Pinot Noir vines were discovered in 1963 and, according to John Winthrop Haeger (North American Pinot Noir), the Jackson clones are the earliest documented imports of Pinot Noir still under cultivation in North America, having been imported before 1890.
The heart of Clos Saron is the small estate Home Vineyard adjacent the family's home and tiny winery in the Oregon House Valley of Yuba County. The 2.5-acre vineyard is composed of a potpourri of known and unknown Pinot Noir clones, including Dijon, Pommard, Wente, Swan and suitcase. All vines are own rooted, cordon pruned with a four wire upright trellis. The soil is clay loam on top of volcanic ash, decomposed granite and quartz.
The Home Vineyard is located at 1,600 feet and because it is surrounded by hills on three sides, it lies in a particularly cool microclimate by Sierra Foothill standards. Spring frosts are an annual threat. In 2010, late frosts were devastating and 80% of Pinot Noir production was lost. The neighboring Texas Hill Road Vineyard, which Gideon and Saron also farm, lost 100% of its Pinot Noir fruit. Even in the best of years, crop levels are extremely low, with older vines yielding about 1 ton per acre and younger vines less than half that much. Small additional plantings of Pinot Noir are planned so that ultimately Clos Saron will produce 3 to 4 different Pinot Noir bottlings all within a half mile radius of their home, totaling about 400 cases.
Winemaking at Clos Saron is very natural with no acid corrections, no racking, and no fining or filtration. The wines are as close to the "natural" winemaking paradigm as any crafted currently in California. The grapes are 100% de-stemmed. Sulfur usage is so minimized that the bottled wines are virtually sulfur free. Gideon notes, "The wines are basically sulfite-free and age on their concentration, balance, tannin and acid rather than on the antiseptic properties of sulfites. The absence of sulfites in the wines is the main cause for their finicky nature, and why they go through various phases of weirdness, depending on when they are opened. This is also the reason for their relaxed, easy development in the glass over time, and in the bottle with years of aging." The wines tend to have vigorous tannins because of the lean soil and low yields, but in recent years, Gideon has tamed them to some degree. All Pinot Noirs are bottled unfined and unfiltered.
I tasted a vertical of Clos Saron Pinot Noir in 2010 (www.princeofpinot.com/article/958/), and decided to revisit two recent vintages to observe the wines' evolving nature.
The winery is open for a tour and tasting by appointment (530-692-1080) and the website is www.clossaron.com. The very small production (less than 100 cases in 2009 and even less in 2010) is offered primarily to a mailing list. The 2009 vintage Home Vineyard Pinot Noir is currently offered.

2007 Clos Saron Home Vineyard Sierra Foothills Pinot Noir
13.4% alc., 82 cases, $45. · Moderately light and red-toned color in the glass. Very seductive aromatic profile featuring scents of crushed black raspberries, leather, rose petals and oak. Delicious flavors of black cherry glaze and black raspberry jam with complimentary exotic spices and vanilla. The fruit really strikes the mid palate with well-mannered grainy tannins and appropriate acidity to bring the fruit to life. Still great later in the day and the following day from a previously opened and re-corked bottle. This wine has several years of life ahead.

2008 Clos Saron Home Vineyard Sierra Foothills Pinot Noir
13.5% alc., 70 cases, $45. · An inexperienced drinker could easily be frustrated with this wine. Upon opening, there was some reduction followed by notes of pitch, oak, and bay leaf with no fruit evident. On the palate, the mildly astringent tannin overwhelmed the fruit and the wine seemed disjointed and even unappealing with flavors of iodine, tar and green olive. The longer the wine sat in the glass, the better it became with more appealing berry fruit emerging. The following day the wine was re-tasted from a previously opened and re-corked bottle and the transformation was remarkable. The fruit aromas were now clean and vibrant, the core of black raspberry and cherry fruit was vivid and pure and the fruit had emerged from its tannic cloak, lifted by crisp acidity. My family enjoyed the wine with dinner that following day, a perfect match for pot roast. Very good.