Privé Vineyard: French Flavor in the Chehalem Mountains
In 2006 I first made a journey to Privé Vineyard in Newberg, Oregon, with visions of Pinot Noir dancing in my head. My arrival was signaled by two aged wine barrels next to a sign reading, "Rue de Privé," and I knew I had found a slice of France in the Chehalem Mountains. Behind a gate and straddled on the northern and southern side of a home sat two well-groomed one-acre vineyards. A sport court and a boules court surrounded by lavender indicated some fun was to be had here. Heading up the driveway, I was taken by the cutest little French-styled winery I had ever seen. The owners of Privé Vineyard, Mark and Tina Hammond, are American, but their Privé Vineyard is every bit French in name ("private or independent") and character.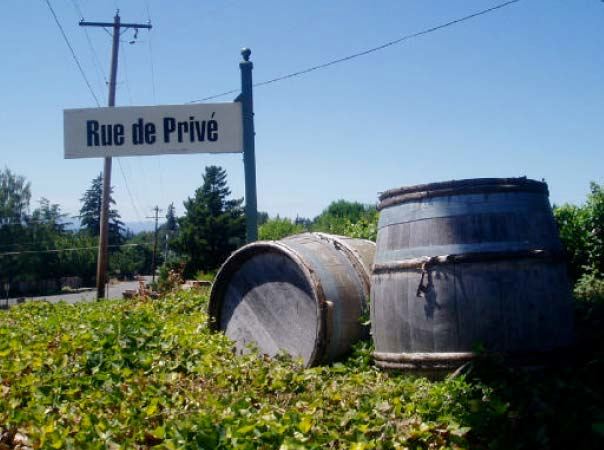 Privé Vineyard is a very small producer of Oregon Pinot Noir and is essentially a private winery for those lucky enough to be members of the winery's allocation list. Mark is the vineyard steward and Tina is the winemaker, and together they produce the closest thing Oregon has to a cult Pinot Noir. The vineyard and winery are truly a family run estate, with outside help only enlisted to help pick grapes at harvest.
The original Müller-Thurgau vines on the property were planted in Jory soil in 1980, and grafted over to Pinot Noir by the Hammonds beginning in 1995 with Pommard clone. The vines are meticulously farmed organically and yields are less than 2 tons per acre. In 2010 and 2011, the Hammonds made a conscious effort to pull back vigor and the resulting wines are more fruit forward. They believe that a subtle herbal note in the 2009 wines may have been secondary to excessive vigor.
Four Pinot Noirs are currently released, three of which are estate grown. Le nord is from the upper, northern one acre, le sud is from the lower elevation, southern one acre, and a reserve named Joie de Vivre (Joy of Life) is crafted in half-barrel quantities and presented in an etched bottle. A Willamette Valley blend sourced from several Oregon Pinot Noir vineyards rounds out the lineup. Of the estate Pinot Noirs offered, le sud ripens faster and is picker at a slightly higher Brix, but in 2010 and 2011, the cooler vintages caused le nord to ripen quicker and that was picked at a higher Brix.
The Willamette Valley blend was added in 2009 as an everyday wine that could be offered to visitors to the winery since the estate Pinot Noirs sell out quickly every year. The blend is a notch up in ripeness over the estate wines and more fruit-forward. Generally, three vineyards that meet the Hammonds' high standards are sourced, but the vineyards change from year to year. The wine is very popular and they sell more of it than the le nord and le sud combined.
The Hammonds' business model is such that a bad vintage could severely hamper their income. Tina has begun to produce varietals other than Pinot Noir from sourced grapes to supplement their Pinot Noir output and meet her customer demands. She has been playing with Syrah from Walla Walla, Washington, of late and likes what she has produced. Tina likes to joke that if they had a miserable vintage at Privé Vineyard, Mark would have to get a real job. They kid each other about what each one would do. Mark thinks he might pump gas (required by gas station employees in Oregon) because he loves working outdoors.
Tina is a self-taught winemaker who has a knack for crafting Pinot Noir. At the winery, grapes are carefully sorted by hand, 100% de-stemmed, not crushed, and fermented as whole berries in 1.25-ton plastic fermentation bins. A 5-day cold soak is usual. 100% new French oak barrels are used for le sud which is a more cellar-worthy wine, while le nord is aged in a combination of new (25%), 1, 2, and 3-year-old French oak barrels.
I spoke with Tina recently about her tribulations with Brettanomycesin her cellar. She remarked that a winemaker must always fight to control it, and it began to appear in the Privé Vineyard wines in the 2005 vintage, when, as she notes, "It got away and the wines began to show a barnyard note." Before that, the wines were pristine. It is not unusual for wine consumers to enjoy a little Brettanomyces in their Pinot Noir, but from a winemaker's and wine critic's perspective, it is usually undesirable.
Beginning with the 2006 vintage, Tina took more intensive measures in the winery to control Brettanomyces, and has cross-flow filtered her wines for sterility. The Brettanomyces has disappeared from the wines, at least to my palate but I am not super sensitive to Brettanomyces. She feels more comfortable with the stability of the resulting wines and has found no significant differences between filtered and unfiltered samples of her wines except that the filtered samples were cleaner in appearance and had slightly brighter color.
Filtration
Filtration is commonly employed in wines to both clarify and establish microbial stability. The most modern and preferred technique because of its gentleness is cross-flow filtration in which the wine runs parallel to a filtration membrane and is filtered by osmosis.
A number of years ago filtration became controversial because Robert Parker, Jr., and others were outspoken proponents of unfiltered wine, claiming that filtration striped wine of its character and flavor. As a result, a number of producers who filtered their wines, did not admit to it. "Unfiltered" became a badge of quality and natural winemaking, and winemakers proudly displayed the word on their labels as a marketing tool.
The truth is that properly performed modern day filtration has no effect on a wine's flavor. Jamie Goode (Authentic Wine 2011) noted, "We think that is wrong to think of filtration as solely an evil force in the wine world. It can in some cases lead to a more true expression of terroir in wines by eliminating microbes that can be the cause of faults."
At the recent Advances in Viticulture and Enology (RAVE) Colloquium, David Block presented a "flash paper presentation" titled, "The Effect of Filtration on the Sensory Properties of Red and White Wine." Block teaches the winery equipment and design class at University of California at Davis. Veteran winemaker Curtis Phillips reported on the presentation in Wine Business Monthly (May 2012). Chemical and sensory analysis found no significant difference between filtered and unfiltered wines. A slight difference was found between wines analyzed right after bottling and wines analyzed at later times, presumably due to bottle shock. Phillips, who is in the "filtration" camp, commented that the experiment confirmed what he already suspected.
Tina was very excited about the 2010 and 2011 vintage Privé Vineyard Pinot Noirs, but curiously, she said that consumers tend to prefer the wines from Oregon's warmer vintages like 2003, 2006 and 2009. The yields in 2010 were reduced ( 75% of the crop was lost), forcing her to raise prices for that vintage only. Yields in 2011 were half of a "normal" crop, but still considerably more than 2010.
When you talk about passion for crafting wine, quality of life, and carving out a little niche of heaven, the Hammonds have got it right. Le nord or le sud, Privé Vineyard is the answer to Pinot Noir's elusive kind of romance. Visit the website at www.privevineyard.com for more information and to sign up for the waiting list. You may find a bottle occasionally in the secondary market. Visits and tastings are by appointment (503-554-0464).
I recently tasted a mini-vertical of Privé Vineyard Pinot Noirs from 2003 to 2010, and as you can see by my reviews, I am quite a fan of the wines. I buy some each year and they have become a cherished part of my wine cellar.
Comparing le sud to le nord is a great lesson in terroir. A difference between le sud and le nord is evident in every vintage, independent of the difference in oak regimen. Ripeness varies between le sud and le nord, depending on the vintage and the character of the fruit (red versus dark red and black fruits) reflect this. The winemaking is consistent with the wines showing finesse, balance, soft tannins and admirable oak integration.
Summary of seven vintages tasted:
2003: One of Oregon's warmest vintages producing very ripe fruit and high alcohols
2004: Wines are classic in Burgundian mold
2005: A very good vintage, but, unfortunately, tainted by Brettanomyces
2006: Warm vintage, very ripe fruit flavors
2007: Classic, lighter in weight, less ripe
2008: Brooding, pouting wines of great potential that need more years in the cellar
2009: Showy, ripe fruit flavors with polished textures and subtle savory herb attributes
2010: Very expressive and fruity now