Kick Up Your Heels at the 2012 Oregon International Pinot Noir Celebration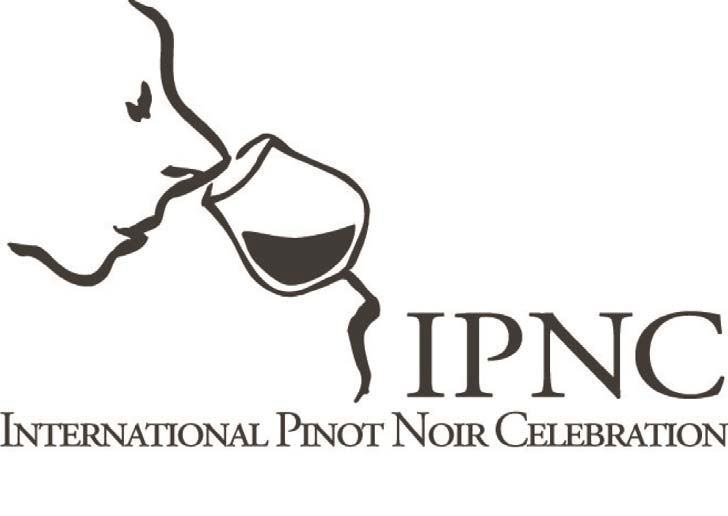 Now that you have drooled over the many Pinot Noir delights from Oregon, how about visiting Oregon wine country and attending the granddaddy of all Pinot Noir Festivals, the International Pinot Noir Celebration (IPNC)? It has often been said that Americans know how to make great Pinot Noir, but sadly they are still trying to master the art of living. Maybe the French could teach us a thing or two in this regard, but from the reveling that goes on each year in July at the IPNC, I think we have a solid grasp of joie de vivre. Noted wine writer, Gerald Asher, who attended the 10th IPNC in 1996, and wrote about his experience in Gourmet (December 1996), said, "Despite all the comparisons between Bordeaux and Burgundy (and thus between Cabernet Sauvignon and Pinot Noir) that have preoccupied us for years, no one seems to have made much of the fact that producers of Cabernet worldwide take themselves seriously, while producers of Pinot Noir like to kick up their heels and frolic."
The first IPNC was launched on a modest scale twenty-six years ago, and today it continues to attract pinotphiles from around the world to the tiny campus of Linfield College in McMinnville, Oregon, where they enjoy three days of world-class Pinot Noir, northwest cuisine, and international camaraderie. Winemakers, wine writers, wine fans, and food aficionados gather to celebrate an elusive and wonderful gift of nature: Pinot Noir.
The IPNC is unique for several reasons. First, it is held on a small, bucolic college campus and nearly all events including meals are held outdoors. Second, it is attended by more Burgundian vignerons than any other Pinot Noir festival in North America. Third, there is a good mix of winemakers, winery owners, winegrowers, wine distributors, wine retailers, restaurateurs, wine writers and consumers. Fourth, the event is educational and themed so the 700 guests who attend each year come away with a message and some useful information (no tests or grades, however). Fourth, the event draws highly lauded chefs from the Pacific Northwest and features the finest artisan foods of the region. The meals are simply spectacular. Lastly, great Pinot Noir flows like water.
The 2012 IPNC Keynote speaker will be actor, funny-man and wine lover Kyle MacLachlin, an owner with Eric Dunham of Pursued by Bear Winery in Walla Walla, Washington. MacLachlin has appeared in a number of well-known television shows and movies including 'Dune,' 'Sex & the City,' and 'Desparate Housewives.' A resident of Eastern Washington where he grew up, MacLachlin will be sure to make fun of Pinot Noir drinkers in his Opening Ceremony keynote talk.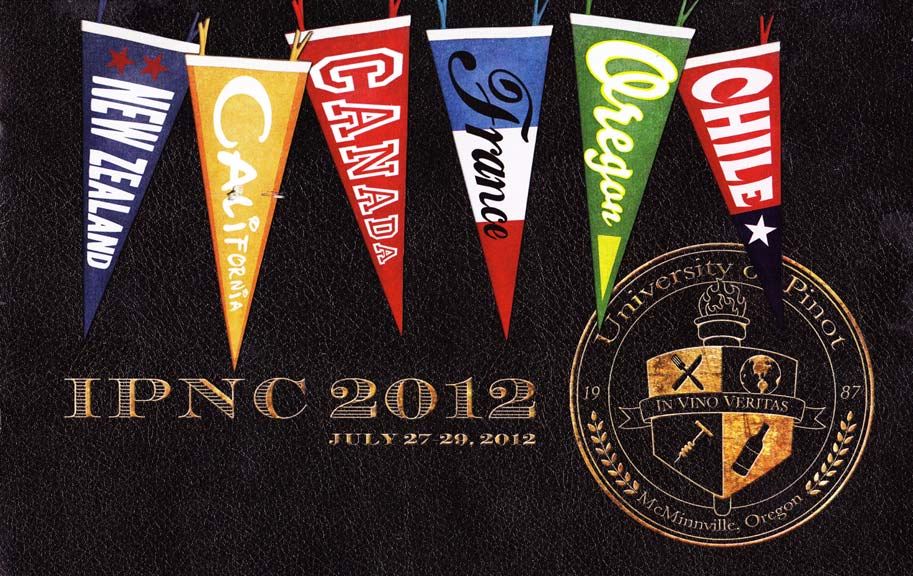 This year's theme is "University of Pinot." The Grand Seminar will feature Allen Meadows, the unsurpassed expert on Burgundy, who will lead Study Abroad in Burgundy, a tour through the vineyards of Chambolle- Musigny, Echezeaux, Gevrey-Chambertain, Nuits-Staint-Georges, and Vougeot. Attendees will taste examples and hear from winemakers Bertrand Ambroise of Maison Ambroise, Grègory Gougues of Domaine Henri Gouges, Jacques Lardière of Maison Luis Jadot, and Philippe & Vincent Lècheneut of Domaine Lècheneaut. Each winemaker is bringing gems from their cellars to demonstrate the charm of each village.
Multiple small-format afternoon on-campus seminars will cover one of the many aspects of Pinot Noir in depth. Sit in air conditioned classrooms (you will appreciate this if the temperature is over 90ºF which it often is in the Willamette Valley in July) and taste special wines offered by the speakers. Best of all, there is no homework or tests! The seminars include the following.
Applied Cultural Studies 101: Flying Winemakers How bi-continental winemakers juggle culture, viticulture and winemaking in divergent regions led by Michael Davis of Rex Hill and A to Z Wineworks, and featuring Thomas Bachelder of Bachelder Wines, Burgundy and Oregon, Byron Kosuge and Courtney Kingston, B. Kosuge Wines of California and Kingston Family Vineyards in Chile, Alexandrine Roy, Domaine Marc Roy in Burgundy and Phelps Creek Vineyards in Oregon, and Ray Walsh, Capitello Wines in Oregon and New Zealand.

Climatology 201: Coolest of the Cool Climate Pinots How close to the climatic edge do you have to be to make the best Pinot Noir? Led by Jason Lett of The Eyrie Vineyards and featuring Rob Stuart of R. Stuart & Co., Cyril Audoin of Domaine Charles Audoin, Andy Peay of Peay Vineyard, and Blair Walter of Felton Road.

Georgraphy 301: New Zealand Pinot Noir Tour A guided tour of some of New Zealand's finest Pinots led by Anna Metzinger of Archery Summit and featuring Rudy Bauer from Quartz Reef, Steve Smith from Craggy Range, Nick Lane from Cloudy Bay, and Helen Masters from Ata Rangi.

Geology 401: The Real Dirt on California Pinot Learn about the complex relationship between soil and Pinot Noir wines led by Robert Brittan of Brittan Vineyards, featuring Fin du Fresne of Chamisal Vineyards, Carroll Kemp of Red Car Wines, and Greg LaFollette of La Follette Wines.

Globalization101: The Revenge of the Terroirists Author Mike Veseth explains how the homogenization of style affects all wine but that the stakes are highest for real terroir wines like Pinot Noir.

Pinot 101: Sensory Evaluation of Pinot Noir A guided tasting with noted Pinot Noir wine critic, Josh Raynolds, of the International Wine Cellar hosted by Bill Stoller.

Social Studies 301: Pinot to The Third Power - The Cube Project Winemakers Andrew Brooks of Bouchaine, Thomas Houseman of Anne Amie Vineyards, and Leslie Renaud of Lincourt swapped grapes in a unique experiment to determine if wine is more a reflection of the vineyard terroir or the hand of the winemaker. Students will taste and decide for themselves.
As in college, there is competition for classes so you should enroll early to ensure your first choice. If you have Pinot overload, there are two other afternoon extracurricular seminar options: Tea Seminar (Portland's Steven Smith of Smith Tea takes you through a guided tasting), and Coffee from Seed to Cup (Stumptown Coffee's Jonathan Sielaff guides students through the life of a bean from seed to cup, including growing, processing, exporting, roasting, preparing and enjoying.)
On one day attendees will attend on-campus seminars and on the other day, enjoy a unique vineyard tour and winery and lunch. The winery you will be visiting is kept a secret until you are on the bus traveling to the winery. At the winery, you will be enrolled in Life Sciences 425: Conception Production and the Mysteries of Pinot Noir. A short video, shot during harvest, will trace your host winemaker's steps as they guide the grapes from vine to barrel, and of course, you will taste the end product. After the tasting, enjoy an array of wines paired with a multi-course lunch crafted by one of the esteemed guest chefs.
Two exclusive Post-Grad Opportunities are offered this year at IPNC for the first time. You must enroll in these separately as they are not included in the IPNC Full Weekend ticket.
A Life in Wine: A Retrospective Tasting with Jacques Lardière After 42 years, Jacques Lardière is retiring from Jadot, but not before bringing IPNC an unbelievable vertical tasting, starting with his 1989 Bonnes Mares. Hosted by Alder Yarrow.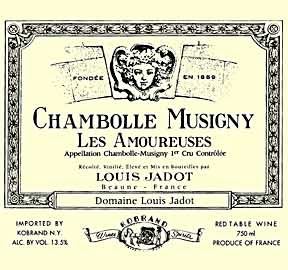 Icons of the new World: The Pinots of Adelsheim and Hanzell David Adelsheim, Dave Paige and Michael McNeill will lead you through a tasting of treasures from the libraries of these historic wineries.

Pinot Noir is the most food-friendly wine, and no event celebrating Pinot Noir would be complete without food. At IPNC, you are treated to the finest northwest cuisine from dawn until the late evening throughout the weekend. From a farm-fresh buffet breakfast Friday and Saturday, to the al fresco Grand Dinner on Friday and the Northwest Salmon Bake on Saturday, and ending with the Sunday Sparkling Brunch, over 60 chefs including many of the northwest's finest, create sumptuous dishes to pair with Pinot Noir. Some noted chefs at IPNC this year are Dustin Clark (Wildwood), Gabriel Rucker (Le Pigeon and Little Bird), Jason Stoller Smith (Timberline Lodge), Timothy Hodges (La Rambla), Chris Israel (Grüner), and Jason Franey (Canlis). (Note: tickets for the Northwest Salmon Bake can be purchased separately, but that event is already sold out.)
A number of Pre-IPNC dinners are also offered and tickets for these events may be purchased separately whether you are attending the full IPNC weekend or not. These dinners are not organized by IPNC, so contact the wineries directly for tickets. Visit www.ipnc.org for a listing of these incredible dinners. These dinners are so popular they sell out quickly, so do not procrastinate. I will be attending the ¡Salud! Benefit Dinner with special guest of honor Jacques Lardière of Maison Louis Jadot. All proceeds benefit ¡Salud!, a charity that I support that provides healthcare to Oregon vineyard workers. The Featured Chef is James Beard Award Finalist Cathy Whims of Nostrana Restuarant in Portland. This dinner will be held on the grounds of Linfield College. Contact Lindsay Coon for tickets at 503-681-1850 or lindsay.coon@tuality.org.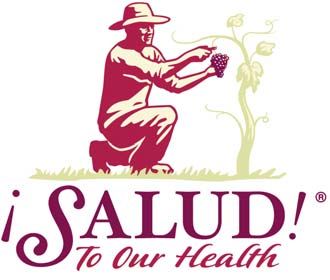 Speaking of procrastination, tickets for IPNC sell out each year. Lodging in the Willamette Valley is limited and the best accommodations fill up quickly. Some housing is available in the campus dorms where I usually stay for convenience. They are a bit spartan, but that is part of the weekend charm. Shuttles are provided to the event from many nearby hotels. The IPNC is less than 3 months away, July 27-29.