Magic in the Wines from Corralitos
The Santa Cruz Mountains appellation is quite large at 350,000 acres and is spread over three counties, extending from Half Moon Bay in the north to Mount Madonna just north of Watsonville in the south. Tucked away in the southwest corner of the appellation is the tiny town of Corralitos (9 square miles), home to only 5 of the more than 90 wineries in the appellation. Despite its small size and the infancy of most of its vineyards, the Pinot Noirs and Chardonnays from Corralitos have been strikingly good and knowledgeable pinotphiles are beginning to take notice.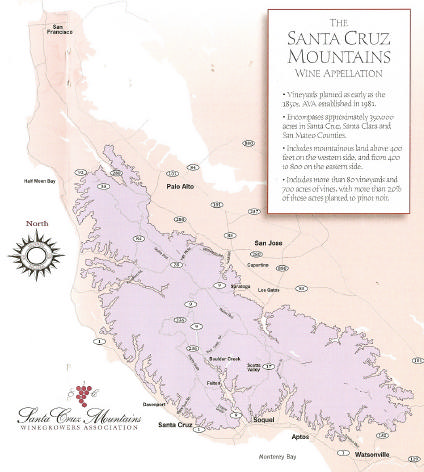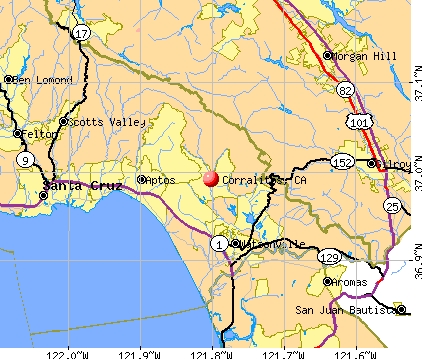 Corralitos is an agricultural area, well known for apples ("Apple City of the West") and strawberries ("Strawberry Capital of the World"). It is bordered on the west by flatlands leading to the Pacific Ocean, which is only 3 to 5 miles away, and on the east by modest hills rising to 1,000 feet. Santa Cruz is 17 miles to the north, Monterey 20 miles to the south. Dotted with "McMansions" bought with Silicon Valley money, this rural area is blessed with unpolluted air and well-drained loamy sand soils underlain with some limestone. The most distinguishable landmark is the Corralitos Market and Sausage Co. located on Corralitos Road and known for superb bacon, sausages, and other meats.
The origin of the name Corralitos is not definitively known. According to Judy Malmin, author of the book Corralitos, the name comes from the Spanish meaning two or more small yards or enclosures or little corrals. By 1820, the name Corralitos was in common use and in 1823 it was the name given to a land grand rancho that included Corralitos, Rancho de Los Corralitos.
I visited the area in early July of this year. The photo below was taken while driving over the Santa Cruz Mountains summit as one approaches Corralitos from Highway 101 located to the east. The Pacific Ocean can be seen in the far distance. The vineyards are situated on the southwest facing hillsides in the foothills of the large north-south oriented Santa Cruz Mountain range.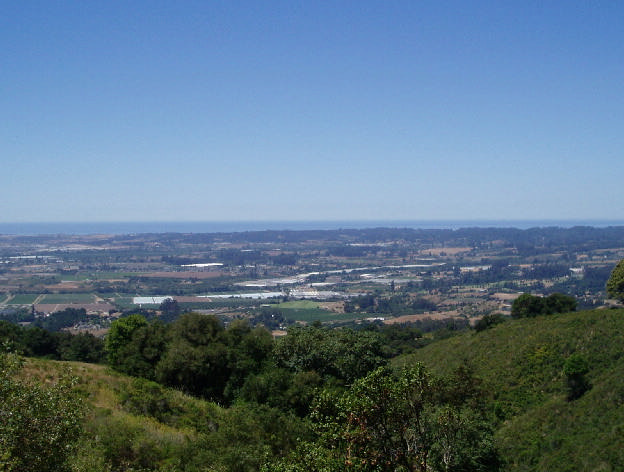 The close proximity of Corralitos to the Pacific Ocean is ideal for farming grapes. The summers are dry and warm with foggy mornings and the winters are cool and moist with annual rainfall between 12 and 30 inches. Large temperature swings are not unusual, with 90° days followed by 50° nights. The growing season here is probably the longest of any viticultural area in California, with bud break in early February and harvest extending all the way into the first days of November.
Craig Handley, proprietor of Pleasant Valley Vineyards in Corralitos, has spearheaded the "Corralitos Wine Trail," consisting of five relatively new, family-owned, small wineries located in close proximity (Alfaro Family Vineyards, Natal Vineyards, Nicholson Vineyards, Pleasant Valley Vineyards, and Windy Oaks Estate Vineyards & Winery). A sixth winery, Storrs, is planting a vineyard adjacent to Alfaro Family Vineyards and building a new winery which will open next year. All of the wineries are only open by appointment except for special occasions. On September 15, 2007, all of the wineries will have Open Houses from 12 to 5 as part of the second annual Corralitos Wine Trail Event. Tickets are $30 per person in advance and include wine tasting, barrel tasting, a commemorative crystal glass, Corralitos sausage tasting, cheese tasting, and self-catered picnicking at select vineyards. All of the participating wineries are within 6 miles of one another. For tickets and maps, consult the participating wineries websites or www.corralitoswinetrail.com.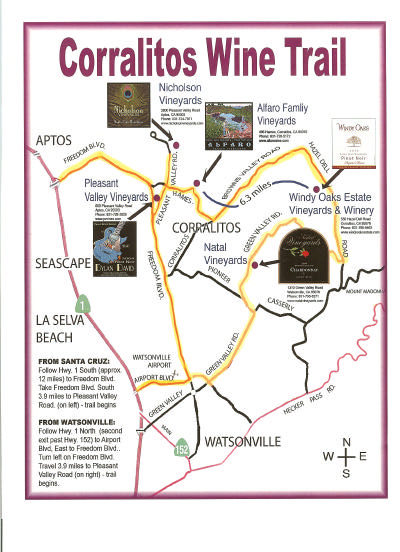 When I visited Corralitos, I spent some time with Richard Alfaro of Alfaro Family Vineyards and Jim and Judy Schultze of Windy Oaks Estate Vineyards & Winery. Profiles of both wineries and tasting notes follow.
Alfaro Family Vineyards and Martin Alfaro Wines
Richard Alfaro's background is in bread making, but he has had a personal interest in wine for over twenty-five years. He founded Alfaro's Micro-Bakery in Watsonville in 1988 and subsequently sold it to Sarah Lee in 1998 giving him the funds to start a winery. Always a Cabernet and Bordeaux lover, it was in 1996 that he had his Pinot Noir epiphany. He was having dinner in Lake Tahoe with a friend and ordered a 1994 Rex Hill Reserve Willamette Valley Pinot Noir. He was taken by the wine and returned to the same restaurant the next evening to confirm his impressions. He ordered another bottle of the same wine and it was even better the second time. Having lived in the Monterey Peninsula, he was familiar with Corralitos and had quite an attraction to the Chardonnay from the Christie Vineyard. He saw the potential of the area for winegrowing and found a 75-acre property in 1998 that was suitable. Today, he has the largest planting of Pinot Noir in the Santa Cruz Mountains (22 acres) and will release 12 different Pinot Noirs from the 2006 vintage. Besides his estate fruit, he sources Pinot Noir from Garys' Vineyard and Sleepy Hollow Vineyard in the Santa Lucia Highlands, Franscioni Vineyard in Monterey County, an unnamed vineyard in the Sonoma Coast, Gemelli Vineyard in Cienega Valley and vineyards in Corralitos. Production is about 4,500 cases per year.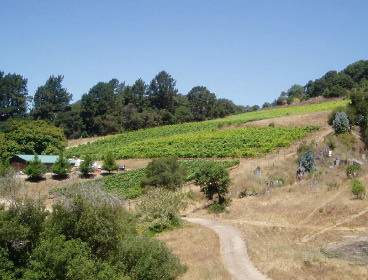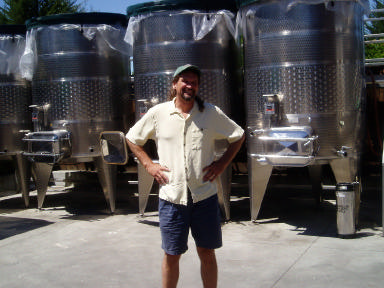 Richard drove me around Corralitos pointing out the most notable vineyards. The Deer Park Vineyard is owned by Dan Lester and managed by Prudy Foxx who is a well-respected viticulturalist in the Santa Cruz Mountains. This vineyard has multiple clones including 115, 667, 777, 37 (Mt. Eden), Wädenswil, and Mariafeld. The Christie Vineyard plantings are 20-25 years old (the first planted in Corralitos) and consist of both Pinot Noir and Chardonnay. Other vineyards include Saveria Vineyard, Pleasant Valley Vineyard and Schultze Family Vineyard. There are several small 1 to 3 acre vineyards as well in the region. Storrs Winery is currently planting a Pinot Noir vineyard.
Next year, Richard will be planting Mary K's Vineyard, named after his wife to celebrate their 25th Anniversary together. The vineyard will contain heritage clones of Chardonnay and own-rooted vines from a Vosne-Romanee Grand Cru Monopole vineyard.
I sat down with Richard in his winery and tasted through several of his wines. He produces two lines: Alfaro Family Vineyard wines from estate fruit, and Martin Alfaro wines from purchased fruit. The name Martin comes from Joe Martin who is a partner and winemaker at Alfaro. Richard has a wealth of information about Corralitos and a visit to this area would not be complete without meeting him and experiencing his passion and energy that he possesses for winegrowing.
this.fmt_tasting_notes(275,276,277,278,279,280,281): 275
Windy Oaks Estate Vineyard & Winery
Sometimes you come upon a winemaker (Ted Lemon comes to mind) and after you spend a little time with him or her, you just know they get it. Jim Schultze is in the same mold. He has a charming calm and trustworthy demeanor and his approach to wine is meticulous and well thought-out. You just get the feeling that his grapes are in good hands. If I was a Pinot Noir grape, I would like Jim to raise me and make me into a fine wine. Jim expresses his philosophy so succinctly: "I do the most I can in the vineyard and the least I can in the winery."
Jim and Judy Schultze are escapees from the high-tech world who have used their twenty years of interest and experience in artisan winemaking and winegrowing to create Windy Oaks Estate. The Burgundian varietals, Pinot Noir and Chardonnay, are produced from a 15-acre vineyard located at 1,000 feet on a ridge overlooking the town of Corralitos and the Monterey Bay beyond.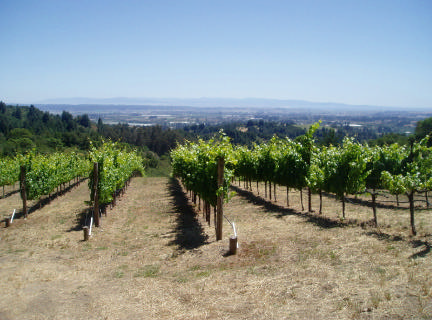 Viticulture and winemaking here is very Burgundy-themed. The vineyard is farmed according to sustainable, organic principles with all of the wines hand-tended and directly monitored for water status. The vineyard is mostly above the fog line. Summer is free of heat spikes with temperatures in the 70s and 40s at night. The site is extraordinary and yields physiologically ripe grapes without high brix and high natural acidity. Clones are 115,667, 777, 828, 2A and Pommard. Winemaking is noninterventional with no additives (ie enzymes, acid). Jim employs a 4 to 6 day cold soak and uses a basket press. Fermentations use 50% wild yeast and last 25-30 days. No racking is done once the wine is in barrel. The Schultzes travel yearly to Burgundy to meet with coopers. They use 3-year-old air dried tight grained French oak barrels and age their Pinot Noirs for 18-25 months with a high percentage of new oak (50% up to 75% in the Reserve). The modern estate winery is all gravity-driven. They use a state-of-the-art bottling line with minimal oxygen uptake yielding wines that go through little or no bottling shock.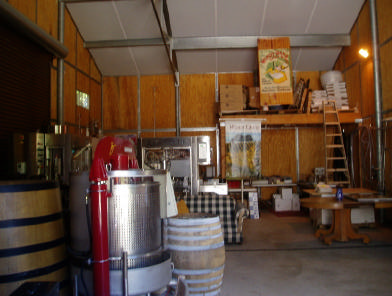 I visited the winery and was quite impressed. Jim is experimenting with wood tank fermentation and just released the
2005 Windy Oaks Estate Tank Fermented Pinot Noir
(26 cases, $55). The wood fermentor is in the photo at left. After tasting the results of this fermentation method in France, Jim believes wines fermented in wood develop smooth, well-integrated tannins, a round mouth feel, and excellent preservation of fruit with good complexity and a long finish. This initial release is from the estate vineyard's Bay Block (which typically provides the majority of the Reserve). The wine was aged for 22 months in 100% new French oak.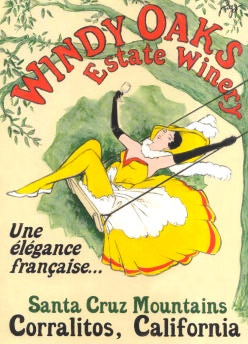 Another new release is the
2005 Windy Oaks Estate Special Burgundian Clone Pinot Noir
(26 cases, $95). This is a release from a special half-acre block at the top of the vineyard ridge. Jim tends this block himself, doing everything from pruning to leaf pulling to tucking vines. This special Pinot Noir clone came from Burgundy and tastes similar to its Burgundian counterpart. Aged 27 months in 100% new French oak. The wine is being offered in a beautiful wood box with the a poster silk-screened on the bottle that was created by noted French poster artist, Jean-Pierre Got (pictured right).
Windy Oaks Estate sells 85% of their wine directly to a mailing list. There is not a lot of wine to go around. I almost hesitate to rave about it. The website is www.windyoaksestate.com. 831-786-9463.