Oregon Wine Press: News You Can Use on the Oregon Wine Industry
Current popular wine publications offer only an occasional glimpse of Oregon wine. Oregon Wine Press delivers a monthly magazine featuring the "who, what, when, where of wine in Oregon." I have been a long time subscriber (a steal at $20 per year) and frequent the highly informative Oregon Wine Press website (www.oregonwinepress.com) to get the latest Pinot Noir news instantly.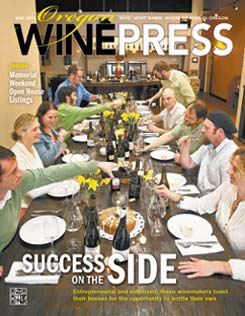 I recently talked with the Oregon Wine Press Managing Editor, Hilary Berg, whose spouse, Chris Berg, is a winegrower and winemaker in the Willamette Valley (Roots Wines & Vineyard). Being intimately involved in the Oregon wine industry, and with a background in journalism, she has brought considerable life to this magazine since her arrival.
Q: What is your upbringing and educational background?
A: I was born and raised in Wichita, Kansas. I have four siblings, including my identical twin sister. I graduated from the University of Kansas with a bachelor of science in journalism.
Q: What was your first introduction to wine?
A: I was introduced to wine through my husband, Chris, who is a winemaker and winegrower. He introduced me to Oregon wine while I was still in college at the University of Kansas, which is where I met him. When he moved to Oregon to enter the wine industry, I followed. We married in 2003. I have been in Oregon since 2000. We own a small 7-acre vineyard and wine label called Roots and will be celebrating our tenth vintage this coming fall.
Q: What is the history of the Oregon Wine Press and when did you join the staff as Editor?
A: Portland-area natives Richard Hopkins and Elaine Cohen started what was then named the Oregon Wine Calender in 1984. They nurtured the publication for 22 years, promoting and growing with the Oregon wine industry. In April 2006, Oregon Wine Press was acquired by the News-Register Publishing Co., a family owned, fourth generation publishing company in McMinnville. I am the one who approached the News- Register owner, Jeb Bladine, and suggested he buy the Oregon Wine Press. At the time, the magazine had just ceased publishing, and in turn, he hired me. At the time, I was working about an hour from my home in Yamhill and wanted to work closer to home. He hired me, and the rest is history.
Q: What do you find inspiring about your job?
A: I really enjoy creating something from start-to-finish. I also love creative collaboration with the many talented writers and photographers in Oregon, most importantly, with Karl Klooster, Associate Editor of Oregon Wine Press.
Q: How is Oregon Wine Press distributed? I know it is available by subscription, but what are the other avenues of distribution?
A: We distribute Oregon Wine Press to more than 600 businesses, free of charge. Most of our circulation is in Oregon, but we do have out-of-state distributors that lover our publication and regularly remind us when a shipment gets lost or damaged. We would love to grow our distribution across the United States to include select wine shops in every state. We are working on this right now.
Q: Oregon Wine Press does not have a significant emphasis on wine reviews. Why is that?
A: Oregon Wine Press is intended to celebrate and explore the wine industry, not grade wines. We are more interested in the stories within the industry, which national publications rarely touch on. The only reviews we publish are in a department we call "Value Picks." We only print positive reviews for wines under a certain price. We focus on select varieties each month, giving the wineries another outlet for reviews.
Q: Talk about what is offered on your website.
A: Our website offers articles from present and past issues, as well as a brand new calender system that allows users to connect with social media sites like Facebook and Twitter. We are so busy with the print edition, the website has been a second priority, at least for me - I am too darn busy! We hope to upgrade the look and functionality over the coming year, so stay tuned - or, should I say, stay logged on.
Q: How do you account for the popularity of Oregon Pinot Noir?
A: Pinot Noir is the most food friendly red out there. I believe the popularity of Oregon Pinot Noir is in large part due to high quality and the (mostly) genuine people who make it.
Q: What changes do you foresee in the next 10 years in the Oregon wine industry?
A: Not really sure. I know the quality and notoriety of Oregon wine will continue to rise. I hope to see more Tempranillo planted in Southern Oregon. I believe that variety is promising as the region's flagship wine. I think Tempranillo could catapult the Southern Oregon AVA to a higher status.