Oregon Pinot Briefs —Newsletter 9.7
Antica Terra Champagne Luncheon Antica Terra will host an exclusive lunch and tasting of inspirational Champagne on Saturday, May 19, at The Woodsman Tavern in Portland, OR. Chef Jason Barikowski will prepare five courses to accompany the five grower Champagnes that inspired the creation of Antica Terra's new wines. A barrel tasting of base wine from the 2010 and 2011 vintages will precede the lunch. Featured Champagnes will include Cedric Bouchard Inforescence La Parcelle Côte de Bechalin, Jerome Prevost La Closerie, Jacques Seloss Cuvée Initial, Vilmart 2003 Coeur de Cuvée and Egly Ouriet Blanc de Noirs Les Crayeres V.V.. Cost is $175 per person.

Antica Terra Onsite Tastings The onsite tasting experience will be taken to a new level starting this June. Curated by Antica Terra Director and Master Sommelier Nate Ready, visitors will not only be able to taste Antica Terra's current releases, but also a rotating selection of wines from around the world that have inspired and sustained the Antica Terra creative process, ranging from grower Champagnes and Grand Cru Burgundies to esoteric bottlings from rare, indigenous grapes that feature innovative winemaking techniques. Tastings will be offered three times a day by appointment only from Tuesday through Sunday. The introductory flight is $70 per person and includes 1.5 oz pours of the following eight wines served with a selection of provisions thoughtfully sourced and crafted by six notable Portland chefs: Raphael Bereche M.V. "Reflet d'Antan" Champagne, 2008 Grange des Peres Blanc Aniane, 2010 Clos Cibonne Tibournen Rosé "Cuvée des Vignettes" Côtes de Provence, 2010 Antica Terra Rosé "Erratica", 2010 Antica Terra Willamette Valley Pinot Noir, 2010 Antica Terra "Botanica" Pinot Noir, 2009 Anne Gros Clos Vougeot, and 2007 Moric Blaufrankisch "Lutzmannsburg Alte Reben" Burgenland. All wines will be served from an Enomatic wine system. Wines are expected to change every four to six weeks based on availability. All wines will also be available for purchase in limited quantities. Antica Terra Winery is located at 979 SW Alder Street in Dundee. Reservations can be made by called 503-244-1748 or by email at info@anticaterra.com.
Willamette Valley Vineyards Contest May is Oregon Wine Month and marks the beginning of the 8th annual "Why I Love Oregon Pinot Noir" contest sponsored by Willamette Valley Vineyards. Wine enthusiasts are urged to tell their story about when or where they fell in love with Oregon Pinot Noir. The most creative entry will win an all-expenses-paid trip for two to Oregon Wine Country and Willamette Valley Vineyards. Submissions can include a short essay, photos, or even a video. Visit www.wvv.com/contest for the official rules and to enter. The contest runs May 1 through June 30, 2012. Second and third place winners will receive a Copper River Salmon dinner for six delivered to their door including recipes, wine and more.
Memorial Day Weekend in Oregon Wine Country Many small Oregon wineries are only open to the public twice a year on Memorial Day weekend and Thanksgiving weekend. The 22nd annual Memorial Weekend in the Wine Country, May 26-28, 2012, kicks off the Oregon wine tasting season in the Willamette Valley with more than 150 wineries and tasting rooms opening their doors for special events and tastings. Visit the Willamette Valley Wineries website (www.willamettewines.com) to plot your wine tasting routes. Use the Mobile Wine Tour to navigate to your next destination, offering directions to the wineries right on your smart phone. To receive a mailer that includes a list of activities at each winery and a touring map, email info@willamettewines.com and include your mailing address since the mailer is available by postal service only. You can also visit the Oregon Wine Board website at www.oregonwine.org for Oregon wine country brochures and a listing of Oregon wine events.
Domaine Drouhin Rosé Oregon is becoming well known for its superb rosés (think Antica Terra, Domaine Serene, Luminous Hills and Soter) and Domaine Drouhin offers one of the best. The DDO Edition Rosé is not made every year, but the 2011 Edition has just been released and will sell out quickly. Pinot Noir is picked carefully from the winery's 35 estate blocks, hand-sorted, de-stemmed and moved to stainless steel fermentation tanks. After 12 hours, when the ideal color is reached, some of the juice from each tank is bled off, a true saignée. Fermentation starts naturally with wild yeast and the wine is kept at cooler temperatures, allowing the aromatics and fruit flavors to develop. After 5 months, 575 cases of the 2011 Edition Rosé were bottled in March. Available for $20 online at www.domainedrouhin.com.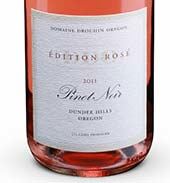 Superior Cellar Awards Oregon Wine Press and the Oregon Wine Board offer a listing of restaurants in Oregon and nationally that feature a diverse selection of Oregon wines on their wine list. Visit www.oregonwinepress.com/article?articleTitle=superior+cellar+awards--1307400145--792--top-stories for an article and a list of Superior Wine Cellar restaurants.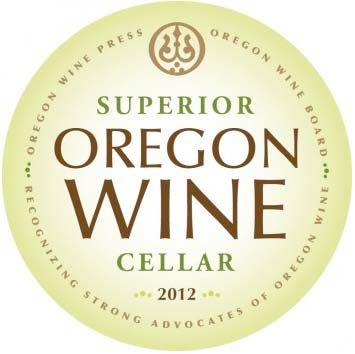 Oregon Sources for Oregon Pinot Noir There are nearly 500 Oregon wine stores including wineries. The following are recommended online retailers who stock a large collection of Oregon Pinot Noir: Avalon Wine (www.avalonwine.com), the most comprehensive source, Bend Wine Cellar (www.bendwinecellar.com), Northwest Wines To You (www.northwestwinestoyou.com), Oregon Pinot Noir Club (www.oregonpinotnoir.com), Oregon Wine Merchants (www.orwines.com), Storyteller Wine Co. (www.storytellerwine.com), Vinopolis Wine Shop (www.vinopoliswineshop.com), and Wine Merchants West (www.winemerchantswest.com). The Oregon Wine Board also provides a wine locator service, the Oregon Wine Finder, at www.oregonwine.org. Don't forget the wineries themselves as they often carry wines only available through the winery, and offer significant discounts for multiple bottle purchases and wine club members. Dealing directly with wineries can open the door to wines produced in small quantities and allocated. Buying direct and establishing a personal relationship with winery personnel can enhance your wine drinking experience and allow you to gain entrance to special winery events. The advantage of retailers is that they offer a broad range of choices and may offer discounts on multiple bottle purchases and shipping. Oregon has an open and non discriminatory direct shipping law and Pinot Noir can be freely shipped within Oregon and to any state that permits wine shipments. If you live on the West Coast, you can acquire Oregon Pinot Noir with no difficulty. Free online searches for Oregon Pinot Noir include: www.wine-searcher.com, www.winezap.com, www.vinquire.com, www.wineaccess.com, and www.vinopedia.com.
Documentary Features Oregon Wine Industry Founders The new documentary, "Oregon Wine: Grapes of Place," has been released. A co-production of Oregon Public Broadcasting and the Oregon Historical Society, the video premiers on OPB TV May 8, 2012, at 8:00 PM. Producer and writer Nadine Jelsing interviewed many veterans of the Oregon wine industry including David Adelsheim, Dick Erath, and Dick Ponzi, and included taped interviews with David Lett, the founder of The Eyrie Vineyards, who died in 2008. For more information, visit www.oregonlive.com, or www.opb.org.
Oregon Olive Mill at Red Ridge Farms This is the first olive oil processing plant in Yamhill County and the largest commercial mill in the Northwest. The facility features a state-of-the art Italian olive mill which is used to process their multiple olive varieties including Arebequina, Koroneiki and Tuscan. The Oregon Olive Mill supplements their locally grown fruit with olives sourced from family farmers in Northern California. The oils were tested by an independent lab and certified as meeting IOOC standards for Extra Virgin Olive Oil. Owner Paul Durant is striving to produce olive oils that are rich in flavor, with initial fruit notes followed by strong pungency and bitterness that reflects the nature of the fruit. 2011 was the the largest milling run to date and the largest harvest of fruit from estate grown olives as well. Oregon Olive Mill's fresh virgin olive oils from the 2011 vintage are currently available at Red Ridge Farms and direct to consumer shipping through www.redridgefarms.com.
Notice: I have been deluged with California Pinot Noir to sample and review. I apologize to those who have submitted wines, for I have not been able to publish the reviews in a timely fashion. I have been traveling and will be doing quite a bit of wine country travel over the next two months as well, but I will attempt to get caught up. Currently, I review every Pinot Noir and Chardonnay that is submitted, and I refuse to fail to give each wine less than a well-deserved complete evaluation. ........Prince.