Pinot Gris: Pinot Noir's Mutant Offspring Needs Love Too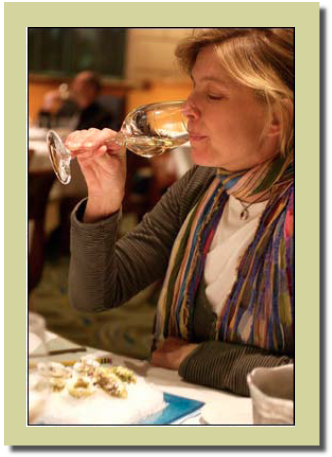 Traditionally, wines from France like Muscadet and Chablis are chosen to accompany oysters on the half shell. Few wines go with oysters because they are a vibrant combination of minerals, sweetness and the sea.
To identify wines that restaurants can reliably offer customers ordering oysters on the half shell, the Pacific Coast Oyster Wine Competition was organized eighteen years ago by its founder, Jon Rowley of Jon Rowley & Associates of Seattle, Washington who are consultants to the seafood industry. At the recently concluded Eighteenth Annual Pacific Coast Oyster Wine Competition, 25 top West Coast food and wine experts bestowed the prestigious "Oyster Wine Award" on ten West Coast Wineries. Judges rated the "bliss factor" after smelling and chewing a Taylor Shellfish Farms Kumamoto oyster than smelling and tasting each of the competing wines. Six of the ten winning wines were Pinot Gris, two were Sauvignon Blanc, one was a dry Chenin Blanc and one a Pinot Blanc. It is noteworthy that among the 101 entries, the judges preferred Pinot Gris over all other white varietals as the perfect accompaniment to fresh oysters on the half shell.
Two of the Pinot Gris wines receiving an "Oyster Wine Award" were from Oregon:
2010 Brandborg Winery & Vineyard Pinot Gris (Umpqua Valley) 13.6% alc., 547 cases, $16.
2011 Van Duzer Vineyards Estate Pinot Gris (Willamette Valley) 13.2% alc., 1,500 cases, $17
Van Duzer Vineyards Estate pinot Gris has won two previous "Oyster Wine Awards." The other Pinot Gris wines winning an "Oyster Award" were from Washington and Russian River Valley, California.
Winemaker Terry Brandborg of Brandborg Vineyard & Winery has had a long and endearing relationship with oysters. He relates the following story. "As a young man, I lived across the hill from West Marin and Tomales Bay in California where oysters were farmed. It became a regular ritual to trek out on weekends and consume a few dozen barbequed oysters with pitchers of Anchor Steam beer. I now view barbeque oysters as a "gateway" experience to the more sublime and ethereal sensations that delight the palate and soul when slurping down fresh shucked gifts from the ocean, washed down with our clean, bone dry, brightly acidic, minerally Pinot Gris."