DLM: Hidden Gem Off Westside Road
When you think of Westside Road in the Russian River Valley, several prominent wineries come to mind including Rochioli, Williams Selyem, Gary Farrell, Moshin and Davis Bynum. A relative newcomer to the area is De La Montanya Vineyards & Winery located just off Westside Road on Foreman Road (halfway between Armida and Twomey). Proprietor and winemaker, Dennis De La Montanya has followed in the footsteps of his family's legacy, the seventh generation in a long line of farmers and purveyors of wine who often doubled as judges, wine smugglers, outlaws and other suspicious characters. Dennis farms over 160 acres in Sonoma County and founded his winery in 1995. The tasteful barn-inspired tasting room and winery is but three miles from the town of Healdsburg. Dennis has a wood-burning pizza oven on the premises, a bocce ball court, and a picnic area shaded by mature apple trees. He rents out an adjacent lodging known as the "Little Yellow Cottage," which has all of the comforts of home and overlooks the Felta Creek Vineyard on the property.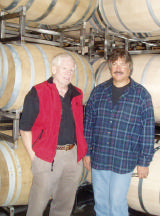 Dennis is the type of winemaker you love to hang out with. Unpretentious and humorous, with a dry wit and twinkle in his eye, he never takes himself or his wines too seriously, although his wines are produced with the utmost care and attention. With 30 different wines offered in 25 to 250 case lots, there is something to appeal to everyone. The wines run the gamut from the unusual (Primitivo and Tempranillo) to the tried and true (Zinfandel and Cabernet), to Pinot Noir, and to several white varietals. And adding spice to the lineup, he bottles a "Pin-Up" series of wines featuring attractive ladies in pin-up poses on the front labels for sale only at the winery (the labels are not enticing to those stiffs at the government). Unfortunately, there is no Pinot Noir with a pin-up label but this is understandable since Dennis's Pinot Noirs are quite serious wines.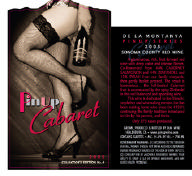 I had the unique experience of tasting the five 2005 De La Montanya Pinot Noirs and a single Pinot Meunier at three stages in their development. In 2006, I sampled them out of barrel at the winery, then tasted through the wines shortly after bottling (see notes in the PinotFile, Vol 6, Issue 3, November 7, 2006), and finally, tasted through the lineup recently after 10 months in bottle. A word about the style of Dennis's Pinot Noirs is in order. Although Dennis, himself, has no aversion to big, bold wines, he believes Pinot Noir should have restraint, elegance and finesse and be a suitable companion at the dinner table. Aging is usually 11 months in 40% or less new oak. The current co-winemaker with Dennis is Tami Collins (sister of winery co-founder Tina De La Montanya) and the long-time consulting winemaker is Michael Loykasek.
De La Montanya Vineyards & Winery is located at 999 Foreman Lane, Healdsburg. The tasting room is open Saturday and Sunday from 11-4:30, but call ahead to see if Dennis is behind the bar (note: Dennis has two boys who play baseball and he is a big baseball fan so he may be at a diamond somewhere). The informative website is at www.dlm.com. 707-433-3711. For information and reservations for the Little Yellow Cottage, contact Tina De La Montanya at tina@dlmwine.com or consult the website. Check the website for directions to the winery - it can be tricky.