2010 Pinots Tasted in the Willamette

Shea Wine Cellars: The Whole Pinot Shea-bang
Dick Shea farms 136.5 acres of Pinot Noir and 3.5 acres of Chardonnay in the Yamhill-Carlton District. Grapes are sold to 22 other notable producers of Pinot Noir in the Willamette Valley ( Antica Terra, Beaux Frères, Bergström, Boedecker, Elk Cove, J.K. Carrier, Ken Wright Cellars, Panther Creek Cellars, Penner-Ash, Raptor Ridge, Rex Hill, Stephen Goff, Stevenson Barrie Cellars, St. Innocent, Wildair, and Winderlea) and California (Ancien, Auteur, Roessler, and Sonoria). 25% of the vineyard production is held back for Shea's own Shea Wine Cellars label (about 5,500 cases).
Pinot Noir clones planted at Shea Vineyard include Pommard, Wädenswil, and Dijon 114, 115, 777. Soils are Willakenzie, well-drained and shallow over fractured siltstone at 450 feet elevation.
The most recent winemaker for Shea Wine Cellars, Drew Voit, left in 2012 to pursue his own label and other projects. He was replaced by Blair Trathen, a New Zealander who has crafted wine in Oregon for ten vintages, most recently at Rex Hill. He is currently putting the finishing touches on the 2011 wines.
The wines from Shea Wine Cellars are sold primarily through a mailing list (www.sheawinecellars.com) with limited retail distribution. The winery is not open to the public. The nomenclature of the Shea Wine Cellars Pinot Noirs has varied through the years, but in 2010, except for the Estate and Homer, all wines are block-designated. When I visited in July, the Estate, Block 31 and Homer had been released. I tasted these 2010 wines from bottle and 2011 wines from blending tanks briefly at the winery and was impressed. Dick was to send me the lineup of 2010 wines to review formerly but the hot weather in Southern California has not permitted him to ship the wines to me. When weather permits, I will receive the wines and fill in the reviews of the wines listed.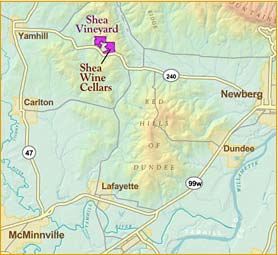 2010 Shea Wine Cellars Shea Vineyard Estate Willamette Valley Pinot Noir 13.2% alc., 3,475 cases, $40. All clones planted at Shea Vineyard. Aged in 47% new French oak.
2010 Shea Wine Cellars Shea Vineyard Block 7 Willamette Valley Pinot Noir 13.5% alc., 300 cases, $56. Wädenswil clone. Aged in 64% new French oak.
2010 Shea Wine Cellars Shea Vineyard Block 23 Willamette Valley Pinot Noir 13.5% alc., 265 cases, $56. Pommard clone. Aged in 80% new French oak.
2010 Shea Wine Cellars Shea Vineyard Block 31 Willamette Valley Pinot Noir 13.6% alc., 240 cases, $56. 67% Pommard, 33% Wädenswil. Aged in 60% new French oak.
2010 Shea Wine Cellars Shea Vineyard Block 33 Willamette Valley Pinot Noir 13.5% alc., 250 cases, $56. Dijon 777. Aged in 60% new French oak.
2010 Shea Wine Cellars Shea Vineyard Homer Willamette Valley Pinot Noir 13.5% alc., 450 cases, $82. 56% Wädenswil, 31% Dijon 777, 13% Pommard. Aged in 81% new French oak. A blend of the best barrels in the cellar and always the biggest, most structured wine in the lineup, needing several years to reach a peak drinking window.
2010 Shea Wine Cellars Shea Vineyard Willamette Valley Chardonnay 13.5% alc., 700 cases, $30. Dijon 95, 76. 100% MLF. Aged in 18% new French oak and 6% stainless drums.
Lenné Estate: Nose for Pinot
Located a few miles west of Shea Vineyard on a ridge top, Lenné ("Lenay") Estate is farmed by Steve Lutz, who also shares the winemaking duties with noted Oregon vintner, David O'Reilly. The initial vines went into the ground in 2001, planted on low vigor sedimentary and volcanic soils. Today, the vineyard consists of 20.9 acres of Pinot Noir.
Beginning in 2007, the wines from Lenné Estate really showed promise, and in 2010, Steve hit the jackpot. The entire lineup is really top notch. The entry-level wine, LeNez, is solid, and the Lenné Estate wines, which represent the best barrels from the vineyard in each vintage, are all very special. The wines were previously reviewed in the PinotFile in May 2012. New oak treatment varies between 35% and 50%. Steve believes that the wines will be at their best 7 to 10 years from the vintage date.
The wines are sold through a mailing list, the winery's website (www.lenneestate.com) and the tasting room at 18760 NE Laughlin Road in Yamhill (open weekends or by appointment). Besides the wines tasted, the following are also available: 2010 LeNez Pinot Noir (more fruit forward and most approachable, $30) and 2010 Lenné Estate Kill Hill Pinot Noir (best barrels from the steepest part of the vineyard which has the poorest soil, named as a tribute to the many vines that died in establishing this part of the vineyard originally, $55).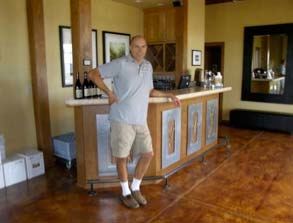 The Eyrie Vineyards: Sacred Ground for Pinot Noir
The Eyrie Vineyards winery and tasting room in McMinnville is a time capsule of the history of Willamette Valley Pinot Noir. Jason Lett, who took over the legacy of this iconic winery when his father, David Lett, passed away in October 2008, has preserved its identity and the character of David's wines.
David Lett arrived in the Willamette Valley in 1965, established a nursery planting of Pinot Noir in Corvallis, and in 1966, spent his honeymoon with his new spouse Diana planting the first five acres of vines that included Pinot Noir and Pinot Gris. The Letts named their vineyard Eyrie ("Eye-ree"), an old word meaning "hawk's nest," when a pair of red-tailed hawks built a nest in the fir trees above the first vineyard that the newly married couple were planting. There are still eyries at Eyrie with hawks nesting in the trees above the vineyard each year.
Lett produced his first Pinot Noir in 1970, but because of its light color, he labeled it "Oregon Spring Wine." In 1979, Robert Drouhin of the famed Domaine Drouhin in Burgundy, set up a blind tasting of French burgundies versus American Pinot Noirs. At this now famous tasting hosted by the French food and wine magazine, Gault- Mileu, and held in Paris, a 1959 Domaine Drouhin Chambolle-Musigny came in first, but David Lett's 1975 The Eyrie Vineyards South Block Reserve Pinot Noir took second ahead of a number of prestigious French wines. The Eyrie Vineyard South Block Reserve was made solely from the Wädenswil clone. This was a seminal event for the Oregon wine industry and persuaded Robert Drouhin to establish his own vineyard and winery in the Dundee Hills in 1987. The published results of this Gault-Mileu tasting are proudly displayed on The Eyrie Vineyards tasting room wall: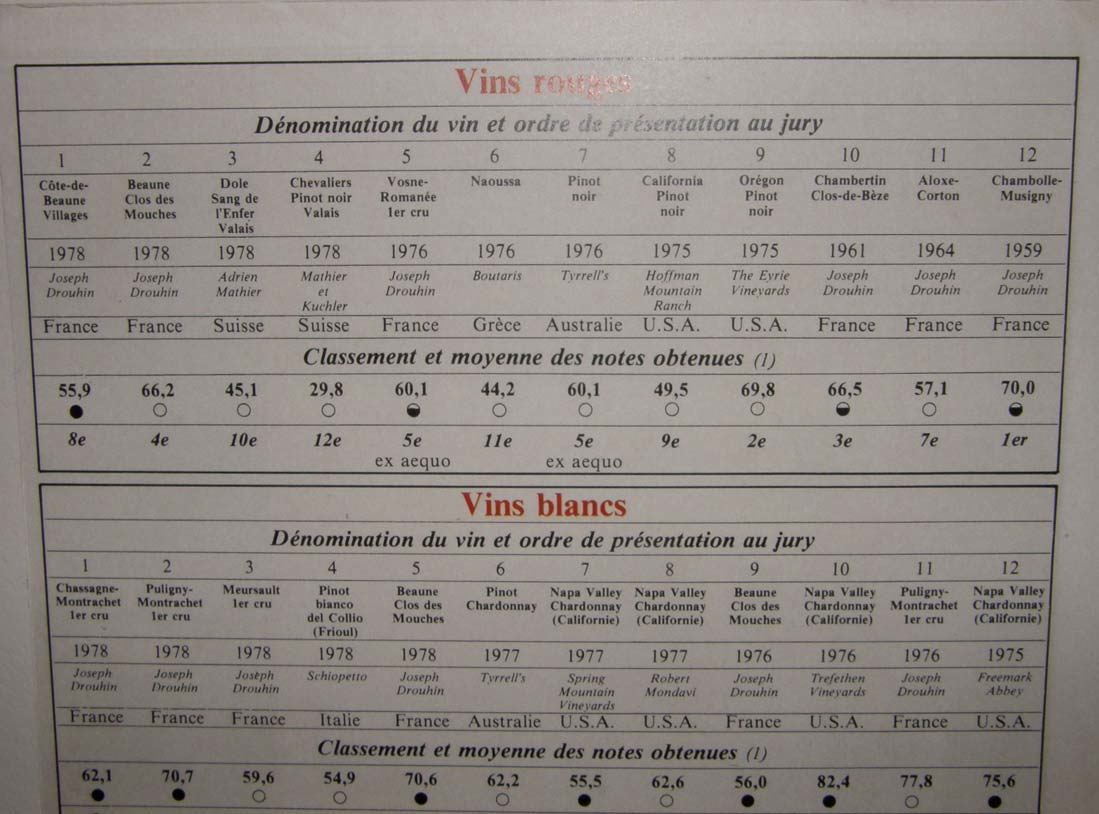 The room where David Lett made his first wines is but the size of a small two-car garage:
David's original oak barrels, dating to 1970, are still in use in the winery, refurbished by a local cooper as needed: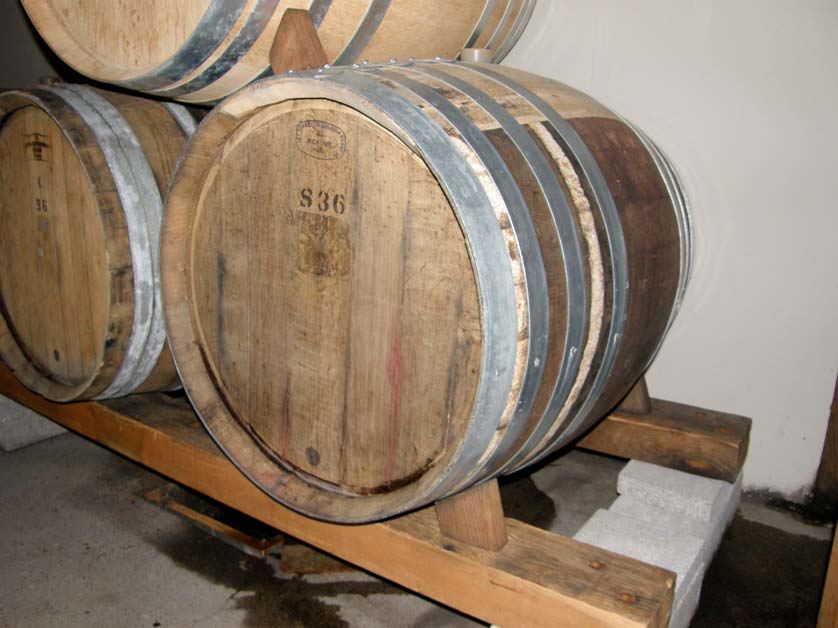 I tasted a number of wines with Jason, some of which are quite precious, and they are dispensed through an argon preservative system and sold to visitors by the glass. Jason has taken the time to examine all the library Pinot Noir and Chardonnay wines, discard the oxidized or otherwise unacceptable bottles, and re-cork them. In recent years he has organized significant retrospective tastings of The Eyrie Vineyards Pinot Noir (2008), Chardonnay (2009, www.princeofpinot.com/article/726/) and South Block Reserve Pinot Noir (2011).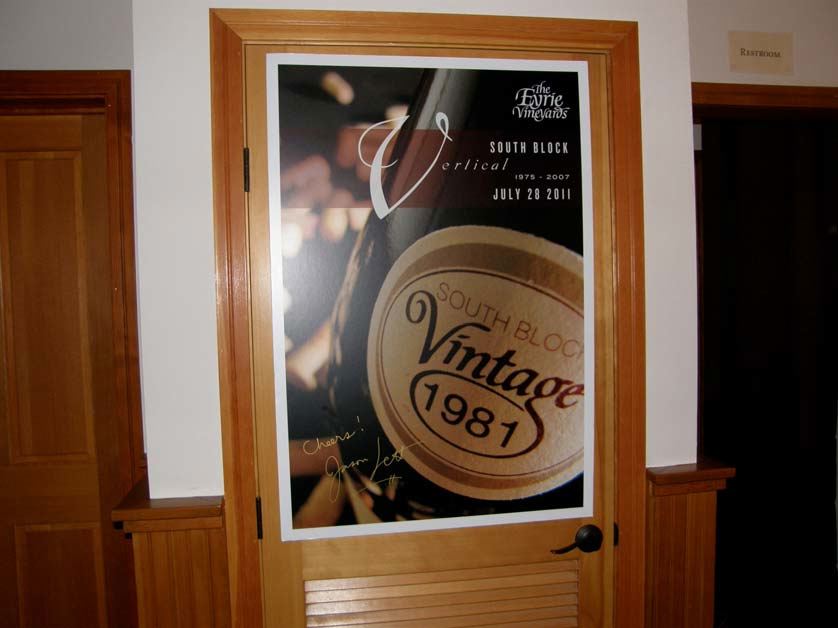 Pinot Noir estate vines at The Eyrie Vineyards, planted between 1965 and 1989, average 30 years in age, are 100% own-rooted, organically farmed, and 100% non-irrigated: unequaled in Oregon. The Eyrie Vineyard was planted between 1966 and 1974 and consists of 17.4 acres. Wine contributions: Pinot Noir Original Vines Reserve, Chardonnay Original Vines Reserve, Chardonnay Estate, Pinot Gris Estate, Melon de Bourgogne, Muscat Ottonel and Pinot Meunier. The Daphne Vineyard was planted between 1974 and 1984 and consists of 12.7 acres. At almost 900 feet, Daphne is one of the oldest and highest elevation plantings in the Dundee Hills. Wine contributions: Pinot Gris Estate, Pinot Noir Estate, Pinot Meunier, and Pinot Noir Daphne Reserve. The Rolling Green Farm is 6.0 acres planted in 1988. It includes 18 acres of prime unplanted ground that will be developed over the next decade. Wine contributions: Pinot Noir Estate, Pinot Gris Estate. The Sisters Vineyard was planted in 1989 and covers 15.3 acres. The vineyard was named after the three Pinot sisters: Pinot Noir, Pinot Gris and Pinot Blanc. There are also 15 acres of hazelnuts planted at the site. Wine contributions: Pinot Noir Estate, Pinot Blanc Estate, and Pinot Gris Estate.
The Eyrie Vineyards tasting room is open Weds-Sunday, 12:00-5:00, at 935 NE 10th Avenue @ Alpine in McMinnville. Cost of tasting is $5 per person which is refundable with the purchase of two bottles of wine (library wines are an added cost). The Eyrie Vineyards is a required pilgrimage for any serious pinotphile visiting the Willamette Valley. Visit the website at www.eyrievineyards.com for more details.
Privé Vineyard: French Spoken Here
I recently wrote extensively about Privé Vineyard and included a vertical tasting of the winery's Pinot Noirs (www.princeofpinot.com/article/1216/). Mark and Tina Hammond hand craft a small amount of Pinot Noir from two acres of vines planted on their estate in the Chehalem Mountains AVA. He manages the vineyards and she makes the wines. They bottle three wines: "le sud" from the southern 1 acre, "le nord" from the northern 1 acre, and "joie de vivre", a reserve crafted in half-barrel quantities and presented in an etched bottle. Demand is extremely high and the mailing list has been filled for some time now.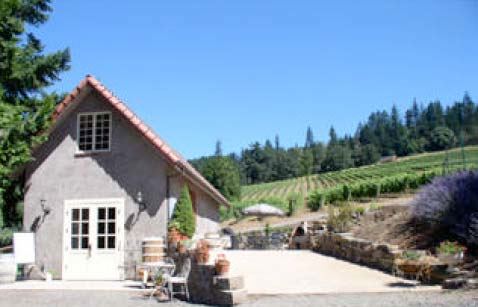 A Willamette Valley blend was added in 2009 as a forward-drinking Pinot Noir that could be offered to visitors to the winery. The blend is a notch up in ripeness compared to the estate wines and is sourced from vineyards that meet the Hammonds' high standards. It has become very popular and the winery sells more of it than le sud and le nord combined.
The Hammonds have made significant changes in their farming beginning with the 2010 vintage and this has led to wines with greater fruit purity. The vineyards underwent a devigorization by abandoning the use of nitrogen fertilizer, letting weeds grow between rows, changing the cane management, and instituting more rigorous dropping of fruit especially in cool vintages.
When I visited this July, I was led into the expanded winery (it is still very small) and sampled the 2011 Pinot Noirs from barrel. In 2010, 75% of the crop was lost and in 2011, yields were half of a "normal" crop, but still considerably more than in 2010. Both le sud and le nord produced 175 cases in 2011. The wines were picked at 23º and 23.5º Brix. The le nord was flush with pie cherry, spice and pepper flavors. The le sud offered darker fruits (blue and purple) and less spice. Both wines were crisp and juicy and full of life. Tina is extremely pleased with the 2011 vintage.
Tina not longer crafts a Cabernet Sauvignon, concentrating instead on Syrah crafted in a Pinot Noir style. She sources grapes from two vineyards, one in Oregon and one in Washington. Tasted out of barrel, the Syrah was very appealing with a restrained and elegant quality uncommon for Syrah.
The Hammonds have carved out a little niche of heaven in the Chehalem Mountains. Visits and tastings are by appointment (503-554-0464). The website is www.privevineyard.com.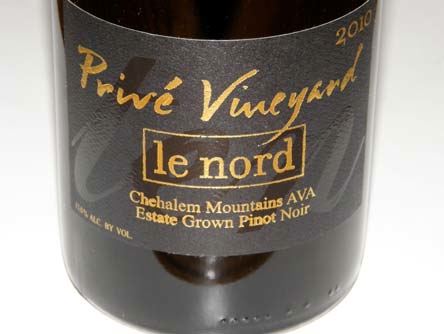 Bethel Heights: Modern Family
The Casteel brothers were in academics at the University of Michigan teaching English when they visited Oregon and fell in love with it. They gave up their careers and studied viticulture at the University of California at Davis, then moved to Oregon for good in 1977. With partners Pat Dudley and Marilyn Webb, they acquired 75 acres from Vic Winquist (who was to develop many nearby properties including Seven Springs, Elton, Temperance Hill, Zenith, and Canary Hill vineyards) in what is now the Eola-Amity Hills AVA. The property had 14 acres of newly planted vines in the ground and the Casteels added additional vines between 1977 and 1979, making it one of the first vineyards in the Eola-Amity Hills. The first wines were produced in 1984.
Eola-Amity Hills AVA
The Eola-Amity Hills is located northwest of Salem, Oregon and consists of 38,000 acres. There are more than 1,500 acres planted to wine grapes, with over 75 vineyards and 30 commercial wineries.
The name "Eola" was adapted from the word, "Aeolus," a minor deity of the ancient Greeks who was in charge of the winds. The written history of the origins of the name are sparse, but it is thought that the name was given by Lindsay Robbins, who observed the predictable afternoon marine breezes that enter the Willamette Valley from the Pacific Ocean through the Van Duzer Pass, the lowest point in Oregon's Coastal Range. Robbins was reminded of a wind harp, appropriately called the Aeolian harp.
The northern extension of the Eola Hills became known as the Amity Hills. Since the Eola Hills and Amity Hills are really one hill connected by a chain of smaller hills, the name Eola-Amity Hills was proposed for the AVA. The AVA encompasses vineyards and wineries in both Polk and Yamhill counties of Oregon and was approved in 2006.
The first planting of Vitus vinifera in the Eola-Amity Hills was in 1971 by Jerry and Anne Preston, who sold their Amity Vineyards to Myron Redford in 1974.
Ted managed the vineyards and Terry made the wines for the first 30 years. Pat and Marilyn directed the marketing program and handled the business management. Currently, the second generation has taken over the family business. Terry and Marilyn's sons, Ben and Jon Casteel, and Ted and Pat's daughters, Mimi and Jessie Casteel, all grew up at Bethel Heights. Since 2006, Ben has been the winemaker, and Mimi the general manager and viticulturist. The quality of the wines continues to impress. Mimi will head the Board of Directors for next year's International Pinot Noir Celebration, July 26-28, 2013 (pictured below at this year's event).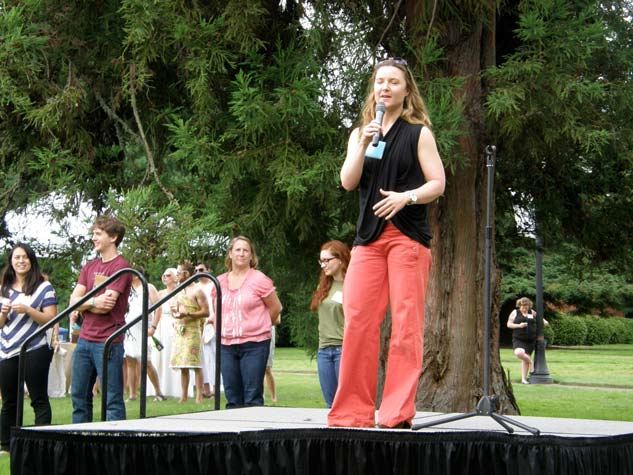 Bethel Heights now has 96 acres of estate vineyards, all certified sustainable since 1999 by both LIVE and Salmon Safe: Bethel Heights Vineyard is 49 acres (37 Pinot Noir, 5 Chardonnay, 4 Pinot Blanc, 3 Pinot Gris with 2 acres of Pinot Noir Gamay and 2 acres of Wädenswil dating to 1977 and 3.3 acres of Flat Block Pommard Pinot Noir and 6 acres of Southeast Block Pommard, both dating to 1979), Justice Vineyard is 22 acres (17 Pinot Noir, 5 Chardonnay), and Ingram Lane Vineyard is 25 acres (20 Pinot Noir, 2.5 Chardonnay, 2.5 Riesling). Multiple Pinot Noir clones are represented (Pommard, Wädenswil, and Dijon 114, 115, and 777). 77% of the estate vineyard plantings are Pinot Noir, and this is clearly the winery's focus.
Several Pinot Noirs are offered including a Willamette Valley blend intended primarily for restaurant programs, the signature "black label" Estate Grown Pinot Noir (a blend from all sections of the estate vineyards), the Casteel Reserve (a best-barrel blend from several different sites, produced since 2005), and various block-designated and vineyard-designated wines. Total production is 13,000 cases of all varietals.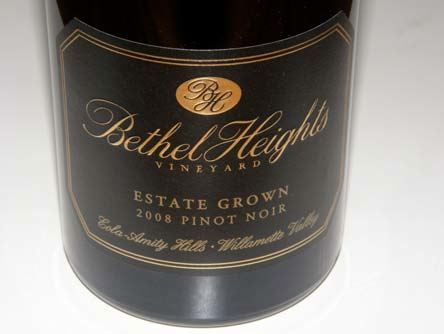 Visitors are welcome to the vineyard and tasting room Tuesday-Sunday 11:00-5:00 February-November, Saturday-Sunday 11:00-5:00 in December, and by appointment in January. The tasting rooms is quite charming with expansive views of the Bethel Heights Vineyard and plenty of spots to picnic and enjoy the wines both inside and outdoors. The entire staff here is particularly warm and welcoming. For me, this is the quintessential Willamette Valley winery. The website is www.bethelheights.com.
I tasted through the lineup of 2010 Bethel Heights Pinot Noirs at a seated tasting with winemaker Ben Casteel. The wines confirmed my joy with the 2010 vintage and really impressed with their hi-tone aromatics, fruit purity, and balance. Ben told me the 2011 vintage Pinot Noirs are similar, showing power at lower alcohols.
Evesham Wood Vineyard & Haden Fig: Former Assistant Keeps the Status Quo
Russell Raney left behind a legacy of fine winemaking at Evesham Wood when he sold the Evesham Wood label and estate vineyard, Le Puits Sec, to Erin and Jordan Nuccio of Haden Fig Wines. Raney founded Evesham Wood in 1986, settling in the Eola Hills west of Salem. He named his winery Evesham Wood after the Vale of Evesham in the Cotswold Hills of England because his site bore a resemblance to that part of the English countryside.
The 13-acre Le Puits Sec ("The Dry Well") vineyard (pictured below) has always been organically farmed and is non-irrigated. Raney was a firm believer in avoiding irrigation of vineyards after the vines are established if the climate is conducive. He helped found the Deep Roots coalition, an advocacy group for wines produced exclusively from non-irrigated vines.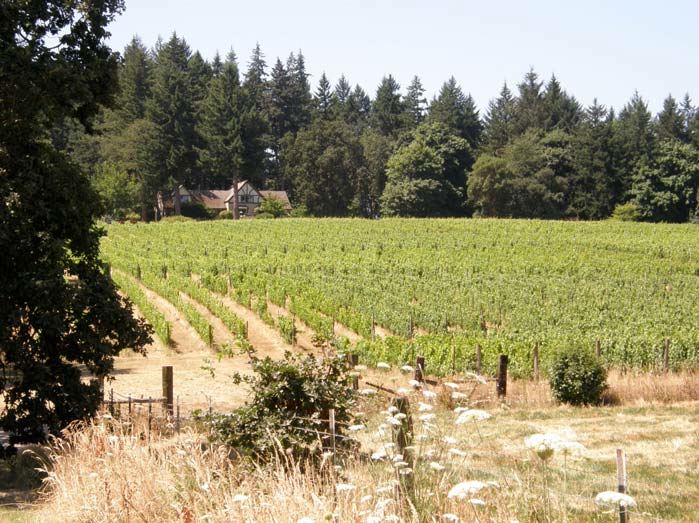 Erin (left in photo below) joined Raney as assistant winemaker in 2007 and took over complete charge of the winery beginning with the 2010 vintage after the sale of the winery. Raney continues to consult and Erin says, "Nothing will change since our winemaking and vineyard management philosophies are virtually identical."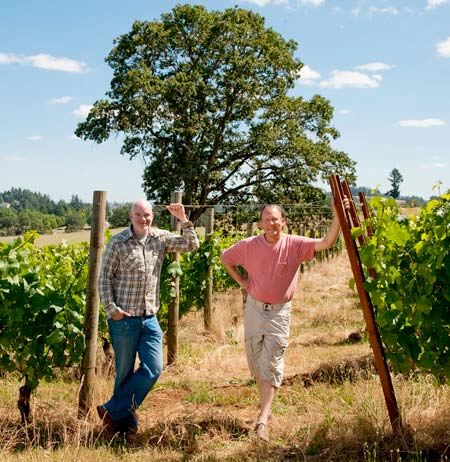 Erin and and Jordan launched their own label, Haden Fig, with the 2007 vintage. Their hip label features a painting of a Northern Saw-whet Owl, a bird Jordan became enamored with while working at the Portland Audobon Society as a volunteer veterinarian. The name, "Haden Fig," requires some explanation and I refer you to the PinotFile Winery Directory for that information. The Haden Fig wines are from purchased fruit, are very user-friendly, and sensibly priced. Haden Fig wines are sold on the website (www.hadenfig.com) and through a mailing list.
Evesham Wood is open to visitors for tasting by appointment (503-371-8478). The wines are in wide retail distribution. Current production is 5,500 cases (Pinot Noir and Chardonnay are about half estate fruit; smaller amounts of red and white varietals are offered). Visit the website at www.eveshamwood.com.

I tasted briefly several Haden Fig and Evesham Wood wines at the winery with Erin.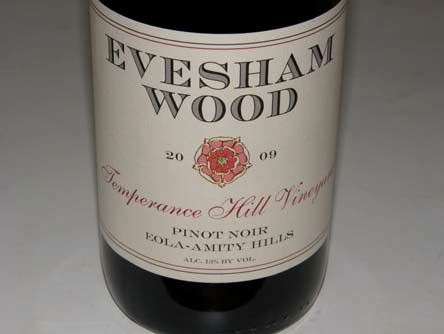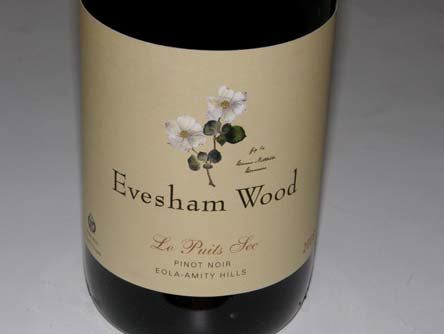 Additional wines: 2010 Eola-Amity Hills Pinot Noir (8 barrels from Erin's Hidden Rock Vineyard and 8 barrels from Eola Springs Vineyard which is adjacent Le Puits Sec, $26), 2010 La Grive Bleue Pinot Noir (younger vines in Le Puits Sec Vineyard, $28), 2011 Willamette Valley (September release, $18), Le Puts Sec (September release, $36), and 2008 Cuvée Bélier Pinot Noir (one barrel of Le Puits Sec bottled separately, 24-year-old vines, 24 cases, $60). Bruno Willamette Valley Pinot Noir is an inexpensive bottling made by Evesham Wood and is only available in Oregon.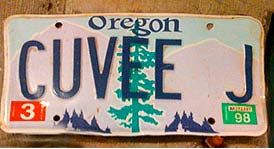 Et Fille: In The Pink
Howard Mozeico and his daughter, Jessica. (Et Fille translates to "And Daughter" in French) craft small lots of distinctive Willamette Valley Pinot Noirs from several prime vineyards including the well-known Maresh Vineyard. The 1,500 case annual production is vinified at August Cellars, a modern gravity flow winery that houses eight separately bonded wineries that share space and equipment.
I have followed the young winery since the 2005 vintage and have been consistently pleased with the wines. I visited Jessica at August Cellars and tasted some interesting wines with her from the 2010 vintage.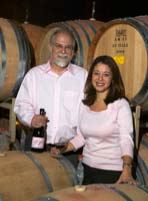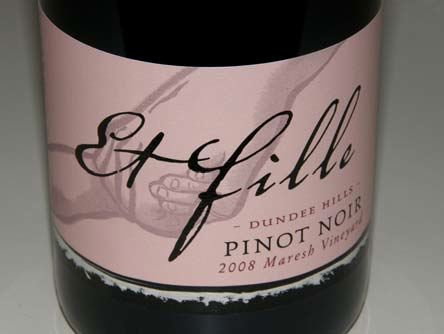 J.Christopher Wines: Pinot in Rhythm
Jay Somers began as a master brewer at McMenamins pub in Portland, apprenticed as a winemaker with John Paul at Cameron Winery, and then launched his own label in 1996, J. Christopher Wines, specializing in Pinot Noir, Chardonnay and Sauvignon Blanc. He later formed a partnership with Dr. Ernst Loosen of Dr. Loosen and J.L. Wolf in Germany called Appassionata (the name of a limited production Pinot Noir that eventually will be sourced primarily or exclusively from estate fruit). A modern winery was built on Chehalem Mountain at the same time as the first blocks of Appassionata Vineyard were planted on the estate. A total of 23 acres of Pinot Noir and Sauvignon Blanc are being established in stages. The vines will be dry farmed after they are established, and all viticulture is biodynamic. The first estate wines will be released with the 2012 vintage.
I visited the winery on a day that Jay was unavailable. The facility is quite impressive but the tasting experience was not flattering. A few bottles were set up on a barrel in one of the barrel aging rooms with a spittoon nearby, but no place to sit or write. I did the best I could. I can tell you that I have enjoyed the few J. Christopher Pinot Noirs I have tasted in the past, prompting my desire to visit. The style is appealingly restrained and very food-friendly. The three Terroir Series wines offer a chance to compare AVA terroir and are very good wines for the price. I did not get to taste the current release of Appassionata Pinot Noir sourced from Bella Vida and Abbey Ridge vineyards ($75).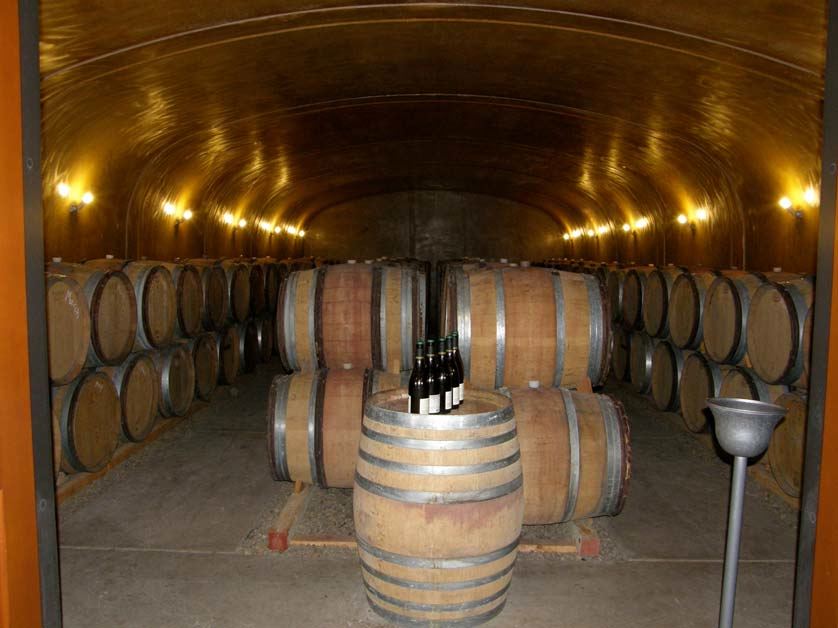 All the Pinot Noirs from the 2010 vintage are about 13% alcohol. Approximately 8,000 cases were produced in this vintage, below the usual production of 11,000 cases annually. Tasting is by appointment (503-554-9572). Visit the website at www.jchristopherwines.com.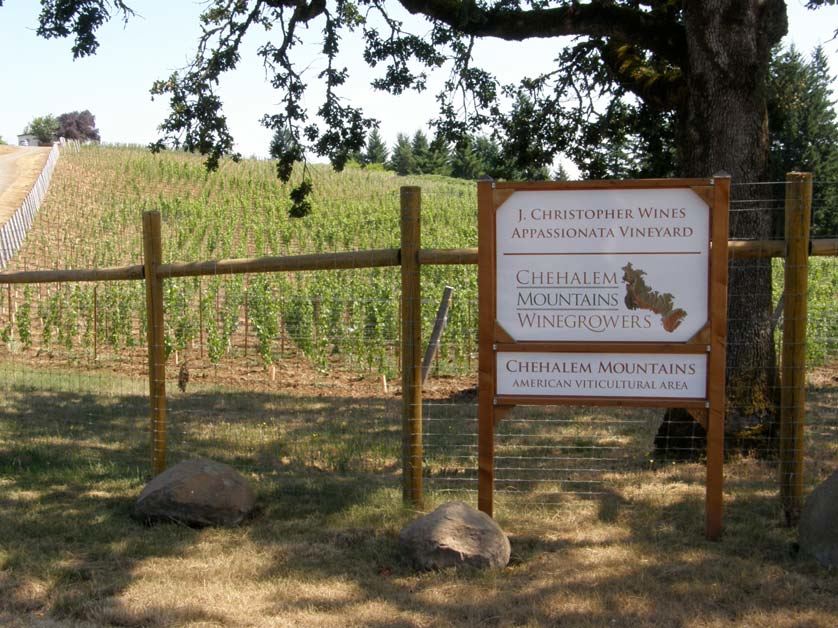 Anam Cara Cellars: Where's Mark?
The words, "Anam Cara" are Celtic for "friend of my soul," and speaks to the lasting friendships that develop over time. Once you visit and meet Sheila and Nick Nicholas, you will develop a deep friendship, for these winegrowers are very sociable, genuine people. Their 34-acre vineyard, which was originally an overgrown nut and plum orchard, has soils that are primarily wind-blown ice age sediments over a bedrock of volcanic Jory. Boulders and rocks scattered across the vineyard were deposited by the Missoula floods, many now covered with Laurelwood and Yamhill soils of varying depths. The original 28 acres were planted in 2001, with five blocks of Pinot Noir including Pommard and Dijon clones 114, 115, 667 and 777. An acre each of Riesling and Gewürztraminer were added, and in 2008, an additional 6 acres were planted to equal blocks of Riesling, Chardonnay and Wädenswil clone Pinot Noir.
All wines produced are Oregon Certified Sustainable and 100% estate fruit. The new winemaker is Michael Collier, who finished the 2009 vintage wines and vinified the 2010 vintage wines. Collier was an assistant winemaker to the former Anam Cara winemaker, Aron Hess, at 12th and Maple Wine Company.
I tasted the 2010 vintage Pinot Noirs, all of which are impressive wines that offer depth and high-voltage concentration of flavors at lower alcohol levels. Only the 2010 Vineyard Selection Pinot Noir has been released; the remainder of the wines are scheduled for a fall 2012 release, except the Mark V which will be released in mid 2013.
The limited production 2010 Estate Chardonnay was released on August 25, 2012. I have never been particularly enamored with most Oregon Chardonnays even though the potential for this grape in Oregon would seem boundless. This offering is easily one of the best I have ever had from Oregon.
Visit the website at www.anamcaracellars to join the mailing list and be notified when these wines are released. Tasting is by appointment or visit the tasting room in downtown Newberg.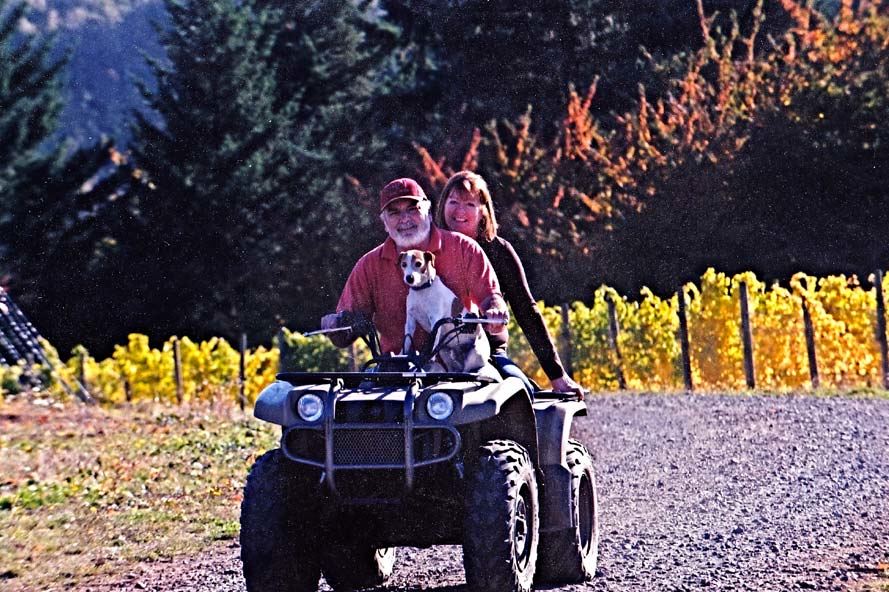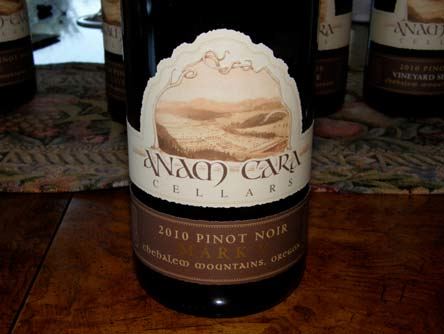 Anne Amie Vineyards: Red and White Pinot Noir
Winemaker Thomas Houseman is a former modern dancer who learned his fermentation making beer in his New York apartment, went on to learn winemaking at University of California at Fresno, and paid his dues at wineries in Anderson Valley, New Zealand and the Willamette Valley before becoming the Director of Winemaking at Anne Amie. Anne Amie had struggled since its founding in 1999, but it was clear that the owner, Robert Pamplin, Jr., had the resources to succeed. The hiring of Thomas quickly transformed Anne Amie and positioned the winery in the upper echelon of Oregon wine producers. Thomas can be loose, a bit crazy, and more enthusiastic than anyone deserves to be, but he knows how to make great wine (with a grin).
Anne Amie Vineyards provides Thomas with a widely varied estate vineyard palate to work with and gives him a long reign to succeed. Anne Amie also has access to grapes from several prominent vineyards in the Willamette Valley, adding to the possibilities.
Anne Amie Vineyards is located at 6580 NE Mineral Springs Road in Carlton. The tasting room has a pleasant outdoor patio with view of the estate and surrounding vineyards in the Yamhill-Carlton AVA. The winery specializes in Pinot Noir, but offers a number of other white varietals. Prismé, the winery's Pinot Noir Blanc, is one of the best examples produced in Oregon (see article on Pinot Noir Blanc in this issue).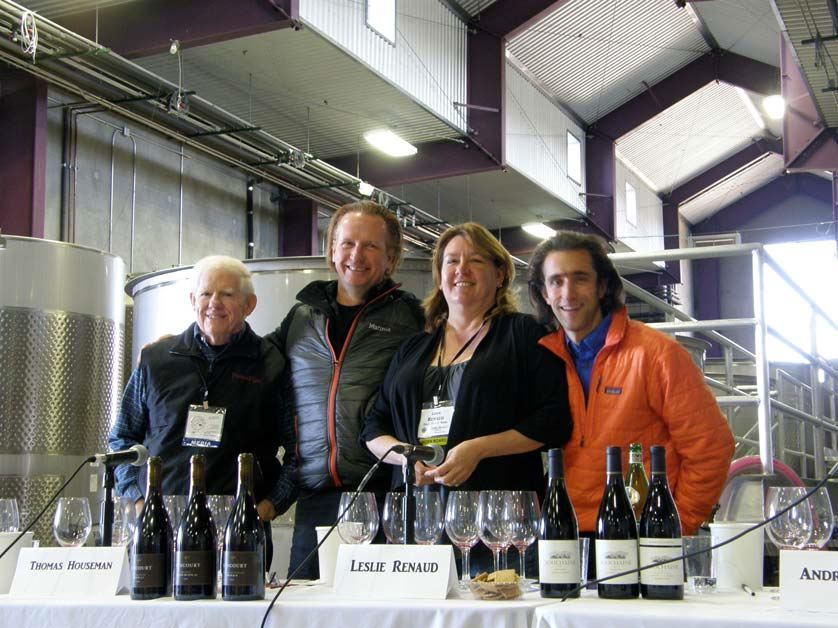 I had a seated tasting with Thomas at Annie Amie and amongst the ribald talk and laughing, I tasted some wine. (Thomas is pictured above to my right at this year's World of Pinot Noir).
Thomas says the 2010 vintage wines "are my favorite wines I have ever made. He has committed to screw cap closure in nearly all the Annie Amie wines beginning with the 2010 vintage which will be released over the latter months of 2012 and early 2013. Visit the website at www.anneamie.com for availability of the wines.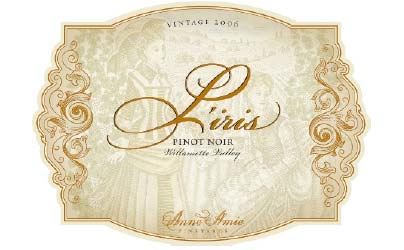 2009 Anne Amie Prismé Yamhill-Carlton Pinot Noir Blanc
14.1% alc., 404 cases, $45, screw cap. Sourced from Anne Amie Estate and Rainbow Ridge vineyards. Barrel fermented, full MOF, and aged on lees for 18 months. Previously reviewed May 11, 2012. · Aromas of white stone fruits, biscuit, crème brulée, and roasted nuts. Delicious and full on the palate with slight viscosity, offering flavors of baked pears, white peaches, and brown butter. A highly enjoyable, unique wine that challenges the preconceived sense of Pinot Noir. Oregon's finest Pinot Noir blanc. Very good (+).
2011 Anne Amie Cuvée A Pinot Noir barrel sample 12.9% alc.. Multiple vineyards, soils and clones. 10-15% whole cluster. Aged 10 months in 20.3% new French oak barrels. The winery's entry level Pinot Noir. More structured than the 2010 offering with the same weight of sweet, red and blue fruits. Always a reliable wine. Decent.
2011 Anne Amie Willamette Valley Pinot Noir barrel sample More power than the 2010 version, but otherwise very similar, with good depth at low alcohol. Solid.
2011 Anne Amie L'Iris Willamette Valley Pinot Noir barrel sample Deep color with striking fruit concentration and density backed by great acidity. Will spend another year in bottle. Terrific.
2011 Anne Amie Twelve Oaks Vineyard Chehalem Mountains Pinot Noir barrel sample Very promising with great fruit purity and very refined tannins. Solid.
2011 Anne Amie Estate Vineyard Yamhill-Carlton Pinot Noir barrel sample Impressive fruit density and hitone aromatics backed by very fine-grain tannins. Outstanding.
2010 Technique vs Terroir: The Cube Experiment Three wines crafted by Thomas Houseman at Anne Amie. See seminar at this year's World of Pinot Noir (www.princeofpinot.com/article/1195/). A presentation of The Cube Experiment was also offered at this year's International Pinot Noir Celebration. Three wines from Pommard clone, one from Annie Amie estate Willamette Valley vineyard, one from Bouchaine estate Carneros vineyard and one from Lincourt Sta. Rita Hills estate vineyard, all vinified identically by Thomas. When the wines are tasted from the same vineyard made by three different winemakers, the winemakers hand stands out, but if one tastes the three different regional wines made by the same winemaker, the regions stand out (I was able to guess blind one of the regions but was unsure about the other two, mistakenly switching them, but after I was told the correct regions, I could concur). These wines will be available for purchase so one can taste the wines in a similar blind fashion, looking for winemaker style and/or regional (terroir) character (inquire at the winery).
White Rose Estate Winery & Vineyard: Got Whole Cluster?
In 2000, successful businessperson Greg Sanders bought the storied 10-acre White Rose Vineyard located in a prime southeast-facing slope in the Dundee Hills AVA of Yamhill County. The vineyard was planted in 1980 to own-rooted Pommard clone at an elevation of 870 feet on deep Jory soil. Situated just west of Domaine Drouhin Oregon and east of Domaine Serene, this vineyard commands a striking view of the Willamette Valley and the hilltop location contributes to a long hang time.
Greg had his ups and downs early on, but he has persevered, and his wines are now among the most distinctive in the Willamette Valley. Greg began producing Pinot Noir in 2001 and after seven vintages as winemaker, he settled into a consulting role and appointed Jesus Guillen the winemaker in 2008. Jesus has managed the day-to-day winemaking procedures since 2002 (Greg lives in Southern California where his manufacturing business is located). A giant leap in quality arrived with the 2008 vintage, when the Wine Advocate gave the wines very high scores and two of the White Rose wines were PinotFile All-Americans. As I noted, "Sander's dreams of Grand Cru quality wines from Oregon have been realized."
In 2009, Greg acquired an additional 4 acres of vineyard immediately north of the original site (Guillen Vineyard). Planted in 2001 to Dijon clone 115 grafted onto American rootstock, this site is showing considerable potential. Fruit is also purchased from a number of growers in the Yamhill-Carlton District AVA, Dundee Hills AVA, and Chehalem Mountains AVA. Greg visits the vineyards personally, selecting the best rows for his appellation cuvées.
Greg believes in grooming his vines with a higher canopy, believing this leads to slower maturation and longer hang time. Most wineries hedge their vines at about a 5 to 6 foot level. The photo below shows not only the high canopy, but the deep reddish-brown soil typical of the Dundee Hills.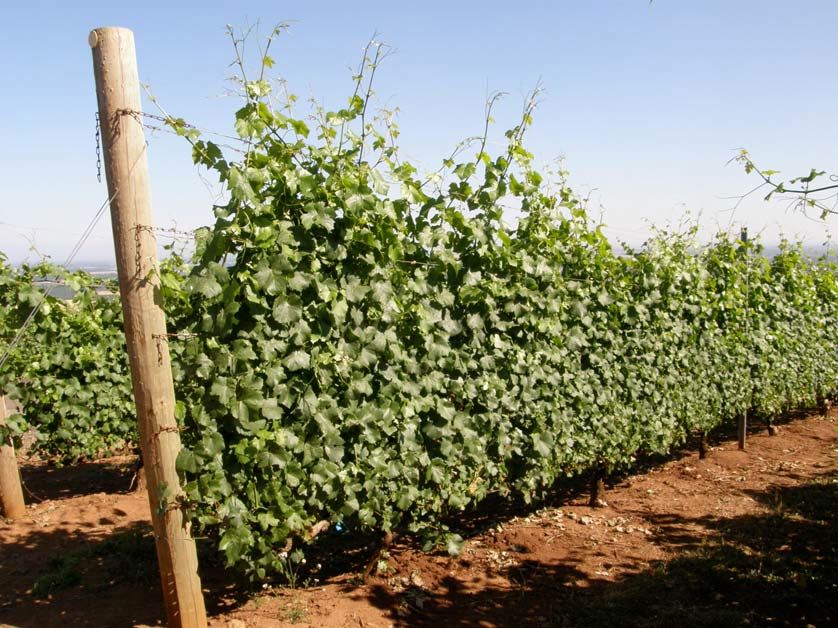 I spent some time with Greg on my visit in July, and I came away impressed by his winemaking operation, his intuitiveness, and his meticulous approach. He uses a very high percentage of whole cluster fermentation (40%-100%). His reasoning is that this approach allows the wines to be drinkable early on, but holds back the fruit to fully emerge and improve later as the wine ages. It is a style that offers the best of New World (early drink ability) and Old World (age ability) Pinot Noir.
Greg's team hand carries buckets of just-picked grapes at harvest directly to the fermentation vats located in the winery on the property. Every step thereafter is intended to avoid seed tannins which can be harsh and take years to resolve. He uses an old-fashioned hand crank basket press so he can carefully control pressure, preserving some liquid around the seeds without crushing them before they are discarded. Pump overs are used to disseminate the cap, and the wines are barrel fermented and aged in a low percentage of new oak (10%).
The 2010 White Rose wines have not been released and I will review them later this year. I did taste two 2009 Pinot Noirs at the tasting bar. To guarantee an allocation of the coveted 2010 wines, join the Explorer's or Collector's Wine Club (www.whiterosewines.com). The wines are not inexpensive, but then Pinot Noir at its epitome never is. The tasting room is open daily from 11:00 to 5:00. Tours by appointment (503-864-2328).
Greg treated me to a taste of 2011 Pinot Noirs from White Rose Vineyard and Luciole Vineyard; the White Rose Estate Pinot Noir was stunning and I could still taste it the next day.
2009 White Rose Estate White Rose Vineyard Dundee Hills Pinot Noir
13.8% alc., $70. Select barrels of the four oldest blocks in the estate vineyard. 60% whole cluster. · Moderately light reddish-purple color in the glass. Shy, but pleasing aromas of dark raspberries, spice and clove. Middle weight flavors of juicy raspberries and cherries with a note of seasoned oak, spice and a hint of good stem. Supportive, ripe tannins and impressive persistence and intensity on the generous finish. A delicious wine that is very outgoing now, but will stay the course for many years. Very good (+).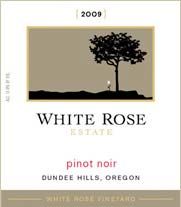 2009 White Rose Estate White Rose Vineyard "Guillen" Dundee Hills Pinot Noir
13.9% alc., $60. Produced from Block 5 of White Rose Vineyard, Dijon 115 clone planted in 2001. · Light reddish-purple color in the glass. Shy aromatics with delicate aromas of black and blue berries, spice and briar. Mid weight flavors of red and black raspberries with an earthy undertone and a finishing kick of spice and toasty oak. Well-mannered with fine tannins and juicy acidity. Good.