Dovetail Vineyards
Dovetail is one of those rare birds - a boutique producer of both Pinot Noir and Cabernet Sauvignon. The name Dovetail is derived from a term defined as fitting readily together or combining neatly two pieces. Dovetail is an appropriate name for premium wine in that good wine is the result of a balanced harmony between winegrowing and winemaking. Owner Michael Logan's habit for Bordeaux led him to produce his first vintage of Napa Valley Cabernet Sauvignon in 2003 (133 cases). In 2005, he added three Russian River Valley Pinot Noirs to his lineup. With the 2006 vintage, Logan is assuming full winemaking duties with Craig Becker acting as consultant.
Logan has a background in computer science and after ten years of successful business and technology consulting, he decided to pursue his passion for wine. He purchased a home in Napa in 2003 which had a small Cabernet Sauvignon vineyard. He enlisted the assistance of grower Carmine Indindoli to manage his vineyard. Much of his winemaking experience has come from working at Del Dotto and assisting friends in making wine. Craig Becker has been an invaluable mentor. After graduating from University of California Davis, Becker eventually became head winemaker at Spring Mountain Vineyard. He developed quite a following and became in demand as a consultant for numerous wineries throughout Napa and Sonoma, even venturing south to Santa Maria.
Like all good winemakers, Logan spends considerable time in the vineyards, working closely with his growers. Winemaking is non-interventional. Native yeasts are used whenever possible, and quality barriques are utilized to age the wines.
2005 Dovetail Russian River Valley Pinot Noir
14.9% alc., 105 cases, $39. · The aromatics are shy but appealing with Bing cherry, cola and spice. Nicely weighted, the wine has juicy red fruits backed by oak spice. The finish is clean and refreshing.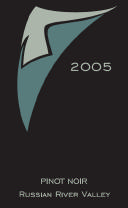 2005 Dovetail Vine Hill Russian River Valley Pinot Noir
13.3% alc., 42 cases, $45. A blend of Dijon clones 9 (?) and 115. Aged 10 months in Hungarian barrels. · Similar to the wine above but more expressive aromas. The red cherry and berry fruits are framed by noticeable but not intrusive oak. A lightweight, feminine wine that is a little thin on the backend.
2005 Dovetail Indindoli Vineyard Russian River Valley Pinot Noir
15.2% alc., 130 cases, $52. This vineyard is planted to Dijon clones 115 and 667 over less than two acres. The wine was aged sur lies for 10 months in a combination of French and Hungarian barrels, 50% new. · The nose is redolent with super ripe, jammy fruit leaning toward raisin with a little spearmint. The flavors carry on the theme with sweet darker fruits, raisin and spice. The alcohol is well integrated and the peach-skin tannins create a soft texture. This bottle may have been slightly oxidized. A wine of great appeal to fruit hedonists.
Dovetail wines are sold through the website, www.DovetailVineyards.com. The winery is located in Napa and not open to the public. 707-258-0132. The Pinot Noirs are quite good for an inaugural release, but Logan is clearly still searching for a style that suits him. For my taste, the Russian River Valley appellation release is the most appealing.