Pinot Briefs —Newsletter 9.16
Burt Williams Receives Overdue Recognition in WSJ Jan McInerney published a tribute to Burt Williams in the December 1-2, 2012 issue of the Wall Street Journal titled, "How Burt Williams Became Pinot's Patron Saint." As he points out in the article, the last wine Burt made, the 2009 Morning Dew Ranch Anderson Valley Pinot Noir, is now available and may be ordered by contacting the winery at morningdewranch@gmail.com.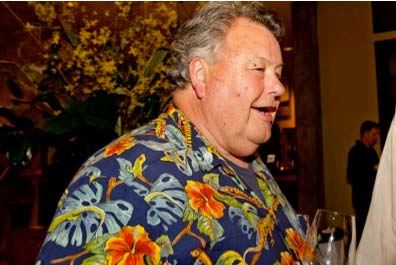 In Pursuit of Balance This event, which seeks to promote dialogue about the meaning and relevance of balance in California Pinot Noir and Chardonnay, will be held in San Francisco on February 4, 2013, and in Los Angeles on February 6, 2013. IPOB was created by Rajat Parr of Michael Mina and RN74 and Jasmine Hirsch of Hirsch Vineyards. The first event was held in San Francisco in 2011. A list of participating wineries includes a who's who of California Pinot Noir. For the first time, the event's seminars will be open to the public. A list of member wineries, a detailed schedule and tickets are available at www.inpursuitofbalance.com.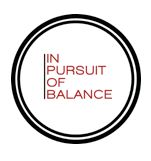 2013 Wines & Vines Directory & Buyer's Guide Listings for all wineries in North America including profiles, information on suppliers, growers, custom crush facilities, and distributors. Available both in print and online for $95 at www.winesandvines.com. According to the 2013 Directory, there are 7,900 wineries in North America, 3,497 wineries in California, 11,100 winery brands, and 100 AVAs.
"Holiday in the Hills" Members of the Sta. Rita Hills Winegrowers Alliance are hosting Open Houses and offering Sta. Rita Hills gift options. Visit the Alliance website at www.staritahills.com/events.html for a list of special member events.
Freeman Vineyard & Winery New Website Ken and Akiko Freeman have updated their website to include many photographs and details about them and their wines, the vineyards they work with, and the experience they offer at their Sebastopol winery. As part of the unveiling, for the first time ever, they are offering magnums of four 2010 Pinot Noirs through their online store: 2010 Keefer Ranch, 2010 Russian River Valley, 2010 Sonoma Coast, and 2010 Akiko's Cuvée. The wines are sold out in the standard size bottle format. Visit the website at www.freemanwinery.com.
New Documentary on The Russian River Valley Winegrower Joe Nugent (who recently sold his vineyard in the Russian River Valley to The Donum Estate) has worked for years on a documentary that tells the story of the rise to prominence of the Russian River Valley through interviews with growers and winemakers. The film is titled, "From Obscurity to Excellence: The Story of Grapes and Wine in The Russian River Valley." Key figures in the film include Joe Rochioli, Burt Williams, Mel Sanchietti, and Davis Bynum. The documentary was recently shown in Santa Rosa - look for more showings in the future (www.russian-river-valley.com).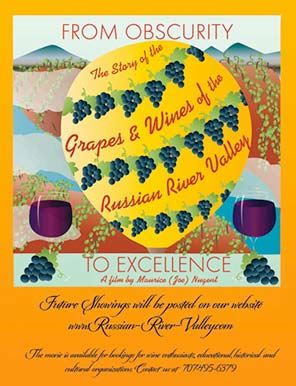 W.O.W. Comes to NYC Members of West Sonoma Coast Vintners are coming to New York City to host their first tasting outside of the annual West of West (W.O.W.) event held annually in Occidental, California. The West Sonoma Coast Vintners consists of 35 wineries including notable Pinot Noir producers such as Benovia, Freestone Vineyards, Littorai, Merry Edwards, Cobb, Flowers, Freeman, Papapietro-Perry, and Siduri. The date is Wednesday, February 27, 2013 at the City Winery. Tickets are $100 and can be purchased at www.citywinery.com/WOWNYC.
The Eyrie Vineyards "Marguerite" Pinot Noir This 2000 vintage Pinot Noir was a gift from David Lett to his granddaughter, Marguerite Estelle Lett to commemorate her birth to her parents, Jason and Diane Lett. 2000 was one of David's most esteemed vintages. He blended a favorite barrel selection from the 2000 vintage to make the "Marguerite," which incorporates a little bit from each of The Eyrie vineyards. The front label displays a watercolor painting by Marguerite and the back label features the message, "A gift from her grandfather, from barrels selected in honor of the vintage of her birth. Love, Papa." To purchase, contact Michael Alberty at Storyteller Wine Company in Portland (503-206-7029) or The Eyrie Vineyards website at www.eyrievineyards.com/, $85.
Wine Consumption at a New Low in France The average French adult consumed about 15 gallons of wine in 2010 according to the French Ministry of Agriculture division FranceAgriMer. In 1965 the figure was about 42 gallons. In 2010, just 17% of the French had wine regularly. Speculation has it that the decline is due to more health awareness as well as the European debt crises and the unemployment rate of 10.7% in France.
Foley Family Wines Buys Ramal East Vineyard The Ramal East Vineyard, about 206 acres of Pinot Noir and Chardonnay in Carneros, has been purchased by Foley Family Wines. The grapes will be used in the new Sonoma Coast tier of Chalk Hill Estate wines scheduled to debut in 2013. Wines owned by Foley Family Wines that currently produce Pinot Noir include Foley Estates (Sta. Rita Hills, CA), Lincourt Vineyards (Solvang, CA), Sebastiani (Sonoma County, CA), and Te Kairanga (Martinborough, NZ).
Suckling's "100 Points" Wine Glass The ultimate wine elitist gift this Christmas. Latimes.com (November 21, 2012) reported that the glass was designed in collaboration with American wine writer James Suckling and is offered by the 100-year-old glassblowing firm, Lalique. It is meant to be the ideal glass for both white and red wines as Suckling believes in one glass for every wine. A video is posted on his website (www.jamessuckling.com) about the process involved in designing and producing the glass. It takes as many as 15 to 20 workers to make each glass over a period of 5 days. Cost is $140 a stem. The contact to purchase is glass@jamessuckling.com.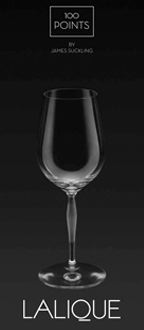 Correction
I incorrectly stated in past issues of the PinotFile that Jim Ball Vineyards was sold to Champagne Louis Roederer. Neither the trademark Jim Ball Vineyards nor the corporation Jim Ball Vineyards, Inc., were ever sold to Roederer. The corporation is still privately held by Mr. Ball, the label is still owned by Jim Ball Vineyards, Inc., and the trademark is still owned by Mr. Ball and Jim Ball Vineyards, Inc.. The Four Dog Ranch in Anderson Valley associated with Jim Ball Vineyards, Inc. was sold in 2011. The Jim Ball Vineyards website is www.jimballvineyards.com. Three 2009 Jim Ball Anderson Valley Pinot Noirs (Signature, Boonville and les Pintades) are currently offered on the website.