Along the Pinot Trail
I hit the road in February for the first time in 2013, determined to see what the 2010 and 2011 vintages have delivered for California, and what is in store for the 2012 wines still in barrel. I spent a week in the Russian River Valley, Sonoma and Carneros, and several days in the Central Coast region of the Santa Maria Valley which included my annual visit to the World of Pinot Noir (WOPN) event. The weather was dead gorgeous for both trips, so I was able to travel topless some of the time. The Central Coast and WOPN report will follow in an upcoming issue.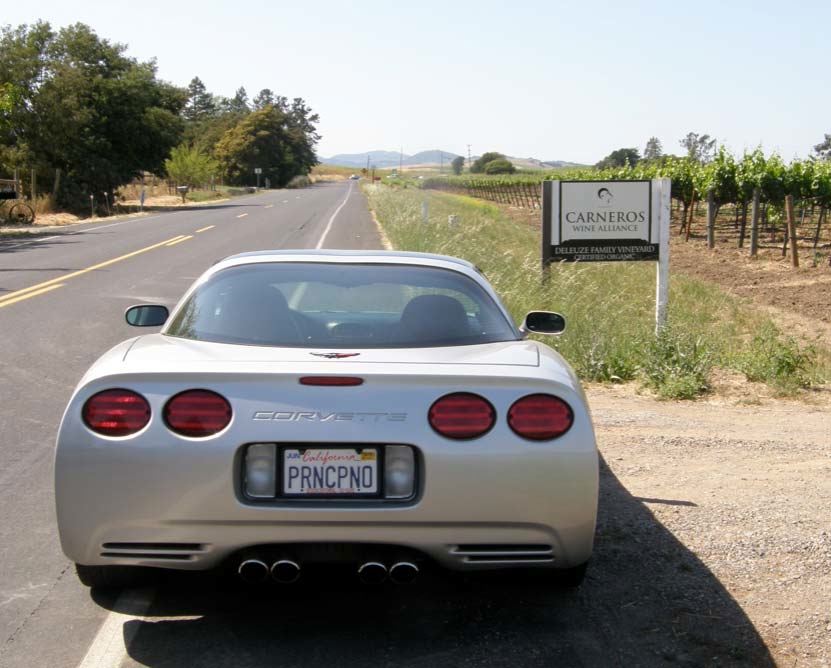 You can read all you want about wine, but you need to visit the vineyards, kick some dirt, and b.s. with the winemakers and growers to get the real lowdown. I often return to this quote from Tim Atkin MW. "I believe that the place where a wine was made, not to mention the character, ambition and talent of the person who made it, is highly relevant to how that wine tastes. I want to know about these things, just as I want to know about vintage conditions, personal eccentricities and a winemaker's take on the world. All these things make wine different: all these things make wine special." A good pimp of Pinot Noir needs to know the talent out there.
If you want to talk vintages with a winemaker, there is no better person than Adam Lee to corral, the proprietor and winemaker at Siduri Wines and Novy Family Wines. He crafts many wines from an assortment of vineyards that stretch from the Willamette Valley in Oregon to the Sta. Rita Hills in the southern Central Coast of California. I have invoked some of his comments in my summaries below.
2012 was an ideal growing season in California with moderate weather and resulting generous yields of grapes with nicely balanced chemistries. It was the rare vintage that offered both quantity and quality. The total crush was 4.4 million tons according to the California Department of Food & Agriculture, 1% higher than the previous record set in 2005. California's Pinot Noir crop was 247,000 tons, up 45% from 2011 according to Ciatti Co., who noted, "Yields per ton for Pinot Noir in many areas were at a level never thought possible." Pinot Noir crops were up 85% year-over-year for Monterey and Sonoma Counties. Some wine sages have already anointed it a "Marilyn Monroe vintage," and the "Best California Vintage Ever," while others have used words like "epic," "ideal," and "exceptional" to describe it, but it is way too early to tell. Many of the barreled wines had not finished malolactic fermentation when I visited due to the coolness of the past winter. From the barrel samples I did try, it looks to be at least a very good vintage and this was Adam's impression as well. The weather was also consistent and warm in Oregon leading to an early, abundant harvest
2011 was the coolest vintage that Lee has experienced since he started making wine in 1994. Cold weather and frost during flowering several limited yields in many northern and northerly central coast regions. In the Santa Cruz Mountains, for example, yields were reduced in many vineyards to 25% to 50% of normal. 2010 was actually cooler if the two heat spikes that occurred in the North Bay on August 23 and September 23 are excluded. These two significant heat spikes pushed sugars higher. 2011 had essentially no summer and no heat spikes, but late season rain was a major factor in the North Bay. Rain started in the North Bay on October 3 and lasted for four days and a second, unexpected storm, struck on October 10. The two storms soaked many North Bay vineyards. One of Lee's vineyards on the Sonoma Coast had almost 6.5 inches of rain over this period.
To the south of the Santa Cruz Mountains there was considerably less rain, and the Santa Lucia Highlands was spared the second storm. The Sta. Rita Hills was minimally affected. After October 10 in the North Bay, there was grape dilution, little sugar increase and rot pressure. Essentially nothing good happened after the rains. Grapes that were brought in before the rains were pretty good. As Lee noted, "In the North Bay, there were three broad categories of harvest timing in 2011: before the rain, after the rain, and before the rain but only because it is going to rain." Pinot Noir was harvested in all three categories."
Lee also observed during blending that grapes from the many areas in California performed differently in disparate sections of vineyards. "Sections seemed to perform either extremely well or extremely poorly with no in-between." For example, several clones from Keefer Ranch had to be declassified, and a clone 115 block produced no usable grapes from Rosella's Vineyard.
As far as Oregon in 2011, Lee said, "Oregon sucked." He was picking Pinot Noir in November at 19º Brix because the weather was even colder than California, and was unable to bottle any single vineyard Pinot Noirs from Oregon. His dim outlook is not shared by all Oregon winemakers.
Brian Marcy, winemaker at Big Table Farm in the Willamette Valley told me the following. "2011 was even cooler to begin with, but the warm and driest September in memory saved the vintage. The total degree growing days were almost identical to 2010, and the juice chemistries were proof of this: in some cases the two years were almost identical. The skins matured during the warm September, but the seeds and pulp lagged behind with the large clusters and berries contributing to the disparity in skin and seed ripening. I remember as I walked through the vineyards as harvest approached that the juice I spit was very dark and this is apparent in the wines, too. Early October rains increased the botrytis pressure, but most of our fruit was clean and picked by Halloween. We are really happy with our 2011s. They are taking a little longer to fatten up than the 2010s, but I don't think this is a bad thing. They are more effusive aromatically, slightly more tannic, but with similar acidity and more concentration than the 2010s."
Like any vintage, talented producers manage to produce some superb wines despite difficult growing conditions. Those vintners who crafted quality wines in 2010 and 2011 had to spend an inordinate amount of time and effort in the vineyards. I was told this repeatedly as I visited with winemakers recently. Winemaker Paul Lato likened it to "babysitting a classroom of unruly children who needed constant attention and discipline."
Remember that it is not the year, but the wine in the glass that determines your pleasure. That said, there are more lighter weight, lower alcohol, less layered and fewer appealing Pinot Noirs from the 2011 vintage, even among top vintners, than I have ever experienced in California and Oregon in vintages of recent memory. You won't find many large breasted Pinots with a big behind. The wines are more Audrey Hepburn than Pamela Anderson. Winegrower Anne Moller-Racke of The Donum Estate made an important point. "The 2011 wines may need more time to come into balance the way the vintage needed more time, albeit the ripening curve was certainly off.
Because of the challenges in 2011, yields were markedly reduced and this is probably good. Be wary of the inexpensive Pinot Noir wines from negociant producers whose blends are often composed of declassified wine. In 2011, this wine was generally mediocre to crappy in quality.
2010 was a very formidable vintage. In Northern California, low spring temperatures and an April frost in some regions delayed bud break, damaged vines and fostered mildew (see left photo of frost damage). The summer remained very cool, even downright cold, exhibiting the second lowest temperatures in Napa and Sonoma counties in 50 years. The result was delayed vine growth and the spawning of bunch rot. A late August to mid- September heat wave, with temperatures soaring over 100ºF, caused sunburn scald on grapes. White grape varieties such as Chardonnay are more susceptible to sunburn than purple varieties like Pinot Noir (see right photo of sunburned Chardonnay grapes). Rain at harvest created mold that severely damaged some vineyards, especially those planted to Chardonnay. The result was a very late and shortened harvest with reduced yields. Sugars were generally reduced resulting in lower alcohol levels and some spotty wine quality.
The Central Coast had an extended growing season as well in 2010 and yields were also reduced. The marine influence tempered the August heat spike in the Santa Maria Valley and Sta. Rita Hills, but the October rains were unwelcome challenges.
For Oregon, a wet spring and cool summer delayed ripening by two to three weeks. The later days of the growing season saw slightly cooler than normal temperatures with few heat spikes. The late harvest was devastated in many vineyards by voracious feasting birds, but the quality of the harvested fruit was generally excellent and I have favorably reviewed many wines from the 2010 vintage in Oregon.
Brian said, "2010 was cool but even, the berries matured uniformly and the clusters were normal to small size. Although we did have some rain, botrytis pressure was not too high. Grapes were picked at the end of October. The resulting wines are pleasant and tend to have a balance of fruit, mouth feel and tannin."
Read on and discover a number of Pinot Noirs and Chardonnays from Northern California that should pique your interest.