Three Sticks Wines: Three Superb Varietals
"Billy Three Sticks" was a teenage nickname given to Bill Price, the founder of Three Sticks Wines, by his surfing friends who teased him about his formal name, William S. Price III. Three Sticks was started in 2002, with the first release in 2004, and has since become one of the few California wineries to succeed with the glamorous trifecta of wine: Pinot Noir, Chardonnay and Cabernet Sauvignon. The Three Sticks wines come from the 130 acres of Durell Vineyard that Price owns (his ex-wife, Ellie Phipps Price owns 60 acres), as well as purchased fruit.
Only a few barrels of wine were produced from 2002 to 2003 and the wine was largely distributed by word of mouth. These were "gypsy" wines produced by several winemakers at several locations. Veteran winemaker Don Van Staaveren joined Three Sticks in 2004 and finished the wines in that vintage. Don was formerly the winemaker at Chateau St. Jean (1985-1997), Sand Hill and Dunstan. He is a devoted surfer and proudly displays his surfboards from the past and present at the Three Sticks winery in Sonoma as shown in the photo below.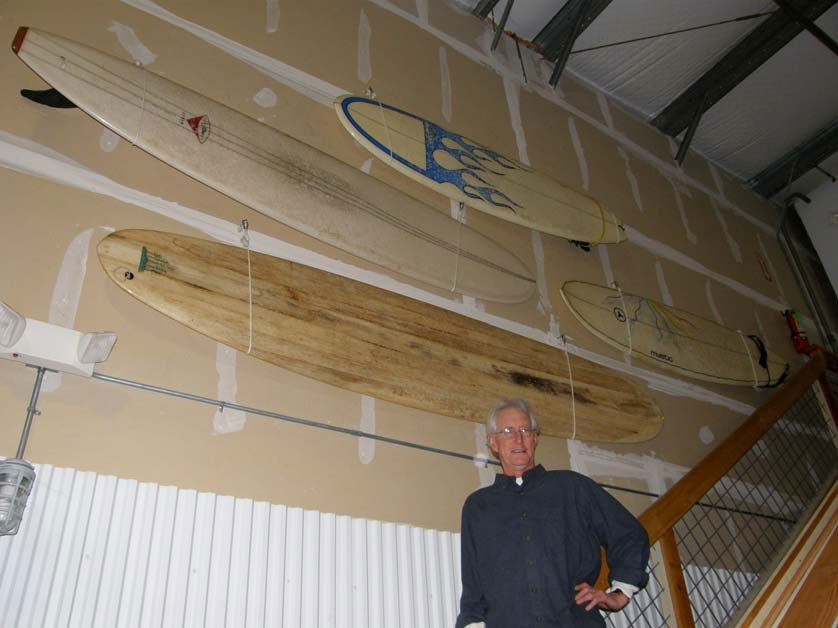 Beginning in 2005, Three Sticks became a bona fide winery with the leasing of a warehouse space in Sonoma and the establishment of a winery in that locale primarily geared for Pinot Noir. The winery is of modular design and very compact, allowing the equipment to nest inside other equipment when not in use. There are multiple open top 2.5-ton stainless steel fermenters fitted with glycol temperature control. A few square concrete fermenters are also in use offering desirable fermentation dynamics. The concrete fermenters are slow to warm and slow to cool so that peak temperature plateaus and remains relatively stable. Concrete eggs are also used for Chardonnay. The winery is a California Sustainable Certified Winery and is the only winery in its complex to have a solar instillation.
The Pinot Noir winemaking at Three Sticks is simple. Nearly all the grapes are picked at night and brought into the winery cold. The grapes are extensively sorted, then de-stemmed but not crushed. The cold soak varies from 2 to 5 days and fermentation may be launched with inoculated yeast although indigenous yeast fermentations are often in the mix as well. Don says, "Good Pinot Noir is all about texture," and he uses various yeast ferments to bring out alluring texture. Ferments are relatively cool, at about 85º, with pneumatic punch downs. 80% of the fermentation is whole berry with 10% to 20% whole cluster in the bottom of the open top fermenters.
After the free run juice is drained off, the wine is pressed to barrel. Occasionally the press wine is kept separate depending on taste, but is usually combined. Alcoholic and malolactic fermentations finish in barrel and frequent lees stirring is employed until malolactic fermentation is completed. The wines are aged 14-15 months in about 50% new French oak barrels (except the Sta. Rita Hills Pinot Noir which is aged in up to 100% new French oak barrels). There is one racking before bottling and the wine may or may not be filtered depending on the wine's status, but is usually not filtered. The finished wine is aged 10 months in bottle before release.
Durell is the estate vineyard for Pinot Noir and Chardonnay. The vineyard's rocky soils and cool climate are ideal for Chardonnay and Pinot Noir. Due to its unique location, the 400 acres of land on which Durell Vineyard is situated has vines in three different appellations: Carneros, Sonoma Coast and Sonoma Valley. The backbone Pinot Noir clones in the vineyard are 114, 115, 667, 777 and 828 but the newer plantings include Swan and Calera selections and the Emeritus "Elite clone" from the Hallberg Vineyard in the Russian River Valley.
"The James" Sta. Rita Hills Pinot Noir is sourced from the Burning Creek Vineyard and is named for Bill's son who has a free-spirited personality. In 2009, The James was declassified, but produced in 2010. In 2010, Silver Eagle Vineyard in the Russian River Valley was added as a vineyard-designate. In 2011, two blocks were added from La Rinconada Vineyard in the Sta. Rita Hills AVA and will be included in the James bottling at some point. In 2012, an additional block of grapes was obtained from Sanford & Benedict Vineyard, Bien Nacido Vineyard and Gap's Crown Vineyard (which Bill now owns). The winery is expecting to add grape sources from Anderson Valley and the Santa Lucia Highlands in 2013. In 2014, two new vineyards will come online: DuPont Vineyard near Silver Eagle Vineyard and Wilson Vineyard north of Sebastopol at which time Silver Eagle will be discontinued as a fruit source. The evolution of grape sources is a work in progress and will not be solidified for several years.
The Pinot Noirs are produced in very small lots of 200 to 250 cases. The biggest bottling of Chardonnay is 1,000 cases, and the Cabernet Sauvignon lots are about 250 to 300 cases each.
I tasted a number of Pinot Noirs with Don and the Director of Vineyard Operations for Durell Vineyards, Rob Harris, who also gave me a tour of Durell Vineyard. The 2010 wines will be released March 23, and that date is none to soon, for the winery has been out of Pinot Noir to sell for four months and even longer for Chardonnay. The wines are sold primarily through an allocation list and are featured in many fine-dining establishments. Visit the website at www.threestickswines.com. Why buy these wines? They are primarily sourced from a relatively old-vine vineyard (Durell) farmed by an experienced vineyard manager, crafted by a talented, veteran winemaker, and produced by a winery under a management with years of involvement and expertise in the wine business.