The Donum Estate: The "Ultimate Pinot Noir Project"
Donum translates from the Latin to "gift" and refers to grapes as a gift of the land. The winery is devoted to estate Carneros Pinot Noir and Chardonnay (The Donum Estate and Ferguson Block Vineyard), and estate Russian River Valley Pinot Noir (Nugent Vineyard), with a 2011 Anderson Valley Pinot Noir (Angel Camp Vineyard) making its debut soon from the 2011 vintage.
Winegrower and President, Anne Moller-Racke first arrived in Carneros in 1981 from Germany to help run Buena Vista which had been acquired by the German company, Racke. Anne trained with industry icons including Andre Tchelistcheff. She became Vineyard Manager in 1983 and expanded the vineyard acreage at Buena Vista Carneros from 540 in 1981 to 935 a decade later and planted what was then the Tula Vista Ranch in 1989-1990. With the sale of Buena Vista Carneros to Allied Domecq in 2001, Anne and Markus Moller- Racke divorced, and Anne split off 147 acres of the Buena Vista estate, retaining Tula Vista Ranch, but renaming it The Donum Estate. She also grew grapes for the rejuvenated Robert Stemmler label which had been acquired. Today, Anne farms 45 acres of vines at the home ranch, 20 acres of the old-vine Ferguson Block Vineyard nearby, the 16-acre Nugent Vineyard in the Russian River Valley (which Anne planted originally in 1997), and the 11-acre Angel Camp Vineyard in Anderson Valley.
Upon acquiring The Donum Estate, Anne began an extensive rehabilitation of the Donum Ranch vines with all blocks individually and precisely farmed, and each vine hand worked to reach its greatest potential. The Donum Ranch sits on Diablo clay and is divided into eleven blocks with several heirloom selections (Calera, Chalone, Hanzell, Martini, Roederer and Swan) and Dijon clones 115, 667 and 777. The Anderson Valley Angel Camp Vineyard is 11 acres of David Bruce, Martin and Swan selections, Dijon clones 115, 667 and 828 and Wädenswil clone. The 16-acre Nugent Vineyard in the Russian River Valley is planted to Dijon clones 115 and 667 and Pommard clone.
The Donum Estate Pinot Noir, first produced in 2001 (150 cases of Roederer and Martini selections), was intended to be a complex wine with clonal diversity, and it soon became a benchmark for Carneros Pinot Noir. In addition, certain blocks were eventually selected to provide special designated bottlings including West Slope and East Slope. West Slope is a Roederer selection that was considered a cru and bottled on its own beginning in 2007. The 6-acre East Slope block is the coolest site, grafted to a Calera selection in 2004, and bottled on its own beginning in 2009. A third designated bottling appeared in 2008 from the 4A01 block (old Martini selection) of Ferguson Block Vineyard that Anne has farmed for over 25 years. This was bottled as a stand alone wine to commemorate the 100th birthday of the vineyard owner, Thomas Ferguson, and was labeled Thomas.
In late December of 2011, Anne sold The Donum Estate to Winside, Inc., a partnership of Danish investors. The acquisition kept in place the team that developed The Donum Estate over the past decade. With the infusion of capital, new vineyards are being developed in the Russian River Valley and Anderson Valley as well as an expansion of plantings at The Donum Estate to include, for the first time, Pommard clone vines.
Kenneth Juhasz began working with the original winemaker, Ken Bernards, in 2002, and became the consulting winemaker for both The Donum Estate and Robert Stemmler labels in 2005. His assistant, Dan Fishman, who worked with Kenneth for five years, became the consulting winemaker in recent months. Since the first release of The Donum Estate Carneros Pinot Noir was 2001, the winery is currently celebrating "A Decade of Donum" with the release of the 2011 vintage. Visit www.thedonumestate.com/DonumVideo.html to view a video about "A Decade of Donum." Current production is 2,300 cases for The Donum Estate and 9,000 cases total including The Donum Estate and Robert Stemmler labels together.
The Donum Estate wines are sold primarily through the winery's wine club, with some wines available through the website store at www.thedonumestate.com. A Carneros Chardonnay from old Wente selections of budwood from the Winery Lake and Larry Hyde vineyards was first produced in 2007. The Donum Estate is not open to the public, but tasting is available by appointment. Why buy these wines? It is a hackneyed phrase, "Wine is made in the vineyard," but it is a truism. At the Donum Home Ranch in Carneros, Anne has managed the vines for 30 years and at the estate vineyard in the Russian River Valley she has done the same for 16 years. She has led the renaissance in Carneros that left behind much of the mass farming of grapes of the past, advancing the precision viticulture that is prevalent today that in turn has lead to distinctive ultra-premium wines.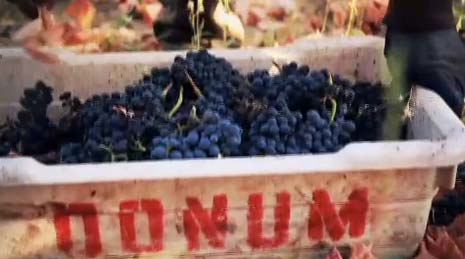 I tasted with Anne and Dan at The Donum Estate and later sampled the latest 2010 releases at home.
We tasted Pommard clone Pinot Noir from a 5-acre 2009 planting at Nugent Vineyard. The 2011 vintage was light in weight with appealing cherry and strawberry flavors. A 2012 early pick bottling aged in 40% new oak was beautiful with attractive crispness. A 2012 late pick aged in 70% new oak had a riper, darker fruit profile, more intensity, and more lusciousness.
The Angel Camp Vineyard in Anderson Valley shows promise. Yields here have been kept low to about 1 to 1.5 tons-per-acre. The wines are all free-run juice. A 2012 blend of clones from the vineyard displayed precocious aromas and flavors with a vibrant fruit core. A 2012 Wädenswil clone bottling featured dark plum fruit and was more rustic and austere. A 2012 Wädenswil clone 100% whole cluster was showing its youth with a more noticeable firm tannic structure, a slight green note on the finish, but with an appealingly soft texture. A 2011 Angel Camp Vineyard Pinot Noir was still primary (fruity) but with a delicious black raspberry core and very soft tannins. A 2011 Angel Camp Vineyard Reserve bottling was darker in color, exhibited more structure and intensity, and more potential.
Finally, we looked at two Donum Estate bottlings from the 2008 vintage: one filtered and one unfiltered. The filtered wine was simple in comparison and fruitier, becoming somewhat dull over time in the glass. The unfiltered wine was more vibrant, nuanced and savory. I took the opened wines with me and sampled them the following day. The filtered wine was fruit-forward and spicy. The unfiltered wine had more color, more complexity, and continued to blossom beautifully over time in the glass. Clearly, I preferred the unfiltered version.
The 2010 Donum wines are not dainty. They are richly fruited with vibrant aromas. When I opened the wines at home to taste, the room was instantly filled with a sweet Pinot perfume. The 2010 wines have a hard act to follow as the 2009 Donum wines were extraordinary, but they are charming in their own right. Anne feels that patience will be needed for the 2010 wines to bring them into balance.