Onward Wines: Loving Hands & A Feminine Touch
Faith Armstrong-Foster's story is quite an endearing one for a winemaker. She began her career as the Tasting Room Manager at Ironstone Vineyards, later working in marketing and promoting wine events in San Francisco. She hatched a plan to attend University of California at Davis, become a winemaker, and return to her native British Columbia. She did attend University of California at Davis on a full Regents Scholarship and graduated in 2006 with highest honors. However, her marriage to Sean Foster, now the Senior Winemaker at Merryvale Vineyards, derailed her plans and she settled into life in Napa.
After graduation, Faith became a Lab Technician for Frank Family Vineyards, quickly moving up to Enologist and then Assistant Winemaker. In 2009 she launched her own label, Onward Wines, when she was offered fruit from Cerise Vineyard. Since early 2011 Faith has focused on her own wines while consulting for Napa Station. This sounds easy enough, except that she has three boys and a new baby girl. During the 2010 harvest, she delivered the girl between harvesting grapes from two of her major Pinot Noir vineyard sources.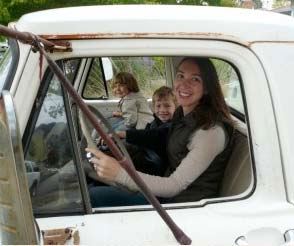 The name, Onward, comes from the name of a childhood dinghy that was her family's primary mode of transportation including her trips to school growing up on Victoria Island. The label pictures the stern of that boat upon which vineyard sites are listed like a boat's hailing port.
Faith has crafted many varietals but loves to make and drink Pinot Noir. She usually produces about 600 cases annually of Onward Rosé and Pinot Noir from two excellent vineyard sources. In the 2010 vintage, total output was 150 cases of Cerise Vineyard Anderson Valley Pinot Noir and 250 cases of Hawkeye Ranch Redwood Valley Pinot Noir. Cerise Vineyard is well known for its superb fruit. This steep hillside vineyard sits at 650 to 1000 feet and is sustainably farmed using organic and biodynamic principles (I wrote a feature on Cerise Vineyard: www.princeofpinot.com/article/1223/). Ten clones of Pinot Noir are planted on seven rootstocks. Soils are thin, hard and marginal with resulting yields in the range of 1 ton per acre. The vines at Hawkeye Ranch are 35-year-old Martini clone. The vineyard is fifth generation family owned and the resident winegrowers are good friends with Faith, working closely with her to satisfy her farming preferences.
I met Faith at Starmont Winery in Napa Carneros where she custom crushes her wines, and tasted barrel samples and finished wines. The Pinot Noirs are crafted with loving attention beginning with a long cold soak, 100% de-stemming without crushing, and aging in 25% new French oak barrels with gentle lees stirring every three weeks when the barrels need topping off. After 10 months of maturation in barrel, the wines are bottled without fining or filtration. The low use of new oak and gentle handling at every stage leads to true vineyard expression. The Cerise Vineyard Pinot Noir typically is slower to reach a desirable drinking window so she advises more patience with this bottling. Faith would like to hold back the wines longer, but economical considerations and consumer and restaurant demands dictate that she release them sooner.
The 2013 vintage Rosé from barrel was tasted from both vineyards. The juice was bled over 3 days from tank fermented Pinot Noir that had been racked to barrel and was undergoing aging. Both wines were high-spirited, fine examples of Rosé. The 2012 is the current release ($18). Both vineyard Pinot Noirs were tasted out of barrel with the 2011 vintage more elegant and delicate, the 2012 vintage more intense and pleasurable, especially the Cerise. Clearly, these wines reflect impeccable winemaking.
The finished 2010 wines were tasted from bottle. The 2010 Onward Hawkeye Ranch Redwood Valley Pinot Noir ($38) is a fine example of Martini clone Pinot Noir. Darkly fruited with a savory, earthy component, admirable balance and reasonable approachability. The 2010 Onward Cerise Vineyard Anderson Valley Pinot Noir ($58) is an exceptional wine that shows its breeding. Light in color, but exceedingly flavorful, with a delicious core of raspberry and cherry fruit framed by hints of spice and oak, and clothed in soft tannins. I tasted this wine also the following day from a previously opened bottle and it had blossomed further, and was one of the better Pinots I tasted on this road trip.
Onward wines are sold through a mailing list at www.onwardwines.com and may be purchased by contacting salesinquires@onwardwines.com. The wines have some distribution in restaurants and the states of California, New York and Texas. Why should you buy these wines? Pinot Noir responds to gentle, attentive care and small scale production, both of which Faith's loving winemaking exemplifies. Any woman that can manage a family of four small children and a household, and still produce wines of this caliber deserves admiration and support. She definitely impressed me. Onward and upward!