Gary Farrell Vineyards & Winery: New Winemaker Carries on Tradition
When I first met Theresa Heredia a few years ago working as part of a team of winemakers at Freestone Vineyards, I was impressed by her gumption, dedication, and innovative ideas. The relatively large new and modern Freestone winery owned by Joseph Phelps, which opened in 2007, permitted her the opportunity to experiment with a number of leading edge winemaking techniques, and she responded by crafting some remarkable Pinot Noir and Chardonnay wines at Freestone.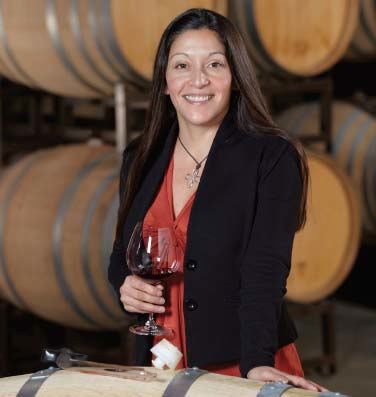 On May 1, 2012, Theresa joined Gary Farrell Winery, replacing Farrell-trained Susan Reed, and bringing with her invaluable experience in small-lot, single-vineyard Chardonnay and Pinot Noir winemaking. She quickly embraced the Gary Farrell Winery house style developed over the past 30 years which emphasizes elegance and balance, while putting a finespun personal stamp on the wines. It also gave her the opportunity to work with a diverse pallete of vineyards managed by legendary growers.
One example of subtle change that Theresa is instituting is in the production of Chardonnays. The Chardonnay grapes at Gary Farrell have always been picked earlier, but in 2012, Theresa harvested even earlier, at about 22º to 23º Brix. She prefers to "build" the Chardonnay in the cellar where the effect of barrels and lees management lead to secondary characters and allow the wine to put on more weight. The other option that is commonly practiced by winemakers is to build in the character of Chardonnay on the vine, letting the grapes hang to 24º to 25º Brix, a less preferable option for Theresa because of the potential for ripe and premature oxidative characters (and sometimes the need to resort to alcohol reduction).
Winemaker Gary Farrell, who left in 2006 to concentrate on his own label, Alysian, left behind a legacy of winemaking protocols. The techniques for Pinot Noir include native yeast fermentations, saignée to add depth, foot treading to allow extraction but avoid over extraction, and a modest percentage of whole cluster to contribute tannin, backbone and spice (9%-22% in 2012). Fermentation is carried out in 4-7 ton jacketed open top fermenters following a 5-7 day cold soak. As fermentation reaches completion, the wine is gently pressed (primarily free run and some press fraction juice are used for the Russian River Valley Selection Pinot Noir, while single-vineyard Pinot Noirs are made from 100% free-run juice only). The wine is then transferred by gravity to medium-toast French oak barrels from Burgundian coopers where the Russian River Valley Selection typically ages for 10 months and the single-vineyard Pinot Noirs spend up to 15 months. New oak varies from 40% to 50%. The wines are racked only once before bottling. Theresa has added new coopers to the barrel mix based on her experience and plans to use some oak tanks (5 ton) which allow warmer, natural ferments and gentler extraction.
Chardonnays are fermented in 100% French oak barrels (40% new) from several Burgundian cooperages, undergo full malolactic fermentation, and age on their yeast lees, with weekly stirring during malolactic fermentation and monthly thereafter, for seven months before bottling. Theresa plans to incorporate the use of oak puncheons (500L) which facilitate the integration of oak aromas and flavors.
Both Russian River Selection Wines (Pinot Noir, Chardonnay and Sauvignon Blanc) and Vineyard-Designate Wines are produced at Gary Farrell. The close grower relationships developed over three decades allows Gary Farrell Winery access to many highly desirable vineyards in cool growing regions such as Bacigalupi, Rochioli, Allen, Westside Farms and Hallberg.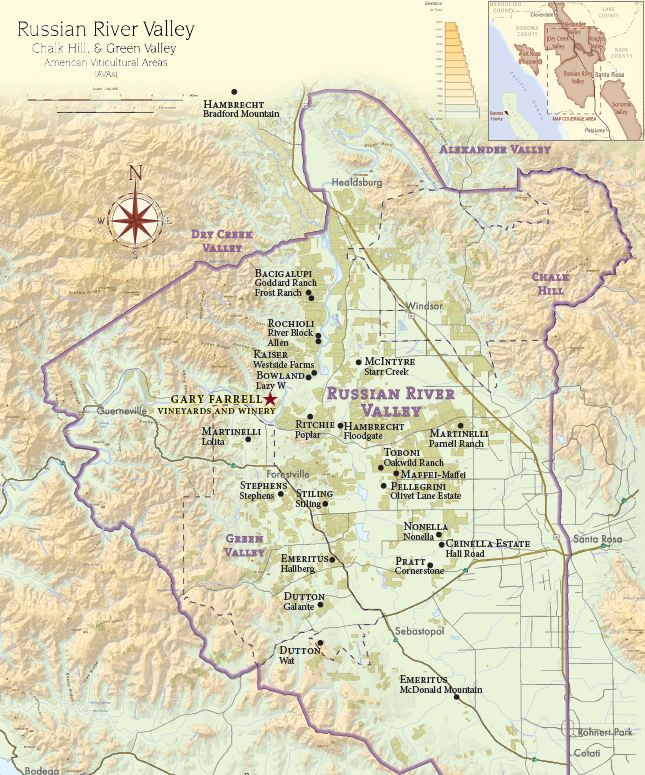 Gary Farrell Winery is owned by The Vincraft Group, which also owns Kosta-Browne. The owners are not content with the status quo, always striving to push quality to a higher level. To this end, they are seeking additional elite grape sources within the Russian River Valley. Production is estimated to expand from its current 20,000-case level to 30,000 cases, but not beyond that.
I highly recommend a visit to the inviting tasting room that is open daily. Many of the single-vineyard wines are only sold through the tasting room and to Grand Crew wine club members. A new set of wines will be offered beginning with the 2011 vintage known as the Inspiration Series. These will be small lot unique wines reflecting the "inspiration" of the winemaker. Visit the website at www.garyfarrellwinery.com.
I met with Theresa in the winery's ridge-top tasting room on Westside Road one morning, admiring the breathtaking view, and chatting at length about Theresa's future goals at Gary Farrell Winery. We tasted through the lineup of 2010 Gary Farrell Chardonnays and Pinot Noirs (these were crafted by Susan Reed) and a few barrel samples of the 2012 vintage as well. I have reviewed a number of Gary Farrell wines in the past, so I was not surprised by the consistent high quality of every bottling. Theresa was quite excited about the 2010 vintage which produced wines more "European" in style, especially the Chardonnays. I shared her enthusiasm after tasting the wines. Why buy these wines? Just look at the exceptional vintage sources. Any more questions?