Pinot Briefs —Newsletter 9.23
Winesong Charity Auction & Tasting Bradley Ogden returns as celebrity chef to this popular event on September 6-7, 2013 on the Mendocino Coast. The 29th Annual Winesong will offer "An Anderson Valley Pinot Noir Celebration" hosted by the Little River Inn on Friday, September 6. On Saturday, September 7, guests stroll through Mendocino Coast Botanical Gardens enjoying an array of wine and food from 100 highly acclaimed wineries and 50 top Northern California restaurants. The celebration continues with the Live and Silent Charity Auctions. Ogden will prepare the Live Auction Lunch. Bay Area celebrity Narsai David will serve as Master of Ceremonies. The mission of Winesong is to assist the small rural Mendocino Hopsital which supplies care to residents and visitors to the Mendocino Coast. Visit www.winesong.org or tickets.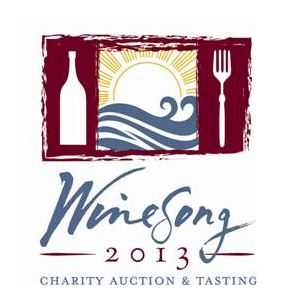 Pinot, Pigs & Poets. An annual charity event held June 6-7, 2013, in Omaha, Nebraska, that supports Completely KIDS' after school and weekend food programs at area schools and shelters in Omaha and Council Bluffs. There is a Grand Tasting on June 6 with some of Omaha's best chefs preparing food paired with Pinot Noir wines, a Vintner Competition for best wine, the Taste of Elegance Chef Competition, and performances by poets from the Nebraska Writers Collective. Participating wineries include Archery Summit, Benovia, Big Table Farm, Donum, Joseph Phelps Freestone, Morgan, Penner-Ash, Scherrer, Small Vines, Twomey and Williams Selyem. For information and tickets visit www.pinotandpigs.org.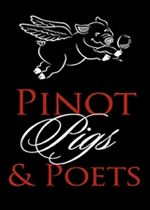 Passport to Pinot The Russian River Valley Winegrowers present the 2nd Annual "Passport to Pinot" barrel tasting weekend on June 8-9, 2013. More than 30 participating wineries including Davis Family Vineyards, Dutton-Goldfield Winery, Emeritus Vineyards, John Tyler Wines, Joseph Swan Vineyards, La Crema, Martin Ray Winery, and Sonoma-Cutrer Vineyards. The event includes barrel tastings, library tastings, food pairings, artists demonstrations, and futures purchases. On Friday night there will be a showing of "From Obscurity to Excellence: The Story of Grapes and Wine in the Russian River Valley," a documentary by Joe Nugent, at Vintners Inn. For tickets and information, visit www.rrvw.org.
Anderson Valley Pinot Noir Festival This 16th annual festival will be held May 17-19, 2013, in the Anderson Valley. Events include a Pinot Noir Technical Conference on Friday, May 17, (I will be speaking on faux clone 828), a Friday night BBQ at Scharffenberger Cellars, the Grand Tasting under the tent at Goldeneye on Saturday, May 18, Winemaker dinners Saturday night, and Winery Open Houses on Sunday, May 19. This event always sells out. Visit www.avwines.com for tickets.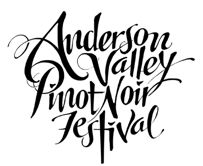 Ponzi Vineyards New Tasting Room A new, modern tasting room is set to open in Sherwood on Chehalem Mountain adjacent the Ponzi winery. Scheduled to open in June, the tasting room will have a lounge with wine service, a small plates menu, a fireplace, and views of the surrounding vineyards and countryside.
Remains of Gallo-Roman Vineyard Discovered in Gevrey-Chambertain Science Daily (March 16, 2013) reported that excavations by the Institut National de Recherches Archéologiques Préventives (INRAP) found 316 rectangular hollow pits aligned in 26 rows, interpreted as the remains of a vineyard from the 1st century AD. The alignment and shape of the pits match those found at other sites of Gallo-Roman vineyards discovered in both southern France, the region around Paris and in the UK. These pits in Gevrey- Chambertain are the first signs of Gallo-Roman vineyards discovered in Burgundy.
Oregon Still Means Pinot Noir Oregon, or as I like to say, "Noiregon," held its Oregon Wine Industry Symposium in Portland on February 19, 2013. According to Wines & Vines (April 2013), Southern Oregon University professor Greg Jones reported a recap of Oregon's vineyard acreage indicating that more than 61% of Oregon vineyards are planted to Pinot Noir. Christian Miller of Full Glass Research said, "Oregon still equals Pinot Noir."
Insulting Wine Brands Still Attract Women Buyers In the latest Wines & Vines (April 2013), the top 20 new table wine brands indicated that those that target women are big sellers. Skinnygirl from California is by far the top new seller at $4,755,489 in 2012, but others in the top 20 include Fancy Pants, Thorny Rose, Wine Sisterhood, Flirt, Ooh La La, Butterfly Kiss, and Flame Lily. Can cheap table wines targeting men be far behind? How about Ripped, Six Pack, Wine Brotherhood, Sharp Dressed Man, Stud, and Mover.
Article on California's Fort Ross-Seaview AVA An excellent article appeared in the Wine Enthusiast (April 2013) written by Steve Heimoff. The history of the region, an excellent map showing vineyard locations, vignettes of major producers from this one-year-old AVA, and a review of wines from the AVA are included.
Oregon Senate Approves Wine Growler Bill Oregon now allows wine to be sold in refillable "growlers," much like brewpubs sell beer. Consumers can fill up the reusable bottles with wine from airtight kegs at restaurants and retailers. Each keg saves about 39 bottles.
Estimating BAC The Century Council, a national, independent not-for-profit organization funded by distillers, launched an interactive online program, "B4Udrink," which offers the science to estimate an individual's blood alcohol concentration (BAC). The new and revised algorithm for B4Udrink now includes the effects of height and age on an individual's BAC, in combination with gender, weight, and type and number of alcoholic drinks consumed. The B4Udrink "Virtual Bar" also illustrates the effect food can have on an individual's BAC, including how a meal high in fat has little effect on one's BAC, yet a meal high in carbohydrates or protein may decrease an individual's BAC. The new program is also mobile-friendly. The B4Udrink "Virtual Bar" gives people the ability to virtually explore different scenarios regarding how they might think their night will go, discover their drinking limits and plan accordingly. This information allows individuals to make educated, responsible decisions when going out socially. For more information about the B4Udrink program or to access the "Virtual Bar," visit www.B4Udrink.org.
Bill To Allow Alcohol References on Oregon's License Plates Two years ago, Oregon's legislature approved a specialized plate celebrating the state's wine culture. The plate pictures grapevines and has been popular. House Bill 3471, would allow alcohol references on wine country vanity plates like GR8 PNO, FYN WYN and PNOGEK. Stay tuned.
Interview with Jeremy Seysses of Domaine Dujac An entertaining interview of Jeremy Seysses, co-proprietor of Burgundy's Domaine Dujac in Morey-Saint-Denis. Tyler Colman caught up with Seysses at the recent La Paulée New York. Posted at www.wine-searcher.com/m/2013/04/q-and-a-jeremyseysses- domaine-dujac.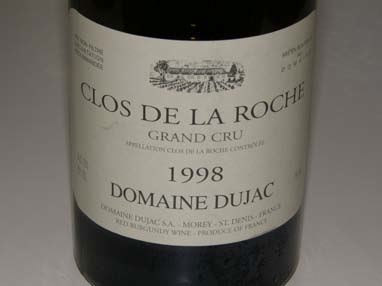 Wine Information Search Engine Search 26 million pages and 41 million sites of trustworthy wine information at www.ablegrape.com. This is not a site to shop for wine, but a site for learning and research. With filters to help you discover things faster, I have found this an invaluable search engine to find authoritative and up-to-date online wine, enology and viticulture information.

Tune in to Grape Radio for a Good Time There have been a number of very entertaining podcasts on Pinot Noir posted on Grape Radio recently and they can be heard now or downloaded to your iPod for listening in the car. Check out the following programs at www.graperadio.com.
Show #320 A Walk Through Burgundy, Allen Meadows at the 2012 International Pinot Noir Celebration
Show #318 In Pursuit of Balance, Los Angeles, 2013
Show #316 2012 World of Pinot Noir - It's the People
Show #315 2012 World of Pinot Noir - Natural Winemaking
Show #314 2012 World of Pinot Noir - Technique versus Terroir - The Cube Project
Show #313 2012 Pinot Days San Francisco Producer Interviews Part 2
Show #312 2012 Pinot Days San Francisco Producer Interviews Part 1