Recent Stops on the Pinot Trail
I left Anderson Valley on a Pinot high and headed for the Russian River Valley for a little Pinot rehab. There were five stops on my agenda: Benovia Winery, Lynmar Estate, Keller Estate, Freeman Vineyard & Winery, and Kosta-Browne. I will defer Kosta-Browne to an article to follow as there is much to discuss about their gleaming new winery. I tasted through their entire lineup of 2011 releases upon my return home.
Benovia Winery
Winemaker Michael Sullivan, a veteran who made outstanding Pinot Noirs at Hartford Family Winery several years ago, joined with Joe Anderson and his wife Mary Dewante to establish Benovia Winery in 2003. A 55-acre ranch in Santa Rosa containing Hartman Road Vineyards and Winery was acquired from Cecil DeLoach, and contiguous land was bought. Sullivan led the upgrade of the winery, the rehabilitation of existing vineyards, and the development of new vineyards on the property. The winery's ultimate goal is to produce almost all their wines from vineyards they own and farm. By the fall of 2013, for example, the Russian River Valley appellation wine will be 90% estate. The wines have improved noticeably each year as Sullivan has refined his style to accommodate the vineyard sources, reaching a peak with the extraordinary wines of the 2010 vintage.
I sat down on April 20 with Sullivan to taste the four Pinot Noirs and two Chardonnays from the 2011 vintage. Yields were down significantly in this vintage as mildew pressure during the growing season presented a challenge. The cold weather delayed bud break, slowed ripening and pushed harvest back a month. Yields were small but of high quality. Benovia no longer sources wine from Savoy Vineyard in Anderson Valley, and no fruit was forthcoming from Sonoma Coast sources so only four 2011 Pinot Noirs are offered. The wines are lighter and less concentrated in the 2011 vintage, but have bright acidity, refreshing charm and are readily approachable.
The 2013 spring release includes a 2012 Rosé of Pinot Noir ($20), a 2011 Russian River Valley Pinot Noir, and a 2011 Russian River Valley Chardonnay. A limited number of 2010 wines are still available. Tasting is by appointment in a pleasant sit down room in the winery's hospitality center. Visit www.benoviawinery.com.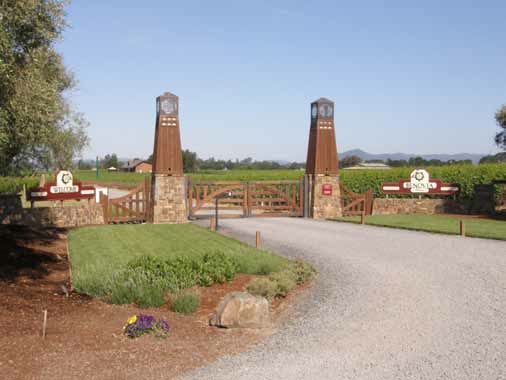 Benovia has the perfect vineyard hideaway cottage secluded in Martaella Estate Vineyard that is available for rent. It is ideally located in the Russian River Valley about half way between Sebastopol and Healdsburg.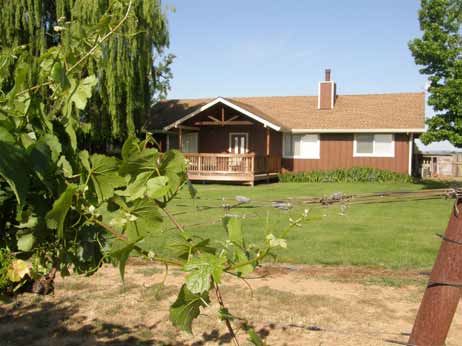 Lynmar Estate
Lynmar's newest winemaker is Shane Finley who left New York City and the insurance industry in the summer of 2001 to work as a harvest intern at Copain Wines in Santa Rosa, California. He then worked harvest in Australia and France's Northern Rhone before returning to California where he resumed work at Copain Wines as custom crush Cellar Master. Finlay had an 18 month stint as assistant winemaker at Paul Hobbs Winery and then joined Kosta Browne in 2006 as associate winemaker. He was the initial winemaker for SPELL and has his own label, Shane Wines. I first met Finley when he was working at Kosta Browne where he impressed me with his work ethic and winemaking skills. For several years, Michael Browne encouraged him to strike out on his own and he finally did when the winemaking position opened at Lynmar Estate in 2012.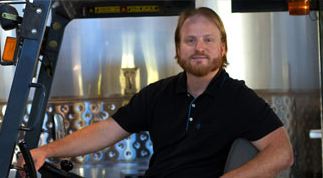 I visited Lynmar Estate and tasted through multiple barrels of the 2012 vintage with Finley (his first vintage at Lynmar) and vineyard manager Jason Saling. Finlay reminds me of "Mini Me" in the Austin Powers movie for he is a clone of Michael Browne in the cellar. He leads a barrel tasting like his pants are on fire, rapidly pulling samples from several barrels in succession, exhibiting overwhelming enthusiasm. His 2012 Pinot Noirs in barrel also remind of Michael Browne's style of wine.
Finlay has plenty of enviable vineyard material to work with and a beautiful gravity flow winery and caves to work in. Saling is a very talented vineyardist and works closely with Finlay to limit yields for quality. The Estate Quail Hill Vineyard was planted in 1971 originally and has some of the oldest Pinot Noir and Chardonnay vines in the Russian River Valley. Select heritage blocks were retained and a phased replanting undertaken of 71% of Quail Hill Vineyard in 1996. Today the vineyard is 70% Pinot Noir (14 clones) and 30% Chardonnay (4 selections), farmed in 53 individual blocks. Multiple Pinot Noirs are offered including Quail Hill Vineyard and special block bottlings within that vineyard, a Russian River Valley appellation blend, and several vineyarddesignated wines from sourced fruit.
Finlay is currently getting his feet wet at Lynmar, getting to know the many clones (Dijon, Mt. Eden, Calera, Swan, "828," Pommard and Bebe, a Spanish clone), and adjusting coopers and barrel treatments. He prefers about 40% new French oak with about 18 months elevage in barrel and 6 months in bottle before release. The wines spend about 21 to 24 days on the skins with some whole cluster determined lot by lot and varying with the vintage. Grapes are picked at 26º to 27º Brix resulting in alcohols in the 14.5% range. All winemaking is by gravity and sulfur levels are kept low. The style is full and rich, but not cloying, jammy or pruney. He says, "I am looking to produce juicy wines that show good tension." (Tension is a word Michael Browne often uses).
My early impression of the 2012 vintage is quite favorable and many of the 2012 Pinot Noirs tasted had deep color, bright aromatics, abundant sappy Pinot fruit, and long, glorious finishes. The wines made with significant whole cluster were particularly impressive. Vineyard designate wines for 2012 will include Terra de Promissio, Jenkins, Hawk Hill (last vintage for Lynmar), Kanzler (first time for Lynmar). Possibly a Sebastopol Hills blend will be offered as well.
Visit the Lynmar Estate website for more information at www.lynmarwinery.com. The Lynmar Estate Hospitality Center is the most comfortable and architecturally stunning of any in the Russian River Valley. Wine tastings (several offered), estate tours, and wine and food pairing (picnic pairing, pinot and pizza) are offered. A wine country getaway, the Bliss House, situation on the Lynmar 100-acre property, is offered to advocates with priority, but is also available to the public.
2008 Lynmar Estate Quail Hill Vineyard Russian River Valley Pinot Noir
14.8% alc.. · Dark reddish-purple color in the glass. Aromas of very ripe berries and cherries with a hint of cola. Full-bodied and lush, veering to the ultra ripe fruit side, offering flavors of black cherry and grilled stone fruits. Soft and plush on the palate with a firm tannic backbone, finishing with a little heat. Good.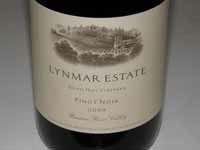 2009 Lynmar Estate Quail Hill Vineyard Russian River Valley Pinot Noir
14.5% alc.. 14 clones. · Dark reddish-purple color in the glass. Very enticing aromas of spiced cherry, clove, plum and vanilla. Layers of flavor arrive on the palate with aplomb, including black cherry, black plum, fennel, cola and black tea. Perfectly ripe and juicy with modest tannins and impressive power on the finish. Crafted beautifully and notable for its seamless qualities. Still enchanting the following day when tasted from a previously opened and re-corked bottle.
Keller Estate
I have always admired the wines from this estate but had never visited. I saw Ana Keller at this year's World of Pinot Noir, was impressed by her El Coro Pinot Noir, and gladly accepted her cordial invitation to visit. This magnificent 650-acre ranch was purchased by Arturo Keller in 1989. He was of Swiss heritage who grew up in Mexico and became a very successful parts supplier to the American automotive industry. His greatest passion besides wine was vintage automobiles and on a drive through the hills of Sonoma in one of his automobiles, he found a large ranch for sale in Petaluma.
Appropriately, the name Keller originates from the German word for "cellar." The Keller family's Coat of Arms, which is printed on their labels, represents the cellar guard, who guards his prized treasures with a well-kept key.
Located on the eastern edge of the Petaluma Gap overlooking the Petaluma River, the Keller Estate's La Cruz Vineyard was originally planted to Chardonnay in 1989. The first grapes were sold to Rombauer and the potential of the site was realized. Pinot Noir was added in 1999, the following year the Keller Estate label was started, and the first vintage was released in 2001. Shortly thereafter, a modern, gravity-flow winery, designed by Ricardo Legorreta, a noted Mexican architect, was built and is among the most beautiful wineries in Sonoma County. The winery is constructed out of limestone quarried from the beds of the Yangtze River.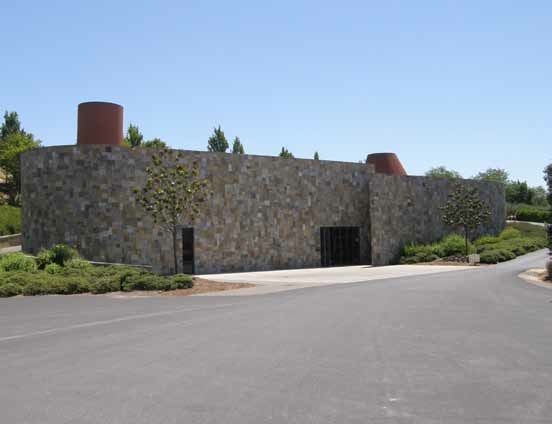 A majority of the estate including all the Chardonnay, Syrah, Pinot Gris and slightly over half of the Pinot Noir is grown on the lower hills where the mineral laden clay soils were once San Pablo Bay sea beds making Keller Estate's terroir unique. The 20-acre El Coro block is planted to seven different clones of Pinot Noir and sits high on a ridge top where the vines are more exposed to the maritime winds and fog. Here the soils are a thin loam and clay with a volcanic subsoil. The emphasis throughout the estate is diversity of clones. At El Coro, there are special plantings of Swan, "828," and La Tache selections.
Arturo's daughter, Ana Keller, a biochemist by training, has brought Keller Estate into the forefront of the Petaluma Gap region of the Sonoma Coast appellation. She grew up in Mexico City, and fell in love with winemaking while spending several holidays in the Loire Valley participating in harvest. She holds a degree in Biopharmaceutical Chemistry from the University of Mexico and a Masters in Pharmaceutical Development from King's College in London. It was in London that Ana took her first formal wine tasting lessons. She started in the winery's lab in 1998 and now manages the estate and actively participates in the estate's viticulture and winemaking.
Three Pinot Noirs are offered: Keller Estate La Cruz Vineyard, Keller Estate El Coro, and a reserve, Keller Estate Precioso. A Rosé, Chardonnay, Pinot Gris and Syrah are also produced. Grapes are also sold to other wineries for vineyard-designates and 30% of Keller Estate wine production is exported.
The winery has had several notable winemakers through the years. The current winemaker is veteran Alex Holman, a graduate of California State University at Fresno who had previous stints at Paul Hobbs, Dry Creek Vineyard, J. Rickards Winery and Arcana Winery.
I highly recommend you visit Keller Estate not only for the superb wines but for a cerebral winery experience. You can marvel at the winery, and view the works of local and international artists including original lithographs from Marc Chagall, sculptures, and if your lucky, one of Arturo Keller's collector cars, which are frequently parked by the tasting room as a centerpiece for guests to appreciate. Over 5,000 trees have been planted on the estate. Visit the website for tasting room hours and more information: www.kellerestate.com. The entrance to the tasting room is pictured below.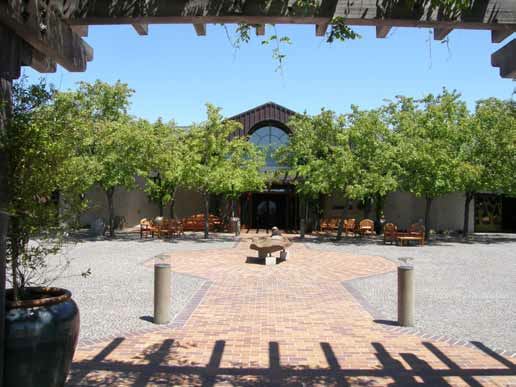 I tasted the following wines with Ana Keller and winemaker Alex Holman. All wines are 100% de-stemmed and whole berry fermented, and aged in modest amounts of new French oak.
Ana Keller is now the President of the Petaluma Gap Winegrowers Alliance (www.petalumagap.com). There are 70 vineyards and 6 wineries in the Petaluma Gap region of the Sonoma Coast. It is ironic that many of the so-called "true" Sonoma Coast wineries (those in the far western reaches of Sonoma County near the Pacific Coast), show disdain for the Petaluma Gap area since they feel it is climatically and topographically distinct from the true Sonoma Coast despite being part of the large Sonoma Coast AVA, yet many of them eagerly source grapes from the Petaluma Gap region. Most of the grapes grown in the Petaluma Gap region (predominantly Pinot Noir) leave the area and show up in Sonoma Coast blends and vineyard designates from other wineries (ie Flowers and Freeman). For example, Terra de Promissio Pinot Noir grapes go to Kosta Browne, Williams Selyem and Lynmar Estate. The tagline for the Petaluma Gap should be, "Follow the Fruit."
Keller notes that the Petaluma Gap is an agricultural haven. Pinot Noir grown in the Petaluma Gap typically gives constant yields since there is little shatter and a larger window to pick at harvest. Because of the maritime winds entering the region through the Petaluma Gap, there is no frost to deal with and very little mildew. She notes that the area was originally underwater, so the Pinot Noir has a signature minerality. The photo below from a vantage point on the Keller Estate shows the distant opening in the coastal range of mountains to the west known as the Petaluma Gap.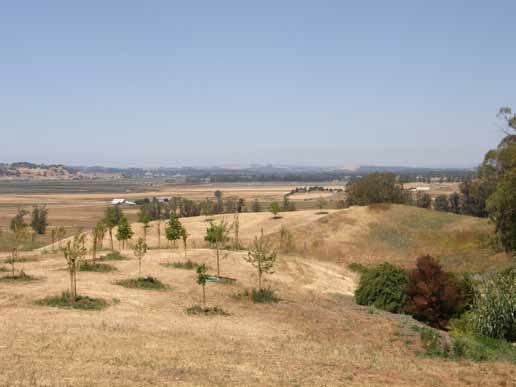 The location of Keller Estate can be seen on this map of the Petaluma Gap.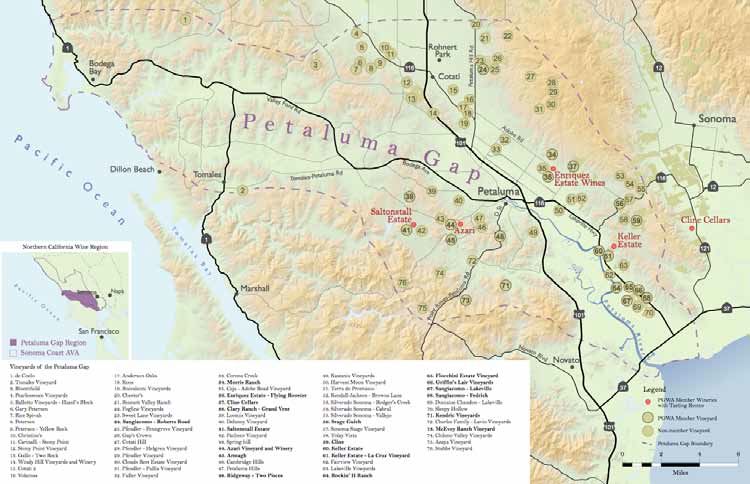 Freeman Vineyard & Winery
I visited Ken and Akiko Freeman at their winery to talk about the upcoming West of West Festival. As head of the West Sonoma County Vintners, Ken is promoting the event. To be held August 2-4 at the Barlow in Sebastopol, this festival should be on every pinotphile's radar. Welcome wine dinners are on Friday, August 2 including Banshee (at the new tasting room in downtown Healdsburg featuring Chef Ari Rosen of Scopa), Failla (an al fresco dinner in the middle of Failla's Olivet Road vineyard), Freeman (a very special dinner at the beautiful and architecturally unique vineyard home of Ken and Akiko), Halleck Vineyard (Ross Halleck is a great cook and will host at his home), Joseph Phelps (celebrating 40th anniversary and second decade of Sonoma Coast winegrowing), and Littorai ( dinners both Thursday and Friday nights due to demand).
The West of West seminars on Saturday, August 3, will feature "Diamonds in the Sky," an exploration of the newly formed Fort Ross-Seaview AVA, and "Syrah With a Unique Perspective," an interactive blind tasting of Syrah from West Sonoma Coast and other important regions around the world. The Grand Tasting of over 40 producers of wines from the West Sonoma Coast will be presented both Saturday, August 3, and Sunday, August 4. The Grand Dinner on Saturday night will feature James Beard finalist Chef Steven Satterfield from Miller Union in Atlanta, George. Dinner wines will be magnums of Pinot Noir and Chardonnay from members of the West Sonoma Coast Vintners and attendees are encouraged to bring something from their cellar as well.
Freeman Pinot Noir and Chardonnay were crafted by Ed Kurtzman for several years, but Akiko has now taken the reigns with Ed remaining as a consultant. I briefly tasted the lineup of 2011 wines at the winery. My wife was particularly taken by the Rosé of Pinot Noir which at $20 is a steal. The Sonoma Coast and Russian River Valley appellation Pinot Noirs were representative of the vintage. The Keefer Ranch Pinot Noir was the star in the lineup. The Akiko's Cuvee is a selection of the best barrels in the cellar chosen by Akiko. This is the most serious wine and needs more time in the cellar. Tasting of Freeman's wines is done in the winery within a cave and by appointment. Total production is fewer than 5,000 cases, most of which is sold through a mailing list. Visit www.freemanwinery.com.
I will be participating in a 10-year retrospective tasting of Freeman Akiko's Cuvée Pinot Noir before the West of West Festival and will report on that and more about Freeman Vineyard & Winery in an upcoming issue.
2011 Freeman Sonoma Coast Rosé of Pinot Noir
13.9% alc., 1,320 cases, $20. · Moderate ruby red color and clear in the glass. Aromatically appealing with scents of strawberry, cherry, dried rose petal and spice. The flavors echo the nose with accents of herbs and oak. More body and substance than most rosés, this wine drinks more like a Pinot Noir and will pair nicely with substantial foods. A charming cherry note persists on the finish. Good.
2011 Freeman Sonoma Coast Pinot Noir
13.9% alc., 1,320 cases, $44. Broad selection of the appellation with contributions from six vineyards. Aged 11 months in 32% new French oak barrels. · Moderate reddishpurple color in the glass. Aromas of strawberries, cherries, tobacco leaf, green herbs and a hint of oak. Middleweight flavors of black cherry, blueberry and green herbs supported by mild tannins and finishing with some intensity. Nicely balanced and easy to drink. Good.