McIntyre Vineyards Celebrates 25th Anniversary
The McIntyre Family Estate Vineyard consists of 37 acres of own-rooted Pinot Noir, known as the "heritage clone," the oldest Pinot Noir planting in the Santa Lucia Highlands, along with 10 acres of 115, 777 and Swan Pinot Noir, and 13 acres of Chardonnay, clones 96 and 76. The McIntyre portfolio also includes Pinot Noir planted at Mission Ranch, clones 667 and 777.
The McIntyre Family Estate Vineyard was originally planted by the McFarland family in 1973 and historically was used primarily for making sparkling wine. In 1987, the McIntyre family bought the 80-acre property near Gonzales and began to replant portions of the site. Steve McIntyre's experience as winemaker for neighboring Hahn Estate's Smith & Hook label led him to be a promoter of the region and he played a major role in the Santa Lucia Highlands gaining appellation status in 1991.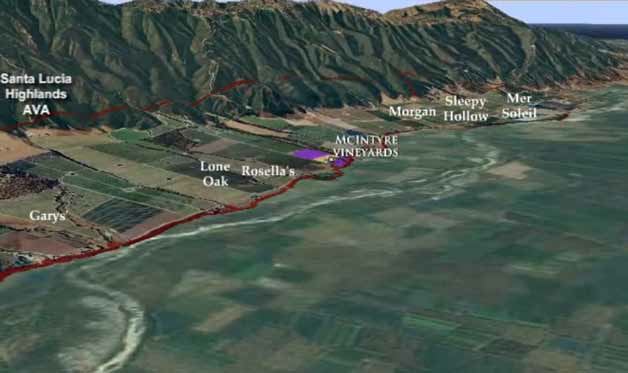 Steve earned degrees in both viticulture and enology, graduating from California State University at Fresno with a Masters in Enology. His company, Monterey Pacific, farms hundreds of acres, has planted vineyards for Mondavi, Joseph Phelps and Bonny Doon, and as founding members of the Monterey Wine Company, has produced wines for Bonny Doon, Caymus, Hahn Estates and more. McIntyre's vineyard plantings were among the first to be SIP (Sustainability in Practice) Certified in the Santa Lucia Highlands.
Steve's own label, McIntyre Vineyards, debuted with the 2005 vintage and has focused on the McIntyre Family Estate since 2006. The consulting winemaker is Byron Kosuge, a well-known vintner who is the son of a University of California at Davis professor. Byron was the winemaker for Saintsbury for 15 years before branching out on his own with B. Kosuge Wines, as well as making wine for Miura Vineyards, Foghorn and Kingston Family Vineyards in Chile. He is also a consulting winemaker for a number of Napa and Sonoma wineries.
The McIntyre Vineyards Tasting Studio is located inside the lobby of the Hyatt Regency Hotel & Spa in Monterey and open daily. Visit the informative website at www.mcintyrevineyards.com.
The wines from the 2012 vintage reviewed here are highly recommended. The 2012 vintage marks Steve's 25th year farming the McIntyre Family Estate.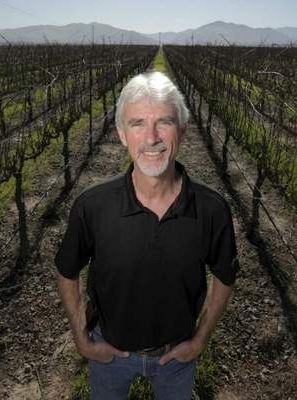 2012 McIntyre Vineyards Santa Lucia Highlands Pinot Noir
14.3% alc., pH 3.76, TA 0.58, 604 cases, $32. Released December 2013. A blend of two vineyards and three different clones: 943 and Swan from Escolle Vineyard and 777 from the McIntyre Estate Vineyard. Harvest Brix 25.0º. Aged 10 months in 33% new French oak barrels. · Moderately dark reddish purple color in the glass. Bright aromas of boysenberry, blackberry and spice. Mid to full-bodied core of ripe boysenberry fruit with hints of cassis and licorice. Nicely integrated oak and balanced tannins make for easy drinking now. Well-crafted and flavorful. Score: 90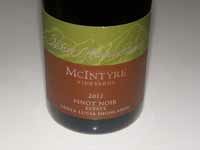 2012 McIntyre Vineyards Estate 25th Anniversary Edition Santa Lucia Highlands Pinot Noir
14.6% alc., pH 3.76, TA 0.60, 340 cases, $36. Released December 2013. Harvest Brix 25.0º. Dijon 115 and a "heritage" clone from a 40-year-old own-rooted planting of Pinot Noir. Indigenous yeast and malolactic fermentations. Aged in 33% new French oak barrels. · Moderately dark reddish-purple hue in the glass. The aromas have not arrived in this wine, but the delicious flavors are striking. An array of layered fruits meet the mid palate with ripe black raspberry, black currant, plum and dark chocolate notes. Full-bodied with firm but complimentary tannins. Impressive intensity with finishing power and persistence. An age worthy wine that needs time for the aromas to arrive and the tannins to integrate. More appealing the following day from a previously opened and re-corked bottle sporting inviting aromas of dark berries, black cherry and spice. Decant if you must drink now. A handsome and pedigreed example of Santa Lucia Highlands Pinot Noir. Score: 94
2012 McIntyre Vineyards Estate 25th Anniversary Edition Santa Lucia Highlands Chardonnay
14.4% alc., pH 3.76, TA 0.58, 792 cases, $28. Released December 2013. From a block of clone 76 planted in 2000. VSP trellis with cluster thinning. Harvest Brix 25.0º Brix. Whole cluster pressed, 20% whole cluster, fermented in new Siruge French oak barrels and aged in 33% new French oak barrels for 10 months. 100% MLF. · Moderate straw color in the glass. Lovely aromas of lemon, tropical fruits, floral display and a hint of buttered popcorn. A Caliesque style of Chardonnay with plenty of showy fruit flavor including lemon, pear and pineapple. Seductively creamy on the palate with bright underlying acidity and a silky finish. I couldn't help returning to the glass to take another sip. A complete charmer at a very attractive price. Score: 94