Black Kite Cellars: Three Gems in 2011
The name, Black Kite, does not refer to the type of aircraft attached to a tether, but rather the beautiful White Tailed Kite (formerly called the Black Shouldered Kite) that is endangered and native to Anderson Valley. The birds have penetrating red eyes that are prominently portrayed on the winery's beautiful label.
The Black Kite Cellars story begins with a bicycling trip in Burgundy, when Tom and Rebecca Birdsall thought they might be able to replicate the Burgundy terroir model in California. In 1995, their dream became a reality when their parents, Donald and Maureen Green, bought a remote 40-acre parcel just west of the town of Philo in the "deep end" of the Anderson Valley. The property consisted primarily of redwood forest and a 4-acre Gewürztraminer vineyard fronting the Navarro River. In 1999, the Greens replanted the exhausted vineyard to Pinot Noir and developed two additional blocks on the northern facing hill above the river, bringing the acreage to 12 acres.
The Kite's Rest Vineyard is divided into three distinct blocks or vineyards, distinguished by exposure, soil, row orientation and clonal selection. Redwood's Edge is the highest elevation vineyard surrounded by redwoods, planted to Dijon 114 and 115 (photo below). Stony Terrace is the middle vineyard named after the soil makeup, positioned on a naturally benched hillside, and planted to Pommard clone. River Turn is the lower riverside vineyard named after the bend in the adjacent Navarro River and is also planted to Pommard clone.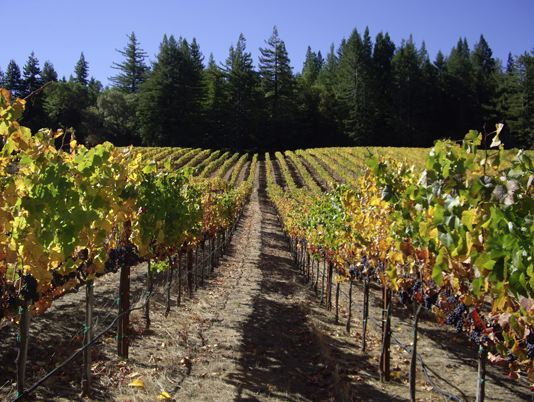 The first Black Kite Cellars Pinot Noir release came in 2003. Veteran winemaker Jeff Gaffner has been on board since 2004 and noted vineyardist Paul Ardzrooni has managed Kite's Rest Vineyard since 2004.
In most vintages, four wines are produced from the Kite's Rest Vineyard: Kite's Rest (a blend of the vineyard blocks), Redwood's Edge, Stony Terrace, and River Turn. In 2011, grapes were harvested on October 19 and 20, and all three wines reviewed here were vinified in exactly the same manner to insure that the individual block signature characteristics would show through in the final wines.
I found the 2011 Black Kite Cellars wines to be particularly appealing for their aromatic and flavor vibrancy, juiciness and electricity. Visit www.blackkitecellars.com for more information and to buy the wines.
2011 Black Kite Cellars Redwood's Edge Anderson Valley Pinot Noir
13.8% alc., pH 3.60, TA 0.55, 149 cases, $55. Aged 11 months in 66% new French oak barrels. · Medium reddish purple color in the glass. Very expressive nose that expands over time in the glass. Aromas of black cherry, spice box and clove. Very stylish with mid weight flavors of black cherry and black raspberry with complimentary oak in the background. The overall impression is juiciness of fruit with a pleasing savory, earthy bent. The wine is the most brooding of the 2011 lineup and should benefit from more time in bottle to allow the firm tannins and oak to integrate. Better the following day from a previously opened and re-corked bottle. Could prove to be the best wine of the three reviewed here over time. Score: 91
2011 Black Kite Cellars Stony Terrace Anderson Valley Pinot Noir
14.2% alc., pH 3.60, TA 0.56, 203 cases, $55. Aged 11 months in 66% new French oak barrels. · Medium reddish purple color in the glass. The aromas are slow to arrive in the glass, becoming spectacular the following day from a previously opened and re-corked bottle. Very ripe, dark red and black fruits are featured, especially black raspberry, with hints of spice, dark chocolate and black currant. The tannins are modest, the acidity is bright and uplifting, and the special finish is vigorous with flavor and character. This wine will benefit from decanting or cellaring for a few years. Score: 93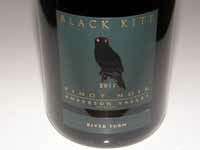 2011 Black Kite Cellars River Turn Anderson Valley Pinot Noir
14.3% alc., pH 3.60, TA 0.55, 148 cases, $55. Aged 11 months in 66% new French oak barrels. · Moderate reddish purple hue in the glass. Be sure you are sitting down when you taste this charmer. The aromas leap out of the glass with purpose, offering scents of black cherry, black raspberry, Asian 5-spice and a hint of oak. The most sappy and forward of the three 2011 Pinots tasted here. Flat-out delicious with layers of flavor including black cherry liquor, black raspberry jam, and Hoison sauce. The fine-grain tannins are svelte, the balancing acidity is spot on, and the finish is filled with sweet-scented and saucy fruit. The finish is even more intense and persistence the following day from a previously opened and re-corked bottle. Log on to deliciouspinot.com for a good time. Score: 94