When I'm Sixty-Four
Sixty-four is not a major age milestone, but I will take it anyway. Paul McCartney memorialized aging in his love song, "When I'm Sixty-Four," written at the tender age of 16. I gathered up a few wine cronies, most of whom are hovering around my same age, raided my cellar for some good Burgs and sat down on a Sunday afternoon to celebrate another year. The well-cellared wines turned out to be vinous treasures resulting in a very memorable tasting. Here is the lineup with some commentary. All wines had appropriate fills and there were no corkage issues.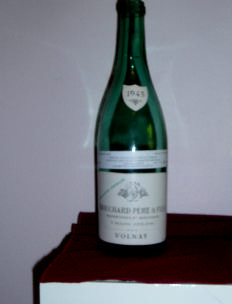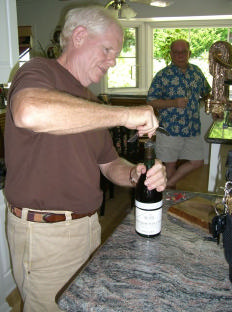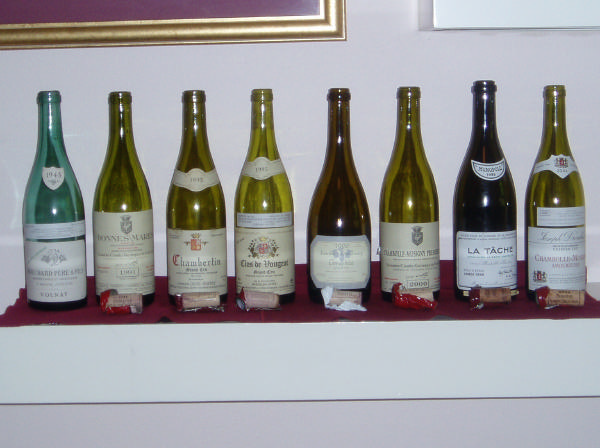 Wine writer Dan Berger has said, "What the Burgundy lover really seeks is a silky elegance inside the deep flavors, an experience that is elusive and rare." I think we found that elegance in several of these wines. Most had impressive balance, fine tannins, no oak or alcohol intrusion, and with an acidity that kept them fresh and alive. Beyond that, they displayed an attraction that is defies adequate description.
Where can you read more and learn about Burgundy? There are a number of excellent internet sources for information. Burgundy is a maze of vineyards, producers and confusing nomenclature and the Burg enthusiast must commit serious time and study to be able to purchase wisely and gain an appreciation for the myriad of wines that come from this small wine-producing region of France. A first step is to learn the geography and I have included a map of Burgundy on the next page (courtesy of Berry Bros & Rudd's wine retailers in the UK - www.bbr.com).

Reference books are few and many are outdated. The two standard texts are Cote D'Or A Celebration of the Great Wines of Burgundy written by Clive Coates M.W. (1997) and The Great Domaines of Burgundy authored by Remington Norman (1996). Burgundy and Its Wines, by Nicholas Faith (2002) is filled with glorious photographs of Burgundy. More recent books include Wines of Burgundy by Serena Sutcliffe (2005), The Wines of Burgundy by Sulvain Pitiot, Jean-Charles Servant and Roger Jones (2005), and Classic Wine Library: Burgundy by Anthony Hanson (2004).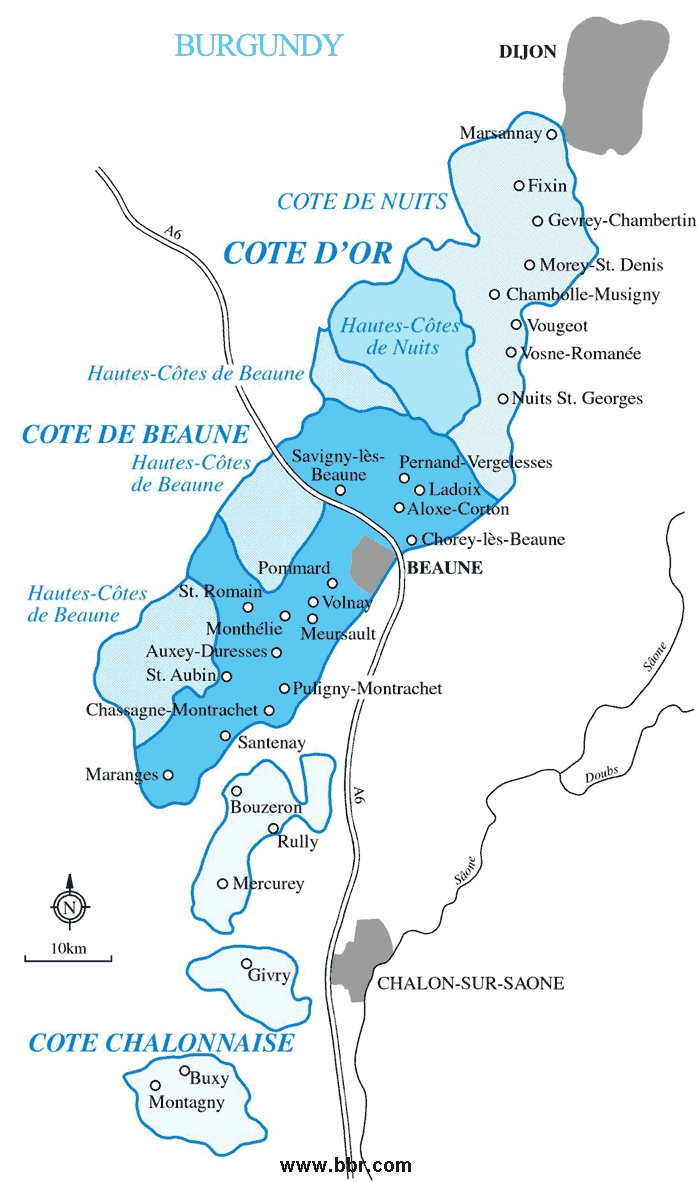 There are several newsletters that review Burgundy wines. Only one - Burghound (
www.burghound.com
) is exclusively devoted to Burgundy. Online or printed copies are available. Allen Meadows, aka Burghound, has been traveling to Burgundy for 30 years and spends several months there every year. His newsletters are the definitive source for tasting notes and some background information on domaines and winemakers. He also publishes The Insider's Guide to Visiting the Cote d'Or ($19.95).
Robert Parker's Wine Advocate (www.eRobertParker.com) and Steve Tanzer's International Wine Cellar (www.wineaccess.com) offer primarily reviews and scores of Burgundy wines in some issues.
There are several other excellent informative websites that cover Burgundy. Burgundy Report (www.burgundy-report.com) is authored by Bill Nanson who resides in Europe. He provides extensive coverage of domains with glorious photography and extensive wine reviews. Free.
Elden Selections (www.eldenwine.com) is based in Burgundy and specializes in small-production, estate-bottled Burgundy wines that are little known outside France. Members of the Elden Wine 'Club' (free) receive a twice-yearly newsletter and prospectus with up-to-date tasting notes from wine makers, winemaker profiles, access to older vintages, and a search service for those looking for a particular wine. The Burgundy Wine Institute (www.burgundywineinstitute.com) is an educational branch of the Ecole des Vins de Bourgogne in association with Elden Wine based in Beaune. The Institute offers a range of tasting-based courses to satisfy Burgundy lovers which includes walking the vineyards with the people who make the wines, "step down into the cellars, see barrels being coopered, and join in the rhythm of the wineries." Visit the website for a sample one-week intensive program.
Burgundy Briefing (www.theburgundybriefing.com) is published by Sarah Marsh M.W. from England. She is a regular contributor to Decanter magazine. Her newsletters are sold individually and cover en primeur tastings, grower profiles, tasting reviews, and Burgundy travel tips.
A number of retailers specialize in Burgundy and provide considerable instructional information and credible recommendations. These include The Burgundy Wine Company in New York City (www.burgundywinecompany.com), North Berkeley Wine in Berkeley, California (www.northberkeleyimports.com) and Kermit Lynch Wine Merchant also in Berkeley (www.kermitlynch.com).
Many fine wine retail stores have trained personnel who can guide you through the Burgundy maze. A knowledgeable retailer is worth his weight in wine. Several United States importers hand-pick the Burgundies they bring into this country and their name on a bottle is a guarantee of quality: Neal Rosenthal, Louis-Dressner, Robert Chadderton Selections, Polaner Selections, Robert Karcher Selections, Becky Wasserman, and Martine's Wines.
And finally, if all else fails, you can turn to Canadian Mike Mandel, whose non de plume is Deacon Dr. Fresh and he claims to be the "working man's oenophile (www.deaconwinelist.blogspot.com). Using colorful vocabulary and proclaiming himself "The Buccaneer of Burgundy" and "The Prince of Pinot Noir," among other outlandish titles, he says that "I have arrived to rescue the wine world from overlyserious, rigid, deconstructionist, rooster juice peckerwoods who'd never dream of getting' a tattoo or crackin' a smile." Maybe he has the best approach to Burgundy - find a good producer, buy some good stuff, and forget whether the vineyard is a grand cru, a premier cru or in the alley behind someone's cottage. Take pleasure in the wine and enjoy it for what it is. Even better, let someone else buy the Burgundy and then you can really savor it.