No Wine Before It's Time at Kalin Cellars
Microbiologists Dr. Terry Leighton and his wife Dr. Frances Leighton founded Kalin Cellars in Marin County in 1977. Terry was the original winemaker at Domaine Laurier in the 1970s prior to starting his own label. The first wines, a Zinfandel and Cabernet, were released in 1978. Over the ensuing years, the Leightons have labored in relative obscurity producing some of the greatest California wines that only wine critics and wine geeks can testify to. The eccentric couple avoid publicity at all cost. I have been enamored with their wines for years because of their unique character, age ability and individuality.
The name Kalin (KAY-len) is a local Indian word for ocean and the Leightons chose this name "because it was the only Indian word we could pronounce." The mantra behind this winery is the use of traditional, hands-on, labor-intensive methods that do little or nothing to disturb the character of the wine -"Produce no wine with less character than yourself." The winery itself is an undistinguished warehouse situated among other small businesses in Novato, California.
Winemaking combines the Leightons' modern knowledge of the science of vinification and traditional European methods. The Leightons like to say that the only people between you and the wine are the two of them. Baskets presses are still employed and the wines are fermented in either oak 'cuves' (red) or oak barrels (whites). The Leightons pioneered sur lies aged white wines in California. The have used their background as research scientists to conduct studies on yeasts and now choose yeasts that are very slow fermentors (fermentation can take eight months in barrel). The Leightons believe slow fermentation is key for the evolution of flavors in the wine, particularly the fifth taste, unami. Described as savory, pungent and meaty, unami is secondary to glutamates which are common in aged cheeses, meats and wine. The Leightons firmly believe that most wines are not capable of acquiring unami because they are made quickly and sold long before the fifth flavor is attained.
The wines at Kalin Cellars are all single vintage, single vineyard wines. The Leightons own no vineyards of their own, but source grapes from distinguished vineyards outside Marin County. An exception was the use of Pinot Noir grapes from Marin County's Devil's Gulch Vineyard (farmed by Mark Pasternak) in 1987 and 1988. The Leightons produced sparkling rosés in those two vintages that are legendary among wine enthusiasts. The Leightons have farmed two vineyards in Burgundy, from which they make a small amount of "Kalin Bourgogne" that is sold to "Kalinites," and restaurants.
Because of the style of winemaking, the wines are not ready to drink for at least five years. Unheard of in the modern business model of wine sales, they follow no set vintage sequence. Basically, the wines are released to the market when the Leightons feel they taste good, usually between 5-10 years after the vintage. The current Pinot Noir release is the 1996 Kalin Cellars Cuvee DD Sonoma County Pinot Noir (the 1997 vintage was released last year). In essence, then, every wine that is released is a library wine!
7,000 cases of wine are produced annually usually consisting primarily of a Sonoma County Pinot Noir and Chardonnay and a Livermore Valley Semillon. Cabernet Sauvignon, sparkling wine and dessert wine have been thrown into the mix in some vintages. Most wines are designated by letters which are shorthand for identifying specific vineyard locations and signifying cuvées. Prices are quite reasonable ($40 range) considering the wines have been cellared for years prior to release. The quirky website lists currently available wines for sale (the 1996 vintage, now released, is not yet listed). To order wines, you simply call and leave a message and wait for a reply. A few select retail outlets and winesavvy restaurants offer the wines.
Terry Leighton retired from his position as a distinguished microbiology professor at the University of California Berkeley in 2000. Now in his 60s, Leighton's winemaking enthusiasm is going strong and he has the 2007 vintage fermenting in the winery. The 2005 vintage was bottled in January of this year.
The Kalin Cellars Pinot Noirs are for connoisseurs only as they offer secondary bouquets and flavors that drinkers accustomed to young wines may find unpalatable. The wines offer earth, forest floor, meat, soy, and leather notes set off by plenty of racy acidity. They demand food. Last year I thoroughly enjoyed drinking the 1990, 1994 and 1995 vintages, with the 1994 my clear favorite (PinotFile, Volume 5, Issue 39).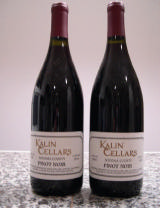 1996 Kalin Cellars Livermore Valley Semillon
13.8% alc., The grapes come from the Wente Estate Vineyard near Livermore planted in the 1880s from Chateau d'Yquem cuttings. 25% Sauvignon Blanc. · Hard to find a 10 year old California white wine this good. Exotic aromas of char, toast and banana. Flavors of coconut, banana, charred corn and well-toasted crème brulee. A treat to drink.
1996 Kalin Cellars Cuvée DD Sonoma Pinot Noir
13.7% alc., $38. From the Demostene Ranch in Alexander Valley, the oldest Pinot Noir vineyard in the region. · The wine has a touch of orange color on the rim. The nose opens with cigar box and mint progressing to dried cherry and dank mushrooms. Tart cherry flavors lead to very lively acidity. Many tasters will find the acidity challenging without food accompaniment.
Kalin Cellars has several vintages available in the retail marketplace: 1991, 1993, 1994, 1996, and 1997 Pinot Noir and 1996, 1997 Semillon. The website is www.kalincellars.com. 415-883-3543.