Adventures on the Pinot Trail: World of Pinot Noir - The Seminars
On February 27, 2014, I hit the Pinot Trail to attend four major events in California. Like the song, "Sugartime," from the 1950s sung by the McGuire Sisters, it was "Sugar (Pinot) in the morning, Sugar (Pinot) in the evening, Sugar (Pinot) at suppertime. Be my little sugar, And love me (Pinot) all the time." The trail first led me to Santa Barbara for the 14th Annual World of Pinot Noir, then to San Francisco for three more memorable events: a special retrospective tasting of the wines of Ted Lemon titled "30 Years of Winemaking, 20 years of Littorai," at Jardiniere restaurant on March 2, Affairs of the Vine Pinot Noir Summit at The Golden Gate Club on March 9, and the In Pursuit of Balance seminars and tasting at Bluxome Street Winery on March 10.
I will give a full report on each stop along the Pinot Trail in this issue and those to follow, highlighting some of the special wines I tasted. Some have accused me of being a Pinot pimp and rightfully so. One of my readers told me when I asked him what he had been drinking, "As far as what I am drinking, it's Pinot you bastard, and it's your damn fault. Now I empty my bank account at wineries nobody has ever heard of, on wines nobody has ever drank except you, you pr**k. You have ruined me....and I love it."
The World of Pinot Noir successfully relocated this year from its long-standing home in Shell Beach to the Bacara Resort & Spa in Santa Barbara. The switch was an easy choice because of the many participating wineries in the Sta. Rita Hills, Santa Maria Valley and the city of Santa Barbara. This was an impressive upgrade in venue that was thoroughly welcomed by all attendees despite the onslaught of rain throughout the weekend. Gone were the crowded tents at The Cliffs Resort in Shell Beach, replaced by a magnificent ballroom that not only provided plenty of space to comfortably visit and chat with the many producers, but lent an air of hi-collared ambiance that was more fitting for the regal majesty of Pinot Noir. For me, this was the BEST World of Pinot Noir experience ever!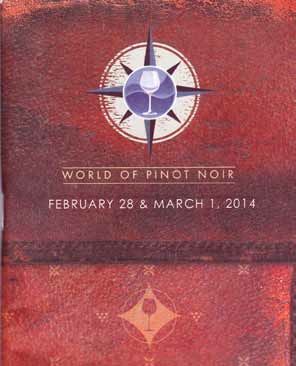 Each year I attend the World of Pinot Noir where over 225 wineries from around the world participate and offer wines to attendees at seminars, dinners and walk-around tastings, and I return with renewed admiration for the dedication of those who craft these marvelous wines. As always, winemakers, winegrowers and winery owners were in abundance and eager to talk Pinot. The World of Pinot Noir is a convivial festival that unites the international community, launches and renews friendships, and allows all present to revel in their good fortune.
Seminar: Burgundy & Oregon: Parallels in Latitudes, Part I
Moderator: Katherine Cole, Journalist and Author from Oregon
Panelists: Steve Goff, Colene Clemens Vineyard, Chehalem Mountains AVA
James Frey, Trisaetum Winery, Ribbon Ridge AVA
Lynn Penner-Ash, Penner-Ash Wine Cellars, Dundee Hills AVA
Rebecca Pittock-Shouldis, Ghost Hill Cellars, Yamhill-Carlton District AVA
Robert Brittan, Brittan Vineyards, McMinnville AVA
Isabelle Meunier, Evening Land Vineyards, Eola-Amity Hills AVA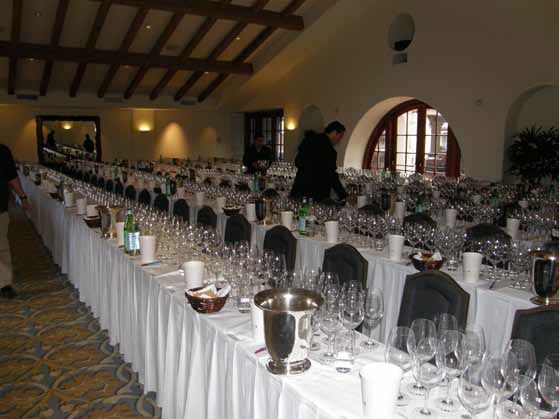 Oregon's Willamette Valley is located between the Cascade and Coast ranges. More than 100 miles long and 60 miles at its widest point, the region has infrequent freezes and wide diurnal shifts (summer average high is 78ºF and low 52ºF). Acres of vines by variety: Pinot Noir, 11,053, Pinot Gris 2,175, Chardonnay 684, and Riesling 259. 88 percent of Oregon Pinot Noir comes from the Willamette Valley. Vintage notes: 2011 had a late start and was the coldest growing season in 50+ years but a warm, sunny and dry autumn made a November harvest a success resulting in a classic, cool-climate vintage; 2012 had some hail damage but overall was a warm growing season making for rich, full-bodied and approachable wines that will undoubtedly receive high scores.
In this seminar, each of the six sub-appellations of the Williamette Valley were discussed and two wines from each sub-AVA were offered by a representative producer. I sensed that many of the attendees were unfamiliar with Oregon Pinot Noir and were quite impressed by the wines.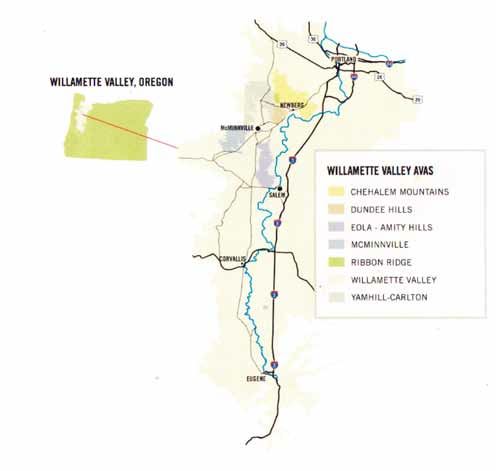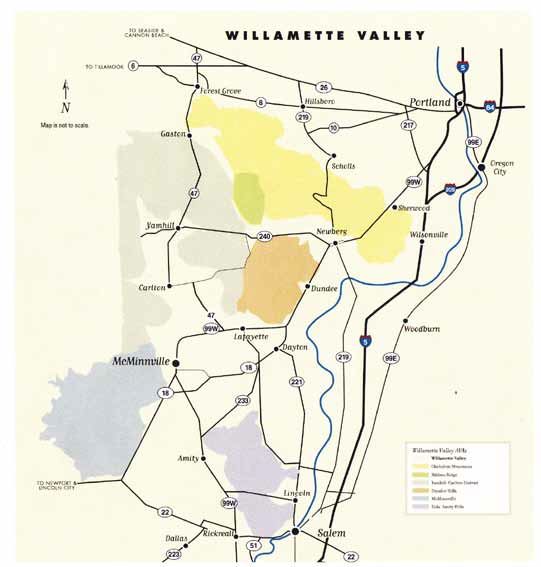 Chehalem Mountains - Colene Clemens This is the largest of the six sub-AVAs of the Willamette Valley. It is characterized by the highest elevations and diverse soils including uplifted sedimentary seabeds, basaltic lava flows and Laurelwood loess (wind-blown silt). The ridge is up to 1,600 feet elevation with most vineyards located 300 to 800 feet elevation on both the south and north slope of the ridge. Chehalem Mountains has 100 vineyards, 1,600+ acres of vines, and 31+ wineries.
Colene Clemens is located in the northwestern part of the AVA across the street from the Ribbon Ridge sub- AVA at 325 to 650 feet elevation. The soils are primarily sedimentary but with substantial basalt (volcanic) rock. The wines tend to show more of the red spectrum of fruits and are more delicately structured than the wines from Ribbon Ridge, representing somewhat of a middle ground between the wines from the volcanic soils of the Dundee Hills and Eola-Amity Hills and the wines from the sedimentary soils of Yamhill-Carlton and Ribbon Ridge. A total of 40 acres of Pinot Noir were planted (Pommard, Wädenswil, 115, 667 and 777) between 2006 and 2010. The Victoria Cuvée is the winery's top offering each year, named after Colene Clemens' daughter. 50% Pommard and 50% clone 777, aged 11.5 months in 40% new French oak. The wine will easily last 10 years.
2011 Colene Clemens Victoria Cuvée Chehalem Mountains Pinot Noir 13.5% alc., 294 cases, $58. Released fall 2013. 100% de-stemmed, aged 11 months in 42% new French oak barrels. Unfined and unfiltered. Aromas of black cherries, rose petals, and toasty oak. The broad flavors mimic the aromas with balanced tannins, generous acidity and a long finish. Outstanding.
2012 Colene Clemens Victoria Cuvée Chehalem Mountains Pinot Noir 14.5% alc.. More body and density than the 2011 vintage, with copious amounts of black cherry fruit accented by spice, citrus and tea. Nicely integrated tannins and a big, fruit-driven finish. Will benefit from more time in the bottle. Outstanding.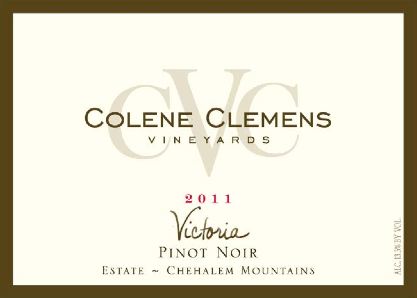 Ribbon Ridge - Trisaetum
Ribbon Ridge is the smallest sub-AVA in the Willamette Valley. It is a 3-mile-long, 1! mile-wide ridge with mostly Willakenzie (sedimentary) soils with some Dupree silt loam. The sub-AVA has 27 vineyards, 500 acres of vineyards, and 10 wineries.
Trisaetum has 3 estate vineyards: one each in Yamhill-Carlton, Dundee Hills and Ribbon Ridge. The Ribbon Ridge Estate Vineyard is 28 acres and has a uniform marine-based sedimentary soil type which is very sandy and drains quickly. The wines from the Estate Vineyard feature darker fruits and a firm tannic structure. Although the wines are made from early ripening grapes, the wines are the last released because of the tannin structure. The Trisaetum Ribbon Ridge Estate Pinot Noir is composed of 40% Pommard, 20% 777, 20% Wädenswil, and small amounts of 667, 115 and Coury "clone."
2011 Trisaetum Single Vineyard Ribbon Ridge Estate Pinot Noir 12.8% alc., $55. This wine features dark cherry and cassis aromas with more red fruits showing up on the palate. The very chewy tannins will need time to resolve. Great acidity. Very good.
2012 Trisaetum Single Vineyard Ribbon Ridge Estate Pinot Noir 14.4% alc.. Similar to the 2011 vintage with darker berries on the nose and palate showing more depth and very broad tannins. Needs a few years in bottle. Very good.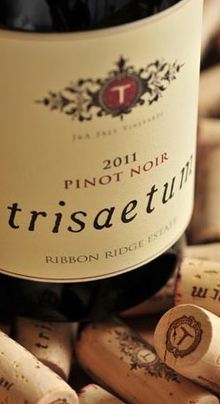 Dundee Hills - Penner-Ash Wine Cellars Dundee Hills was the first sub-AVA planted in the Willamette Valley (1965). It is located in the heart of the Willamette Valley with predominantly Jory (volcanic, clay, red) over sedimentary sandstone soils starting at 350 feet elevation. The area is protected from weather by the coastal mountains and is something of a banana belt. Grapes are generally earlier maturing and harvested first. There are 50 vineyards, and 1,700+ acres of vines and 37+ wineries. Note: Penner-Ash Wine Cellars is located in the Yamhill-Carlton AVA but sources grapes from the Dundee Hills. The Pinot Noirs from the Dundee Hills feature red fruits such as strawberry and it said you can almost taste the red soil in the wines.
Lynn has worked with grapes from almost every sub-AVA, but has a long history with fruit from the Dundee Hills, beginning with her years of making wine at Rex Hill Winery beginning in 1988. Both wines offered have a base of clone 777 but have Pommard (Èlléve Vineyard) or 115 (Bella Vida Vineyard) added to provide structure that 777 lacks.
2012 Penner-Ash Èlléve Vineyard Dundee Hills Pinot Noir This wine features sweet, red berry fruits with hints of dried tea leaves and spice. The acidity is bright and refreshing. Very good.
2012 Penner-Ash Bella Vida Vineyard Dundee Hills Pinot Noir The darker fruits are lush and mouth filling backed by mature tannins. Rich and long with layers of flavor. Still a bit tight and in need of cellaring. Outstanding.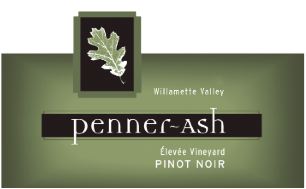 Yamhill-Carlton District - Ghost Hill Cellars
Some of the oldest marine sedimentary (Willakenzie) soils in the Willamette Valley are found in the Yamhill- Carlton District. The region's elevation varies from 200 to 1,000 feet and sits in the Coastal Range shadow. There are 45 vineyards, 1,200+ acres of vines, and 41 wineries. In general, the AVA features darker fruits depending on the vintage with broad, supple and silky tannins, exotic spices including clove and cardamom in warm vintages and minerality.
The Estate Bayless-Bower Vineyard lies on property owned by the Bayless family since 1906. It sits across the street from Ken Wright's Abbey-Claim Vineyard and adjacent Tony Soter's Mineral Springs Ranch. Rebecca said that Soter was attracted to this area because the wines offered "more than simple fruitiness." The Bayless-Bower Vineyard is planted to 5 clones: Pommard, Wädenswil, 114, 115 and 777.
2011 Ghost Hill Cellars Yamhill-Carlton Willamette Valley Pinot Noir More austerity in this vintage but appealing red fruits, spice, rose petal and earth notes. Very good.
2012 Ghost Hill Cellars Yamhill-Carlton Willamette Valley Pinot Noir More sweet, rich fruitiness with a note of sassafras and spice. Outstanding.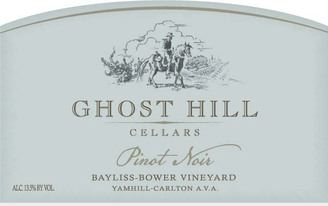 McMinnville - Brittan Vineyards
The coastal influence in the McMinnville sub-AVA makes for drier, windier conditions. Typically, the soils are shallow sedimentary and volcanic over basalt. There are 10+ vineyards, 600 acres of vineyards, and 10 wineries. The Pinot Noirs from McMinnville have a very high concentration of phenolics as well as high acidity and will age extremely well.
Robert Brittan hales from the Napa Valley where he made Cabernet Sauvignon for many years in the Stag's Leap District. He has found it considerably more challenging vinifying Pinot Noir in Oregon. He chose his 128- acre site in McMinnville because it was challenging and had the potential for producing distinctive wines. Brittan replanted vineyards on the property and added vines and now has 25 acres planted to Pinot Noir, Chardonnay and Rhone varieties. The vineyard is on the northern edge of the Van Duzer Corridor so although it is fairly windy, it is less windy and rainy than the Eola-Amity Hills and is drier and cooler than McMinnville in general. There are 5 to 6 soil types on the property with variable soil depth. A Balsalt Block Pinot Noir is sourced from parts of the vineyard with the largest concentration of sub-marine basalt and a Gestalt Block Pinot Noir from originates from primarily shallower soils.
2011 Brittan Vineyards Basalt Block Willamette Valley Pinot Noir From a cool vintage with a long maturation period. Bright red and black fruits with fine tannins. Very bright and juicy. Outstanding.
2012 Brittan Vineyards Basalt Block Willamette Valley Pinot Noir A warmer, shorter vintage with no rainfall during the summer. Less fruitier and more earthy, yet possessing richness. Outstanding.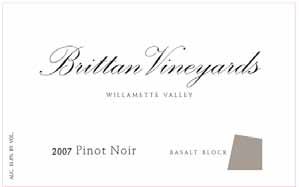 Eola-Amity Hills - Evening Land Vineyards
The Eola-Amity Hills sub-AVA is located in the Van Duzer Corridor so it receives cooling ocean winds, (it is said to be "windy as hell."). There are many soil types but predominantly Nekia (shallow, volcanic) and Jory. There are 52 vineyards, 1,300+ acres of vineyards, and 27 wineries.
Rajat Parr has only been involved with Evening Land Vineyards for only 3 weeks so his remarks were brief. Evening Land wines are crafted by Isabelle Meuniere with consulting winemaker from Burgundy, Dominque Lafon. The wines are from the Seven Springs Vineyard, an east-facing site with Nekia volcanic soils at 300 to 600 feet elevation. Nekia soils are shallower than the volcanic Jory soils in the Dundee Hills. The 120-acre vineyard was first planted in the 1980s, and is located on the east side of the sub-AVA which is less cool and windy than the west side. Although Parr has been a proponent of whole cluster inclusion in fermentation, Lafon is not a fan of stems so there are no stems in the two wines presented at the seminar.
2011 Evening Land Vineyards Seven Springs Estate Eola-Amity Hills Pinot Noir A blend of the entire vineyard picked at 19º-20º Brix in mid-October. No tasting notes.
2009 Evening Land Vineyards La Source Seven Springs Estate Eola-Amity Hills Pinot Noir Picked 5 weeks earlier than the 2011 wines at 25º-26º Brix. Sourced from the heart of the vineyard and aged in 20% new French oak. No tasting notes.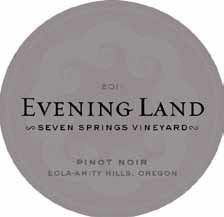 Seminar: Burgundy & Oregon: Parallels in Latitudes, Part II
Moderator: Katherine Cole, Journalist and Author, Oregon
Featured Burgundy Producer Frédéric Barnier Mason Louis Jadot.
Featured Vineyard Beaune Clos des Ursules
Maison Louis Jadot was founded in 1859 when Louis Henry Denis Jadot set up as a merchant. Vineyard purchases started with Beaune Clos des Ursules which is featured in the tasting here.
The area covered by the Beaune appellation is vast and complex. The northernmost point is marked by the Maconnets and the southernmost point by Les Boucherottes (see map). There are over 400 hectares of planted vineyards, of which 337 hectares are first growths. There are no Grand Cru vineyards but 36 Premier Crus. Red wines account for 90% of total annual production.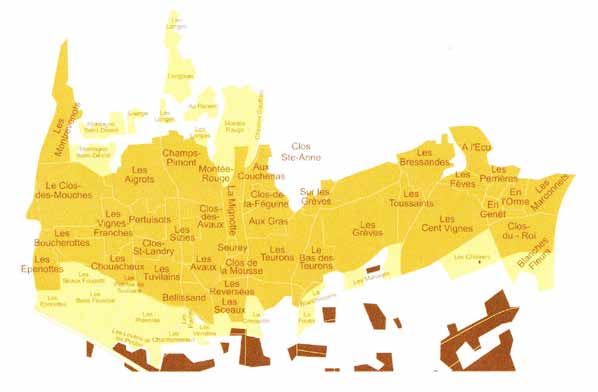 Beaune's terroirs are based on sedimentary bedrock laid down on the floor of a great ocean during the Mesozoic era (Jurassic period some 150 to 160 million years ago), and more recent strata formed during the Quaternary period (the last great ice age). The southern part, where the Clos des Ursules is located, is a watershed zone with numerous alluvial fans (loam soils with layers of clay on the surface). The vineyards are on steep slopes of up to 20% to the North and gentler slopes to the South. Most of the vineyards face east-southeast.
The red wines from the central and southern parts are powerful, tannic and deeply colored while those from the northern area are generally less intensely colored with softer fruit flavors.
The Clos des Ursules is a walled portion of the Beaune 1er Cru Vignes Franches, an area whose vineyards were exempt from taxes during the middle ages. It owes its name to the religious order of Saint Ursula which was created in France in 1586. The nuns of this order arrived in Beaune in 1626 and based themselves in the building that is now the town hall. The order acquired the Clos in 1676 when it was designated as follows: 'A walled vineyard within the boundaries of Beaune.' Louis Henry Jadot bought the vineyard in 1826 and it has been owned continuously since by the Jadot family.
The most recent plantings date to the mid-1970s, but more than half the vines were planted during the 1950s. With a total area of little more than 2 hectares, this Clos produces structured wines which are firm and rich. The aromas are complex and slightly earthy and the finish long and lush. Tannins are firm. These wines age extremely well over the course of 10 to 15 years with proper cellar conditions.
Fermentation is carried out naturally in open tanks without stems. The wine usually undergoes a fairly long fermentation of 25 to 33 days to extract color, tannins and aromas. The different lots are vinified separately and then aged in oak barrels for 15 to 18 months. Blending is performed at the end of vinification.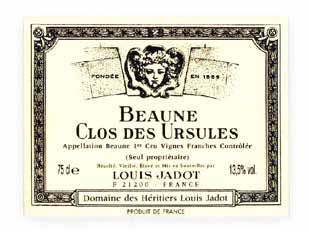 My general impressions of the wines were as follows. All wines had notable acidity and firm, prominent tannins. The red fruit was delicate in comparison to the tannins and acidity, with both of the latter standing out. Some wines had green notes. The 1985, 2005 and 2010 wines had the best balance. The Clos des Ursules wines are definitely food wines and not terribly appealing on their own in lesser vintages, at least at a relatively young age. The 1985 vintage wine, now nearly 30 years old, revealed the marvelous ability of these wines to age, and showed that these wines need time.
1985 Louis Jadot Beaune Clos des Ursules A very charming, well-preserved wine with moderately deep color, aromas and flavors of earthy cherry, brown spice and mocha.
1990 Louis Jadot Beaune Clos des Ursules Slightly vegetal in a good way with a long, lush finish showing a hint of baking spices.
1997 Louis Jadot Beaune Clos des Ursules A rugged wine with dominant tannins, very delicate red cherry and berry fruits, and an underlying green streak.
2003 Louis Jadot Beaune Clos des Ursules Very dusty and rustic with secondary characters of old book, caramel and chocolate truffle. Plenty of tannin. Seems to have aged faster than other wines.
2005 Louis Jadot Beaune Clos des Ursules An impressive wine with good richness of black cherry fruit. The fruits are riper and darker in this vintage with noticeable mid palate fullness and length. The firm tannic backbone is well proportioned.
2008 Louis Jadot Beaune Clos des Ursules Similar in flavor profile to the 2005 vintage but leaner with more tannin and prominent citrus-driven acidity.
2009 Louis Jadot Beaune Clos des Ursules Lean and green, reserved and tight, with muscular tannins overwhelming the submerged fruit. Needs time.
2010 Louis Jadot Beaune Clos des Ursules Remarkably forward with a plethora of pretty cherry fruit underlain with spice. Very fresh with balanced tannins, bright acidity, and remarkable length on the generous finish.
A Maison Louis Jadot Burgundy Dinner was held Saturday night, March 1, in the Miro Restaurant Wine Cellar at Bacara Resort.
Seminar: The Insider Wines of the Cote d'Or
Presenter: Donald P. Kinnan, CSS, CWE, Secretary of Society of Wine Educators
I did not attend this seminar but it was recorded for later posting on Grape Radio (www.graperadio.com) and the World of Pinot Noir website (www.wopn.com). This was a 3-hour presentation focusing on the "insider wines" of the Cote d'Or. The insider wines are often sought out by knowledgeable Burgundy enthusiasts who enjoy their value and pleasure, while the more expensive, high-profile wines are saved for special occasions. In addition, there was a detailed discussion of the mountain of Corton, location of the Cote d'Or's greatest expanse of Grand Cru vineyard acreage.
The 12 wines presented and discussed:
2012 Domaine Collotte Marsannay Rose
2010 Domaine Bruno Clair Marsannay "Les Longeroies"
2010 Domaine Pierre Gelin Fixin "Clos Napoleon"
2010 Domaine Jean-Marc et Hugues Pavelot Pernand-Vergelesses
2010 Domaine Simon Bize Savigny-Les-Beaune "Les Narbontons"
2010 Domaine Mongeard-Mugneret Savigny-Les-Beaune "Les Narbontons"
2010 Domaine Jean et Giles Lafouge Auxey-Duresses "La Chapelle"
2010 Domaine Philippe Colin Chassagne-Montrachet "Les Chenes"
2010 Domaine Vincent Girardin Santenay "Les Gravieres"
2006 Domaine Vincent Girardin Corton-Charlemagne
2005 Domaine D'Ardhuy Corton "Clos due Roi"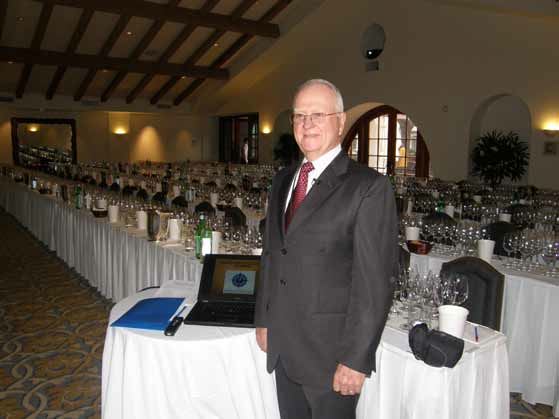 Eric Anderson and I recorded a conversation with Donald about his career and his personal insight into Burgundy. This will also appear on Grape Radio and the World of Pinot Noir website.
Seminar: Hollywood & The Vine
Moderator: Sara Schneider, Wine Editor for Sunset Magazine
Panelists: Frank Ostini, Hitching Post II Restaurant & Hitching Post Wines,
Chris Burroughs, Tasting Room at Sanford Winery in Movie 'Sideways'
DLynn Proctor, Penfolds Winemaking Ambassador
Brian McClintic MS, Les Marchands Wine Bar & Merchant
This was a highly entertaining seminar that was very informative, yet filled with laughs because the panel was very animated and unpretentious. Both Proctor and McClintic appeared in the documentary film 'Somm,' and they spoke about their experience. Burroughs was in the popular film 'Sideways,' and Ostini owns the restaurant that was a central focus of the film and where several scenes were shot. They provided considerable insight into the making of the film and the impact it had on Santa Barbara County wineries. Sara Schneider did a marvelous job harnessing the lively panel.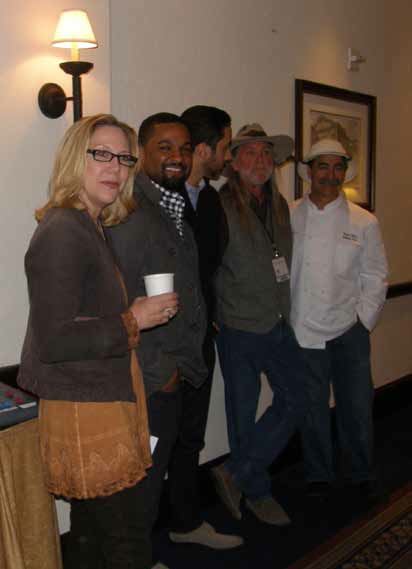 The most interesting takeaway from this seminar was an outline provided that detailed how potential master sommelier candidates evaluate wines blind to arrive at the final determination of wines including grape variety, country and region of origin, old world versus new world, age of wine, and vintage. Proctor and McClintic were presented with wines blind and went through the outline in the manner they would follow to identify a wine. They didn't guess all the wines, but were remarkably close on ones they missed. One pearl I learned is that the sensation of sweetness on the palate in a wine comes from three sources: ripeness of fruit, alcohol and oak. Here is the outline: