Lost Canyon Winery is Consistently Fine
Lost Canyon Winery has true gargariste origins. Started in a garage in the Montclair Hills of California in 1978, Jack States and Randy Keworth eventually teamed up with Bob Riskin and the Lost Canyon Winery was bonded in 2001. Now the urban winery is located in a renovated vintage 1900s warehouse on the San Francisco Bay waterfront south of Jack London Square in Oakland. They are one of fifteen wineries now part of the East Bay Vintner's Alliance. The state-of-the-art winery and tasting room is contemporary and comfortable. I have been a fan since the first release in 2001. The wines have shown excellent consistency from vintage to vintage. The owners have long-term contracts with the same three Pinot Noir vineyards which contributes to the uniformity.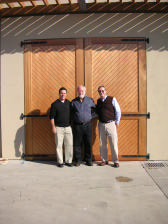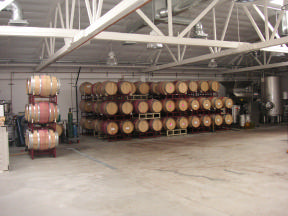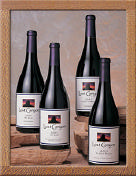 2005 Lost Canyon Dutton Ranch Morelli Vineyard Russian River Valley
14.1% alc., $40. The vineyard is located in Green Valley. Clones are 115, Pommard and Beringer. · The wine offers an aromatic charge of cherries, spice, exotic woods and floral notes. Flavors of red and black berries, tart cherries and herbs are satisfying. A hint of oak runs through from start to finish. The texture is soft and the wine is easy to drink. Similar to the Saralee's, but more shallow and possessing less punch on the backend.
2005 Lost Canyon Los Brisas Vineyard Los Carneros Pinot Noir
14.7% alc., $40. Clones 115 and UCD 18 are used from this vineyard farmed by Francis Mahoney. · A very classy nose of ripe Bing cherry and cola. The core of cherry fruit is enhanced with oak and herbs. Great persistence and suppleness in the mouth. Good acidity carries the finish. Brilliantly crafted, you're the one that I want.
2005 Lost Canyon Saralee's Vineyard Russian River Valley Pinot Noir
14.0% alc., $40. Dijon clones 115 and 777. · A rich, full wine that is still light on its feet. A demure, but complex nose of cassis, raspberries, cola and bittersweet chocolate. The varietal flavors are well-presented and the tannins are well-concealed. A metrosexual wine - masculine with a feminine side.
Lost Canyon Winery is located at 2102 Dennison St., Suite A, Oakland. The tasting room is open Friday through Sunday from 1-6 PM. The wines are available through a mailing list and on the website at www.lostcanyonwinery.com. 510-534-9314.