Bien Nacido Redux
Last summer the Crew spent a day at Bien Nacido Vineyard in the Santa Maria Valley as part of a Pinot Camp that I organized. Several attendees were so impressed by the wines that they decided to organize dinner and tasting of Bien Nacido wines at Mr Stox Restaurant in Anaheim, California, Nicholas Miller, who conducts marketing and public relations for Bien Nacido Vineyard, attended and offered considerable insight into the wines presented that night. Many of the wines were from a "Bien Nacido Vineyards Collector's Case" that was offered in 2006. Each year, a Collector's Case with different selections will be offered from the Bien Nacido Vineyard. The Bien Nacido crew pictured below includes winemakers Jeff Wilkes (blue hat, J. Wilkes), Greg Linn (wineglass in hand, Ambullneo), and Jeff White (red hat, Ovene); James Ontiveros (gray hat, Director of Marketing) and Nicholas Miller (white Stetson)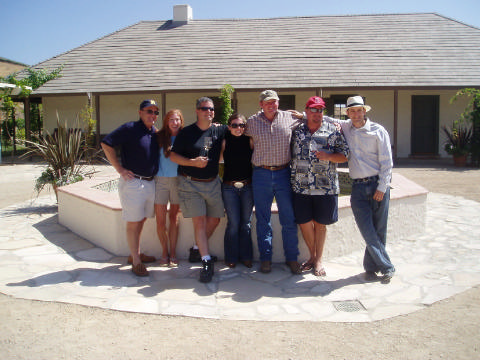 Bien Nacido (Spanish for "Born Well") Vineyard of Rancho Tepusquet is one of the Central Coast's premier sources for Chardonnay (over 300 acres) and Pinot Noir (over 250 acres). A number of other promising varietals are planted as well including Viognier, Pinot Blanc, Pinot Gris, Rousanne, Merlot, Barbera and Nebbiolo. The total acreage is fluid as old vines dating to the 1970s are removed and replanted. Maximum vineyard size is 800 acres. The vineyard is a few miles east of the town of Santa Maria and lies in a valley that is open to the Pacific Ocean to the west. There are regular summertime afternoon cool breezes from the ocean. Since the vineyard lies at 34 degrees latitude, it receives considerable intense sunlight from the directly overhead sun. All of the vineyard is allocated to small producers whose blocks are farmed according to their standards. The grape production is sold to customers by charging a flat rate for the block or rows, so the winemakers can crop their vines to the volume they prefer. Some Bien Nacido customers have sourced the same rows of grapes for over 20 years and designate their particular block on the bottle. The entire Bien Nacido Vineyard client list is on the website at www.biennacidovineyards.com.

*It is difficult to make any generalizations about specific aromatic and flavor characteristics of Pinot Noir from Bien Nacido Vineyard because of the many different clones, sites, and winemaking styles. Some have talked of a pepper note that often runs through, black or white, which I have noted on occasion.
I am certainly no expert on Syrah, but among the four that were presented, the 2003 Ojai Vineyard Bien Nacido Vineyards Syrah and the 2004 Ambullneo Santa Maria Howling Syrah (85% Bien Nacido Vineyards) were clearly my favorites. We finished off the evening with an outrageous dessert wine, the 2003 Sine Qua Non Mr. K The Nobleman Late-Harvest Bien Nacido Vineyards Chardonnay (12.3% alc., $100).