Wally's Central Coast Wine & Food Celebration
This 4th Annual event benefiting the Michael Bonaccorsi Scholarship Fund at the University of California Davis Department of Viticulture and Enology was held recently on Sunday, August 5. Jenne Lee Bonaccorsi, who is now making the wine for Bonaccorsi Wine Company, told me the event was a big success. The final tally is not in, but close to $50,000 was raised. 20% more people attended than last year, and another 100 walk-up people were turned away. The celebration was held outdoors in a big tent on a glorious Southern California day. 54 wineries were pouring and the food was outrageously good from restaurants like Spago Beverly Hills, Pizzeria Mozza, La Brea Bakery, Campanile, Lucques/A.O.C., Literati II, Sushi Roku, Hitching Post, Hungry Cat and more.
A few Pinots stood out for me: 2005 Melville Terraces Pinot Noir, 2005 Ambullneo Rancho Ontiveros Pinot Noir, 2003 Calera Mt Harlen Mills Pinot Noir, 2005 Native 9 Santa Maria Pinot Noir, 2005 Paul Lato Solomon Hills "Suerte" Pinot Noir, 2005 Row Eleven Santa Maria Valley Pinot Noir, and the 2005 Tantara La Colline Arroyo Grande Pinot Noir.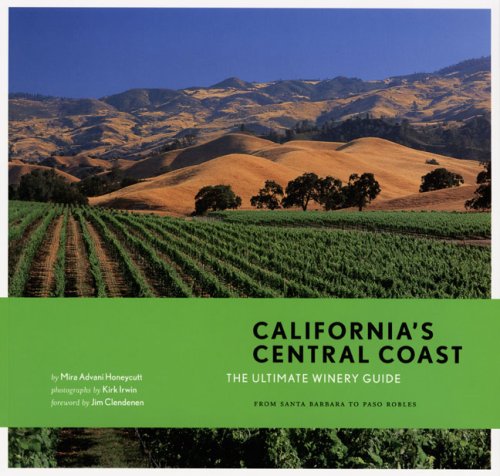 There are two new publications on Central Coast wineries that are worth a look. The Central Coast region from Santa Barbara to Paso Robles has been overlooked and in need of a comprehensive reference source.
California's Central Coast The Ultimate Winery Guide
, Mira Advani Honeycutt, photos by Kirk Irwin, forward by Jim Clendenen, paperback, 120 pp, 2007, $22.95,
www.chroniclebooks.com
. Absolutely stunning photography throughout. There is extensive coverage of 30 wineries including three regional maps showing these winery locations. A directory of all Central Coast Wineries is included. Packed with information on winery tours, the Central Coast food connection, the small towns of the Coast, and local resources, this is an impressive source of useful information. There are no wine reviews included.
The Wine Tasting Guide to California's Central Coast
, Mike O'Beirne, paperback, 296 pp., 2007, $19.95, Old Vine Publishing Company,
www.amazon.com
. 230 wineries featured. I have not seen this book as yet.