Turning "Winewards": Origins of the First Willamette Valley Plantings
"David took the risk, and we hope the reason for it is clear in every glass of Eyrie Pinot Noir"
Jason Lett
David Lett grew up on a farm in Utah, graduated with a Bachelor of Science degree from the University of Utah in 1961, and was in San Francisco waiting to begin dental school when a road trip to Napa Valley wine country led to a life-changing epiphany. David visited Souverain Cellars, one of the few California wineries producing premium still dry wines at the time. He was so inspired by the founder and winemaker at Souverain, J. Leland "Lee" Stewart, he would later remark, "I turned winewards." He was offered a job at the winery, but his parents encouraged him to seek more education instead, and he enrolled in a two-year enology and viticulture course at the University of California at Davis.
When David was at Davis, he fell in love with Pinot Noir at a time in America when almost no one was familiar with the variety that was grown almost exclusively in the Burgundy region of northern France. Despite this, he was determined to pursue options for growing and producing Pinot Noir, and became convinced that the unique climate of Oregon's Willamette Valley was potentially ideal for growing Pinot Noir. This determination was hatched despite the sentiment of the time that Oregon was not suitable for the successful cultivation of European wine grapes.
After graduating from Davis in 1964, David traveled to northern Europe, including Burgundy, talking to vintners, winegrowers and viticulture professors about cool climate viticulture. David's hand written notes while at Davis indicate he had studied closely the writings in the 1800s of the French ampelographer, Victor Pulliat, who took his inspiration from Dr. Jules Guyot, a French physician and agronomist who is best known for his work in viticulture. Their writings revealed the important notion that wine grapes should be matched to climate.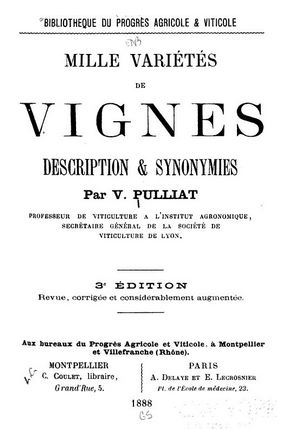 Pulliat classified the principal Vitis vinifera grape varieties into five groups according to the order in which they ripened in comparison to the Chasseles grape. David applied the principles of ripening date classification outlined by Pulliat in his choice of plantings for the Willamette Valley of Oregon. Mary Boyle, in The Quarterly Review of Wines (summer 1996), quotes David, "After my year of studying Burgundian varieties in France, I was sure the marginal climate of the Willamette Valley was the perfect place to cultivate them in the United States." He proposed, "The secret is that where grape maturity coincides with the very end of a cool growing season, the wines made from them are the best the variety can produce."
Undoubtedly, David's thinking was also influenced by the research in this country by noted American viticulturist, Albert J. Winkler, Professor of Viticulture at Davis. Together with his student and later colleague, Maynard A. Amerine, who also became a professor at Davis, they devised a heat summation system for wine grapes. The number of "degree days" of sunshine an area received was quantified, allowing growers to determine which grape was best suited to a particular growing region. The scale, which categorized heat summations into five climate regions labeled Regions I (the coolest) through V (the warmest) for California was first published in 1944 as the Winkler Scale and updated in 1963, providing a standard directive for winegrowers in matching grape varieties to appropriate geographic areas.
David realized that the varieties Pinot Noir, Pinot Gris, Pinot Meunier, Muscat Ottonel, true Pinot Blanc and Chardonnay were well suited to Region I (2,500 degree days or less) climate of the Willamette Valley The Valley had long been considered too cold and wet to grow wine grapes, but vineyards planted on slopes in the rain shadow of the Coast range provided Region 1 climes similar to the Cote d'Or. Rainfall was about 40" annually but it came almost solely during the winter, with little precipitation during the growing season.
When David returned to the United States in late 1964 at the age of 25, he gathered 3,000 grape cuttings from certified vineyards in California, being careful to insure that the vines were as "clean" as possible. After traveling north to the Willamette Valley in February of the new year, he found a suitable site to lease and establish a nursery for his plantings just outside Corvallis on February 8, 1965.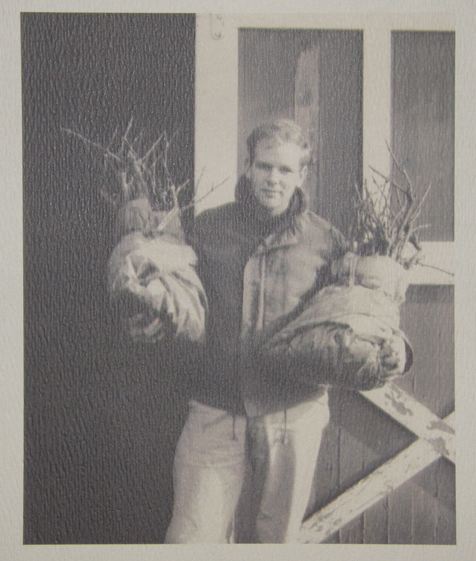 His personal journal indicated that he borrowed a tractor to plow nursery rows on February 13, noting in his journal, "Slowly I am learning to be a farmer. I hope I don't lose all my cuttings while I'm waiting to get them in the ground and all my money while I am waiting for a job." The historic photo below is from the personal collection of Diana Lett and copyright protected.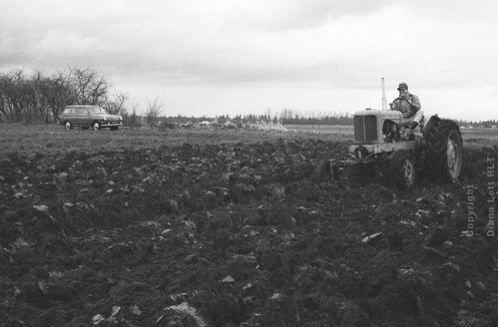 David started planting his cuttings in rows to root with his friend Jono Howe on February 22, 1965, the first plantings of Pinot Noir, Pinot Meunier and Chardonnay in the Willamette Valley, and the first Pinot Gris outside of Europe. More cuttings arrived from Davis and planting concluded about a month and a half later. Muscat Ottonel and Riesling were also planted according to David's carefully annotated journal.
After establishing his cuttings by the summer of 1966, and carefully studying soil surveys and maps, and climatological data from the Willamette Valley, David found an ideal vineyard site in the Red Hills of Dundee. The property was an abandoned prune orchard sited on a gentle 20-acre, south-facing slope, with Jory soils that retained food moisture during the summer. Field preparation and transplanting began in 1966 with the major planting consuming 1967.
Inspired by the red-tailed hawks that made their nest (eyrie; EYE-ree) in the trees at the top of the vineyard site, David, along with his new spouse, Diana, christened their new vineyard and winery The Eyrie Vineyard. Jason joked that the name would not normally be an ideal choice for a winery since few people knew what an "eyrie" was, and fewer yet could spell or pronounce the name. The photo below shows the Letts at harvest 1970.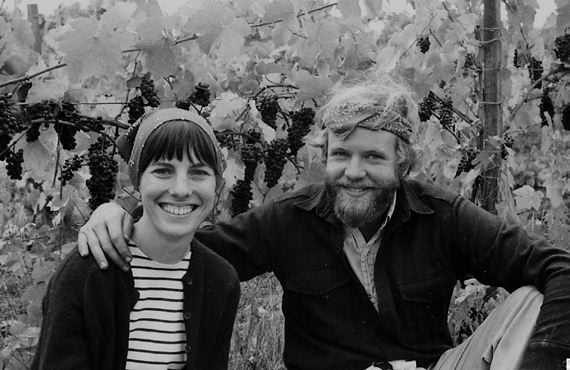 By their first vintage in 1970 (the first release of Pinot Noir was labeled "Oregon Spring Wine"), the Letts had established 8 acres, approximately half of which were Pinot Noir clones UCD 1A (Wädenswil) and UCD 18 ("Tout droit"). Pommard 5 would be added a few years later. The Pinot Gris cuttings, all 160 of them, came from Davis, and the Chardonnay from Jerry Draper's Spring Mountain Vineyard in Napa Valley (previously called the "Draper Selection," cuttings have been submitted to Davis and will be re-certified as the "Eyrie Clone" of Chardonnay). Today, 3.9 acres of the original 1966 plantings of Pinot Noir at The Eyrie Vineyard survive, making them the oldest Pinot Noir plantings in the Willamette Valley.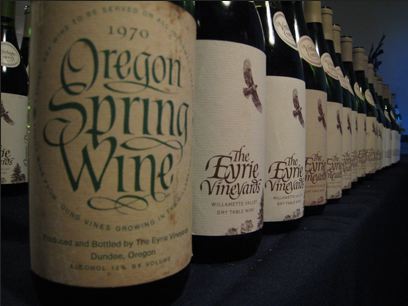 Charles Coury, who was a friend of David's, is often mentioned in historical recollections of the first planting of Pinot Noir in the Willamette Valley. Accurate records including David's personal journal indicate that Coury arrived later in 1965 than Lett, and rooted some of his own cuttings in David's established nursery plot in the spring, before finding a suitable location for his vineyard, nursery and winery in Forest Grove. Coury planted his first vineyard at Charles Coury Vineyards in 1966, and some of his original Pinot Noir plantings still survive today.