De Ponte Cellars: Burgundy-bred Winemaker Finds Solace in Dundee Hills
Like so many Californians who have traveled north to Oregon to establish a winery, Scott and Rae Ellen Baldwin had owned a walnut orchard in the Central Valley of California and lived in Carmel Valley. They bought a hazelnut orchard near Forest Grove and planted a vineyard, but once they acquired the future De Ponte ("duh pawnt") Cellars site in 1999, they sold the Forest Grove property to Apolloni Vineyards.
DePonte Cellars is a small winery located on Archery Summit Road in Dayton, Oregon, in the heart of the Dundee Hills, with Domaine Drouhin Oregon, White Rose Estate and Archery Summit wineries nearby. The estate has 20 acres of Pinot Noir (Dijon clones) and 2 acres of Melon de Bourgogne. The winery was named after Shirley Baldwin, the matriarch of the Baldwin family, whose father, Manuel de Ponte, grew wine grapes and made his own wine in California's San Joaquin Valley.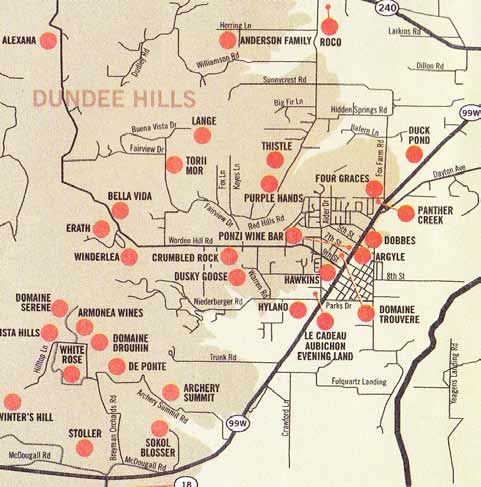 In 2007, the Baldwins bought 80 acres with an existing 6-acre Pinot Noir vineyard on Meadow Lake Road located just west of the western edge of the Yamhill-Carlton AVA. Named Lonesome Rock Ranch, a herd of steers happily roam free-range on the property, delighting in the pomace they are fed from De Ponte's winemaking process. Another 2 acres of Pinot Noir was planted here in 2010.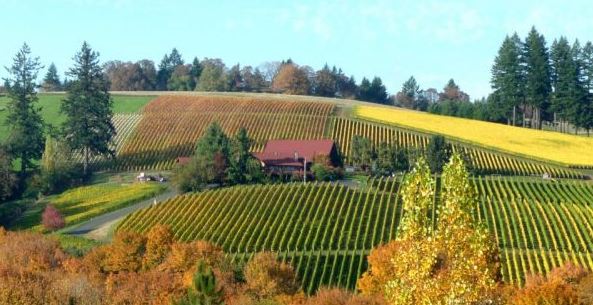 Parisian-born Isabelle Dutartre has been the head winemaker at De Ponte Cellars since the first Pinot Noir release in 2001. She has an impressive resume, having studied at the University of Dijon in Burgundy, and subsequently worked at Maison Joseph Drouhin under Laurence Jobard before she moved to Oregon in 1993 to assist the Drouhin family with the establishment of Domaine Drouhin Oregon. For five years, she flew to Oregon for harvests while working for a Burgundian cooperage firm in the south of France. With a family to raise, the travel became too much and she decided to stay in France where she found herself making wine in Bordeaux. De Ponte Cellars called a few years later and five years after joining De Ponte Cellars, she relocated along with her family permanently to the Yamhill Valley.
Dutartre also has a small boutique label, 1789 Wines, producing about 150 cases of Pinot Noir annually since 2007.
De Ponte Cellars has been under the radar for many wine enthusiasts, lacking mention in two popular books on Pinot Noir, Essential Wines and Wineries of the Pacific Northwest by Cole Danehower and Pacific Pinot Noir by John Haeger. Isabelle Dutartre is featured in Winemakers of the Willamette Valley by Vivian Perry and John Vincent
Production is 2,000 cases annually of De Ponte Cellars Pinot Noir. Melon (identical to France's Muscadet produced in the Loire Valley) is also offered, a varietal that is rarely produced in Oregon. The original growers thought they were planting Pinot Blanc grapes, but were mistaken, and De Ponte has developed a loyal following for this unique wine.
Visit the website at www.depontecellars.com for more information and a listing of the wines available. All wines are produced exclusively from the De Ponte Estate Vineyard and Lonesome Rock Ranch Vineyard.
The winery has two tasting rooms. The tasting room at the winery in the Dundee Hills is open daily from 11:00 A.M. to 5:00 P.M.. A newer tasting room opened in the summer of 2013 in Carlton inside the town's historic fire station building which dates to 1943. Named the Lonesome Rock Firehouse, the facility has an outdoor patio and seating, and hosts special events. The Firehouse tasting room is open Friday through Sunday, 12:00 P.M. to 5:00 P.M.. The Baldwin's grass-fed beef sourced from the couple's cattle ranch known as Lonesome Rock Cattle Company is sold in the Firehouse tasting room to wine club members.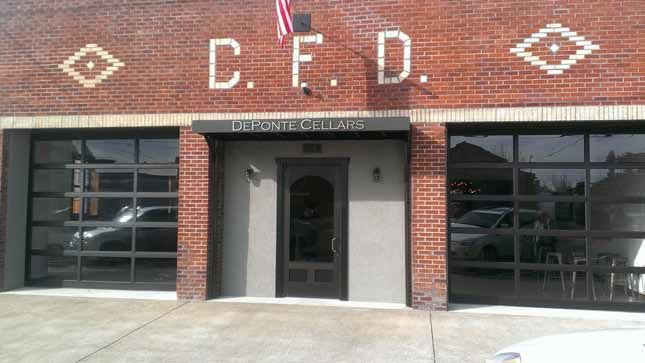 De Ponte Cellars offers for rent a three bedroom, three-and-a-half bath Vineyard Retreat with expansive views of the Dundee Hills AVA and the Cascade Mountains. Guests are offered private tastings in the De Ponte cellar and have access to a 2,000 bottle wine list of De Ponte library wines and international choices. Check it out at www.visiting360.com/client/pdx/de-ponte-cellars-estate-house/
The 2012 vintage De Ponte Cellars Pinot Noirs reflect the vintage that offered a summer filled with sunshine and warmth. The wines are ripe and well-structured, but still have the typical finesse that De Ponte wines exhibit.