Pinot Briefs —Newsletter 10.6
Bouchaine Announces Retirement of Michael Richmond & New Winemaker Michael Richmond has retired after a 45-year career, including 13 years as Winemaker and General Manager at Bouchaine Vineyards. Chris Kajani has been appointed the winery's new Winemaker and General Manager. During his illustrious career, Richmond, who co-founded Acacia Winery, has been a long time champion of Carneros Pinot Noir and Chardonnay. Kajani, has been with Saintsbury Winery since 2006 and was promoted to winemaker there in 2013.
Russian River Valley Winegrowers 2015 New Events An expanded events calendar has been announced for 2015 which includes the following four events.
Inaugural Sonoma County Barrel Auction, April 30-May 2. The first annual auction created for members of the wine trade, licensed wine sellers, restaurateurs, retailers and premium collectors. The occasion will feature a live auction of wine futures from Sonoma County's top winegrowers and winemakers as well as auxiliary events throughout the weekend. Never before, never again wines will be auctioned. Tickets can be requested for this invitation-only event online at www.Sonomawine.com/BarrelAuction.

Annual Paulée Dinner, May 2. Held at Kosta Browne Winery, this event is a modern take on the traditional Burgundian celebration. The communal style dinner brings winemakers and winegrowers together with top collectors to share their favorite bottles from their personal collections and cellars. A limited number of tickets will be available by lottery for this event. To be included on the lottery list, submit your information on RRVW Paulée website at www.rrvw.org/russian-river-valley-paulee-dinner.

Russian River Valley Passport (formerly Passport to Pinot), June 27-28. More than 30 wineries throughout the Russian River Valley will participate in this annual event. Guests will have access to many limited or early release wines. A Saturday night VIP barbecue will allow a limited number of ticket holders to mingle with the winemakers and growers over fresh, local summer fare. Tickets are available at www.rrvw.org/passport-to-pinot-2.

Single Vineyard Night, November 5 and 12. This event is held in San Francisco the first night and Sacramento the second night. The evening includes appetizers and tastings of rare, small-lot wines poured by more than 35 participating wineries and growers. Tickets are available at various levels and go on sale in July at www.rrvw.org/single-vineyard-night-2.
For a full listing of Russian River Valley Winegrowers events, visit www.rrvw.org.

In Pursuit of Balance New York Seminars Available Online Videos of the In Pursuit of Balance seminars held in New York City February 23, 2015, are available at www.inpursuitofbalance.com/#/ conversations/. Noted winemakers Ted Lemon, Josh Jensen and Jeffrey Patterson discuss "Acidity, Alcohol and Aging." The second seminar is titled, "Getting It Right: Triumphs and Failures in the Pursuit of Balance." Past conversations from previous years are also available on the website.
Sparkling Wine Movement in Oregon It is interesting that there is a resurgence in the number of producers in Oregon that are currently making sparkling wine. Through the years, a number of Oregon wineries abandoned sparkling wine production, with Argyle Winery remaining one of the mainstays. An interesting article in the online wine magazine, Palate Press, explores the new sparkling wine movement: www.palatepress/2015/01/wine/sparkling-wine-movement-pacific-northwest/. Oregon's Willamette Valley would seem like a perfect fit for sparkling wine production. According to Rollin Soles, who fashioned the superb sparkling wines at Argyle for many years said, "Oregon is, for my money, the best place outside of Champagne to grow grapes to make sparkling wine. The reason is that we are a true cool climate." The challenges have been that it is expensive to make sparkling wine, the wines have to be stored for two or four or more years before release, and sparkling wine is more difficult to vinify, requiring a special skills set. The Radiant Sparkling Wine Company was established in 2012 in Oregon to provide a mobile sparkling wine business and already has fifteen clients that include Ponzi, Raptor Ridge, Stoller, Sokol Blosser, ROCO, Anne Amie Vineyards, and Trisaeteum. The Radient Sparkling Wine Company can handle consulting, blending, bottling, storage and everything else necessary to produce sparkling wine. The future for Oregon sparkling wine is bright.
Pinot in the City New York City 50 Willamette Valley winegrowers, winemakers and winery owners will be pouring their cool climate varieties including Pinot Noir, Pinot Gris, Chardonnay and Riesling at this year's event on Tuesday, April 14, at City Winery. This is a chance to meet the faces behind the labels and help celebrate 50 years of winegrowing in the Willamette Valley. A trade and media tasting will precede the evening's consumer tasting. For details and tickets, visit www.willamettewines.com/event/pinot-in-the-city/.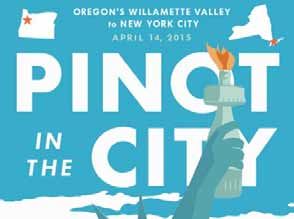 SE Wine Collective Wine Club The 10 urban winemakers in Portland belonging to the SE Wine Collective offer members two shipments each year of an ever-changing list of about twenty varietals including Pinot Noir, Chardonnay, Pinot Blanc, Gamay Noir, Chenin Blanc and Arneis. Membership also includes discounts on the SE Wine Cellective's entire wine list which features over 60 imported and local Oregon wines. For other benefits and details of membership, visit www.sewinecollective.com.
'A Year in Champagne' Film Released David Kennard presents this documentary film starring Martine Saunier who also appeared in the film, 'A Year in Burgundy.' Saunier guides the viewer through six Champagne houses in this delightful romp through this famous wine region. Watch a trailer and link to the iTunes page where the film may be obtained: www.facebook.com/ayearinchampagne?ref=hl. The officially release was March 6.
Fountaingrove District AVA Sonoma County's 17th AVA Steve Heimoff first reported in July 2014 that the Fountaingrove District AVA was coming and it is now approved. Fountaingrove is a name given to this part of eastern Sonoma County as well as the name given to a commune founded here in 1985. A winery of the same name soon followed. Fountaingrove runs from just northeast of Santa Rosa almost to the Napa County line, touching the appellations of Chalk Hill, Diamond Mountain, Sonoma Valley, Calistoga and Russian River Valley. It is classified as a Region II on the Winkler scale. Elevations range from 400' to 2,200'. Soils are primarily Franciscan bedrock under volcanic residue. Cabernet Sauvignon is the most successful variety in this region but Chardonnay and even Pinot Noir are planted.
Petaluma Gap AVA Close to Approval The day Fountain Grove District became an AVA, the Petaluma Gap Winegrowers Alliance announced that they had officially submitted a petition for AVA status. At the recent World of Pinot Noir, I was told by regional growers that the petition is on a fast track and the Petaluma Gap AVA should be approved soon.
Boonville Still Trying to Quite Vineyard Fans Last May when I was the Anderson Valley Pinot Noir Festival, there was quite a buzz in the local paper about the noisy fans used in vineyards to temper the effects of frost. I saw recently in the Ukiah Daily Journal that Anderson Valley residents are still complaining that the loud fans are robbing them of sleep. Residents claim "it rivals a helicopter's landing" in decibels, well above the 40-decibel limit that Mendocino County allows at night. A Petition for Writ of Mandate and Complaint for Declaratory or Injunctive Relief was filed by a resident in Mendocino County Superior Court, asking for the noise ordinance to be enforced. Growers claim that the county's noise ordinance does not trump the county's Right to Farm law. Stay tuned while residents try to tune out.
Brewer-Clifton Founders Sell Majority Share Wine Spectator reported recently that a group of investors led by master sommelier and wine wholesaler Ken Fredrickson has purchased a 70 percent stake in this winery located in Lompoc. Founders Greg Brewer and Steve Clifton and Crystal Clifton each now own 10 percent of the winery. Brewer-Clifton has enjoyed a stead rise in popularity as it approaches its 20th anniversary and now produces 10,000 cases annually. Brewer and Steve Clifton share the winemaking duties and Crystal Clifton directs sales and marketing.
New Alma Rosa Tasting Room Opens As most readers know, Richard Sanford's winery had to endure some tough financial challenges in recent years and the original Sanford/Alma Rosa tasting room on Santa Rosa Road was sold. Bob Zorich came to the rescue, buying Alma Rosa Winery & Vineyards in 2014 and kept Richard and Thekla Sanford at the helm. The new Alma Rosa Tasting Room opened this year in Buellton just off California Highway 101, appropriately situated at the gateway to the Sta. Rita Hills. The tasting room has a striking architecture, a testament to Sanford's sense of design, with a rustic but modern design that features reused and natural materials. The entrance patio and the commanding Rumford fireplace at the rear are the bookends of the Tasting Room, both finished with Lompoc sandstone. At the center reigns a 15 foot tall olive tree with a skylight overhead that floods the room with natural light. The Tasting Room at 181-C Industrial Way in Buellton is open daily. The 2012 Pinot Noir releases I tasted at World of Pinot Noir recently were superb. Visit www.almarosawinery.com.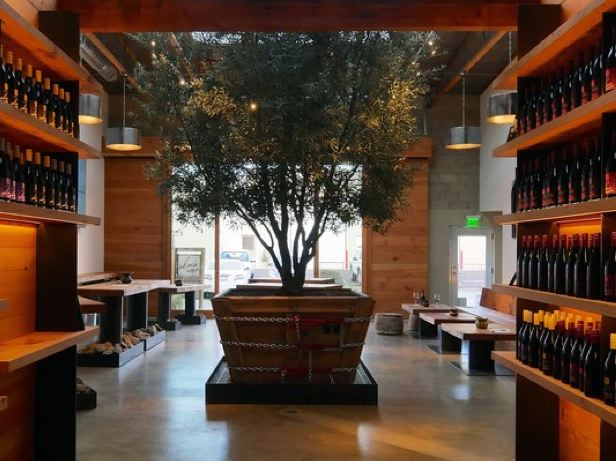 Noted Chef Proposed Winery Turned Down in Santa Rosa Celebrity chef Guy Fieri had proposed a 10,000-case winery on two-lane Willowside Road in Santa Rosa, but the Sonoma County Board of Zoning Adjustments turned down the proposal in January 2015. Residents are concerned about traffic and noise resulting from the project which would be located in a rural, residential area.
Dramatic Growth in Oregon Wine Industry Wines & Vines (January 20, 2015) reported that the state's grape crop rose in value from $63.2 million in 2010 to $128 million in 2013, with production volume increasing from 1.75 million cases in 2010 to 2.8 million cases in 2013, an increase of 58.6%. In 2013, 52,589 tons of wine grapes were processed (3,313,000 cases), of which 30,315 tons were Pinot Noir, far ahead of the second variety, Pinot Gris, at 8,754 tons. As of 2013, there were 605 wineries (up from 418 in 2010, an increase of 44.7%) and 950 growers (up from 848 in 2010). A more recent report in Wines & Vines (March 2015), put the number of Oregon wineries currently at 632, ranking them third behind California (3,913) and Washington (704). The total impact of Oregon wine was $3.35 billion in 2013.
2011 California Pinot Noir Survey Vineyard Financial Associates provides systematic and quantitative tools for independent winegrowers. They provided an interesting report on the relationship (or lack thereof) between scores, prices and appellations in January 2015. The survey restricted its focus to Pinot Noir from California that was grown during the 2011 vintage and data pulled from all Pinot Noirs reviewed by the Wine Spectator. The conclusions of the survey were that price does not predict scores at a statistically significant level and vice-versa. Sub-appellations produce higher scores and prices than do the California, Carneros or county-based appellations. The highest average points per dollar for 2011 Pinot Noir went to the Santa Lucia Highlands, followed by the Central Coast, and the worst average points per dollar went to the Sonoma Coast. The results do not stand up to high levels of statistical significance. See the survey at www.vineyardfinancialassociates/#!The-relationship-or-lack-thereof.
Three Sticks Has Stunning Hospitality Venue The oldest home in the town of Sonoma received a makeover by noted San Francisco designer Ken Fulk. Called "The Adobe," this building is the longest-occupied residential home in Sonoma. It was originally built by Salvador Vallejo (General Mariano Vallejo's brother) in 1842 and first occupied by Don Juan Castenada according to Sonoma Magazine (March/ April 2015). Three Sticks owners Bill and Eva Price bought the building in 2012. Three Sticks, a producer focusing on Pinot Noir from Durell Vineyard, was founded in 2004. Winemakers Bob Cabral and Don Van Staaveren produce premium wines with most of it allocated to a mailing list and high-end restaurants. Previously, Three Sticks had no tasting room. The new hospitality venue is located at 143 W. Spain St., and is open only by appointment. 707-996-3328.
Women for WineSense Celebrates 25 Years Women for WineSense was founded 25 years ago in the Napa Valley. The goal was to promote wine consumption in moderation, promote wine's health benefits, and counter the anti-wine sentiment of the time. The organization quickly became a noted wine education and networking organization for wine industry professionals and wine enthusiasts. Chapters in Portland, New York City, Seattle and Rochester, New York sprung up, and more chapters are opening across the US. Once Morley Safer's '60 Minutes' show aired in 2001, the Neo-Prohibition movement receded, and the focus of Women for WineSense turned to the promotion of the responsible enjoyment of wine as part of a healthy lifestyle, support for the success of women in wine, and creating networking opportunities to wine enthusiasts and industry professionals. Women for WineSense's 25th Anniversary Celebration and National Conference will be held April 30-May 2, 2015 in Napa Valley. Yes, men are invited as well. Visit www.womenforwinesense.org for information on joining the organization or attending the Celebration.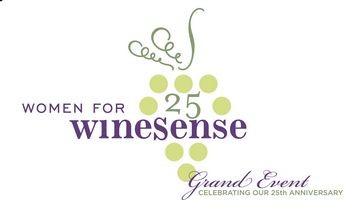 Oregon Wine Industry Honors the Pioneering Viticultural Family At the recent Awards Dinner in Portland, the Mareshes received the Founders Award. Maresh Red Hills Vineyard is the fifth oldest in Oregon. Encouraged by Dick Erath, and knowing very little about farming, Jim and Loie Maresh planted Pinot Noir on their farm 45 years ago and some of those original vines remain. Today, the vineyard has expanded to 140 acres planted to Pinot Noir, Chardonnay, Pinot Gris, Riesling and Sauvignon Blanc. A tasting room still operates on the farm in a distinctive red barn, first opened in 1979. A year later, the Mareshes daughter, Martha, married winemaker Fred Arterberry whose Arterberry label was well known. The winery closed in 1990 after Arterberry's tragic death. Ten years later, Loie Maresh passed away. Jim Arterberry Maresh, Fred and Martha's son, started his own label, Arterberry Maresh and he also makes wines for Powell Hill, a label owned by his mother and stepfather, Steven Mikami. Jim has opened his tasting room in the red barn also.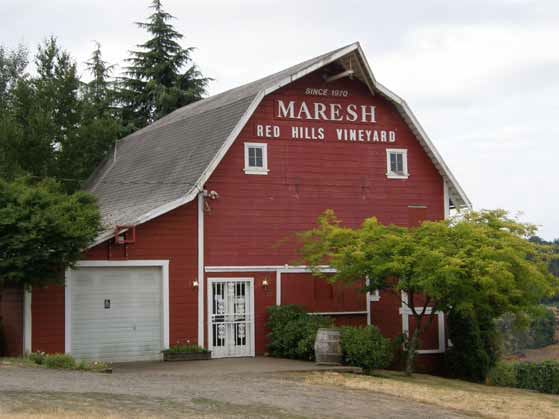 South African Winery Using Tea to Produce Preservative-free Wine Researchers at the Department of Viticulture and Oenology at Stellenbosch University found that powerful antioxidants in Rooibos (a native tea) and honeybush can preserve wine naturally without the need for sulfur dioxide and other preservatives. Audacia Winery is using Rooibos wood chips in the winemaking process instead of traditional oak. Rooibos and honeybush have no caffeine and low tannin levels making them ideal for winemaking. The Rooibos brand is internationally patented, so it will be a unique South African product. The original article appeared in Reuters, copyright 2015.