Four Off-the-Beaten Track Oregon Wineries To Visit Now
After attending this year's IPNC, I visited four off-the-beaten track Oregon wineries that I highly recommend you visit. These wineries are rather small and are located in areas that you need to make an effort to visit. That said, your effort will be well worth it, as they all produce superb, even exceptional wines and you will be welcomed graciously, especially if you tell the staff that I sent you.
Left Coast Cellars

Left Coast Cellars is located west of Salem, Oregon, in Rickreal on the 45th parallel. The 356-acre estate seems vast, with several vineyards encompassing 130 acres facing west, north and south in an amphitheater arrangement surrounding a large meadow and spring fed lake. The vineyards include the 14.6-acre The Bench, planted in 2001 to Pinot Noir (777, 667 and 114), the 10.4-acre Latitude 45 also planted in 2001 (777, 667 and 114), the 12-acre Right Bank planted in 2001 to Pommard Clone of Pinot Noir, the 9.49-acre Left Bank planted in 2003 to Chardonnay and Pinot Blanc, the 0.94-acre Syrah planted in 2005, the 13.78-acre Truffle Hill planted in 2005 to Pinot Noir (Wädenswil and Pommard), the 7.4-acre The Orchards planted in 2005 to Pinot Gris, the 22-acre Field of Dreams planted to Pinot Blanc, Viognier, Chardonnay, Pinot Meunier, and Pinot Noir (Pommard, "828," and Wädenswil) in 2007 and 2008, and the 13.92 High Acres planted to Pinot Meunier and Pinot Noir (777 and 667) in 2013. All vineyards are LIVE certified and Salmon Safe.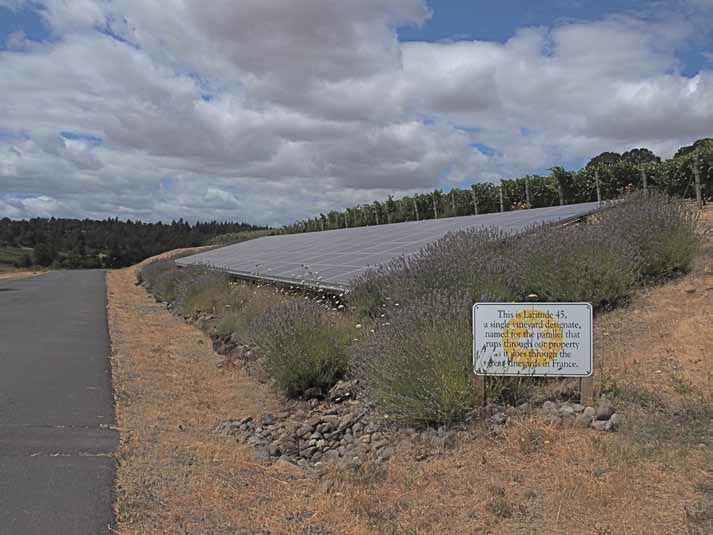 The vineyards are impressive, but it is the people that make this winery so inviting. The grounds are beautifully maintained by master gardener Bob Pfaff, the bee hives that produce estate honey are maintained by Cali Pfaff, the chef at the winery's cafe is Carolynn Andringa, the founding winemaker and viticulturist is Luke McCollom and the winemaker is Joe Wright. Joe has been a friend of mine for some time and he is one of the nicest guys you will ever run into, as well as a consummate professional winemaker. He was all smiles as he and his spouse adopted a newborn boy during the last harvest and lived to talk about it.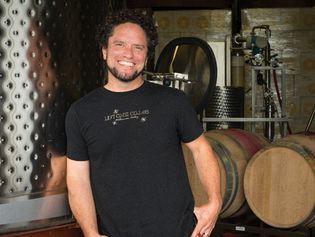 Joe is adept at both white and red wines and I have never tried a Left Coast Cellar wine that I didn't like. White wines include Pinot Gris, Chardonnay, Pinot Blanc, Pinot Noir Blanc (this white Pinot Noir is one of my favorites currently offered in Oregon) and Viognier. The Pinot Noirs include Cali's Cuvée, Latitude 45º, Right Bank, Truffle Hill (this site is home to 4 acres of European Black Truffle-inoculated hazelnut trees), and Suzanne's Estate Reserve, ranging in price from $24 to $50. Winemaker's selections are also offered to Wine Club members.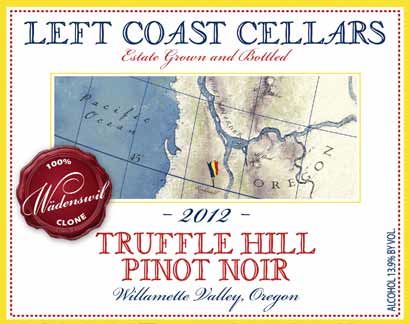 If you visit, allow plenty of time to relax in the tasting room (open daily during the summer) and sample the wines, and then dine casually inside or outside overlooking the gardens, enjoying the winery's Cafe cuisine that pairs so well with Left Coast Cellars wines. On weekends, the wood-fired pizza oven is in operation. When I visited, I had the duck egg salad sandwich made with duck eggs from ducks that live on the property and it was the best egg salad sandwich I have ever eaten bar none!
Left Coast Cellars wines are sold through the tasting room, the winery's wine clubs, and on the website at www.leftcoastcellars.com. Current production is between 25,000 and 30,000 cases.
Coeur de Terre Vineyard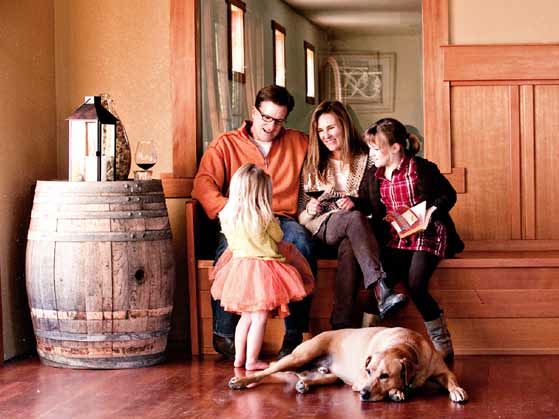 I have enjoyed Coeur de Terre Vineyard Pinot Noirs for several years and reviewed them in the PinotFile since the 2008 vintage, but this year was my first visit to the estate in McMinnville. The estate vineyard and winery are located just a short drive south of the town of McMinnville on Highway 18, but hidden back in the hills on Eagle Point Road. You have to make an effort to visit, but it is well worth your time. Scott Neal and his staff were on hand to greet me and we tasted through a number of wines.
Scott and Lisa Neal launched Coeur de Terre Vineyard with limited capital, a used tractor, and a vision of how they would develop the 50-acre estate property. Launching a winery on a bootstrap is quite daunting, but beginning in 1998, they were able to graft their own vines, develop their own vineyard, and build their own winery, as well as expand to a 100-acre estate with adjacent land acquisition.
Over 80,000 vines were hand grafted at the estate's nursery and have been the parent material for the vineyard after the initial Renelle's block planting. The vineyard was established from 1999 to 2007 and includes several Pinot Noir clones including Dijon 115, 667, 777, Pommard, Wädenswil and field blend selections. 23 acres are now planted primarily to Pinot Noir in soils of both sedimentary and volcanic origin. The Neals are dedicated to sustainable and organic viticultural practices.
The Neal's goal is to reveal the terroir of different portions of the estate vineyard. Four block-designated Pinot Noirs are offered that speak to the earth of the various distinctive plots of the vineyard. Each block-designated Pinot Noir is vinified identically to allow the land to speak.
The name, Coeur de Terre, is French for "Heart of the Earth," and was inspired by a large heart-shaped rock found during establishment of the estate vineyard.
Coeur de Terre was a featured winery at this year's IPNC, and the wine poured was the 2012 Abby's Block Reserve Willamette Valley Pinot Noir.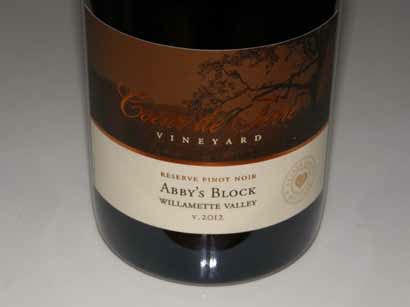 The 2012 Coeur de Terre Vineyard Pinot Noirs were reviewed in December 2014. Now, 7 months later, I sat down with Scott and re-tasted the wines.

The Coeur de Terre tasting room is housed in a comfortable, barn-like structure adjacent the winery overlooking the estate vineyard, and is open Thursday through Monday and other times by appointment. The tasting room staff are extremely knowledgeable and gracious. The wines are sold online at www.cdtvineyard.com.
Native Flora

Native Flora is a small, secluded vineyard and winery hidden high in the Dundee Hills on Warden Hill Road which is home to several more high-profile wineries such as Winderlea, Arterberry Maresh at the Red Barn, and Revana Family Vineyard. Founded in 2005 by Scott and Denise Flora, their estate sanctum features a winery, tasting areas and home rolled into one surprising structure and endeavor. As Scott notes, "When you walk into our tasting room, you have literally walked into our life." The view from the tasting area is spectacular with a 180 degree vista overlooking Ribbon Ridge, Chehalem Mountains and Yamhill-Carlton appellations.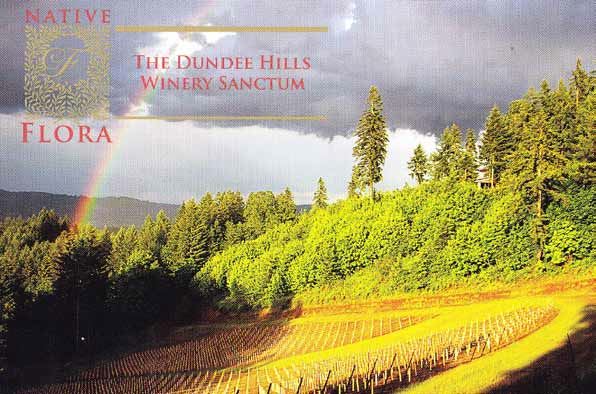 The estate consists of 33 acres with 15 acres under vine (Tuition Vineyard), including 9 clones of Pinot Noir and some Pinot Blanc. The vineyard is perched at 800 feet elevation.
The winemakers are owner Scott Flora and Patrick Reuter. Reuter, who has been with Native Flora since 2009, was educated at University of California at Davis, and gained winemaking experience in Burgundy, South Africa, New Zealand, and California, and is the winemaker and co-owner of Dominio IV Wines.
The wines are driven by a preference for balance and acid-driven character. All Pinot Noirs are 100% de-stemmed and generally aged in 15% to 18% new French oak barrels.
Scott and Denise welcomed me into their tranquil tasting room (although it was more like inviting me into their home) and here are my tasting impressions of current releases:
Intimate tastings are available by appointment only through the website at www.nativeflora.com or by phoning 503-504-1990. An attempt is made to accommodate visitors at short notice.
Phelps Creek Vineyards

In May 2015, I wrote a feature on Phelps Creek Vineyards (www.princeofpinot.com/article/1678/), so I will not reiterate all the details here. This winery is unique among Oregon wineries in that the consulting winemaker, Alexandrine Roy, is a Burgundian who crafts wines in Gevrey-Chambertain at her family's estate, Domaine Marc Roy, and since 2012 flies to Oregon three or four times a year to oversee the winemaking at the Phelps Creek estate owned by Robert Morus that is located in Hood River, Oregon. She initially was tagged to produce a special cuvée from the estate Pinot Noir vines ("Cuvée Alexandrine"), but her role expanded to include all wine production.
I have known Alexandrine, a fourth generation vigneron, for several years as she attends IPNC every year and World of Pinot Noir frequently. I greatly admire her Domaine Mark Roy wines, and have developed a fondness for the Phelps Creek Vineyards wines as well. This photo was taken at this year's IPNC by photographer Robert Holmes (you will know him at IPNC and other wine events as a sidekick to photographer Andrea Johnson and by his upbeat smile and his weird sense of deprecating humor).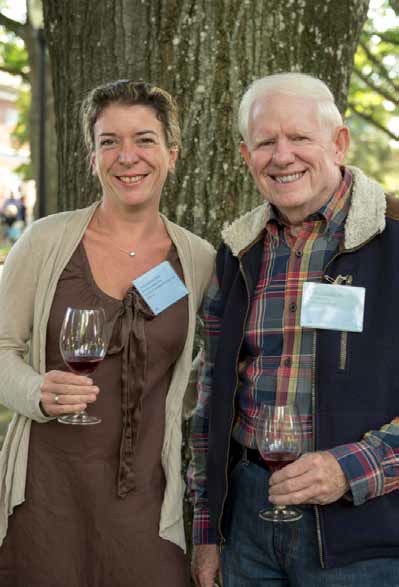 The one-hour drive east from Portland carried me along the scenic Columbia River to the Columbia Gorge winegrowing region, and I was met at the Phelps Creek Vineyards tasting room located at the Hood River Golf Course by Jon Wadman, the Regional Sales Manager. The road to the vineyards and winery is not for the faint of heart, so Jon drove me up the circuitous, unpaved road in his well-traveled vehicle and I was welcomed by several very gracious members of the Phelps Creek Vineyards team. I must say, this was one of the warmest greetings I have ever experienced on a winery visit. Enologist Bill Swain and summer vineyard ambassadors Jean-Luc LaCosse and Vanessa Banuelos spent a few hours with me as we talked wine and tasted through a number of Phelps Creek Vineyards offerings including a vertical of Cuvée Alexandrine Pinot Noir. Alexandrine had returned to Burgundy after this year's IPNC, but the crew spoke with reverence about her talents.
Phelps Creek is not an architectural homage to wine, but has a rustic charm, and with its elevated 800 to 1,200 foot location, offers expansive views of the 32-acre vineyard below and Mt. Hood in the distance (see photo below). What distinguishes the winery are the quality of the wines and the special people that make them.
The winery focuses on estate grown Pinot Noir and Chardonnay, as well as a superb Rosé and Pinot Noir Blanc, producing about 5,000 cases annually. The Fleur de Roy Columbia Gorge Rosé is among the best Oregon has to offer. No wonder the latest vintage sold out 5 weeks after release. The wine's crisp, clean vibe and juicy flavors of red cherry and watermelon were perfect with the lunch I devoured after tasting.
Both the French and United States flags fly at the estate (below).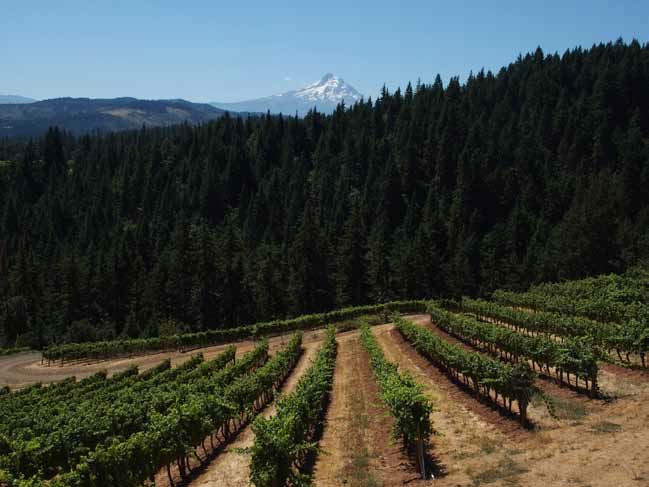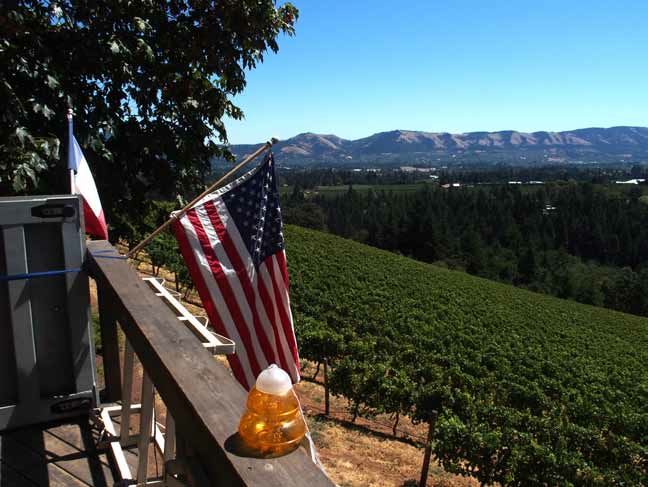 The vertical tasting of Phelps Creek Vineyards Cuvée Alexandrine was a memorable experience. I was particularly impressed by the fact that this wine was distinctly different in each vintage. I was told that Alexandrine picks special rows in the estate vineyard for this cuvée, and subsequently puts the cuvée together by tasting the barrels in the cellar, noting in her head the blend that will best offer an expression of that vintage. She doesn't take notes, arriving at a conceptual cuvée, and directs the winery crew on that basis. Truly, an extraordinary talent!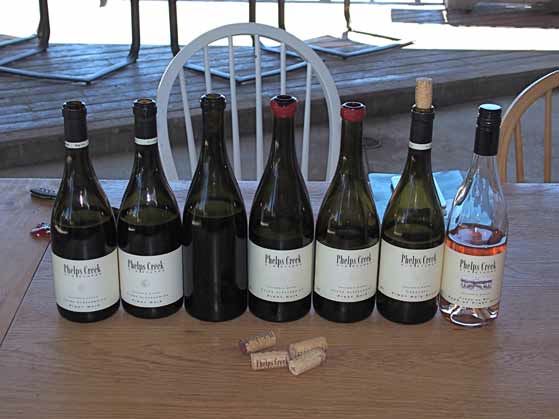 The Cuvée Alexandrine wines are mainly Pommard clone, primarily de-stemmed and fermented with indigenous yeasts.
The 2013 vintage was not tasted on this occasion but was reviewed in May 2015:
2013 Phelps Creek Vineyards Cuvée Alexandrine Columbia Gorge Pinot Noir
13.5% alc., 244 cases, $54. Pommard and Dijon 115 and 777. Harvest Brix 23.8º. Aged in 100% French oak barrels, 25% new. · Not tasted as part of vertical tasting at winery. Previous tasting revealed following comments. Moderately light reddish purple color in the glass. An earthy, savory nose with hints of black cherry, BBQ sauce and oak. Quite elegant on the palate with a deep black cherry flavor accented with dried herbs and anise-laced oak. Very charming now, but not fully expressive, and more giving the following day from a previously opened and re-corked bottle. Best to cellar a year or two. Do I dare say, "Burgundian?" Score: 92-93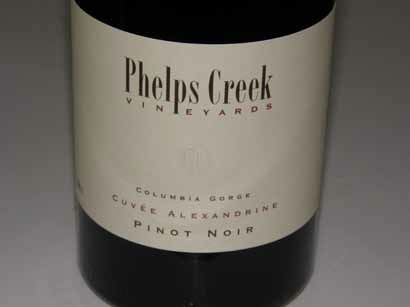 The Phelps Creek Vineyards tasting room at 1850 Country Club Road in Hood River is open daily from 11:00 p.m. to 5:00 p.m.. Bring a picnic lunch and sit on the patio. Tours of the vineyard and winery with seated tastings are available by appointment. Visit www.phelpscreekvineyards.com.