Tasting Latest Releases at Anne Amie Vineyards
The day before IPNC I visited Anne Amie Vineyards and tasted the latest releases with winemaker Thomas Houseman. Thomas is a colorful character who had a career early on as a modern dancer in New York where he learned to make beer with the dance company's lighting director. Sufficiently intrigued by fermentation and its after products, he enrolled in the enology and viticulture program at University of California at Fresno. His zeal for Pinot Noir led to winemaking stints at Husch Vineyards in the Anderson Valley, Bell Hill Winery in New Zealand, and Ponzi Vineyards in the Willamette Valley.
Pinot Noir is produced primarily from two estate vineyards: Anne Amie Estate in the Yamhill-Carlton AVA on the winery estate property, and Twelve Oaks Estate nearby in the Chehalem Mountains. A total of 120 acres is planted, although not all is in production. Farming is all LIVE Certified Sustainable. The Anne Amie Estate consists of 13.5 acres in production planted between 2001 and 2007 to Pommard and Dijon 115 clones in Willakenzie soil.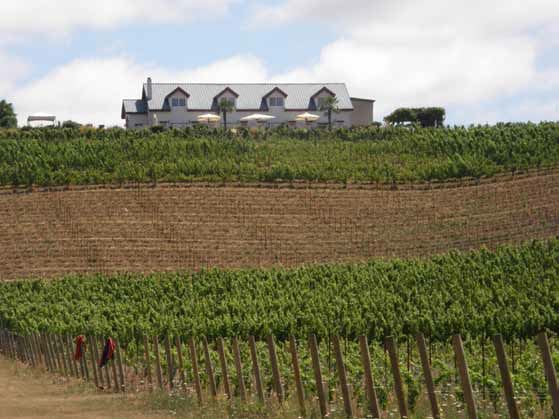 Twelve Oaks Estate is in a cooler location than the Anne Amie Estate Vineyard and is divided into five smaller vineyards or blocks. Plantings include Pinot Noir, Chardonnay, Pinot Blanc and Pinot Gris. This estate vineyard was planted between 2000 and 2007 and includes Dijon 113, 114, 667, 777, "828," Wädenswil and Pommard.
2013 was the last vintage that fruit was sourced and beginning with the 2014 vintage, all wines at Anne Amie Vineyards will be made with estate fruit.
Anne Amie Vineyards wines include the entry level Cuvée A Wines, the Classic Wines and the Reserve Wines. Only Classic and Reserve wines are reviewed here. All wines are bottled under screwcap closure.
Thomas told me that the 2012 vintage produced the most concentrated fruit ever. The warm but never hot growing season (100+ days without rain) led to small, intensely flavored clusters (less than 50% of normal size). The wines had so much structure that whole cluster was reigned in from the usual 5% to 20% amount used during vinification. Thomas noted, "The dream vintage combination of a low natural crop load, a warm dry summer, minimal disease pressure, and perfectly ripened fruit came true, with only one downside - there is not enough wine." My tasting impressions confirm that these are darkly colored, highly hedonistic, luscious and densely fruited Pinot Noirs, yet they retain good vibrancy and balance.
The 2013 vintage was another story. Very early bud break and decent crop set was evident until a window of rain and cool temperatures set in leading to uneven berry sizes in the clusters. The result was balanced crop loads of 1.5 to 2 tons per acre. Summer was warm and dry and optimism ran high until around September 11 when rain showed up on the 10-day forecasts. By September 16, a typhoon was predicted. Grapes were picked before and during an extended warm period after the downpour resulting in essentially three harvests: warm and early, cool and damp, and warm and late.

A side note. On the Thursday evening before IPNC, a number of special dinners are held throughout the Willamette Valley which are separate from the IPNC event but have become a tradition. This year I attended the Counter Culture event at Anne Amie Vineyards which is a celebration of urban street food and wine. This is a casual, walk-around affair on the winery's property which offers entertainment as well as superb food and wines from some of the participating wineries at this year's IPNC. Photo below courtesy of Andrea Johnson Photography