Lachini Vineyards Offers Pinot Noir Worth Coveting
This family owned winery was established in 1998 by Ronald and Marianne Lachini. The 45-acre (32.25 acres planted to Pinot Noir and a small amount of Chardonnay), dry and biodynamically-farmed Lachini Estate Vineyard is located in Newberg, Oregon, in the Chehalem Mountains AVA. Vineyard planting began in 1999 with 5 acres of Pinot Noir, with subsequent plantings from 2000 to 2007. In addition, the winery sources fruit from a selected group of exceptional vineyards that share similar holistic farming practices.
The estate vineyard rises from 250 to 450 feet with south and southwest exposures and is composed of distinct blocks identified by varying soil depths, and clones: East (Pommard), Middle (Dijon 113, 114, 115, 667 and 777), West (Wädenswil, "828," 113, 777 and Pommard), and Lower West (113, 115, 777). Soils are Willakenzie series (sandy, silty loam over broken basalt). Vineyard spacing is 4' x 6' on VSP trellis (roughly 1700 vines per acre).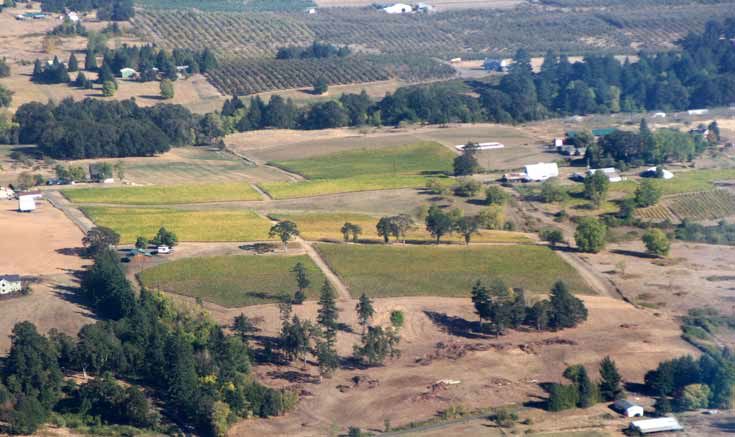 Vineyard manager Ezequiel Arcos and winemakers Matthieu Gille and Ron Lachini work to produce Pinot Noirs that have the structure and balance for both early and long-term enjoyment.. Current winemaking features whole cluster and native fermentations and 100% French oak aging.
Since the first release in 2001, the Pinot Noirs have consistently rated 90 or above by many of the major wine publications. Total case production is 4,500 to 5,600 cases per year that includes Chardonnay, Cabernet Sauvignon (Walla Walla), Pinot Gris, Pinot Port and Muscat Canelli.
The winery and tasting room is located at 258 N. Kutch Street in Carlton, and a second tasting room is located in Woodinville, Washington. The website is www.lachinivineyards.com. The wines are primarily sold through the winery's wine clubs, a mailing list, the tasting rooms and the web store.
The wines offered for review were all exceptional. In the 2013 vintage at the estate vineyard, a majority of the fruit was harvested before the heavy September rains. The 2013 vintage in the Sonoma Coast was even with little to no rain or heat spikes.