Oregon Pinot Briefs —Newsletter 10.16
2015 ¡Salud! Celebrating 24 years of vineyard worker healthcare with the ¡Salud! Cuvée Tasting and Big Board Auction on Friday, November 13 at Ponzi Vineyards and the Dinner and Auction Gala on Saturday, November 14, at The Allison Inn & Spa. Join 45 of Oregon's most sought after wineries as they debut the 2014 vintage and uncork their ¡Salud! Cuvées that are crafted exclusively for this event that benefits Oregon's seasonal vineyard workers and their families. Tickets are now for sale online at www.saludauction.org.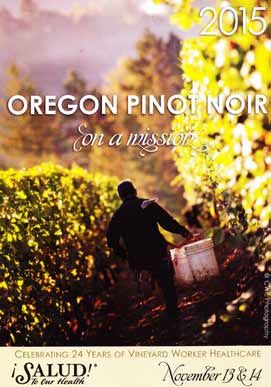 2016 Oregon Chardonnay Celebration The Oregon Chardonnay Symposium formed in 2011 and subsequently joined forces with the International Pinot Noir Celebration to create one of the largest single varietal tastings in the state of Oregon. The 2016 Oregon Chardonnay Celebration will be held Saturday, February 27, at The Allison Inn and Spa in Newberg, Oregon. For information, visit www.ipnc.org.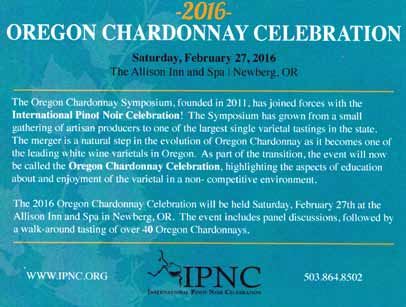 25th Annual Oregon Grape Stomp Championship & Harvest Celebration Form a team of two (stomper and swabbie) and compete for the title and earn a trip to compete in the World Championship Grape Stomp in California. The event is held September 19 and 20 from 11:00 a.m. to 6:00 p.m. at Willamette Valley Vineyards. Get in the spirit and come dressed up in costume. For information or to signup, call 503-588-9463 or email info@wvv.com.
Winemaker Tony Wynders Celebrated at Panther Creek Cellars Bacchus Capital Management, the owners of Panther Creek Cellars, held a celebration honoring Tony Rynders and the revival of the Panther Creek Cellars at a Panther Creek-themed luncheon in Portland in July 2015. Rynders is well known as the former winemaker at Domaine Serene in the Dundee Hills. He built production at Domaine Serene from 2,000 cases to 35,000 cases in his ten year stint there. Upon leaving Domaine Serene, he launched his own brand, Tendril Wine Cellars, handled custom crush clients, and joined Panther Creek Cellars in April 2013.
2014 was Record-Breaking Year for Oregon Wine Industry As reported in The Register- Guard (August 19, 2015) and in the Oregon Vineyard and Winery Census Report, overall wine production increased by 39 percent in 2014, to 78,000 tons, with the majority of the increase coming from higher yields (statewide average was 3.20 tons per acre), and an expansion of planted grapevine acreage by 14%. 2015 was the third year in a row that Oregon's wine industry reported double-digit gains in production. In 2014, sales of Oregon wine outpaced the U.S. wine industry as a whole in growth, with sales increasing by 7 percent compared to an industry average of 4 percent. The number of vineyard operations in Oregon increased by 8 percent to 1,027 in 2014, topping 1,000 for the first time. Planted acreage increased 14 percent from 2013, to 27,390. Total sales increased 14 percent, to $430 million in 2014. Pinot Noir is the most popular grape with 17,146 acres planted or 63 percent of the total acreage, and 45,239 tons produced, amounting to 60% of the state's wine grape crop. While southern Willamette Valley lags behind the northern Willamette Valley and Rogue Valley in total production, the prices that the southern region commands for Pinot Noir, Pinot Gris and White Riesling grapes are the highest in the state.
McMinnville is an Emerging Epicenter of Wine & Tourism in the Willamette Valley This small town of 35,000 is rapidly becoming Willamette Valley's top tourist draw because of the influx of wineries, tasting rooms, and restaurants. For years, McMinnville was a sleepy college town well-known as the home to Linfield College. The town now has 34 unique restaurants, and 17 tasting rooms and urban wineries in just 14 blocks. There are also 7 breweries and tap rooms. The vibe has led to a promotional website, www.tastemac.com, where you can review the town's entertainment options. Well-known Pinot Noir producers with a home in McMinnville include Brittan Vineyards, Domino IV, Elizabeth Chambers Cellar, The Eyrie Vineyards, Lumos Wine Company, Matello Wines & Goodfellow Family Cellars, R. Stuart & Co., Willamette Valley Vineyards, and Winderlea. A wine retailer in McMinnville, Woodard Wines, offers educational tastings and sales of local wines. McMinnville is home to a number of B&Bs, hotels and motels that can be viewed on the website, www.downtownmcminnville.com/stay. The hotels remain woefully outdated. The town could really use a nice Marriott hotel. The newest downtown addition to McMinnville is KAOS, an eclectic Oregon wine village. Located on historic 3rd Street, this project is the idea of Bob Emrick, a long time resident of McMinnville, and Dustin Wyant, one of the founders of The Inn at Red Hills and a partner in Recipe restaurant in Newberg. KOAS offers The Barberry, serving wine country cuisine at lunch and dinner indoors and in the Bar and Back Patio, the 1882 Grille, honoring the year that McMinnville was incorporated as a city, offering casual fare such as wood-fired pizza, salads and burgers along with signature drinks and tap beers, and The Oregon Wine Village, offering wines from 15+ boutique Oregon wineries, a wine club, wine and food pairing meals at lunch and dinner with food from The Barbary kitchen, and custom group tastings and special events. Visit www.kaosmac.com.
Amelie Robert Climate Update Ernie Pink, "recovering accountant" and now owner and winemaker at Amalie Robert Estate in the Willamette Valley community of Dallas, writes a periodic Climate Update (Amalie Robert Estate Farming Blog, aka FLOG) online which he sends out to subscribers. He goes into great detail about Oregon climate each vintage accompanied by beautiful photos.I can recommend the read highly. In the latest 2015 Mid-August Climate Update, he calls the 2015 vintage, "Hell-bent for leather crop," and bemoans he will have to determine how to thin the crop. He presented an interesting graph of the Year to Date August Degree Day Comparison. Amalie Robert has logged a growing season accumulation of 1,710 degree days. By comparison, the 2010 and 2011 vintages accumulated less than 1800 degree days for the entire growing season. 2015 is on pace to eclipse the warmest vintages since 2003. Follow this link for Amalie Robert Estate FLOG (Farming bLOG): www.amalierobert.blogspot.com.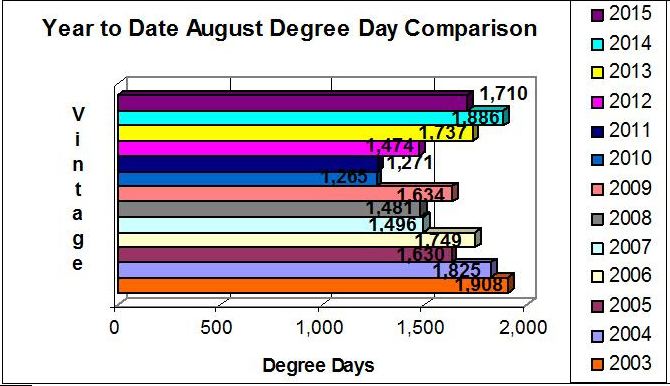 Oregon Wine Industry By The Numbers (Source: "Clink! A Brief History of Wine in Oregon, editor Enid Spitz). I am not sure what year these statistics were compiled although I believe them to be fairly recent.
AVAs: 17
Varietals: 72
Percentage of vineyards by acreage certified sustainable: 47
Producing vineyard acres: 24,500
LIVE certified vineyard acres: 7,311
Demeter® Certified Biodynamic® vineyard acres: 1,000
USDA organic vineyard acres: 1,409
Certified Salmon Safe vineyard acres: about 6,300
Wineries: about 545
Wine industry value: 2.7 billion dollars
Jobs in Oregon's wine industry: 13,500
Linfield College Wine History Archives In 2011, Linfield College established the Oregon Wine History Archive (OWHA) to preserve and document the Oregon wine industry. Wine organizations represented in OWHA include Erath Winery, Ponzi Vineyards, Amity Vineyards, WillaKenzie Estate, Sokol Blosser Winery, the IPNC, the Oregon Wine Board and Oregon Pinot Camp. Students, researchers and wine aficionados all will find items of interest and importance. The collections are growing and more are being added as wine history continues to be made. For questions or appointments, contact archivist Rachael Woody at rwoody@linfield.edu or 503-883-2734.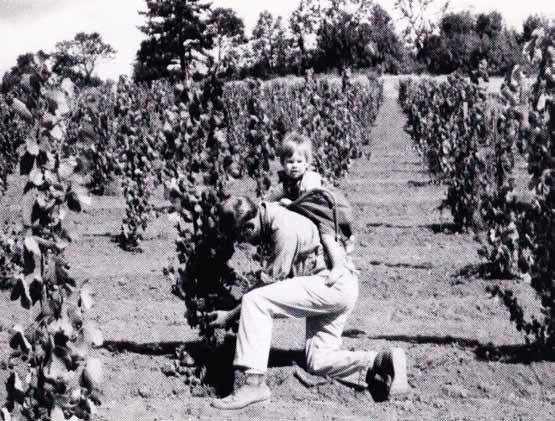 Willamette: The Pinot Noir Barrel Auction A major new wine auction will be held in Oregon next year to raise the profile of Oregon Pinot Noir. Small lots from the 2014 vintage will be offered as part of a three-day program with auction to be held on April 2, 2016, at The Allison Inn & Spa in Newberg. The auction will be an invitation-only, trade (retailers, restaurateurs, and distributors) event will feature open houses for special tastings at more than 60 wineries and many of these wineries will also offer unique Pinot Noir offered in 5, 10 and 20-case lots. Wineries participating in the auction include Adelsheim Vineyard, Anne Amie Vineyards, Antica Terra, Beaux Frères, Berström Wines, Chehalem, Cristom Vineyards, Domaine Drouhin Oregon, Elk Cove Vineyards, Erath, King Estate Winery, La Crema, Lemelson Vineyards, Penner-Ash Wine Cellars, Siduri Wines, Sokol Blosser and Trisaetum Winery. Josh Bergström is the Auction Committee chairperson.